Detroit is a city unlike anywhere else in the United States. It is the birthplace of Motown and techno music, its expansive history with automobiles gives it the nickname "Motor City", and you can actually see Canada (and quickly visit when the border is open) from downtown Detroit. These are just a few of the things that make Detroit, Michigan an incredible destination. I was able to visit the city for the first time recently and check out some of the best wheelchair accessible Detroit sights and attractions.
To be completely honest, I wasn't quite sure what to expect before visiting, but Detroit blew me away. I had so much fun and discovered that there are just too many accessible attractions to see in only a few days, so I'm already dreaming about returning to Motor City. While I couldn't visit every accessible attraction, I did try my best to see as much as possible.
Over the course of a few action-packed and incredibly fun days, I enjoyed the outdoors, went to a baseball game, rolled back in time to the mid-1800s, shopped till I dropped at a huge farmer's market, and so much more. I can now say that Detroit is one of my favorite cities in the U.S. and it is wheelchair-friendly, making it a great place to consider for an accessible vacation.
In this article, I'll share my top 11 wheelchair accessible Detroit attractions and things to do, plus my recommendation for where to stay in Detroit. Check out all of the information below –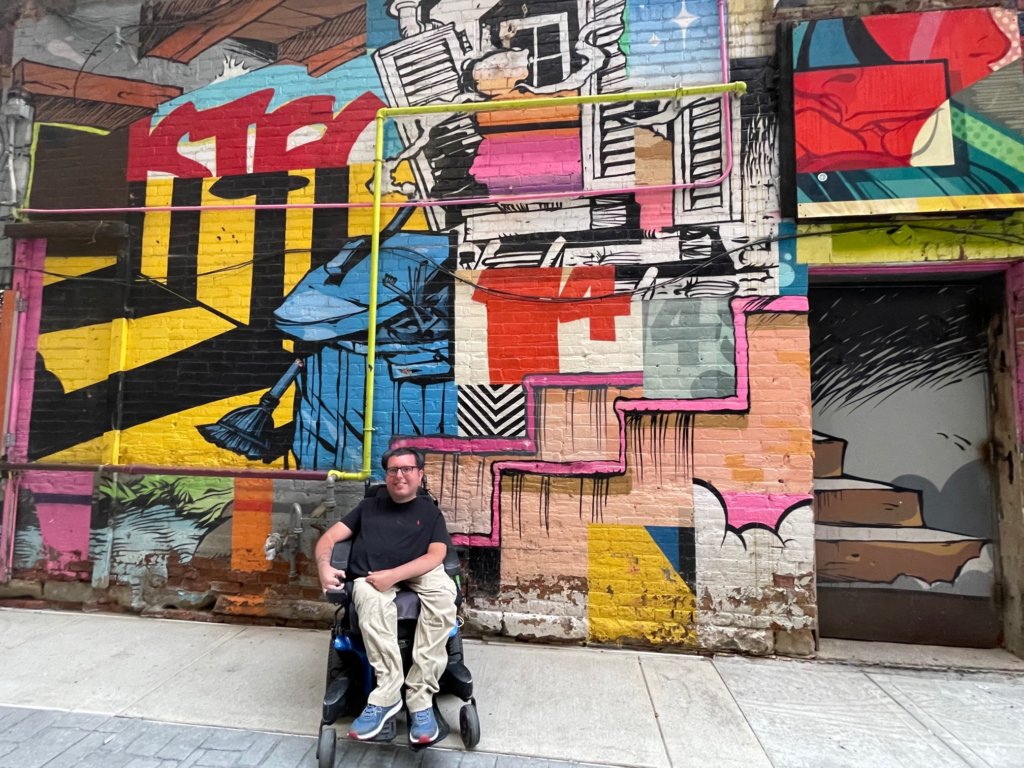 Wheelchair Accessible Detroit Attractions & Things to Do
Drink a beer slushee at Batch Brewing Company
One of the first things that I did in Detroit was visit Batch Brewing Company for dinner and drinks. Located in the city's Corktown neighborhood, this brewery is a favorite among locals and is packed almost every night. It is open Tuesday-Sunday every week.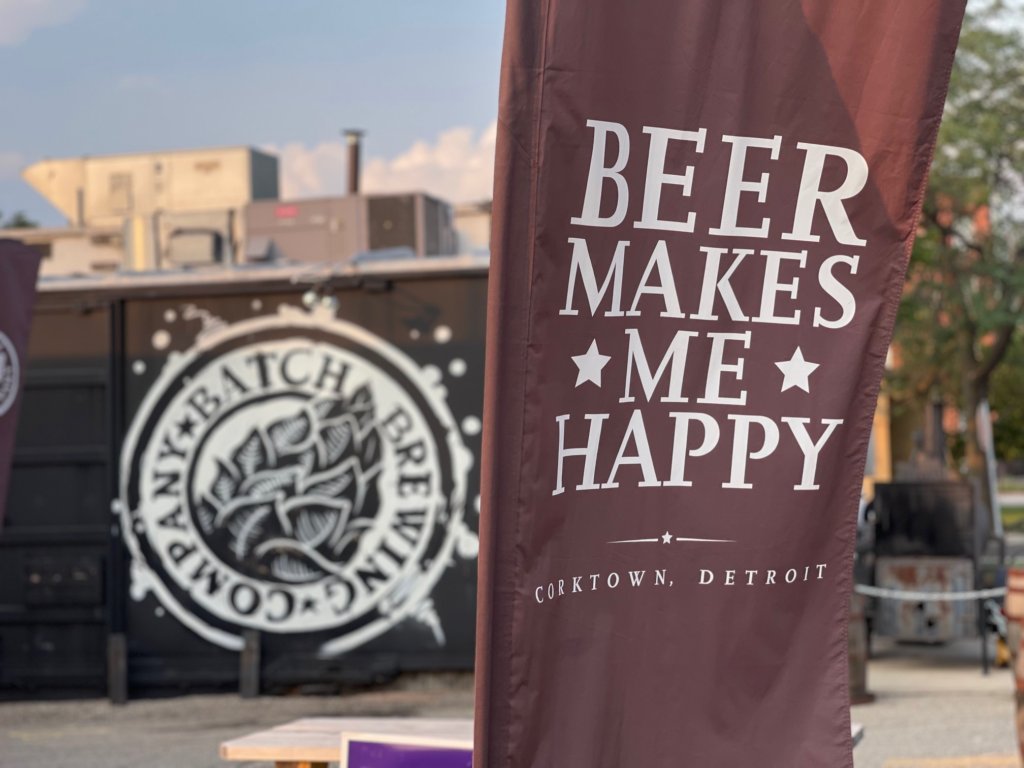 Batch Brewing Company has a lot of outdoor picnic tables, some of which are wheelchair accessible. Due to the pandemic, all food and drinks can be ordered outside as well. On a nice day, this is the perfect place to visit, whether you're looking for good drinks or delicious food.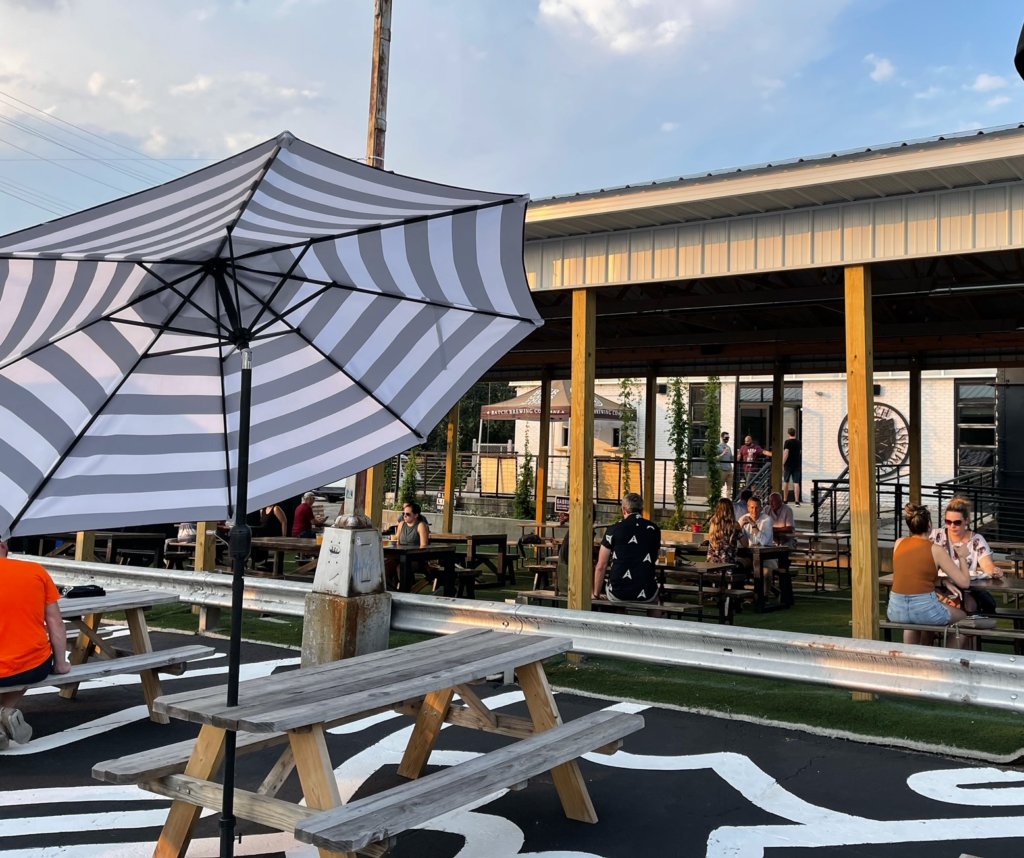 I visited on a Thursday, which is Poboy night at Batch Brewing Company. I had a catfish poboy and it was just as good as, if not better than, poboys that I've eaten in Louisiana. I also couldn't visit Batch Brewing without getting their famous Batch Pretzel. The pretzel was so soft and huge, and it was served with cheese and mustard. Yum!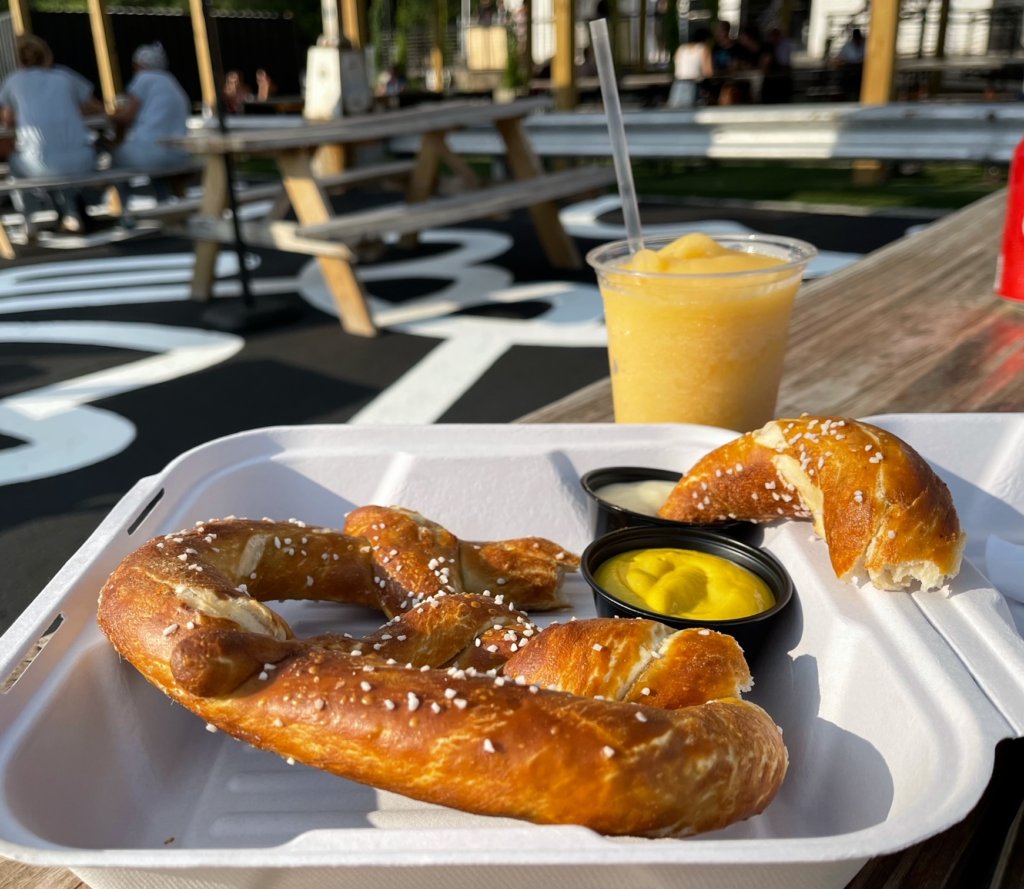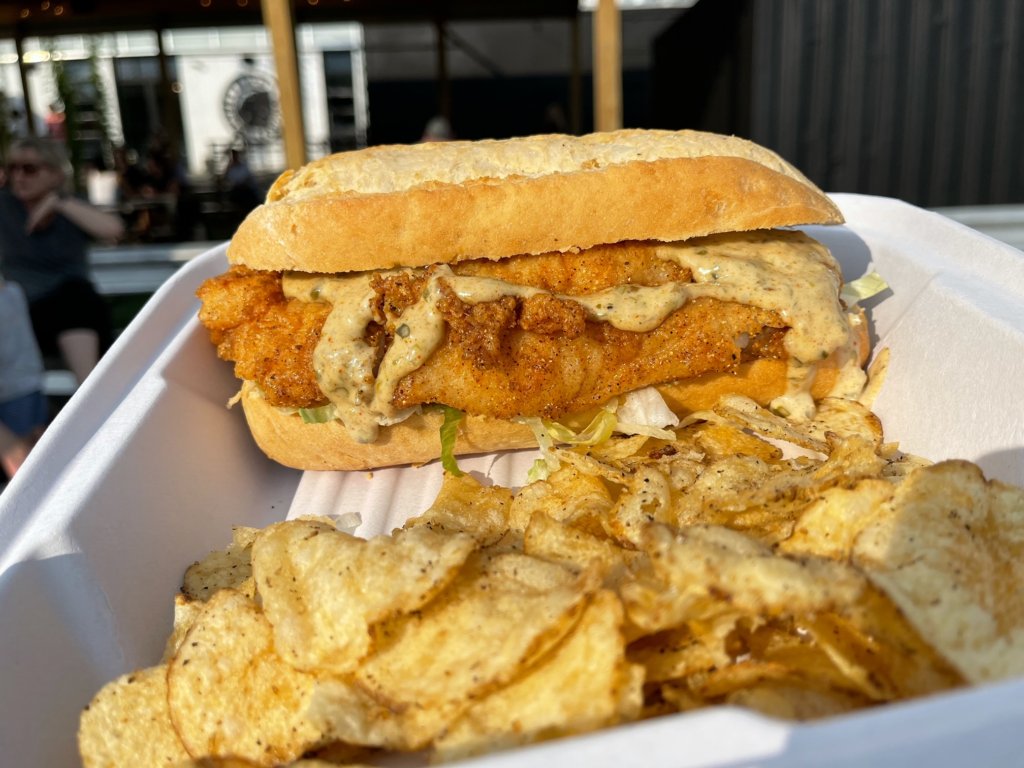 The food at Batch Brewing Company was delicious, but the most intriguing item on the menu was a beer slushee. I'm normally not a huge beer fan, but I was so intrigued that I just had to try it. The beer slushee that week (it changes frequently) was a mango beer slushee. Somewhat surprisingly, it was delicious and I would absolutely order it again. The beer slushee is a definite must-get at Batch Brewing and it was the perfect way to start my time in Detroit!
Roll on the Detroit RiverWalk
Recently voted the Best RiverWalk in the country by USA Today's Readers' Choice Awards competition, rolling the Detroit RiverWalk is a necessity during any trip to the city. It stretches for over three miles and goes along the Detroit River with gorgeous views of the downtown skyscrapers, the river, and you can even see Canada across the water.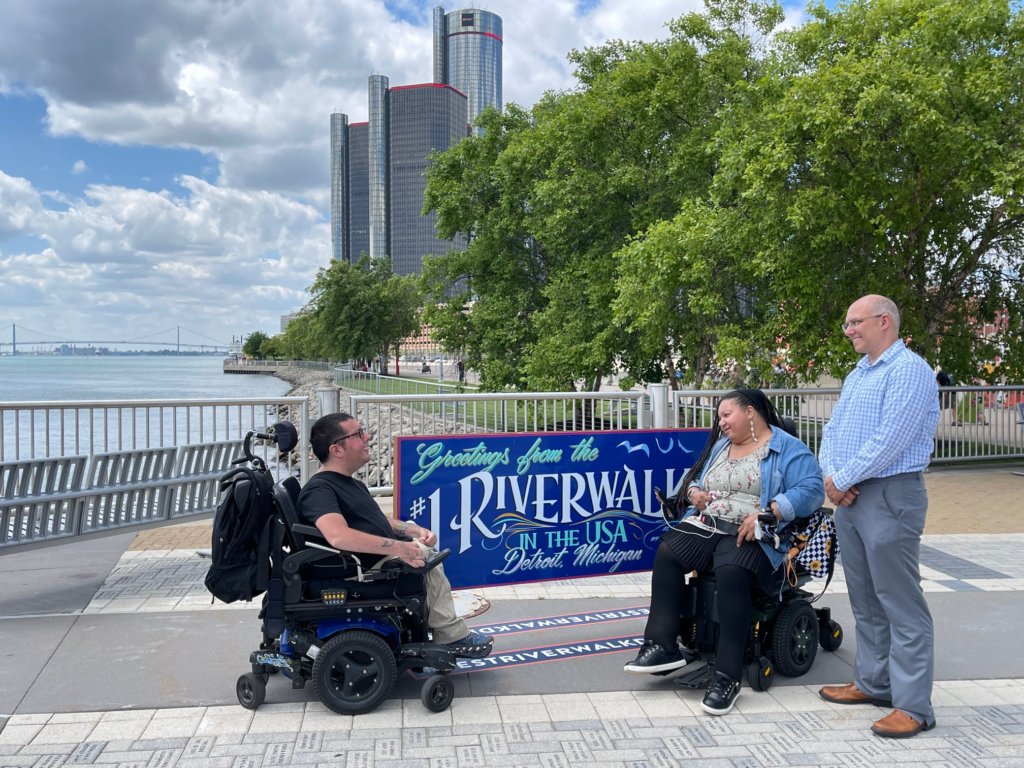 The RiverWalk is completely paved, so it was very easy for me to roll on. It is wide enough as well to allow for bikes to pass by or people running. It was a nice, easy roll and I enjoyed it for over an hour. There are benches along the RiverWalk and I was happy to see that they had enough space beside them for a wheelchair user to sit and take in the scenery.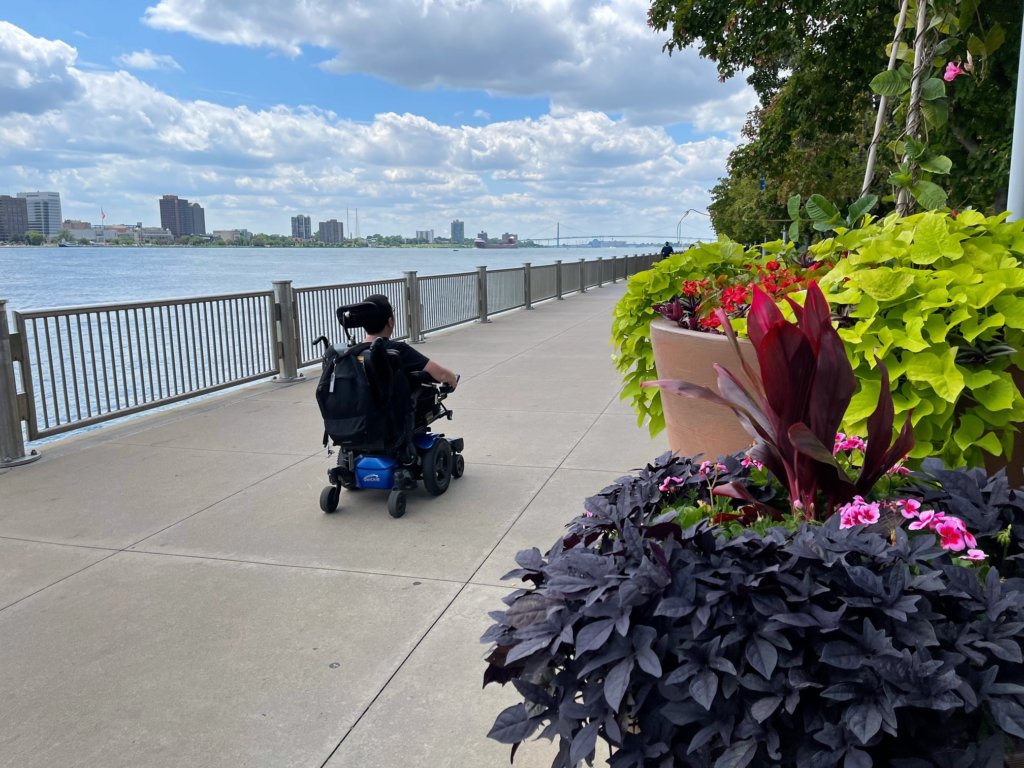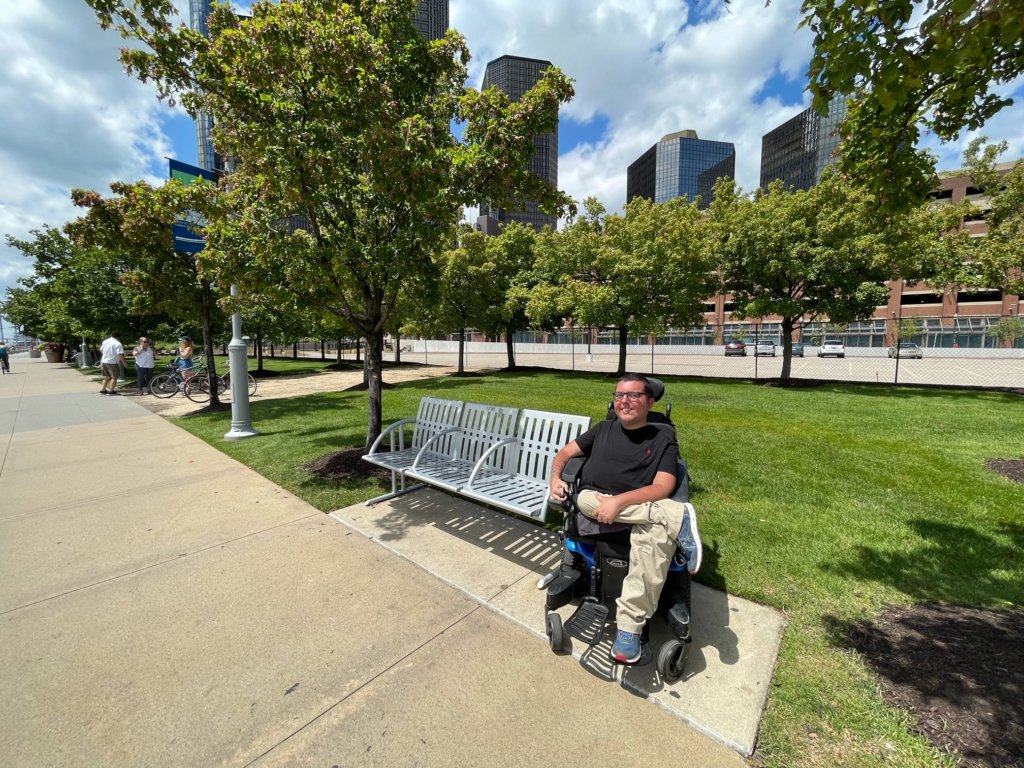 My experience on the Detroit RiverWalk started from Cullen Plaza. There are accessible parking spaces nearby and the plaza has the RiverWalk Cafe, where you can get food and drinks, a carousel, a bike shop offering rentals, play fountains, and more. Cullen Plaza is a fun place to start any roll on the Detroit RiverWalk.
Admire art at the Detroit Institute of Arts
The Detroit Institute of Arts is one of the top 10 art museums in the country and after visiting, I can certainly see why. I've visited numerous art museums around the world and this one is seriously one of the best that I've been to. Its grandeur reminded me a lot of the Metropolitan Museum of Art in New York City, which I'm a huge fan of, but I might have even liked the Detroit Institute of Arts better.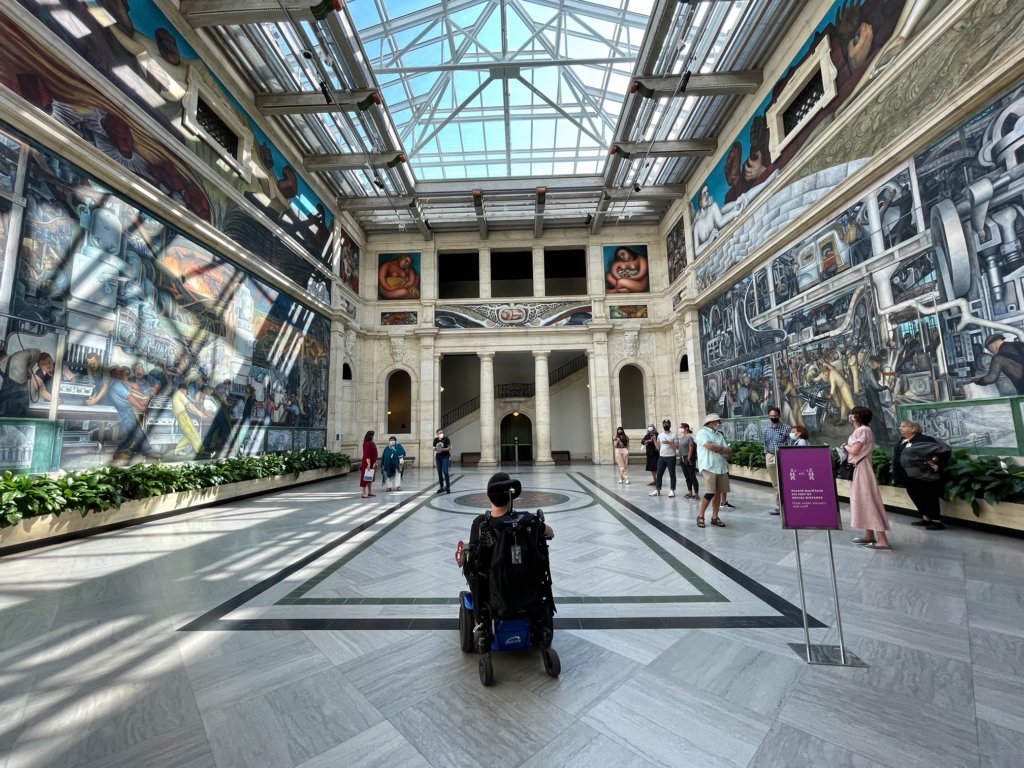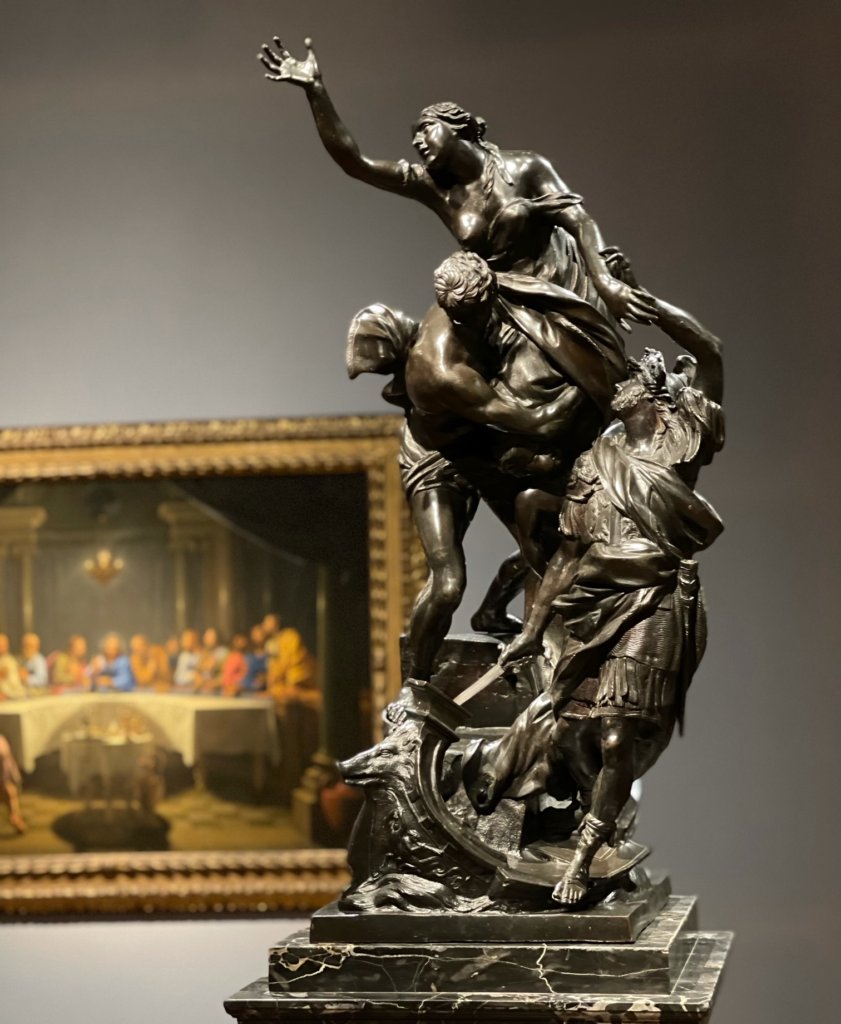 The museum is fully wheelchair accessible and HUGE, so be sure to have your wheelchair fully charged before visiting. Seriously, you could get lost in this place because it's so big. Plan at least 2-3 hours for a visit, but you could easily stay much longer. I tried to just see the highlights and it took me a little over two hours. There were just so many great exhibits worth seeing!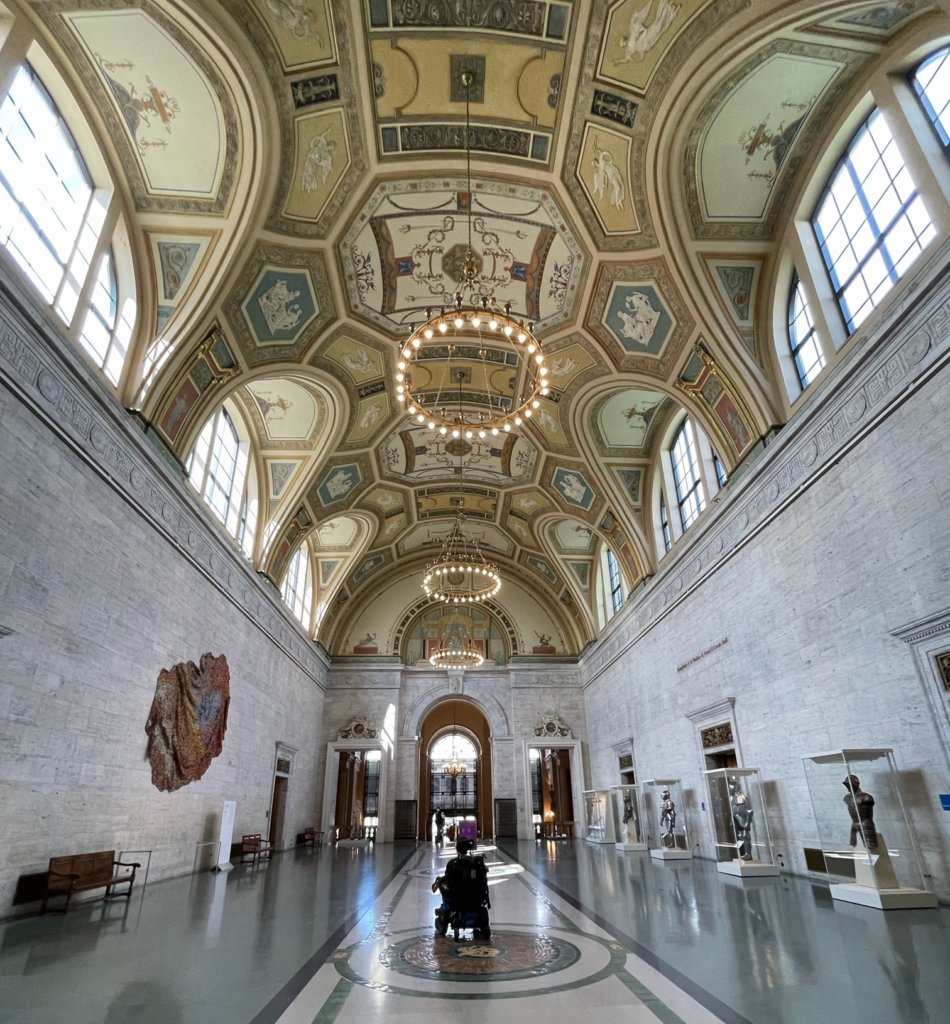 One of my favorite exhibits was "Detroit Style: Car Design in the Motor City, 1950-2020". This exhibit is temporary (ending on January 9, 2022), so try to visit while it's here. The exhibit highlights the artistry & influence of Detroit car designers from the 1950s until today. Numerous cars from those 70+ years are on display, showing how much car designs have changed over the years. While this exhibit was fun to see, there are a ton of other interesting exhibits and artwork to see as well. View current and future exhibitions by clicking here.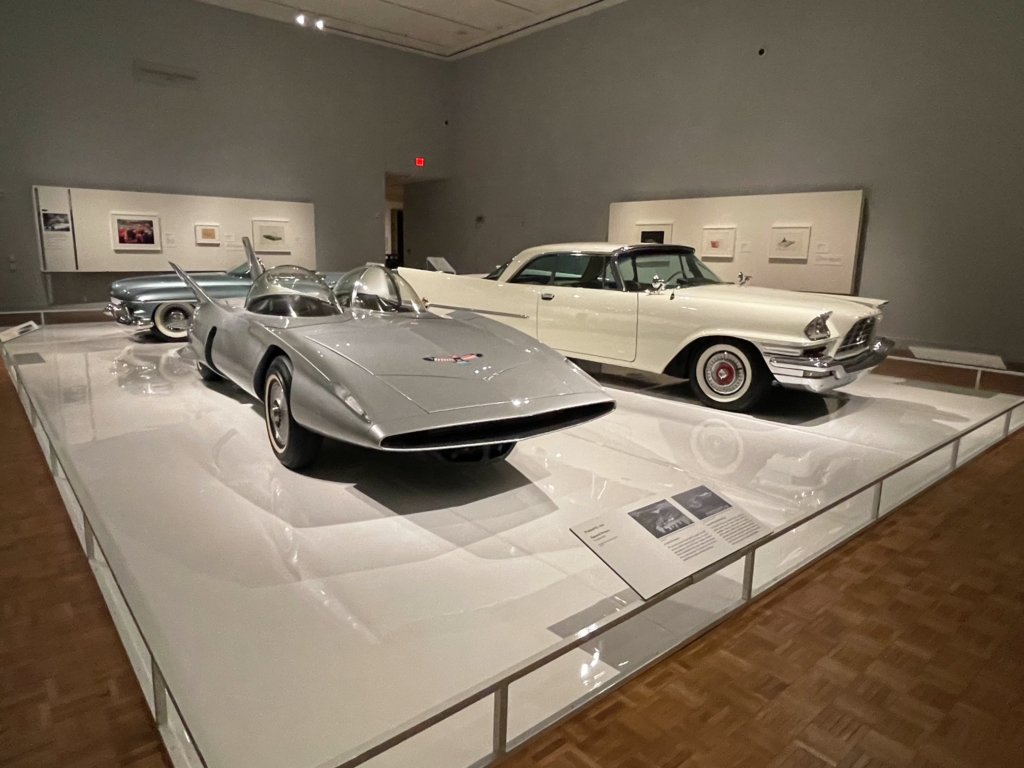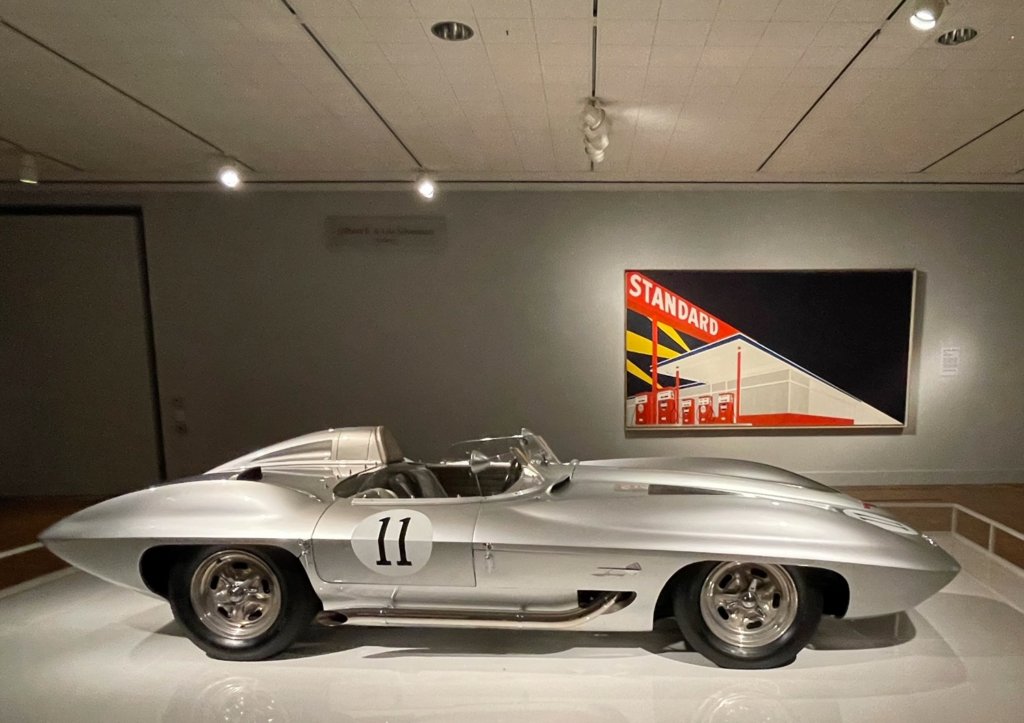 After seeing as much as I could, I started getting a bit hungry, so decided to get some lunch. The Detroit Institute of Art has food available in their beautiful indoor courtyard, Kresge Court. You can choose from sandwiches, flatbreads, salads, soups, and espresso drinks, wine, and beer are served all day as well. I had a turkey sandwich and it was really good, but there are options available for any craving.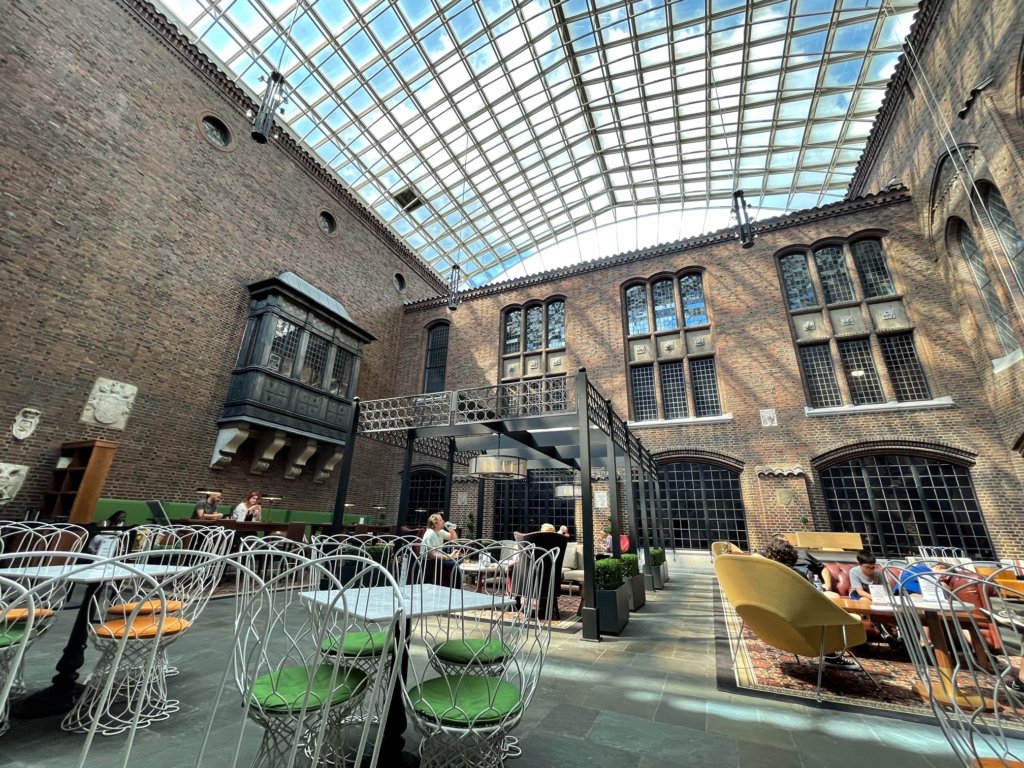 Experience history at The Charles H. Wright Museum of African American History
Visiting the Charles H. Wright Museum of African American History was such an emotional experience for me and it was one of my favorite attractions that I visited during my time in Detroit. The Wright Museum is located by the Detroit Institute of Arts, so plan to visit either before or after you check out all of the artwork.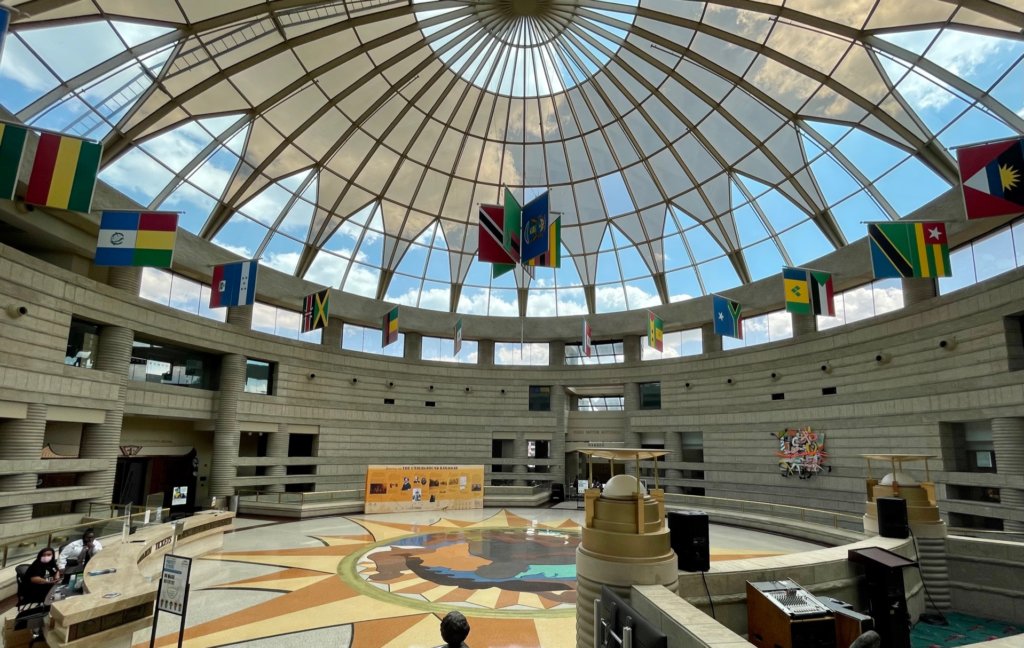 The Wright Museum has multiple exhibits, from artwork to an exhibit about the Tuskegee Airmen, but the most profound exhibit for me was "And still we rise!" In this exhibit, we traveled through time across 20+ galleries and more than 22,000 square feet for an in-depth look at the history of African American resilience. It was honestly an incredible portrayal and was one of the most impactful experiences I've ever had in a museum… or any attraction, for that matter.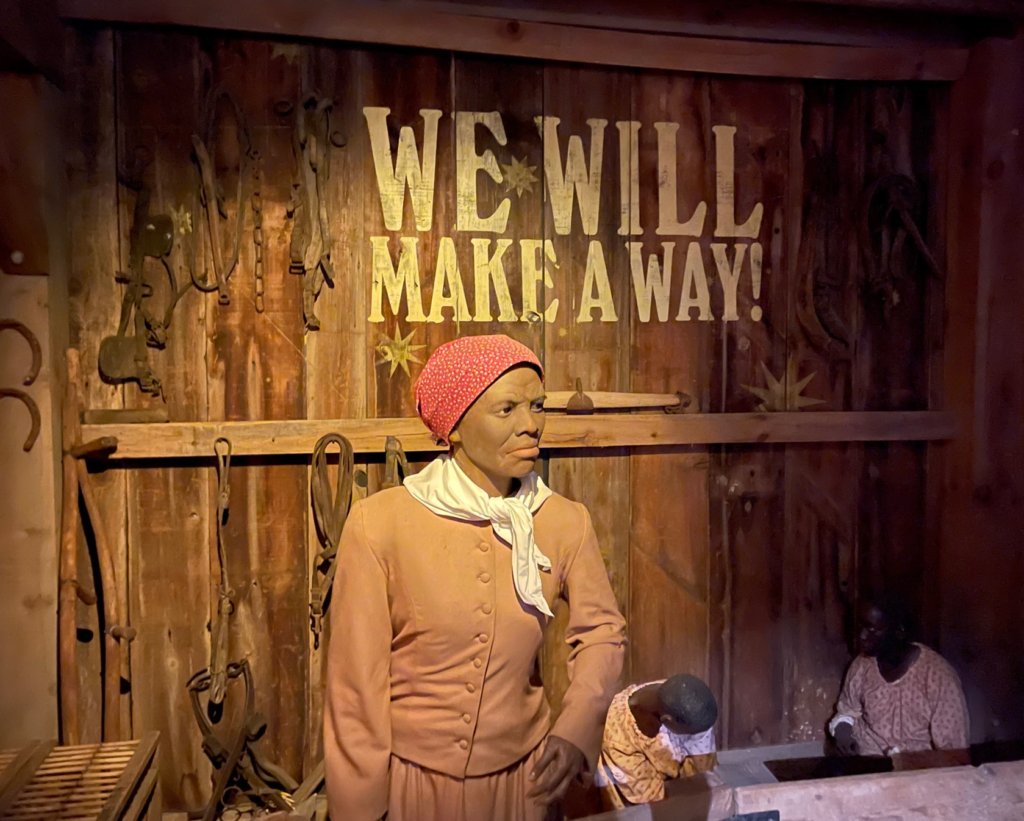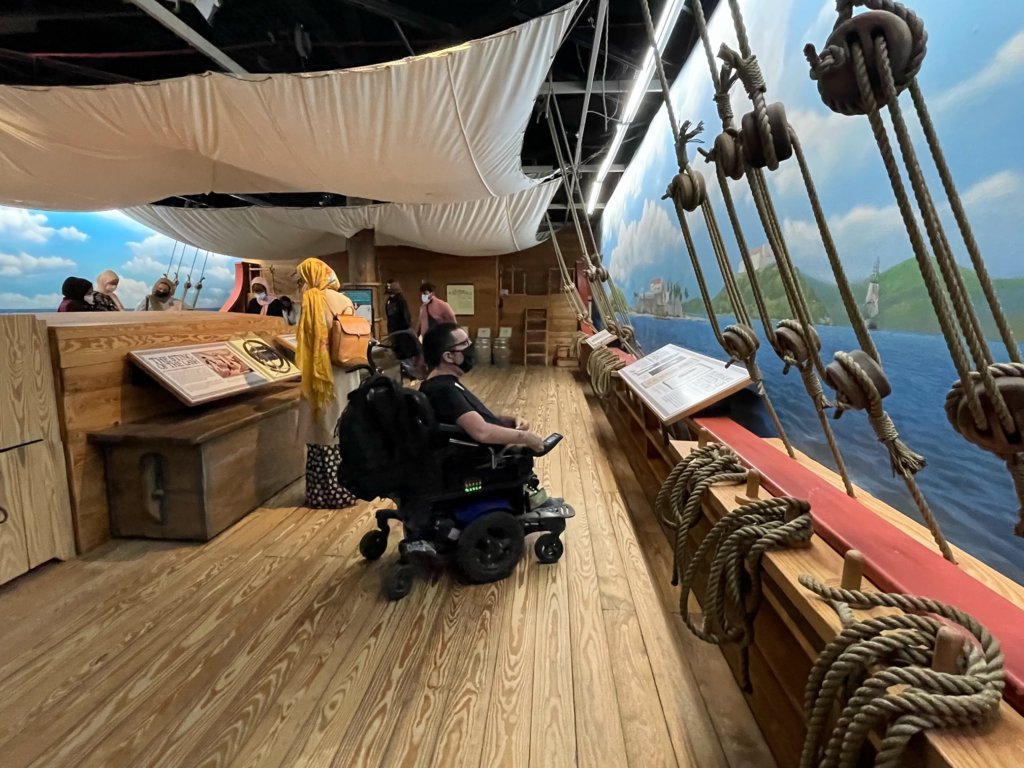 The museum is fully accessible as well. There are ramps and lifts available throughout the museum & I was able to easily enjoy every exhibit. If you are visiting, plan to be here at least two hours. Take your time in the museum, so that you can truly understand and appreciate each exhibit.
Relax at Belle Isle Park
The 987-acre Belle Isle Park has multiple attractions and is a wonderful Michigan state park to explore while in Detroit. There are three lakes, incredible views of the Detroit and Windsor (Canada) skylines, and many accessible things to do at Bell Isle.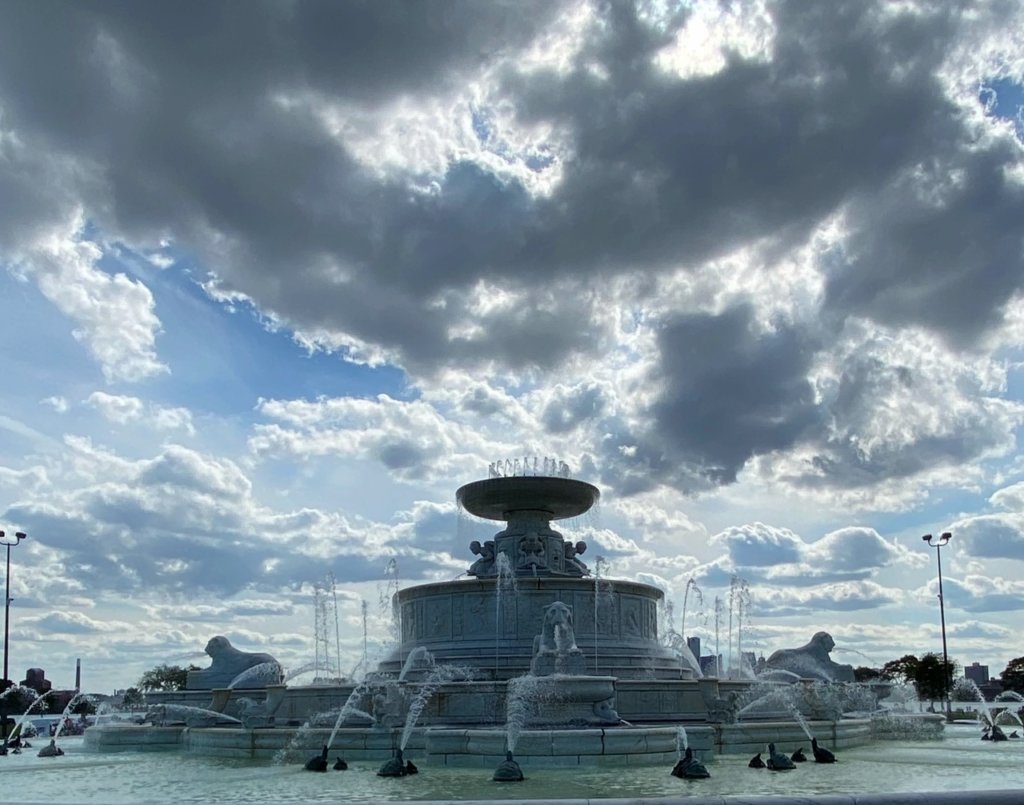 I didn't have a ton of time to wander around Belle Isle and enjoy all of its accessible attractions, but I was able to visit the beach and see the famous James Scott Memorial Fountain. Unfortunately, there are no beach wheelchairs available at Bell Isle currently. They do have a track chair that can be used by wheelchair users, but it was not available during my visit. A staff member told me that it is broken and they're not sure when it will be fixed, but hopefully soon. I used a track chair in Muskegon, Michigan a few years ago and it was so awesome! Definitely check to see if it's available before you visit.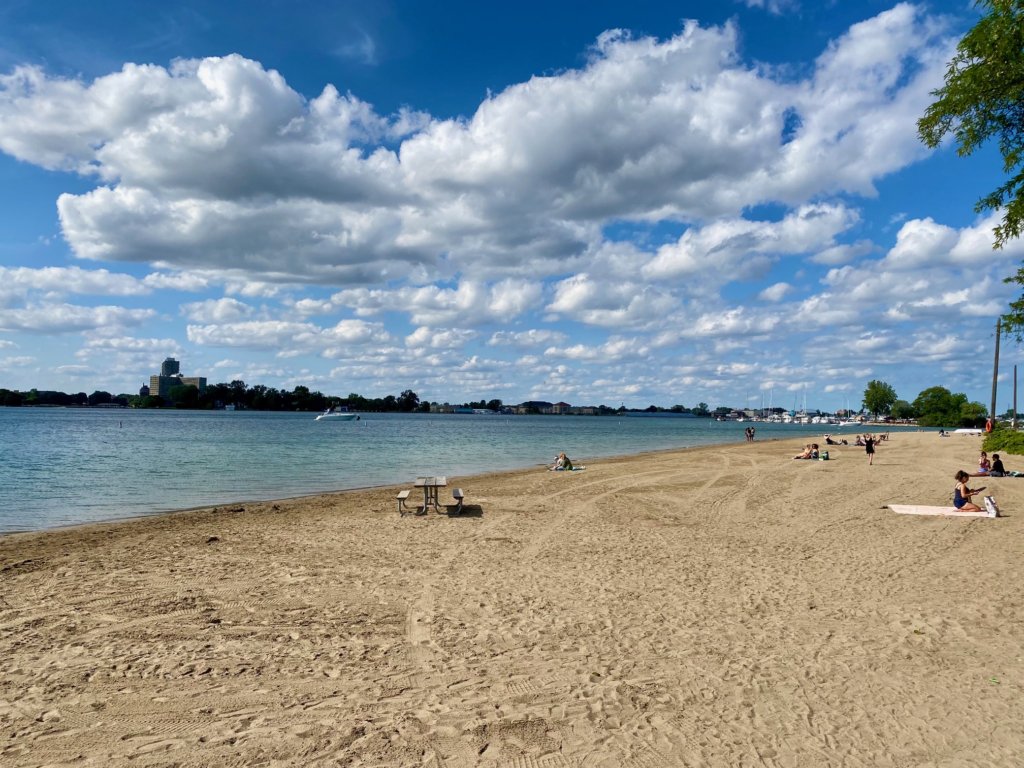 Despite not being able to go on the sand, I did enjoy sitting by the beach and just relaxing. The views were gorgeous! Other accessible attractions at Belle Isle include the Belle Isle Aquarium, the Anna Scripps Whitcomb Conservatory, accessible picnic shelters, and more. The island park has plenty to keep you busy for any amount of time, but I'd plan at least a few hours here.
Shop till you drop at Eastern Market
I love visiting farmer's markets and have been to dozens of them throughout my travels, but I have never visited one quite like Eastern Market in Detroit. At over 40-acres large, it is the biggest outdoor farmer's market in the country. It is also one of the oldest markets in the country, as it has been operating since the mid-1800s.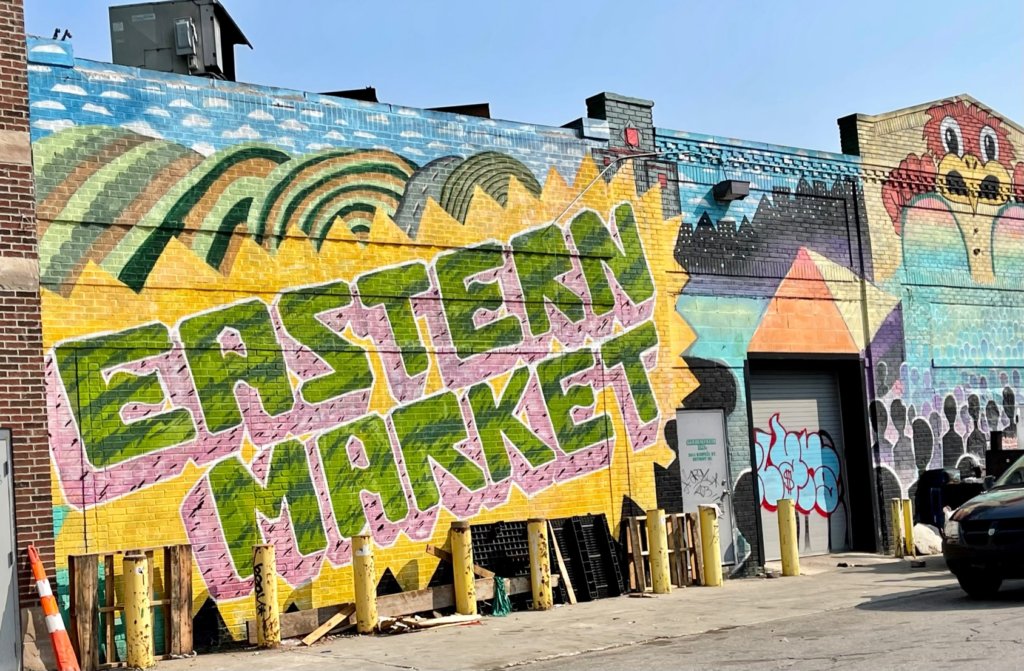 Every Saturday, year-round, the Eastern Market has a farmer's market with hundreds of vendors. You can find everything from produce to flowers, crafts, clothes, cooked food, and more. I bought some mini sweet potato pies (yummm!) and some kettle corn, but wanted to buy a lot more. Unfortunately though, I couldn't fit everything I wanted to buy in my suitcase, so I had to restrain from many items.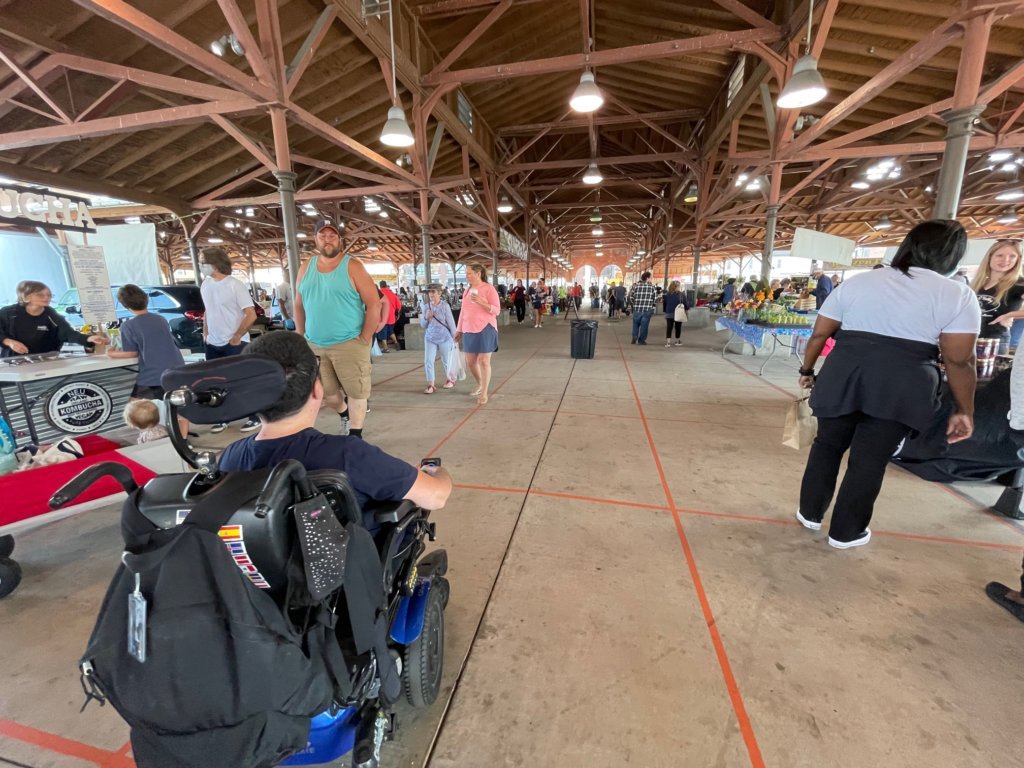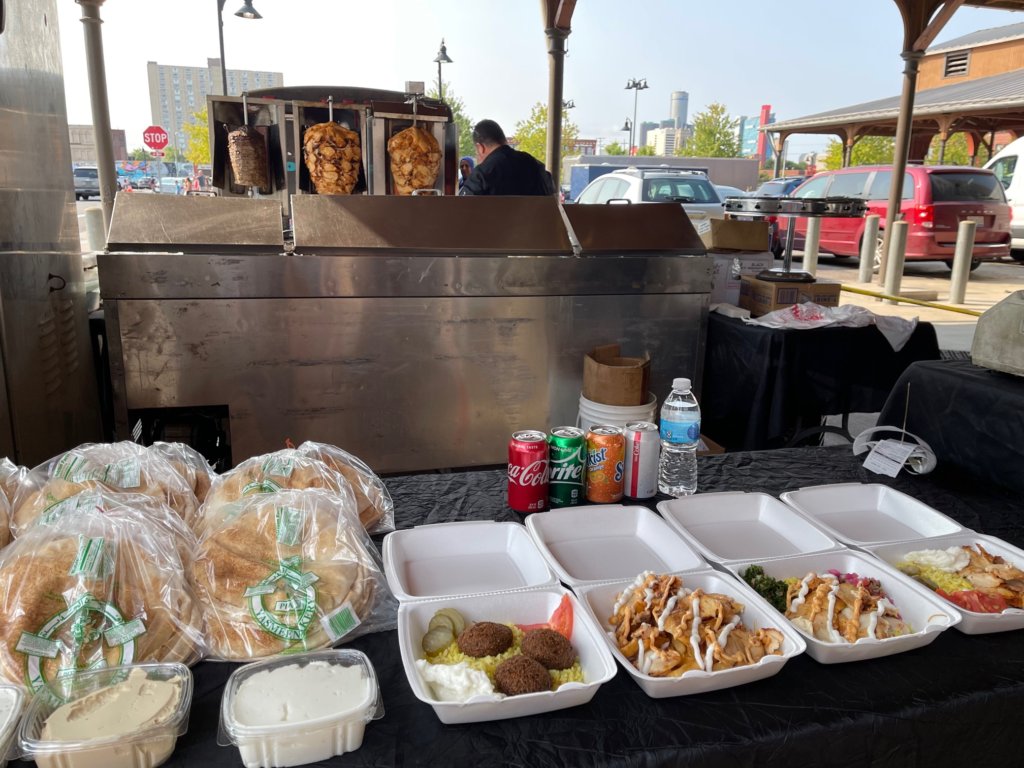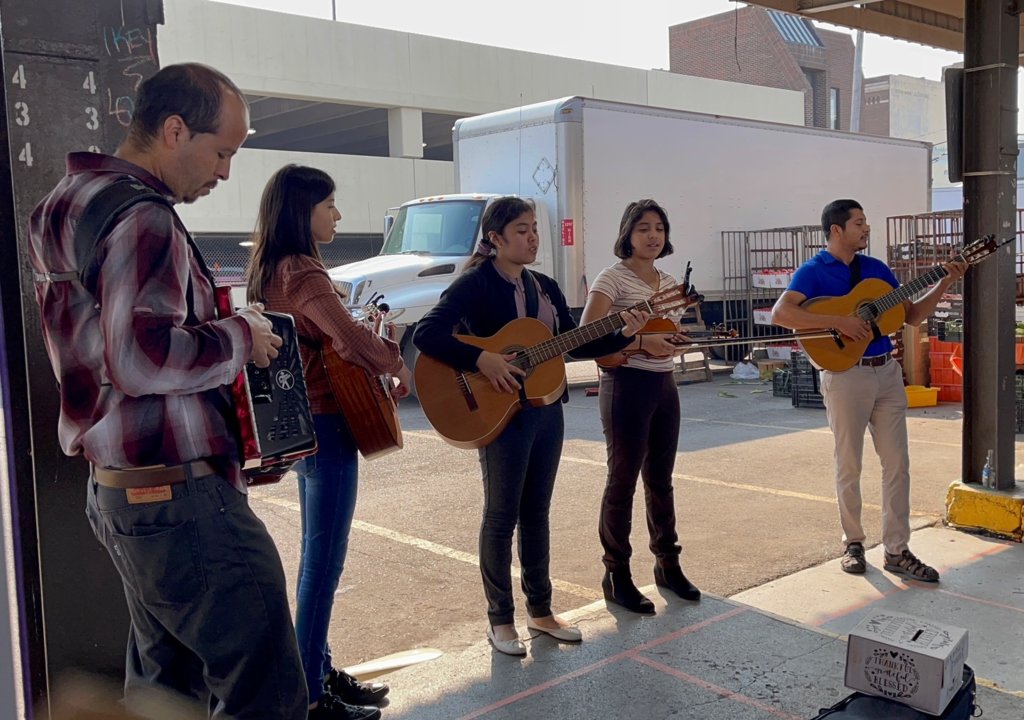 Eastern Market is so much more than just a market. It is actually an entire neighborhood, full of shops, eateries, and colorful murals. After browsing the market for a while, I meandered around the neighborhood and took in the sights. My favorite aspects were the many murals, but the Eastern Market neighborhood also has a brewery (Eastern Market Brewing Company), a cheese shop (DeVries Cheese Shop), and too many other awesome places to name.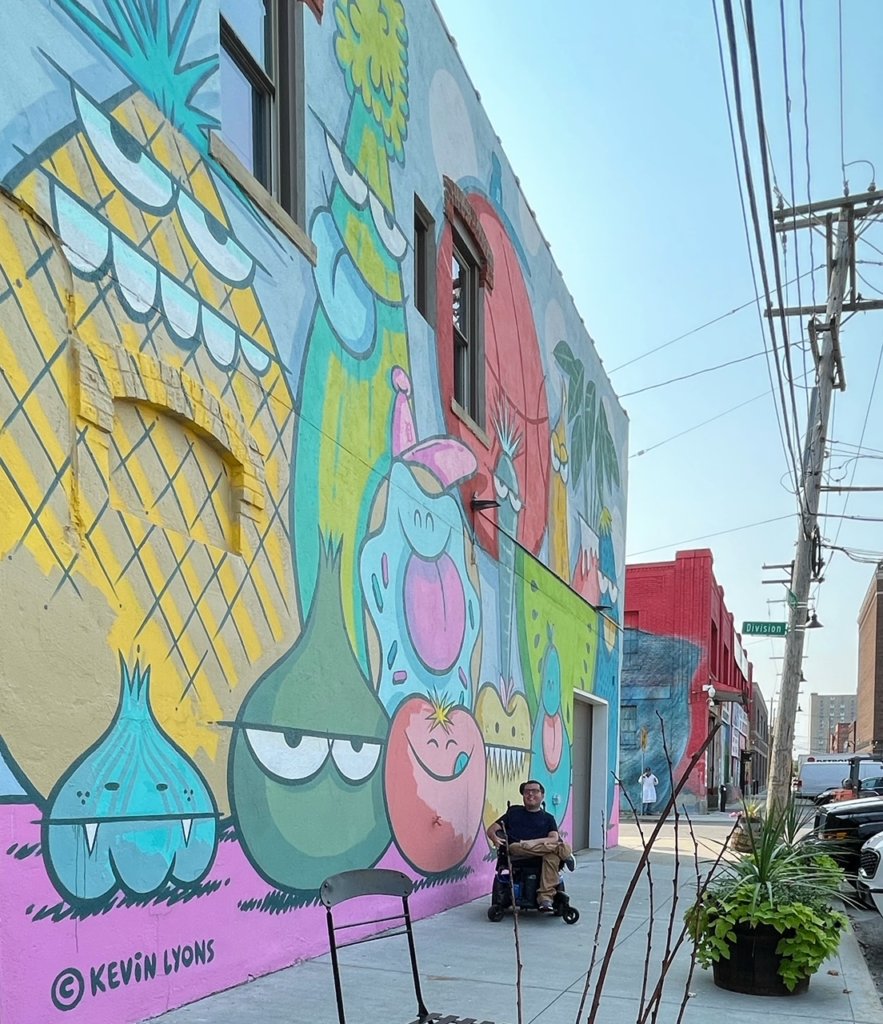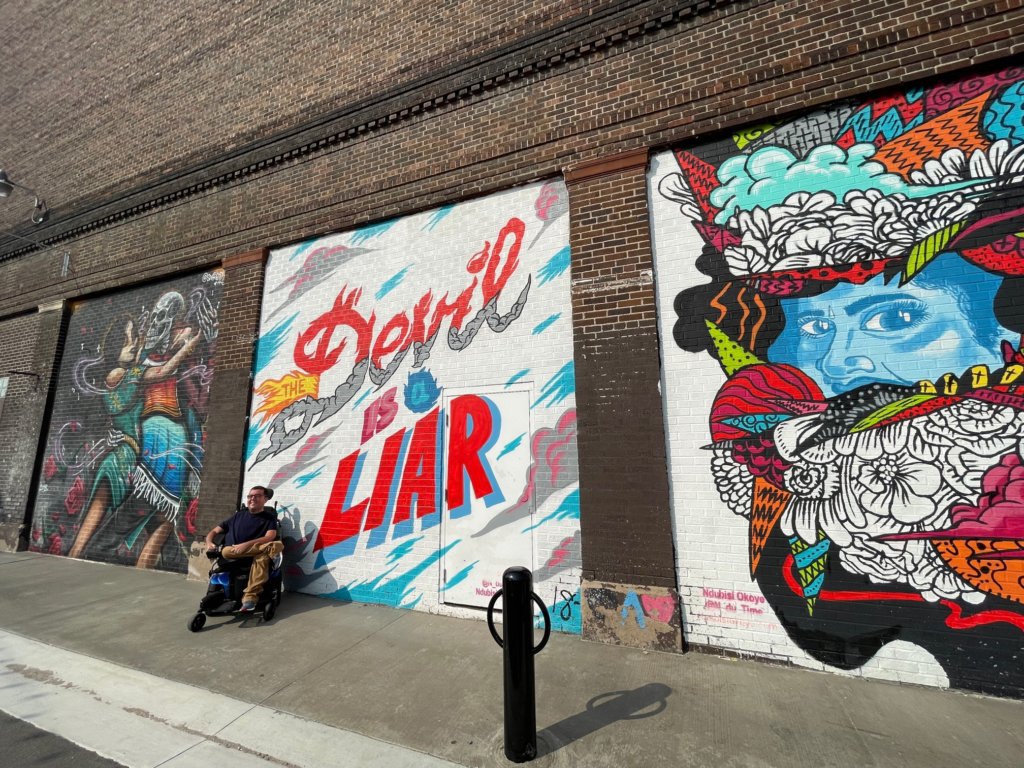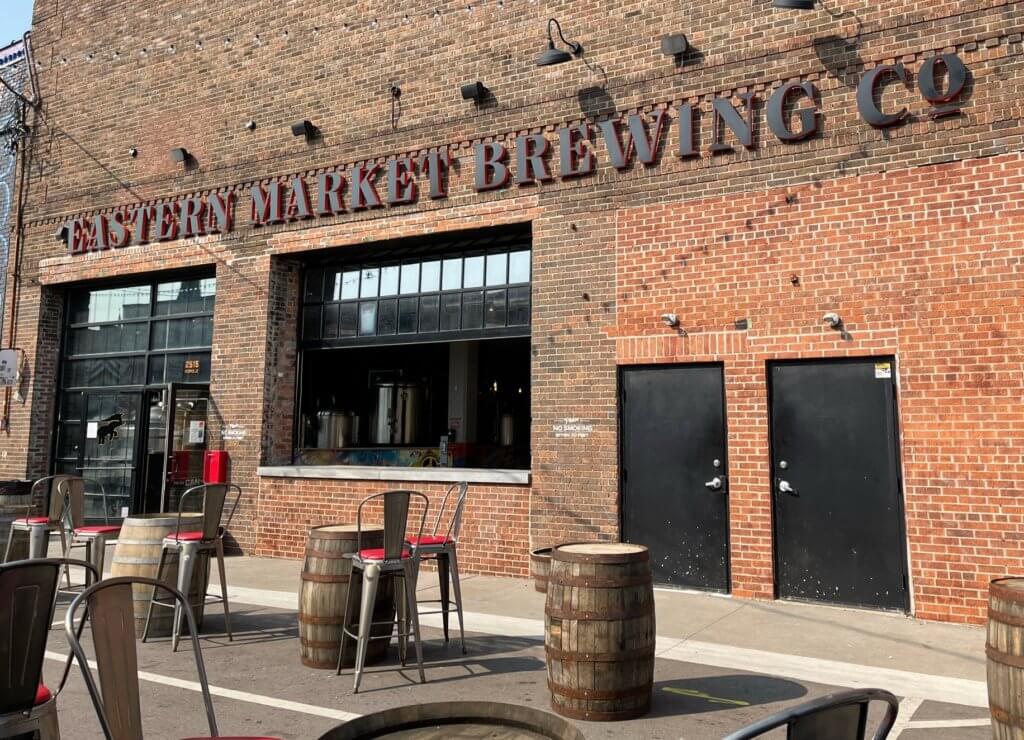 Eastern Market is in one of Detroit's most vibrant neighborhoods. Whether you want to shop or just roll and take in the sights, it's a must-do while in the city and very wheelchair-friendly. The aisles in the market were spacious and paved, and all of the shops/restaurants that I saw in the neighborhood were easily accessible.
See a variety of animals at the Detroit Zoo
Originally, I didn't have plans to visit the Detroit Zoo during my time in Detroit. However, sooo many people started recommending it after realizing that I was in Detroit on Facebook and Instagram, so I just had to check it out in-person. After visiting, I am really glad that I listened to everyone's recommendations because the Detroit Zoo is one of the best wheelchair accessible Detroit attractions!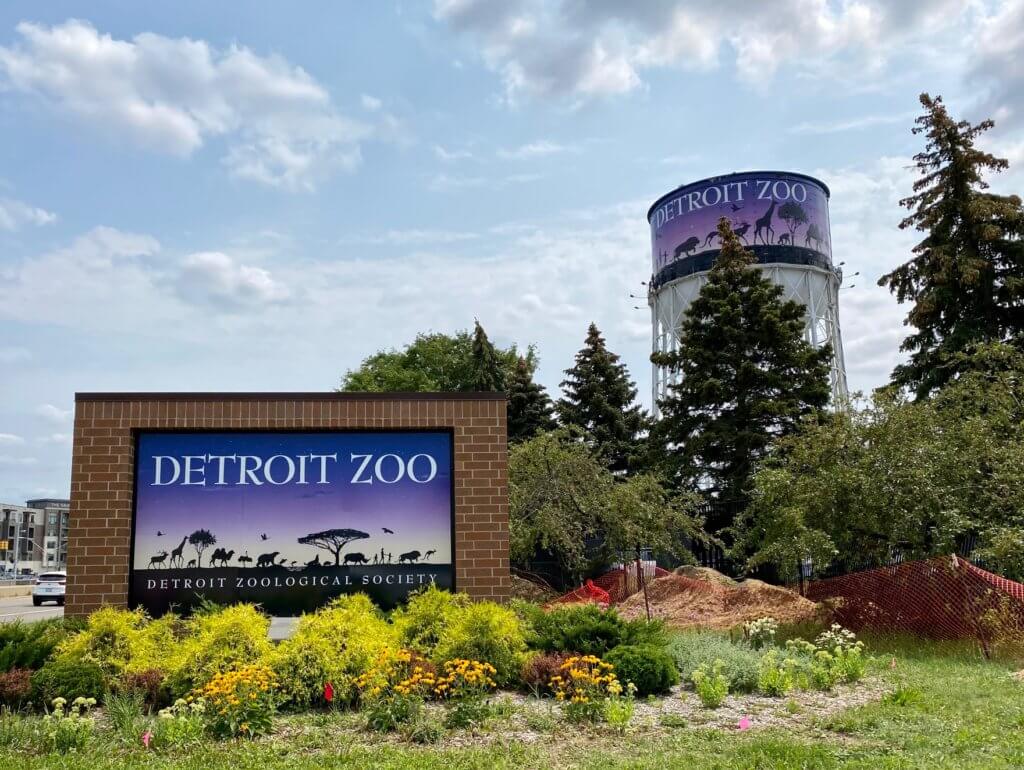 The Detroit Zoo is spread out across 125-acres, so it is huge. If you walk/roll the main paths, it's about 1.7-miles in length, but if you add in some smaller paths, you could go a bit further than that. The paths around the zoo are paved, so accessibility is great. If you need to rent a manual wheelchair to explore the zoo, rentals are available on a first-come, first-served basis.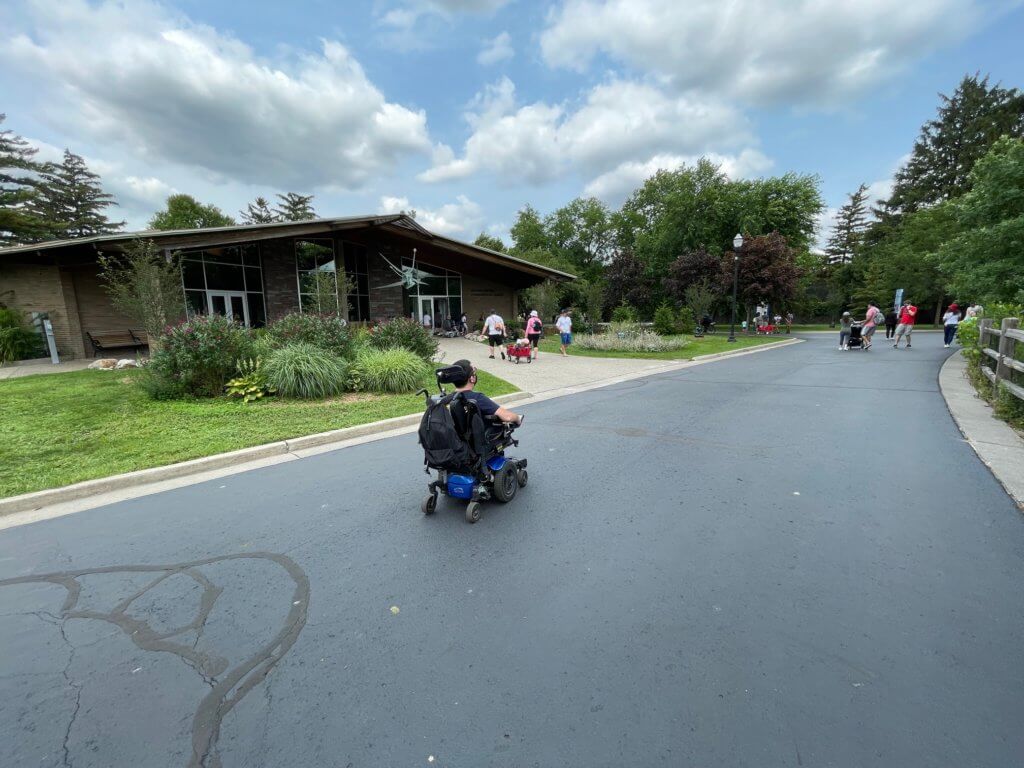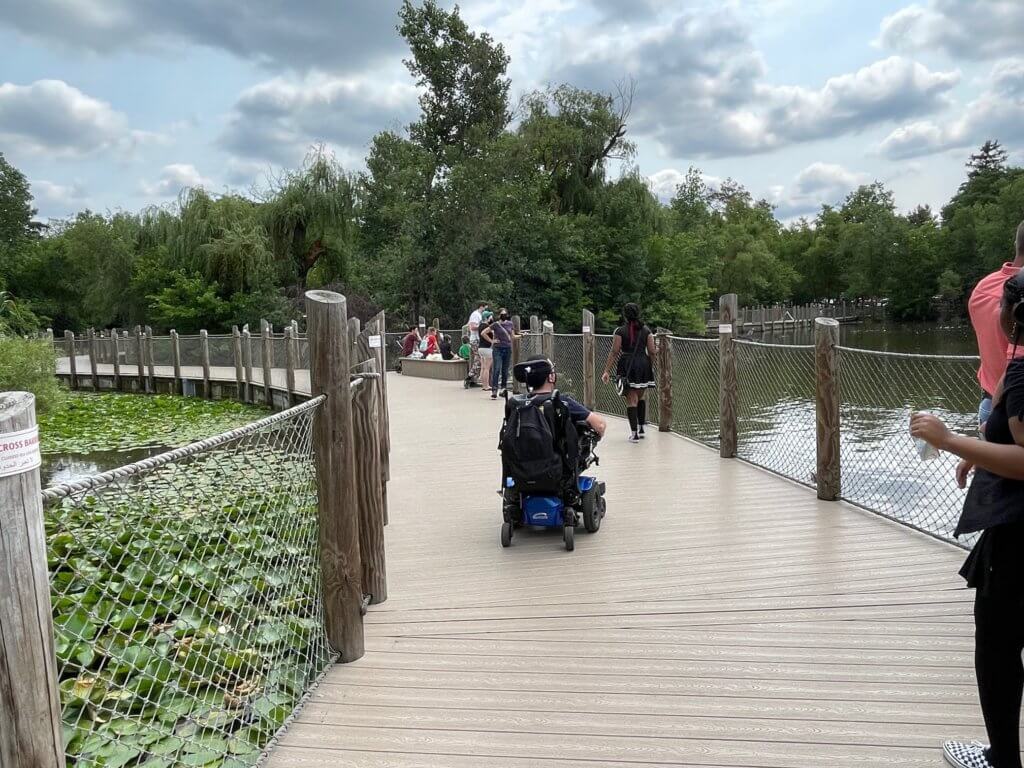 There are more than 2,000 animals to see at the Detroit Zoo. Some of my personal favorites included camels, chimpanzees, kangaroos, polar bears, and tigers. I had a lot of fun and had great views of all of the animals.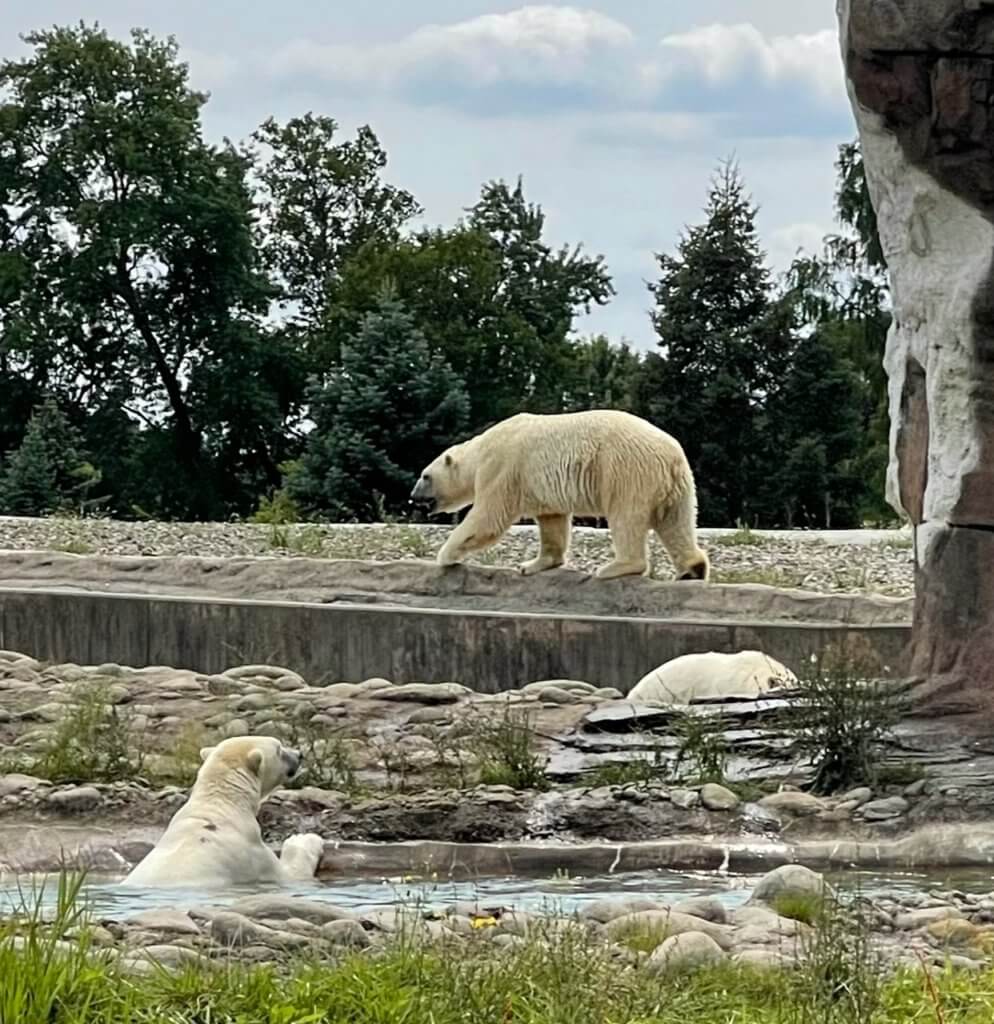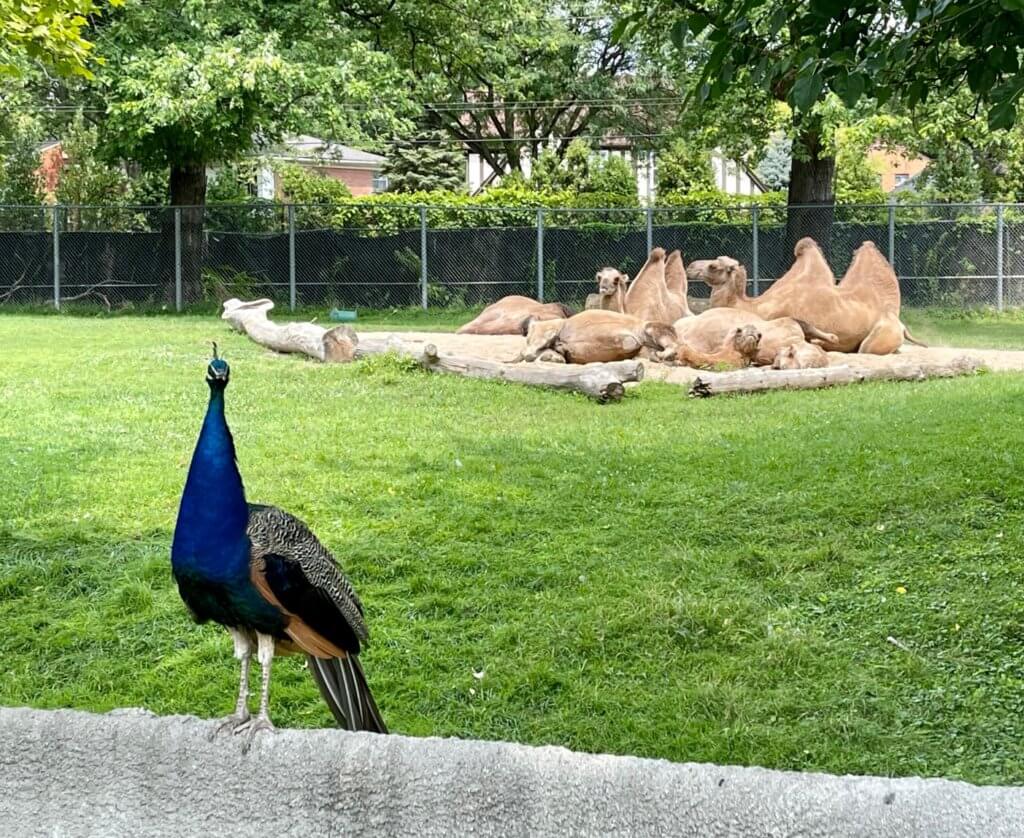 In addition to seeing all of the animals, the Detroit Zoo also has attractions, including a wheelchair accessible carousel, and quite a few places to eat. You can dine on Detroit-style chili dogs at American Coney Island or Detroit-style pizza at Buddy's Pizza, both located in the zoo. Numerous other options are available as well though if you prefer something different.
Root, root, root for the home team at a Detroit Tigers baseball game
Since I visited in summer, I was able to go to a Detroit Tigers baseball game during my trip. I was root-root-rooting for the home team, but unfortunately they lost to the Baltimore Orioles on the night that I attended. However, I still had so much fun at the game and loved how accessible the stadium, Comerica Park, was!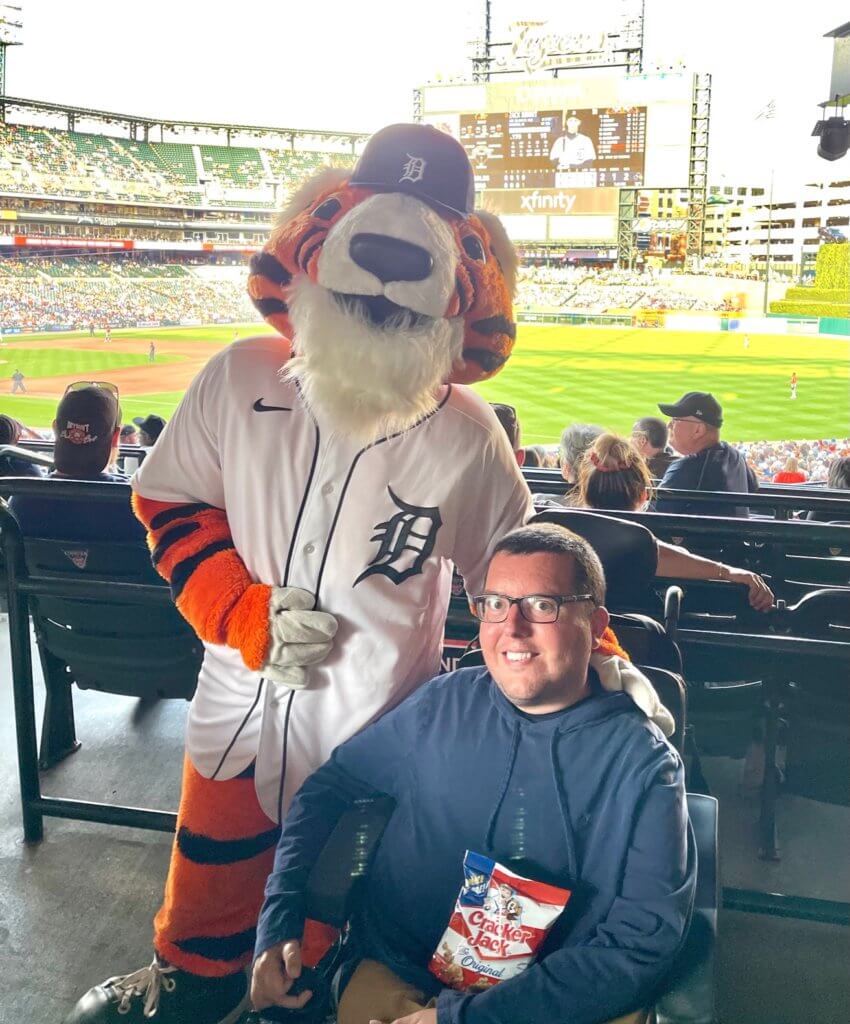 Comerica Park is located right in the heart of downtown Detroit. After asking a worker, we were shown to a parking lot in front of the stadium that had accessible parking spaces. It did cost to park in the lot ($25), but it was a perfect location and only a two-minute walk/roll from the entrance to the Detroit Tigers stadium, so it was worth it for the convenience.
Accessible seats are available at a variety of price points throughout the stadium, but our accessible seats were in section 119 by first base. We had a terrific view of the game and our seating area was spacious, and even had an electrical outlet to charge a wheelchair, phone, or something else.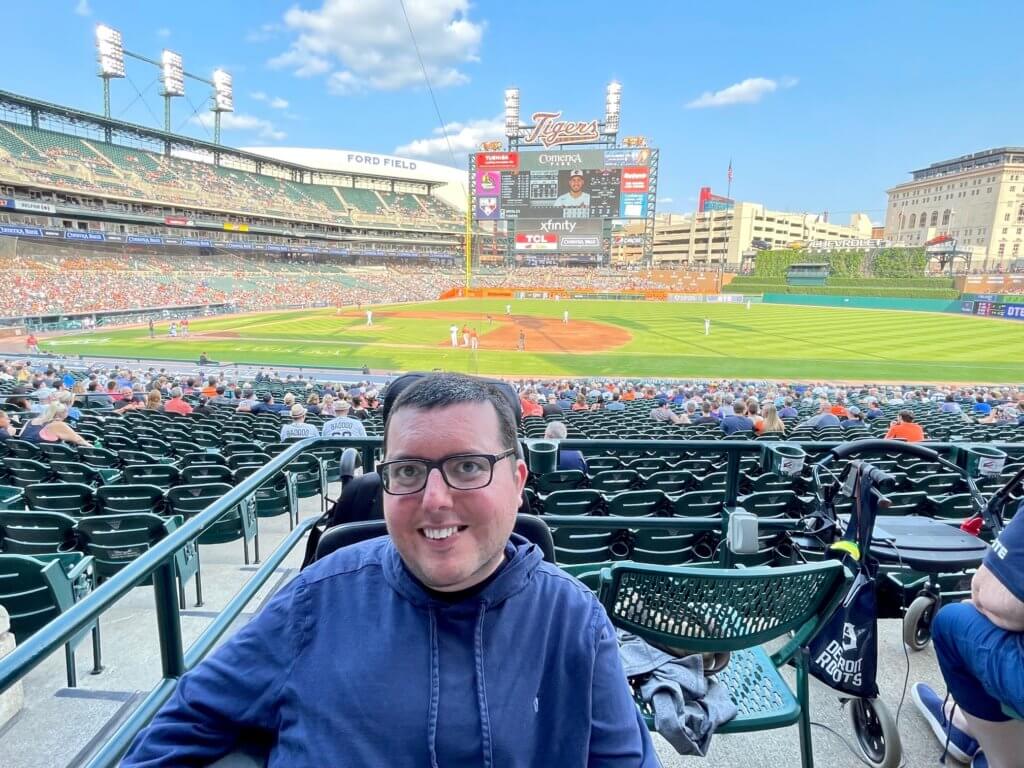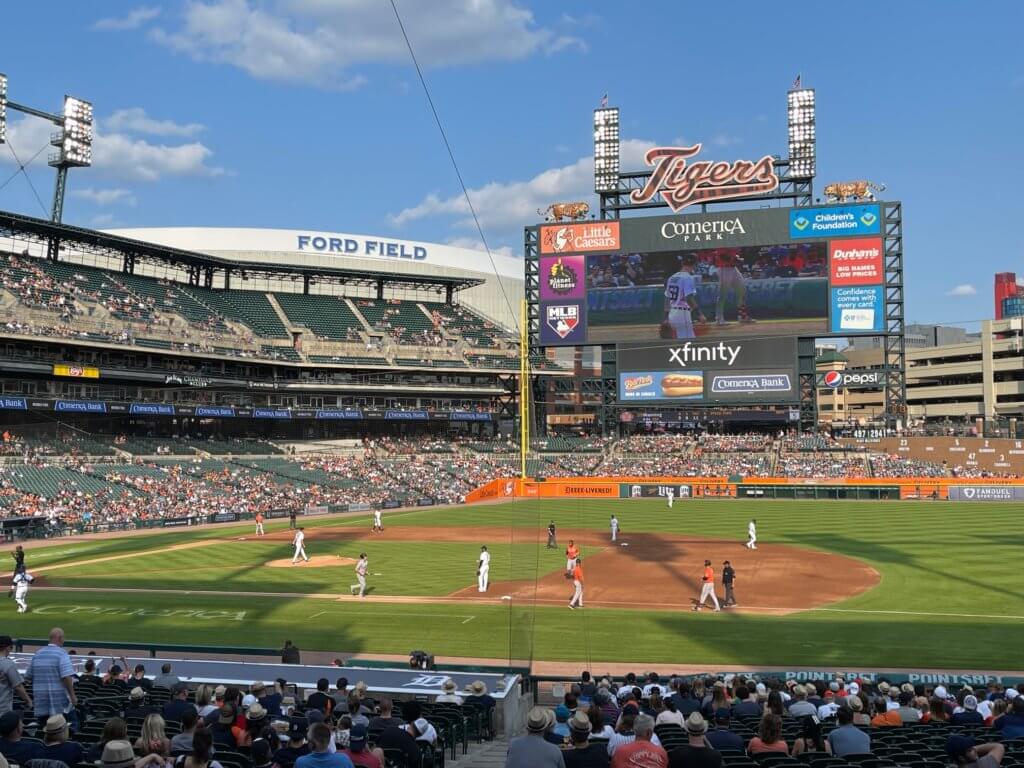 I spent most of my time at Comerica Park wandering around the stadium, getting snacks, shopping, and people-watching (isn't that the best part of any baseball game?!). Accessibility at the ballpark was fantastic. There were multiple companion care restrooms available throughout Comerica Park, which I was happy to see, and elevators were available to get to different levels as well.
Go back in time at Greenfield Village
Greenfield Village is a part of The Henry Ford, which encompasses multiple attractions like The Henry Ford Museum of American Innovation, the Ford Rouge Factory Tour, the Giant Screen Experience, and as previously mentioned, Greenfield Village. The village was my first stop at The Henry Ford, which is just 25 minutes from downtown Detroit. Greenfield Village is such a unique place to visit and completely unlike anywhere else in the Detroit area.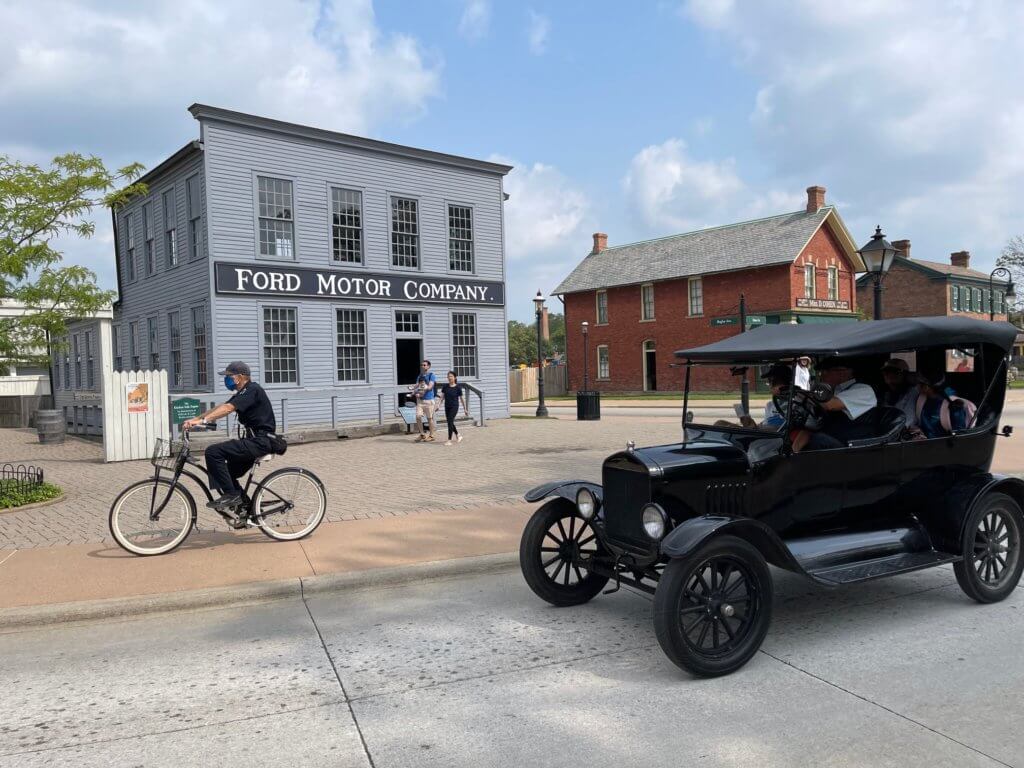 The village was established in 1933 by Henry Ford and has nearly 100 historic buildings across 200 acres. Henry Ford relocated & reconstructed buildings from throughout the U.S., including his home, the Wright brothers' home, Thomas Edison's laboratory, and old-school general stores, a post office, a glassblowing shop, and much more. As you visit each building, you'll feel like you've gone back in time to the mid-1800s.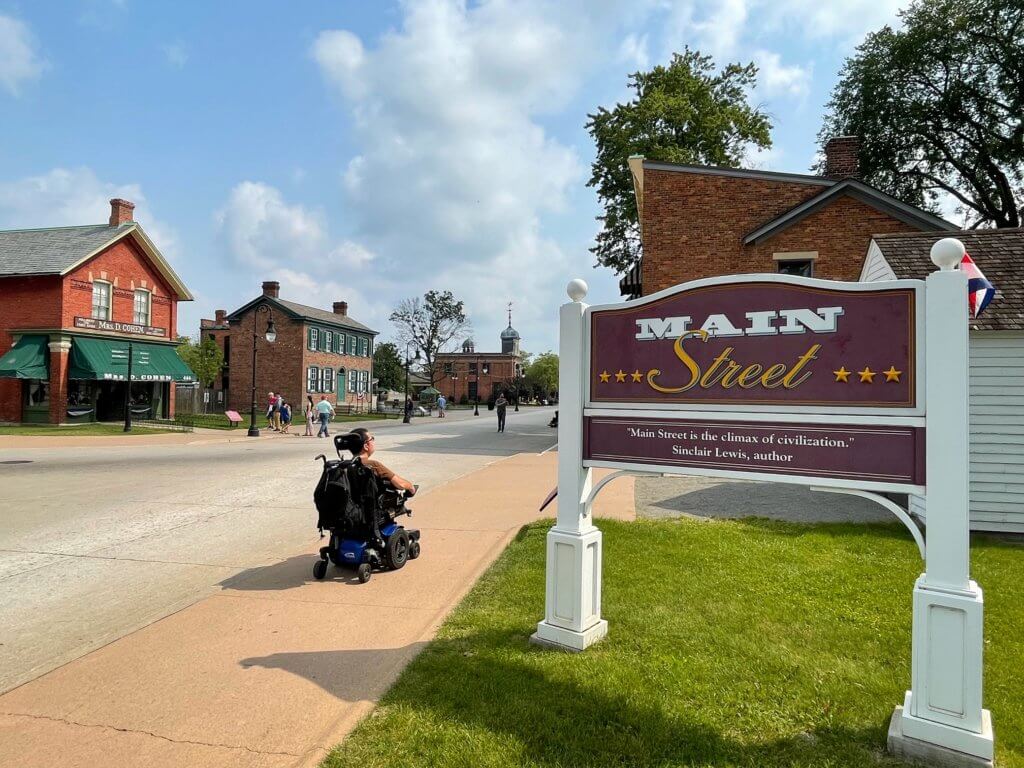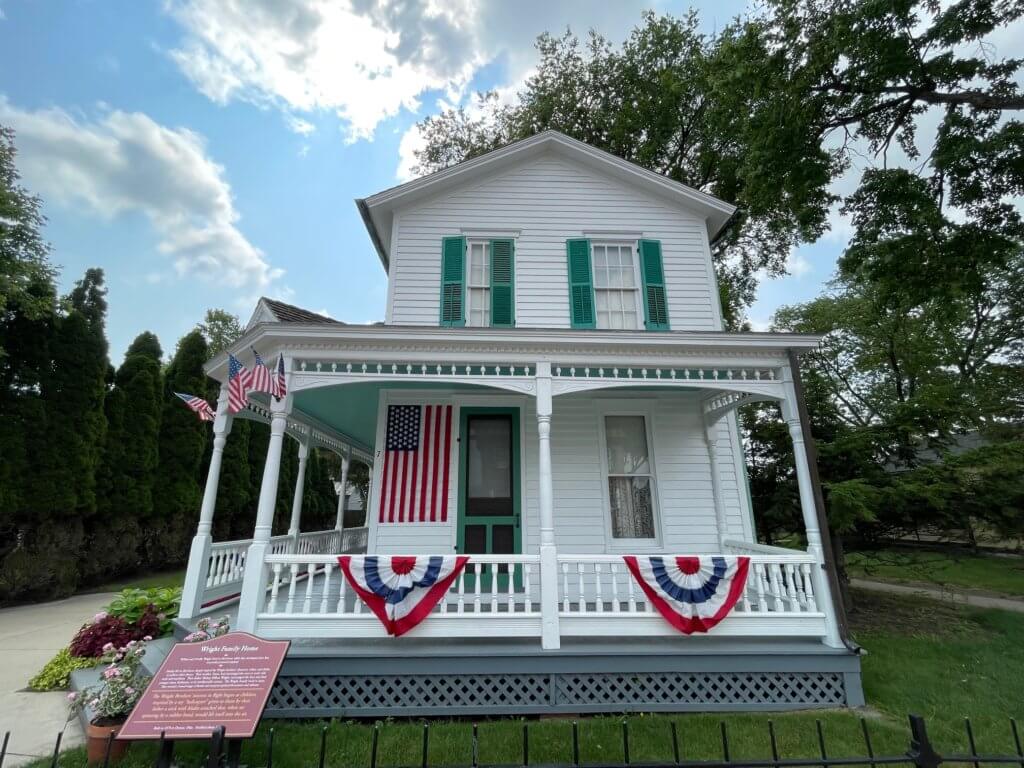 As far as accessibility goes, most of the buildings were wheelchair accessible. However, accessible entrances were frequently around the back and there was no signage indicating this, so be sure to look around if you'll be visiting. I almost skipped a couple buildings because at first they seemed inaccessible, but then I eventually found accessible entrances.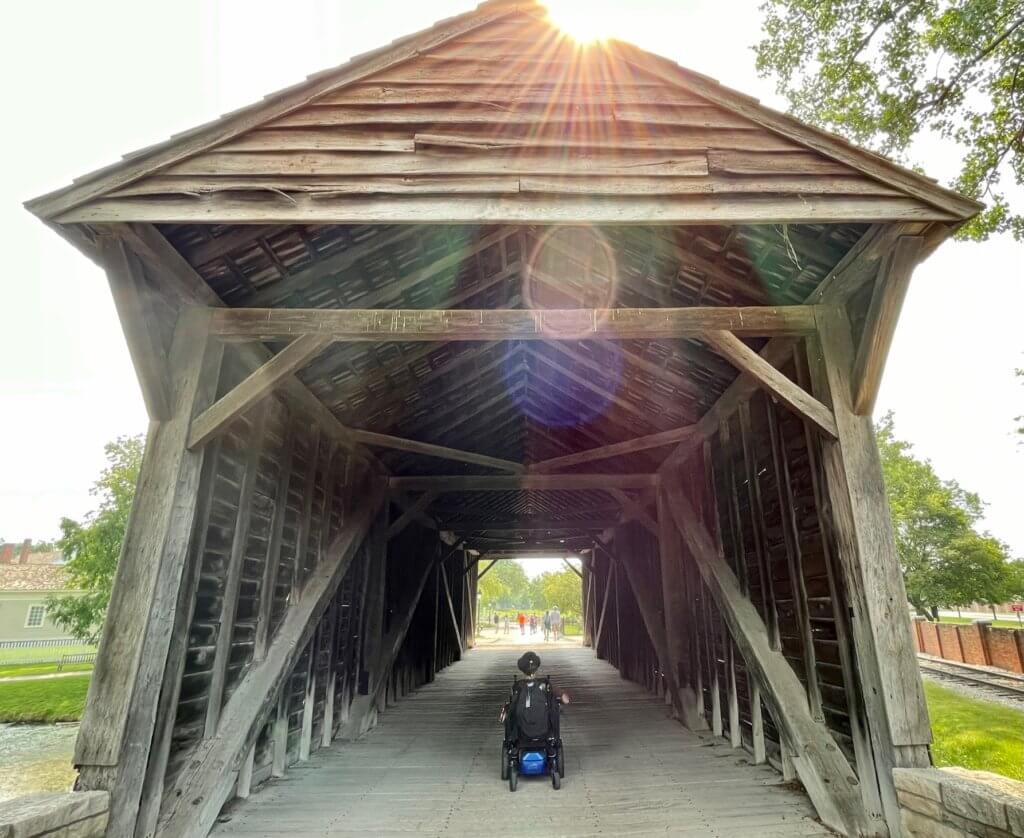 In addition to browsing the numerous buildings and feeling like I went back in time, I was also able to ride on a steam-powered train. It had a lift to get me on it and the train did a full loop of the entire village. It was a fun ride, complete with commentary from the conductor about sights that we passed. You could use the train to get around the massive village from stop-to-stop or just take the full loop for a scenic and informative ride.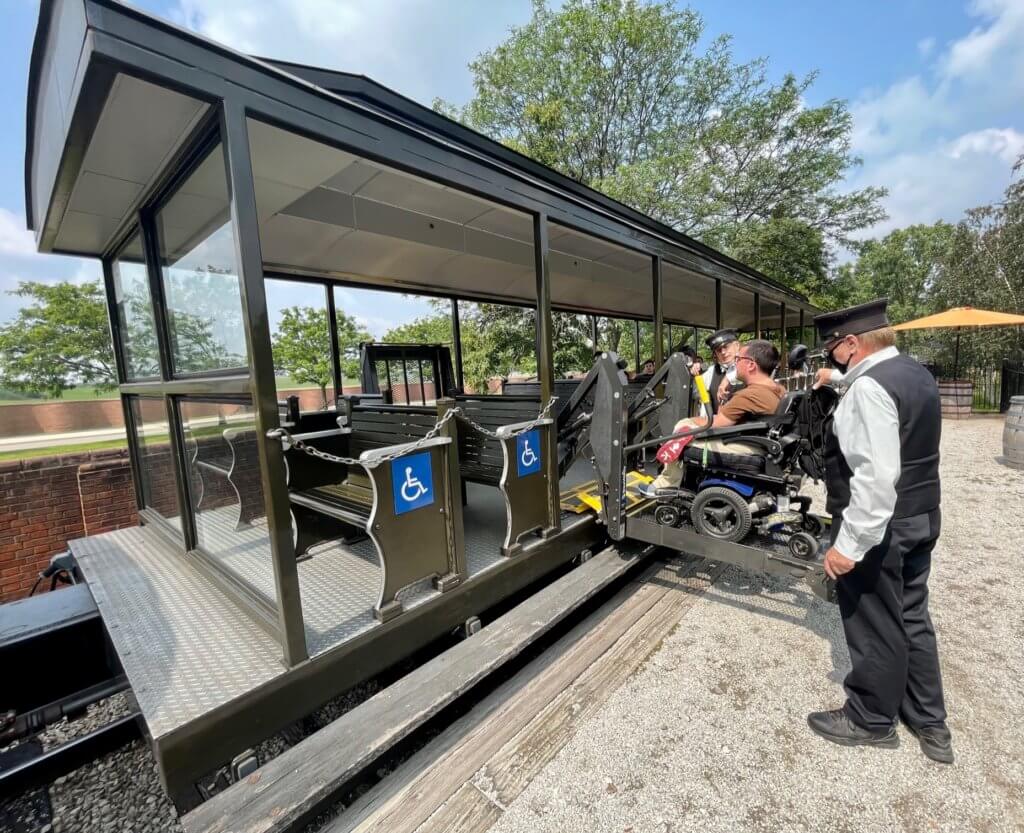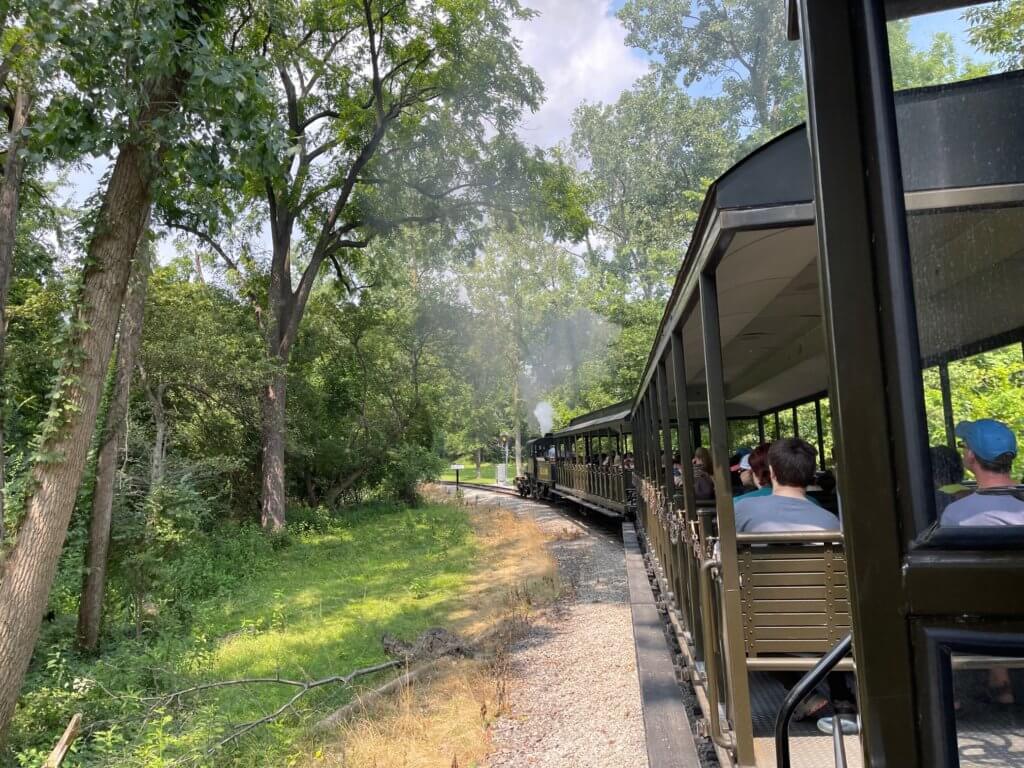 Another one of my favorite experiences at Greenfield Village was dining at Eagle Tavern. In this on-site restaurant, you'll feel like you're dining in the year 1850. Every item on the menu is from an 1850's recipe, there is no electricity in the restaurant (candlelight only!), and all waiters and waitresses wore traditional clothes from the 1850's time period. I had corn fritters, dumplings, corn on the cob, and green peas, and it was all delicious! Eagle Tavern is a sit-down restaurant, but other quick-service eateries are available if you prefer.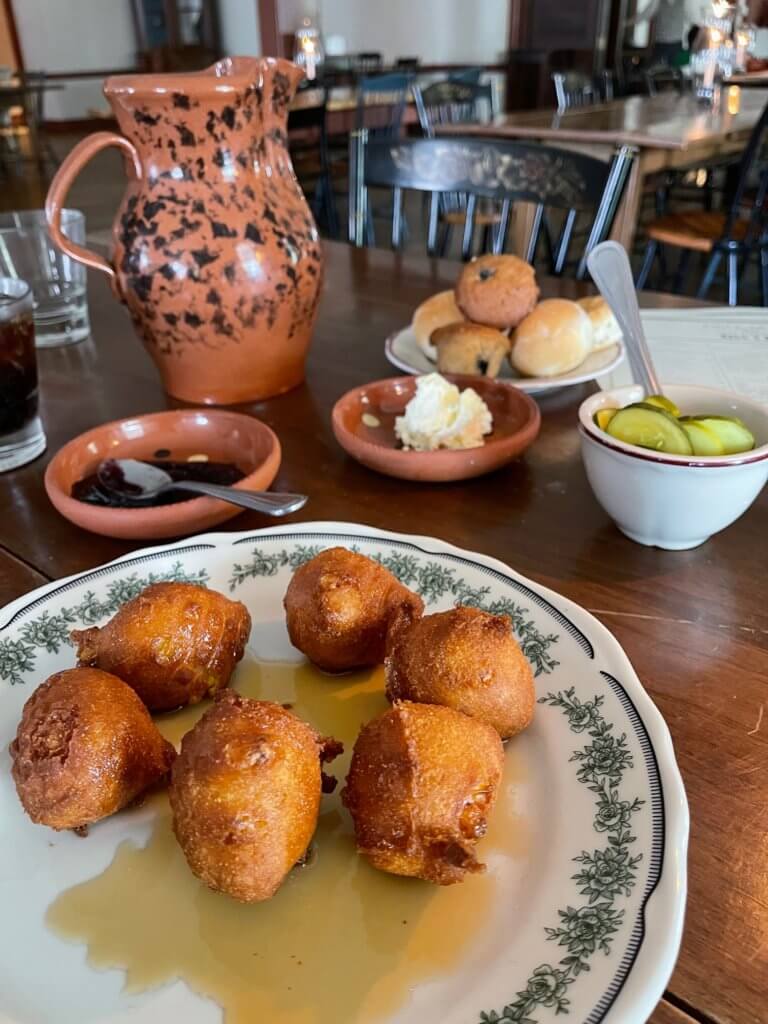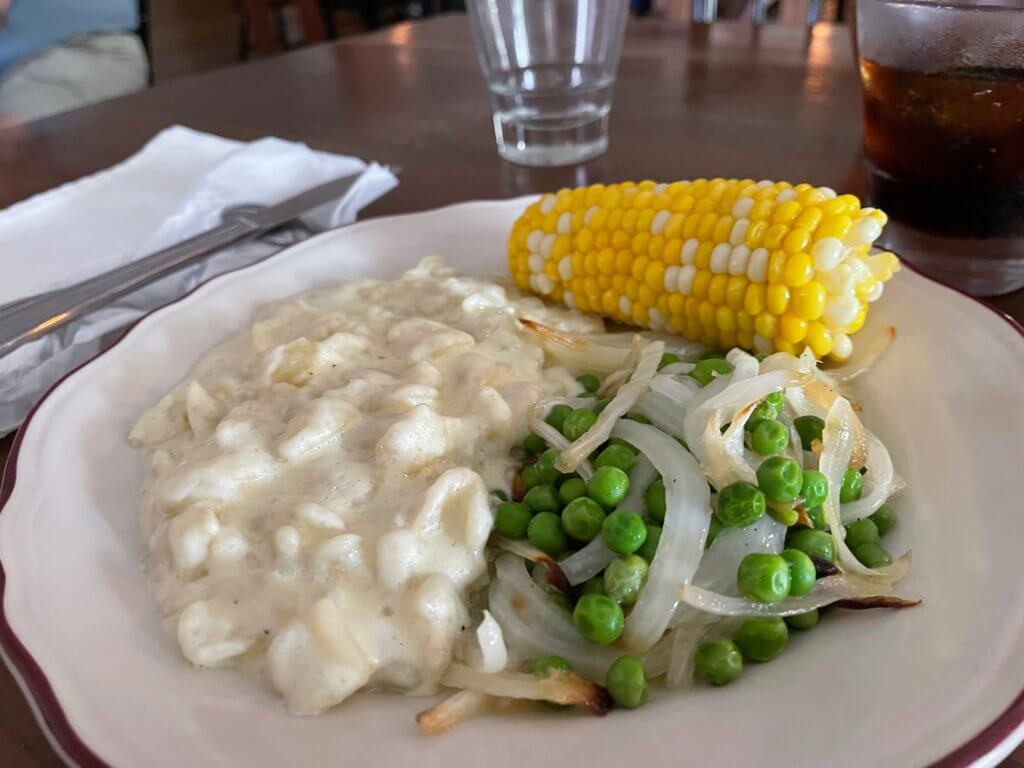 Greenfield Village is incredible and I could've literally spent all day here (I stayed here over 3 hours!), but this is only one part of The Henry Ford in Dearborn, Michigan. After rolling around Greenfield Village for a few hours, I went next door to The Henry Ford Museum of American Innovation, which was equally impressive. Let's dive into it…
Be inspired with stories of American innovation at The Henry Ford Museum
Aside from the awesome Greenfield Village, there is also a museum on the property of The Henry Ford. It does have a separate admission fee, but it's a must-do and well worth it. After being so captivated by how awesome the village was, I wasn't expecting to be as wowed by The Henry Ford Museum of American Innovation, but I certainly was!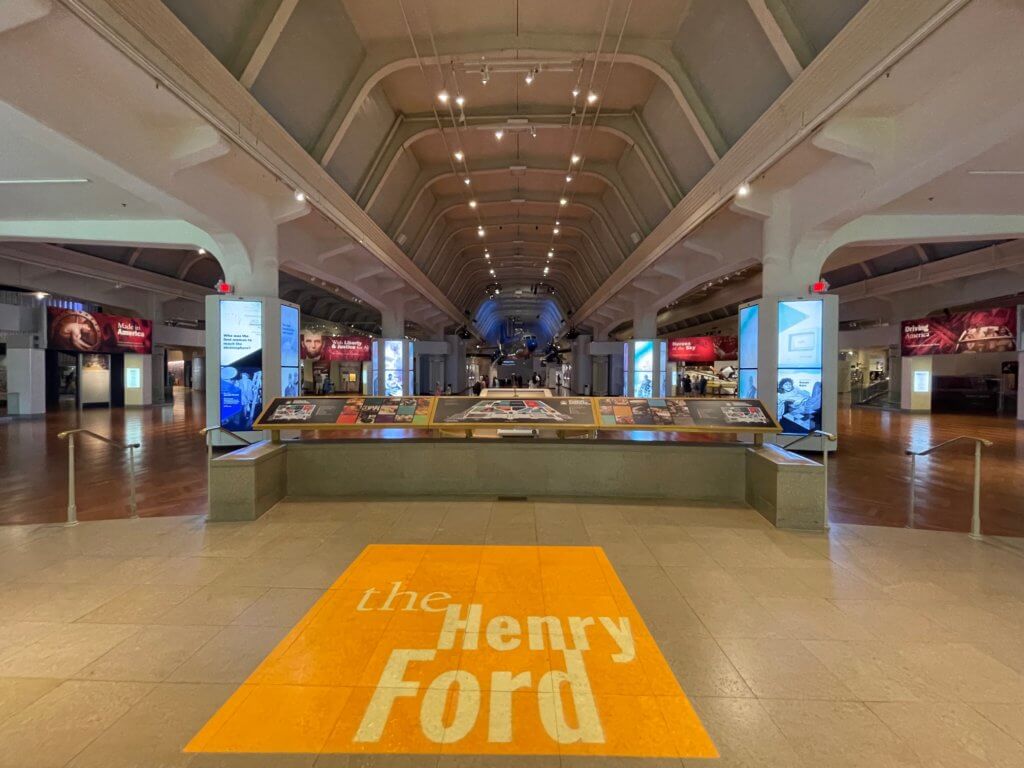 The Henry Ford Museum of American Innovation's numerous exhibits allow visitors to experience the strides of some of America's greatest minds. I saw some of the first cars ever made, early planes by the Wright Brothers, presidential vehicles, an exhibit all about Jim Henson (creator of The Muppets and Sesame Street!), and even the Weinermobile… among MANY other things! This museum had something for everyone and was fully accessible.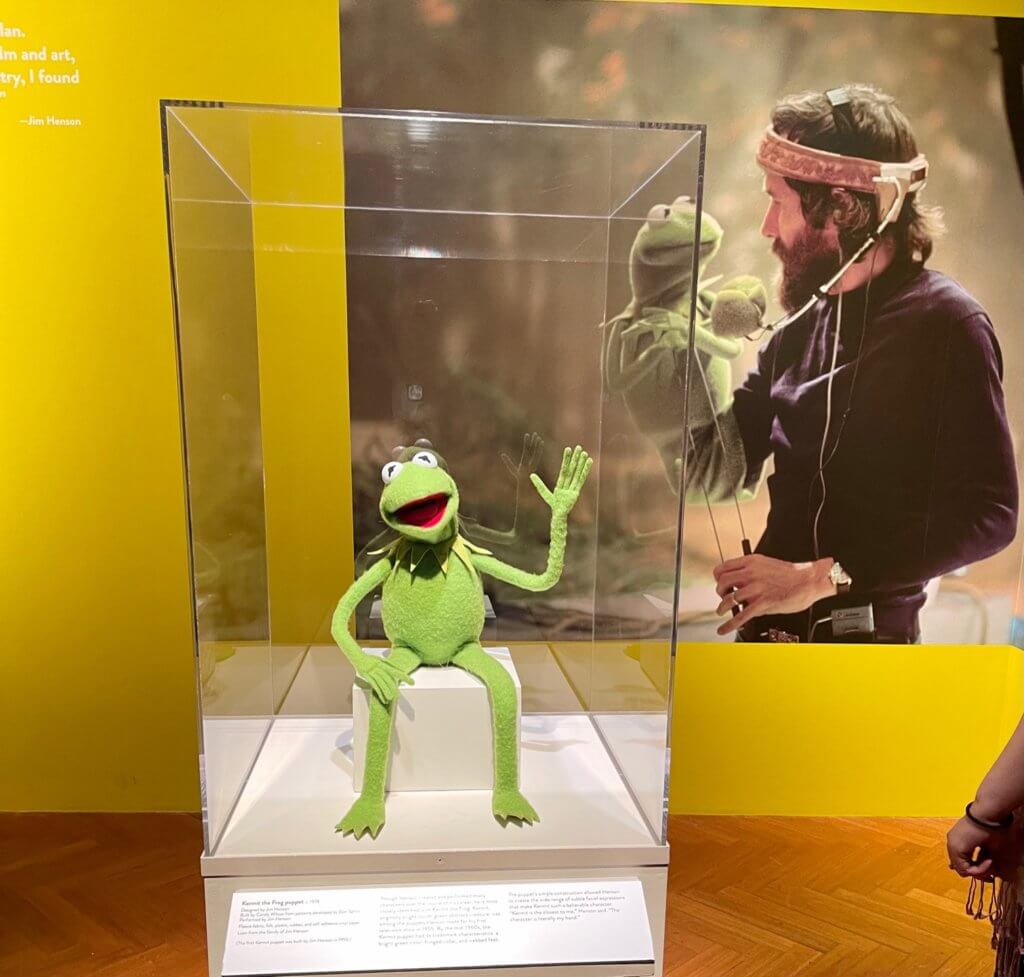 I thoroughly enjoyed spending over two hours in this museum and there were still some things that I didn't even get to see (I'm tellin' ya… it's huge!). If you're planning to visit The Henry Ford, plan at least 5-6 hours to explore both Greenfield Village and The Henry Ford Museum. I promise you, they're worth that much time.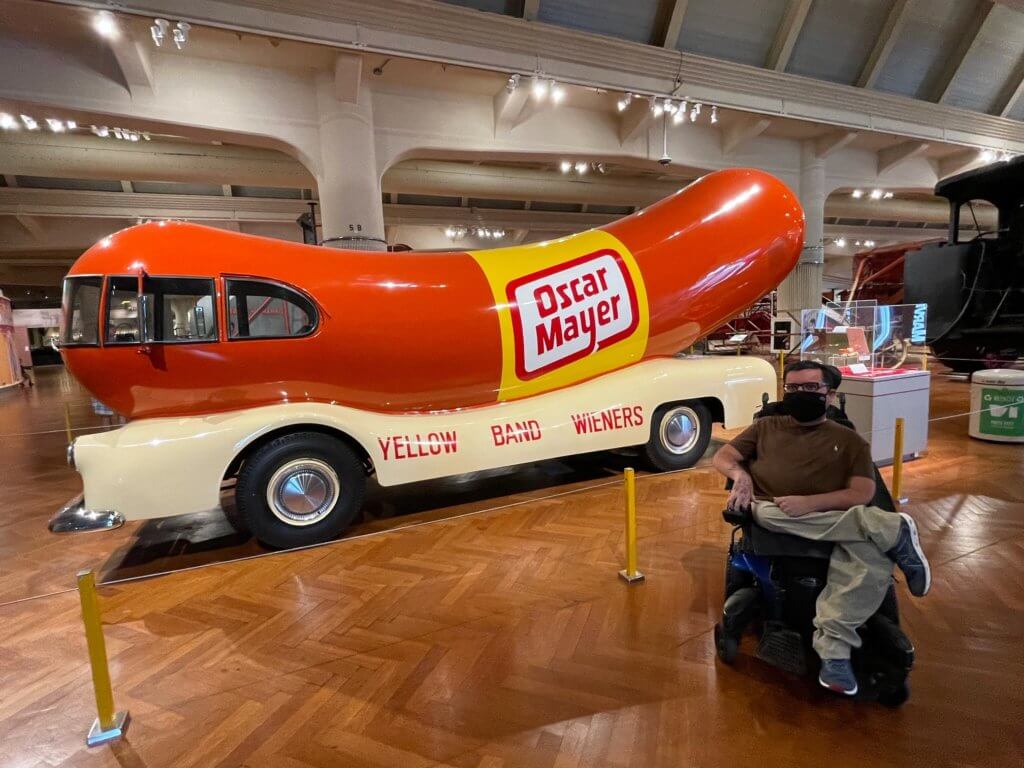 Eat all of the Detroit-style pizza that your stomach can handle
Coming in last, but certainly not least, on my list of wheelchair accessible Detroit attractions and things to do is eating Detroit-style pizza. If you're as much of a pizza lover as I am, you could even say that I've saved the best for last. I'm salivating just thinking about that delicious Detroit-style pizza… yum!
If you haven't eaten it before, you're probably thinking "What is Detroit-style pizza even?!" Well, I'm going to do my best to explain it. It's basically a rectangular thick-crust pizza, similar to deep-dish, but the cheese and tomato sauce go all the way to the edges of the pizza. It's crunchy and you get cheese in every single bite. I've had New York-style pizza in New York, Chicago-style deep dish pizza in Chicago, and now Detroit-style pizza in Detroit. I can happily say that Detroit is by far my favorite!
For a delicious Detroit-style pizza, I headed to Buddy's Pizza. Buddy's is considered the "birthplace of Detroit-style pizza" and has been serving hungry customers since 1946. I ate at the Buddy's downtown near the baseball stadium, but there are multiple locations around Detroit, including one at the Detroit Zoo as previously mentioned.
At Buddy's, I ordered the Buddy Bread (oven-baked soft garlic sticks with marinara sauce) as a starter and Detroit-style pizza as an entree, of course. Being the birthplace of Detroit-style pizza, the pizza was obviously phenomenal, but the Buddy Bread was insanely delicious as well. I haven't stopped wanting another basket of Buddy Bread and another slice of pizza since I left Buddy's. So much deliciousness!
Where to Stay in Detroit: MGM Grand Detroit
To be honest, there are a lot of awesome places to stay in Detroit (at least, it seems that way online), but for the ultimate Detroit vacation, consider booking a stay at MGM Grand Detroit. This AAA Four Diamond hotel is way more than just a hotel though. It also has a full casino, spa, and restaurants… just to name a few of the highlights.
I stayed at MGM Grand Detroit throughout my entire time in Detroit and it was amazing. I always love spending some time in a casino and this hotel has a great one! There are hundreds of slot machine games to choose from and all of your favorite table games are available as well. The casino is huge and on-par with Las Vegas casinos.
In addition to all of the entertainment and dining options, my wheelchair accessible room was fantastic as well. I stayed in an accessible room with two queen beds. A Hoyer lift/hoist could easily fit under both beds, as there was about four inches of clearance underneath the beds.
In my bathroom, there was a roll-in shower with a handheld shower wand and a fold-down bench seat, a pull-under sink, and there were grab bars by the toilet.
My stay at MGM Grand Detroit was nothing short of spectacular. From gambling in the casino (and wasting some money, of course, but YOLO) to having an accessible room that worked perfectly for my needs, I immensely enjoyed my stay and will absolutely stay at the MGM Grand Detroit again when I'm back in the city.
Wheelchair Accessible Van Rental in Detroit
For a wheelchair accessible van rental while in Detroit, check out Creative Mobility Group. We used a 2020 Chrysler Pacifica accessible van rental from Creative Mobility and it was great! It had a fold-out side-entry ramp and they even removed the passenger seat so that I could sit up-front. Tie-down straps were included to secure my wheelchair while driving.
As you can see, I had a remarkable time in Detroit. There are so many fun and wheelchair-friendly things to do that it's hard to squeeze everything into one trip, but hopefully the 11 wheelchair accessible Detroit attractions and things to do that are listed above help you begin to plan your own trip to Motor City. Once you visit, I'm sure that you'll love Detroit just as much as I do.
.
*Thank you to Pure Michigan for working with me on this trip and showing me the best wheelchair accessible Detroit attractions! While most of my experiences in Detroit were complimentary, all opinions expressed are authentic and my own.
.