If you are a college football fan, you've undoubtedly heard of Ann Arbor. The city is home to the University of Michigan, which has the largest football stadium in the country (capacity of 107,000+!!!). Ann Arbor is a fun college town, but unlike some other college towns I've visited, there are so many things to do here other than football-focused activities. Whether you're a college football fan or not, I think that you'll be impressed with the wheelchair accessible Ann Arbor sights and attractions. Trust me, I'm not really a football fan at all and I absolutely loved my time in Ann Arbor!
I visited Ann Arbor in early August, right after I spent a few days in the spectacular city of Detroit. The two cities are less than a one-hour drive apart, so I'd highly recommend spending time in both cities while you're in Michigan.
During my 48 hours in Ann Arbor, I enjoyed some of its best accessible attractions. From spending time on wheelchair-friendly trails to exploring downtown's many shops and restaurants, I had a fun-filled few days and already can't wait to return and see more of the city. While I wasn't able to visit every accessible attraction in Ann Arbor during this trip, I did enjoy some of the best accessible options. Here are six wheelchair accessible Ann Arbor sights and attractions worth seeing, plus where to stay while you're in the city –
Wheelchair Accessible Ann Arbor Sights and Attractions
Yankee Air Museum
During the drive from Detroit to Ann Arbor, I visited the Yankee Air Museum, which is less than a 30-minute drive from Ann Arbor. The museum is technically in Belleville, Michigan, but it's so close to Ann Arbor that it's easy to get to and it's certainly worth checking out!
The museum's exhibits show the history of flying and there are interactive elements throughout. I was able to get up-close and personal with historic aircraft, see firsthand just how much aviation has improved in the past century, and I even rolled inside a mock cockpit. I've always wanted to roll inside the cockpit on flights, but that's never been accessible, unfortunately. However, Yankee Air Museum had a ramp available and I was able to enjoy the interactive experience from my wheelchair.
Yankee Air Museum is a fascinating place and as a travel addict, I absolutely loved it! Whether you're an AvGeek or simply want to see some historic planes, plan to visit this museum during your wheelchair accessible Ann Arbor trip. The museum is open Tuesday-Sunday every week and admission is only $12 per adult.
Hudson Mills Metropark
Another great place to visit just a short drive from Ann Arbor is the Hudson Mills Metropark. The metropark is located in nearby Dexter, Michigan and offers a variety of things to do on a nice day. There is a golf course (with an accessible golf cart upon request!), picnic tables, a playground (not wheelchair accessible), and trails to hike/roll on.
The Hike-Bike Trail at Hudson Mills Metropark is fully paved, making it perfect for wheelchairs and bicycles to traverse. The trail is a 3-mile loop and I enjoyed rolling the entire loop while my mom biked it. Bicycles are available to rent from the Visitor's Center/office at the beginning of the trail.
The Hike-Bike Trail was incredibly smooth to roll on and provided some beautiful views. We even saw the Huron River for part of the loop. It's also worth noting that the trail is mostly flat, and pretty wide, with only a few small hills.
Whether you use a manual or powered wheelchair, you shouldn't have any problems rolling this trail. Plan for a couple hours on the trail, so that you can really take your time and enjoy your surroundings. This is the perfect place to be on a nice, sunny day in Ann Arbor, no matter what your abilities are.
Kerrytown Market & Shops
Downtown Ann Arbor has many shops to explore if you want to wander around for a while, which we'll talk about in just a bit, but if you're looking for a variety of shops all in one location, look no further than Kerrytown Market & Shops. This is a unique collection of shops and just a few blocks from the heart of downtown Ann Arbor.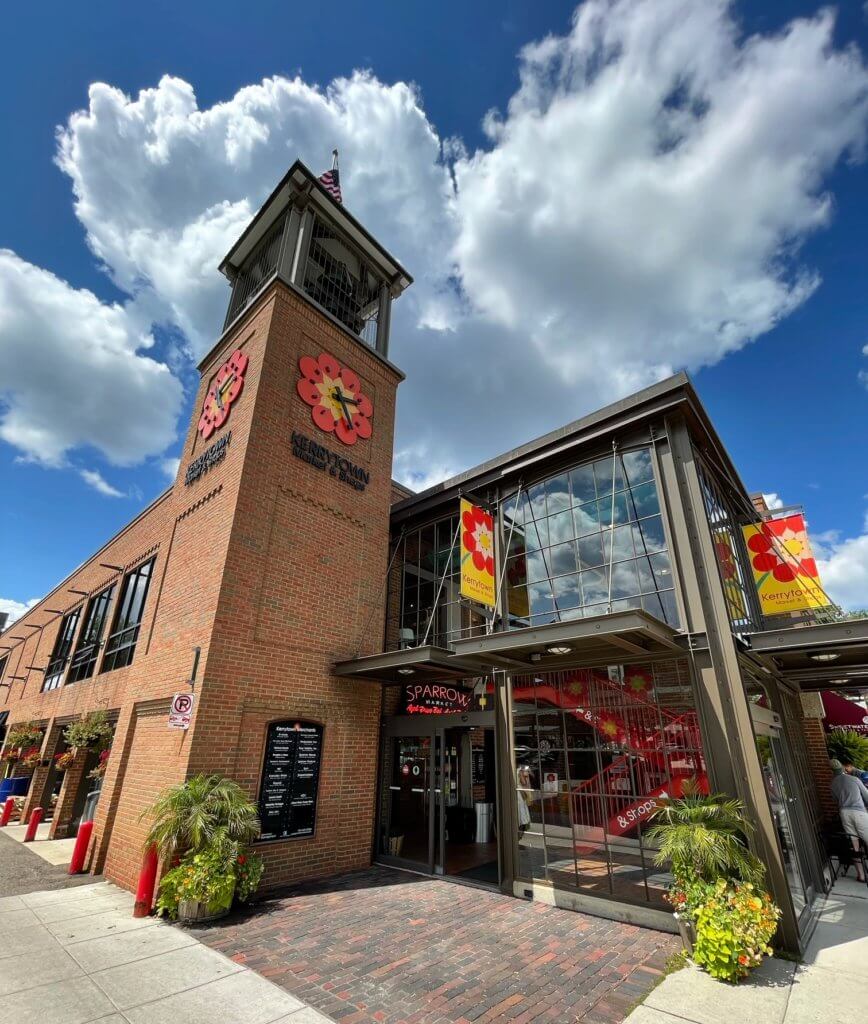 There are more than 20 shops and eateries at Kerrytown, so no matter what you're looking for, you should be able to find it. Some of my favorite shops were Ann Arbor Spice Merchants (they had a huge selection of teas!), Everyday Wines, Mudpuddles Toys (I had to get my niece a couple of fun toys), and Sweetwaters, which had great coffee and tea.
Kerrytown Market & Shops has multiple levels, but elevators are available to easily access each floor. I had a lot of fun browsing around in the different shops and purchasing a few items. This is a wonderful place to get some unique keepsakes to remember your time in Ann Arbor.
Zingerman's
Literally every person that I talked to before I visited Ann Arbor told me to go to Zingerman's. It is an Ann Arbor landmark, famous originally for having a phenomenal deli, but there is now much more to Zingerman's than just the deli.
Today, there is the grocery-like deli, the Zingerman's Roadhouse restaurant, Zingerman's Bakehouse, Zingerman's Candy Store, and more. No matter what you're in the mood for, whether it's a full meal or just some sweets, you can get it at one of the Zingerman's locations.
I visited Zingerman's Bakehouse during my trip and had some delicious cinnamon rolls. To be honest, I've never found a cinnamon roll that I didn't like, but these were seriously some of the best I've ever had. If you're planning to visit Ann Arbor, make this a must-do on your itinerary!
Gallup Park
As Ann Arbor's most popular recreation area, Gallup Park is a must-visit during any trip to the area. It is a 69-acre park along Geddes Pond and the Huron River, and you could easily spend an entire day here enjoying the outdoors.
Gallup Park has picnic shelters, grills, asphalt trails that are great for accessible hiking, and fully accessible playgrounds. The playgrounds are wheelchair accessible, so if you are a wheelchair user, you can easily enjoy playing with your kids/grandkids/nieces/nephews/etc. I always love seeing accessible playgrounds because when I was a kid, I never saw one and I would've really loved it 20+ years ago.
If you're wanting to try something a bit more adventurous while at Gallup Park, there is an EZ Launch for kayaks and canoes at the Gallup Park boat rental dock. The EZ Launch makes it a lot easier for wheelchair users to transfer from the wheelchair into the kayak or canoe. It's a fantastic system and you can rent kayaks or canoes from the "Canoe Livery" if you don't have your own.
Downtown Ann Arbor
Taking the last spot (but certainly not least!) on this list of wheelchair accessible Ann Arbor sights and attractions is the downtown area. Downtown Ann Arbor is composed of many shops and restaurants, and I spent several hours just wandering around and popping into various places.
Due to the pandemic, many restaurants had outdoor seating when I visited, which I loved. I really enjoyed sitting outside while eating delicious food and people-watching.
One of my favorite restaurants was Frita Batidos, which serves Cuban inspired street food. My favorite dish was called "The Best Snack Ever" and it was layered with coconut-ginger rice, black beans, melted Muenster, and cilantro-lime salsa. When I say that it was delicious, I mean DELICIOUS!
Downtown Ann Arbor was easy to navigate in my powered wheelchair. There were smooth sidewalks and curb cuts, so I enjoyed rolling from block to block and checking out some of the awesome murals as well.
The downtown area has so much to offer and with the University of Michigan being nearby, it's a fun and happening place any night of the week. During your wheelchair accessible Ann Arbor trip, plan to visit downtown on multiple occasions, as there's always something fun to do.
Where to Stay in Ann Arbor: TownePlace Suites by Marriott Ann Arbor
While in Ann Arbor, I stayed at TownePlace Suites by Marriott Ann Arbor. This hotel was only 10 minutes from all of the action in downtown and my wheelchair accessible room was great!
In my accessible room, there was a full kitchen and a spacious living area. As soon as I entered the room, I was immediately impressed with the fact that it had a whole kitchen and living area. It was nice to have so much space available.
In the bedroom, there was a king-sized bed and a huge walk-in closet. A hoyer lift could roll under the bed as well, as there was plenty of clearance underneath.
The bathroom had a roll-in shower, a pull-under sink, and there were grab bars as well. It worked perfectly for my accessibility needs and I would absolutely stay at TownePlace Suites by Marriott Ann Arbor again.
As you can see, I was able to check out a variety of fun and wheelchair accessible Ann Arbor attractions during my few days in the city. There is certainly a lot more to experience in Ann Arbor though, so I'm already looking forward to my next visit. If you've pushed Ann Arbor aside and thought that it was "just another college town", I hope that you now know that it's so much more than just that.
.
*Thank you to Pure Michigan for working with me on this trip and showing me the best wheelchair accessible Ann Arbor attractions! While most of my experiences in Ann Arbor were complimentary, all opinions expressed are authentic and my own.
.