There are only a couple major U.S. cities that are still on my list of places I really want to visit. Miami was on that list until very recently. I had long dreamed of visiting Miami, Florida and exploring Ocean Drive, enjoying some beach time, and eating delicious Cuban food, but aside from driving through Miami to get on a cruise ship, I had never experienced all that wheelchair accessible Miami has to offer. 
After years of dreaming about visiting, I was finally able to spend some time in Miami over a long weekend recently. There are a lot of great accessible Florida destinations, but nothing can quite compare to the energy that Miami has. This city swept me off my feet wheels in a short period of time and I'm already dreaming of returning. 
If you are looking for wheelchair accessible Miami attractions, places to eat, or hotels, I have compiled my recommendations below. By following this guide, I can almost guarantee that you'll have the best weekend ever in beautiful Miami, Florida. 
Wheelchair Accessible Miami Florida Attractions & Things to Do
During my few days in Miami, I checked out some fantastic attractions and places of interest. There is certainly no shortage of accessible things to do in Miami and this is in no way all of the wheelchair-friendly attractions the city has to offer, but these are great starting points when planning your own trip. Here are some of the wheelchair accessible Miami attractions that I tremendously enjoyed:
Roll on Ocean Drive 
Once we checked into our hotel, which I'll discuss later on in this blog post, our first stop in Miami was Ocean Drive. I have seen pictures of Ocean Drive for years and wanted to visit it, so I was very excited to finally experience Ocean Drive in all its glory. 
Ocean Drive is one of the most popular areas in the city because it goes along the beach (hence the name "Ocean Drive"), there are many Art Deco buildings to see along Ocean Drive, and there are dozens of restaurants/attractions in the area as well. This is such a fun area to hang out and it was the perfect first stop for our trip in Miami. 
We started by visiting the Art Deco Welcome Center. They had a small exhibit called the Legacy Couples Exhibit, which highlighted 400+ years of LGBTQ+ love. The exhibit is no longer on display, but they have new exhibits popping up all the time. See which exhibits they're currently showing here.
We checked out the exhibit and then took one of the Art Deco Welcome Center's maps and did a self-guided walking/rolling tour of Ocean Drive's Art Deco buildings. It was a lot of fun and I felt like I was in an episode of Miami Vice. The Art Deco buildings are so interesting to see.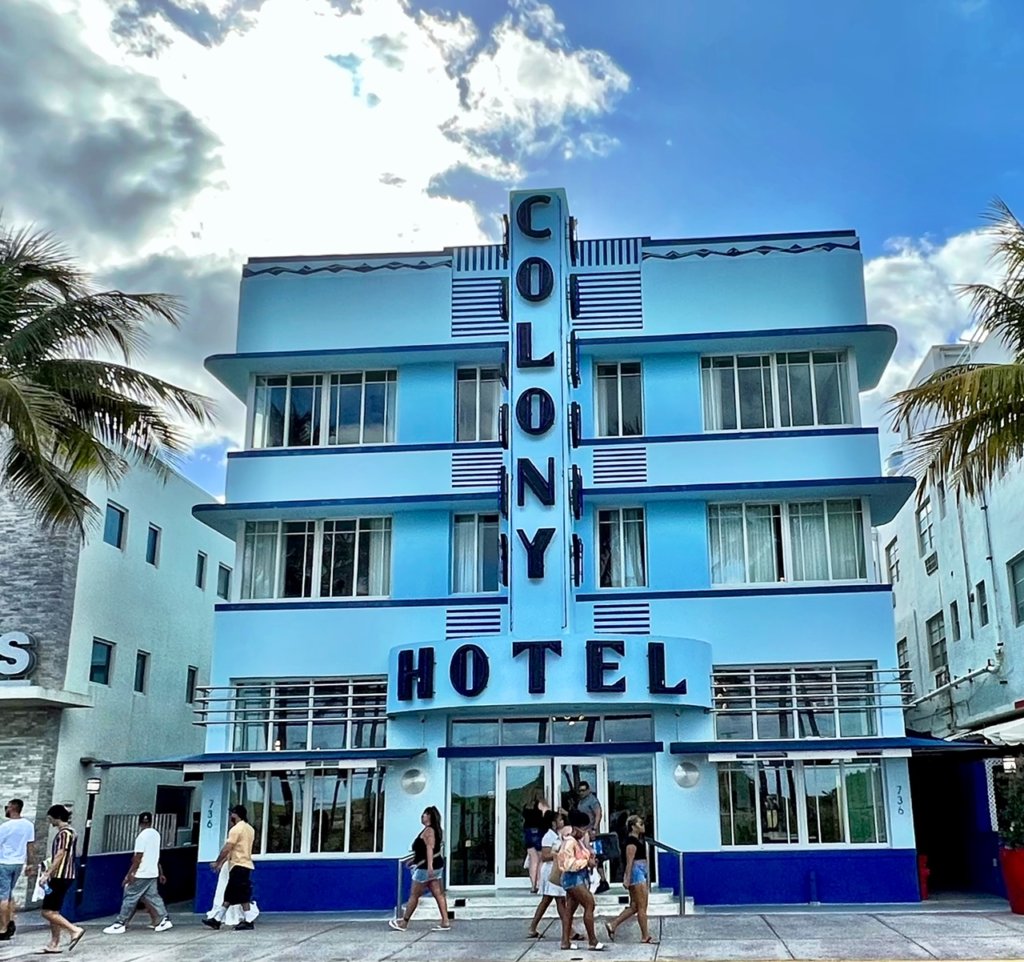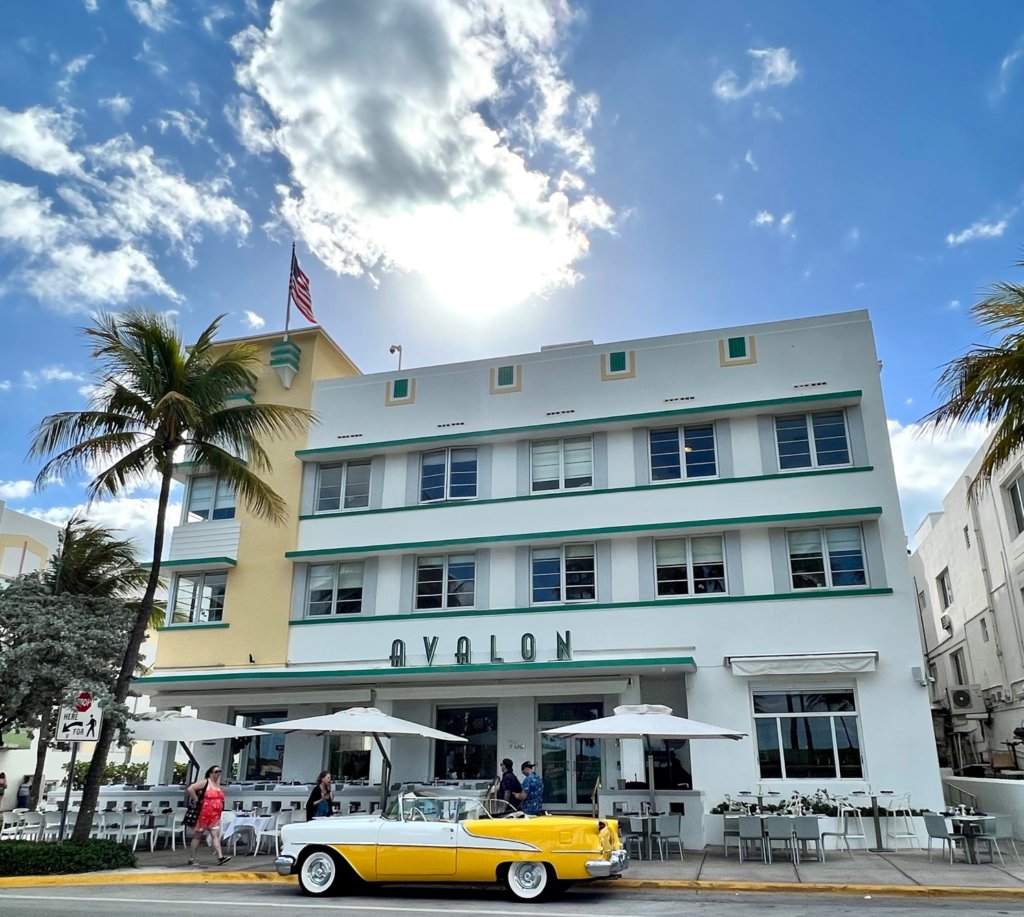 After rolling on Ocean Drive and seeing the many Art Deco buildings for a bit, I unexpectedly spotted a Mobi-Mat, which I was super excited about! Of course, I had to roll out on it and take in the gorgeous ocean views. If you'd rather roll further out on the sand, Miami has complimentary manual and motorized beach wheelchairs available on a first-come, first-served basis. You can get a beach wheelchair at 1001 Ocean Drive.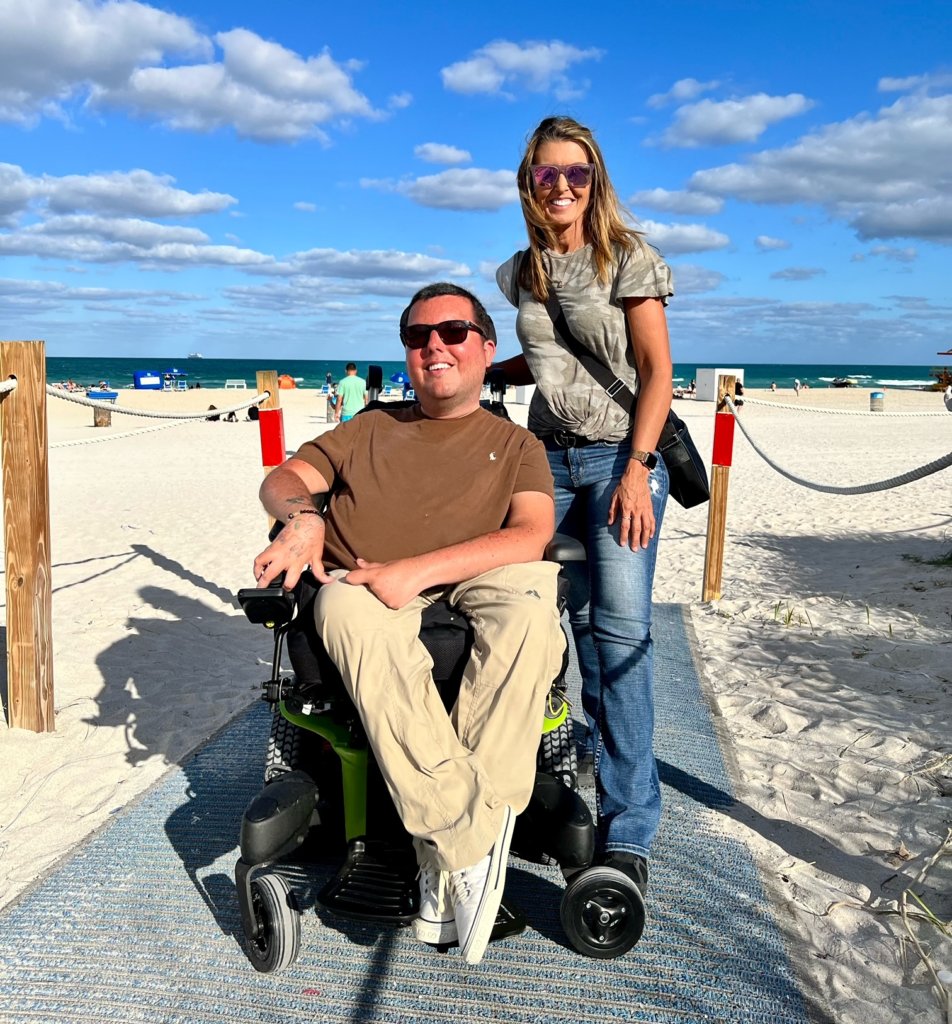 Ocean Drive is a must-see area of Miami and I loved exploring it for a couple hours. It was a spectacular introduction to the city and made me excited to explore more of wheelchair accessible Miami over the next few days. 
Enjoy immersive art at SuperBlue
I am a huge fan of immersive art experiences and I've been fortunate enough to enjoy quite a few different ones around the country in the past couple years, but none quite as unique as SuperBlue in Miami. This is one of Miami's newest attractions and it is completely wheelchair accessible. 
Not only is SuperBlue an Instagrammer's paradise with some cool photo opportunities, but it's also really really fun to experience. It features a mirrored labyrinth, a transcendent digital environment, and more… all of which I was easily able to enjoy as a wheelchair user. I loved experiencing the immersive art and was a bit mind-blown (in a good way) by some of the exhibits.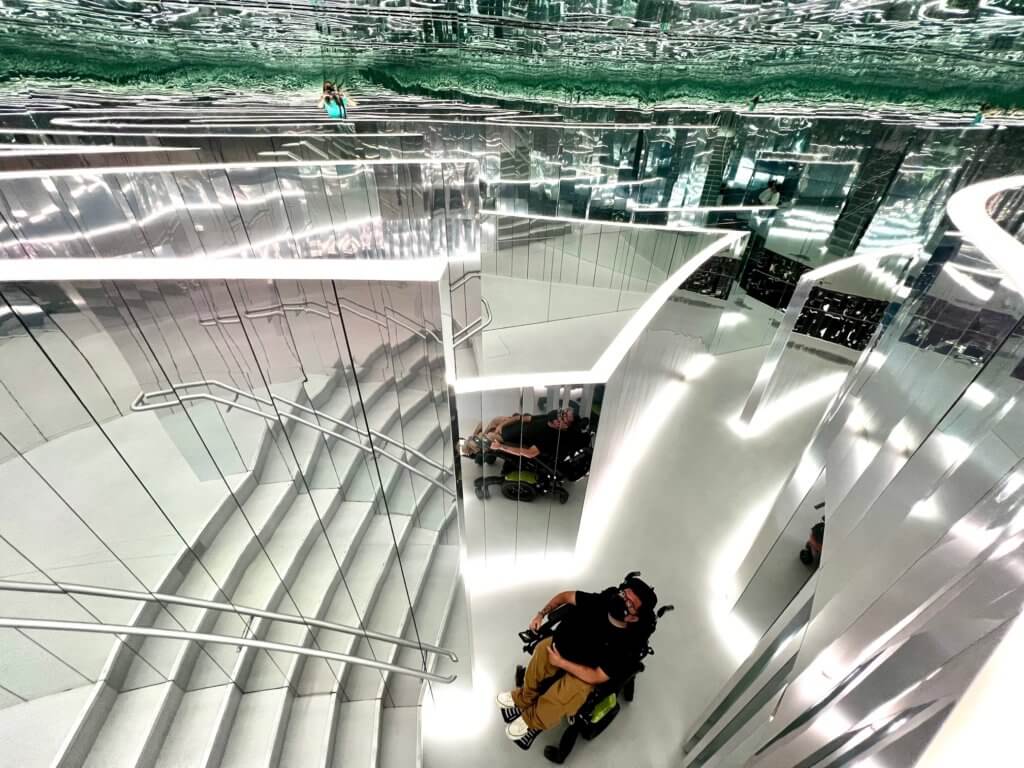 Tickets for SuperBlue start at about $36 per adult if purchased online in advance of your visit. SuperBlue's "Massless Clouds" experience does cost extra ($12 online), but I'd highly recommend doing it. After covering myself and my wheelchair with ponchos, I was able to roll into a room full of foamy clouds. It was a unique experience and a ton of fun.
If you're looking for one of the most unique experiences in Miami, definitely check out SuperBlue! This immersive art experience is sure to have you mesmerized for at least a couple hours. 
Hit the high seas with Shake-A-Leg Miami 
If you have followed my blog for any amount of time at all, you probably know that I always love being on the water. While in Miami, I was able to enjoy one of my favorite water experiences ever with Shake-A-Leg.
According to Shake-A-Leg's website, it "is a place for children and adults with disabilities, as well as their families, to call their own. Through the power of sailing and water sports, it aims to become the premier global community for people with disabilities, their families, and members of all ages and abilities to have fun, be inspired, develop friendships, and launch dreams." This is a phenomenal organization that is changing the world of water sports for people with disabilities. 
The president and co-founder of Shake-A-Leg Miami, Harry Horgan, surprised me by taking me out on a wheelchair accessible catamaran. The catamaran was called the "Impossible Dream" and it was amazingly accessible. I was able to go inside or enjoy the outer deck, as we sailed on the beautiful waters of Miami. 
We sailed for a couple hours and it was such a special experience. There's just nothing better than being out on the water. If you would like to get out on the water as well, you can do it at no cost with Shake-A-Leg. Every sailing and water sport experience is completely free, so no one has to worry about paying for anything. 
Shake-A-Leg has programs throughout the year for both adults and children, which you can learn more about here, but if you'd like to schedule something with Shake-A-Leg some other time, call them at 305-858-5550 and they might can schedule an adventure for you. Then, get ready for the best day ever with Shake-A-Leg Miami!
See hundreds of murals in the Wynwood district
The Wynwood district in Miami is one of the best places in the world to see street art. There is literally a mural on every building in the neighborhood, but if you want to see some of the best street art all in one place, you have to check out Wynwood Walls.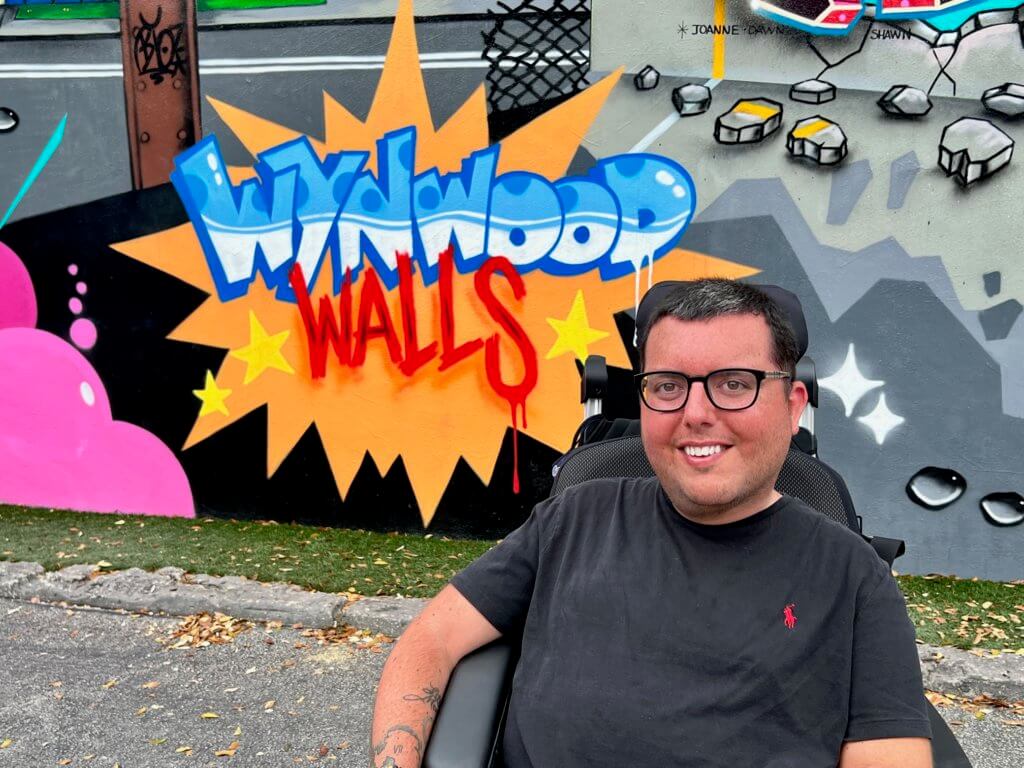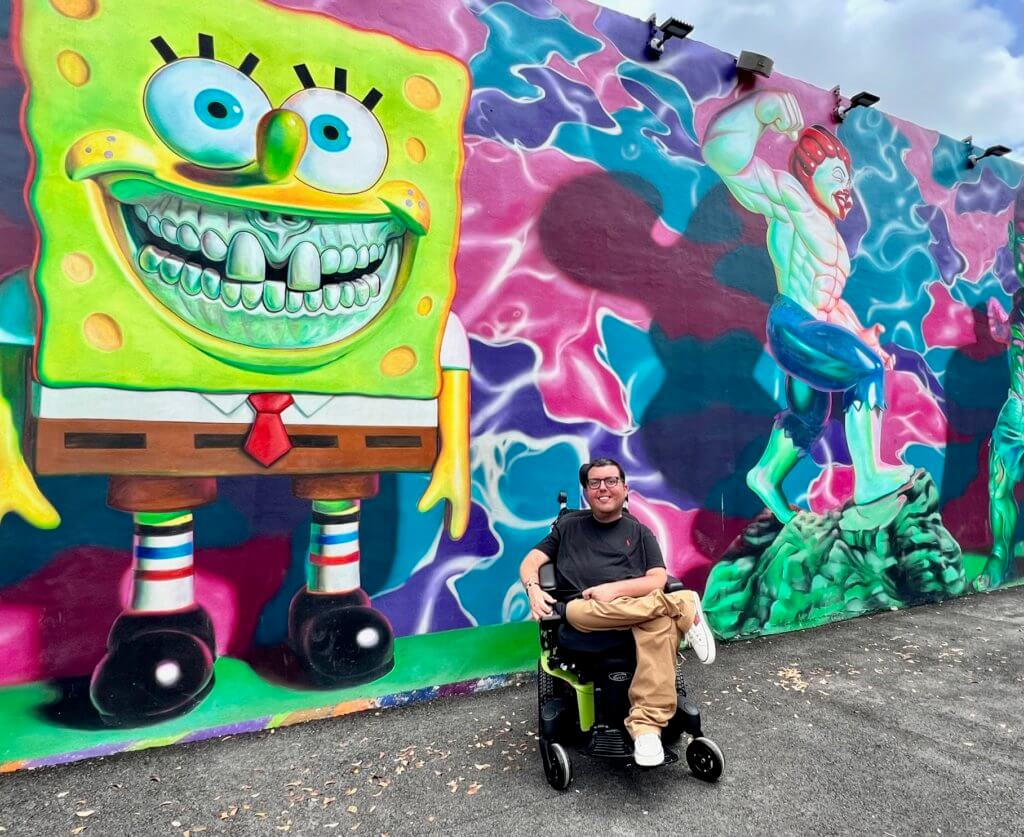 Wynwood Walls is an outdoor street art museum with more than 50 beautiful murals created by renowned street artists from Asia, Europe, Latin America and the United States. It is completely wheelchair accessible and I thoroughly enjoyed seeing the larger-than-life murals. I would highly recommend for you to visit Wynwood Walls if you're in the Miami area.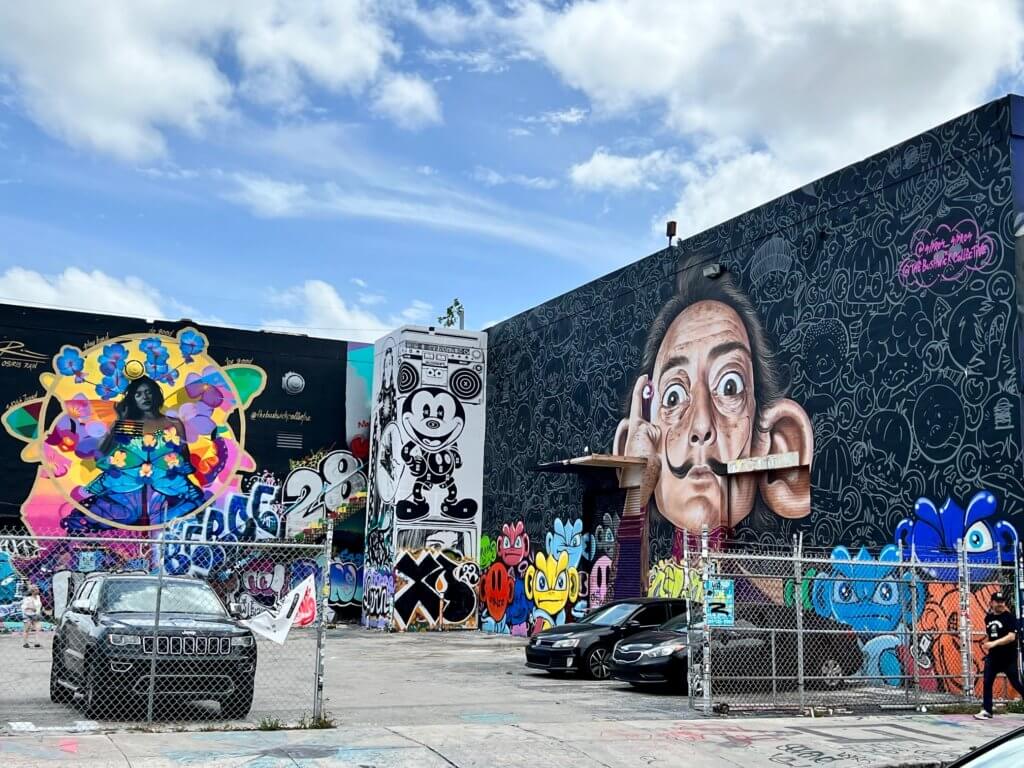 Be sure to wander the neighborhood after rolling around Wynwood Walls because there are some great murals on the nearby streets as well. You will find plenty of restaurants and other attractions as well, including the Museum of Graffiti. 
Eat delicious food in Miami
Miami is home to some of the best food in the world and from my first bite, I was hooked on the deliciousness of Miami food. You may associate Miami with having Cuban food, which it definitely does, but I promise that there is something for every palate, no matter what you're craving. 
These are five of my favorite accessible restaurants that I was able to try in Miami, in no particular order:
Hometown Barbecue – As the name suggests, this restaurant serves barbecue and is in the Allapattah neighborhood of Miami. I had a BBQ sandwich, macaroni & cheese, and street corn, and everything was delicious. I have eaten a lot of barbecue in my life and I can honestly say that this was some of the best I've ever eaten.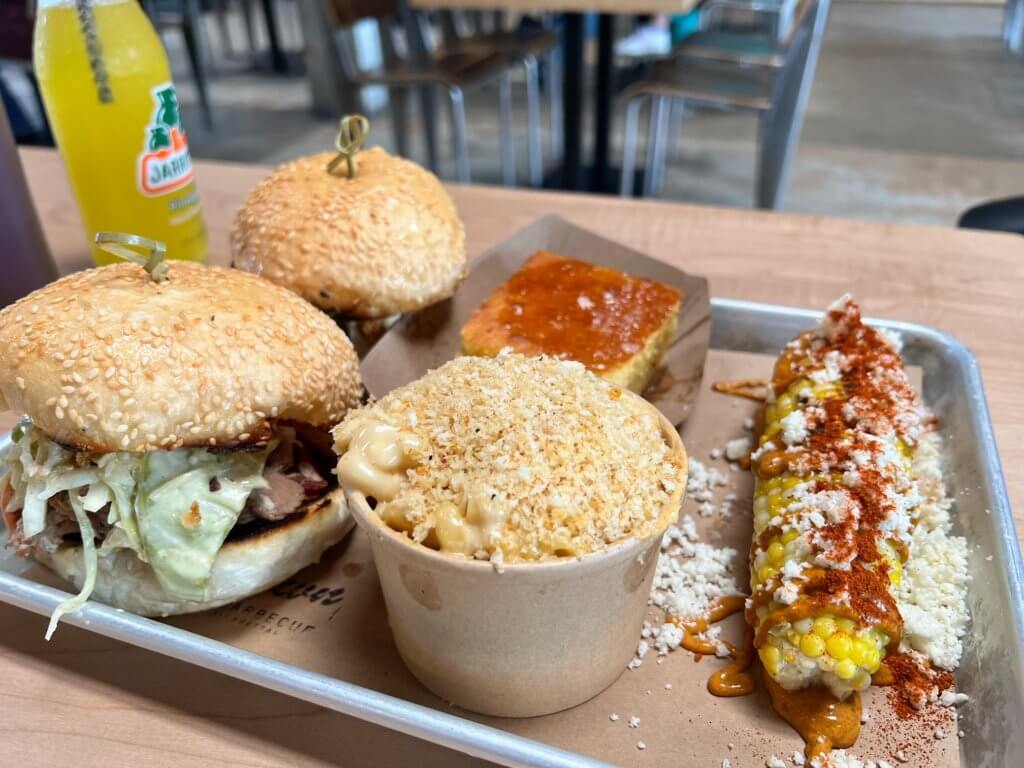 TimeOut Market – Spread across 17,000 square feet, TimeOut Market is a Miami hotspot for eating and drinking, featuring some of the top chefs in the city. There are more than a dozen eateries here, but what I loved about it was that I could get sushi from one place, Detroit-style pizza from another, and dessert somewhere else, but enjoy it all at one of the tables in the central dining area. TimeOut Market Miami takes the idea of a typical food court and flips it on its head, making it a place that actually has delicious food! 
Peacock Garden Resto Bar & Grill – Peacock Garden is located in the Coconut Grove neighborhood of Miami, near Shake-A-Leg's adaptive sailing facilities. It features indoor and outdoor dining, but if it's a nice day, I'd suggest dining al fresco. You'll be surrounded by a beautiful garden full of plants and flowers as you enjoy great food. I had jumbo shrimp and fries, which were very tasty, but there are a variety of seafood and non-seafood options on the menu. 
Cantina Beach – This restaurant is located at the gorgeous Ritz-Carlton Key Biscayne and it is Miami's only oceanfront, coastal Mexican restaurant. Mexican food is my favorite and I really enjoyed Cantina Beach, especially with the beautiful ocean views and the impeccable service of the Ritz-Carlton. To start, we enjoyed guacamole and then I had chicken fajitas for my entree. Yum!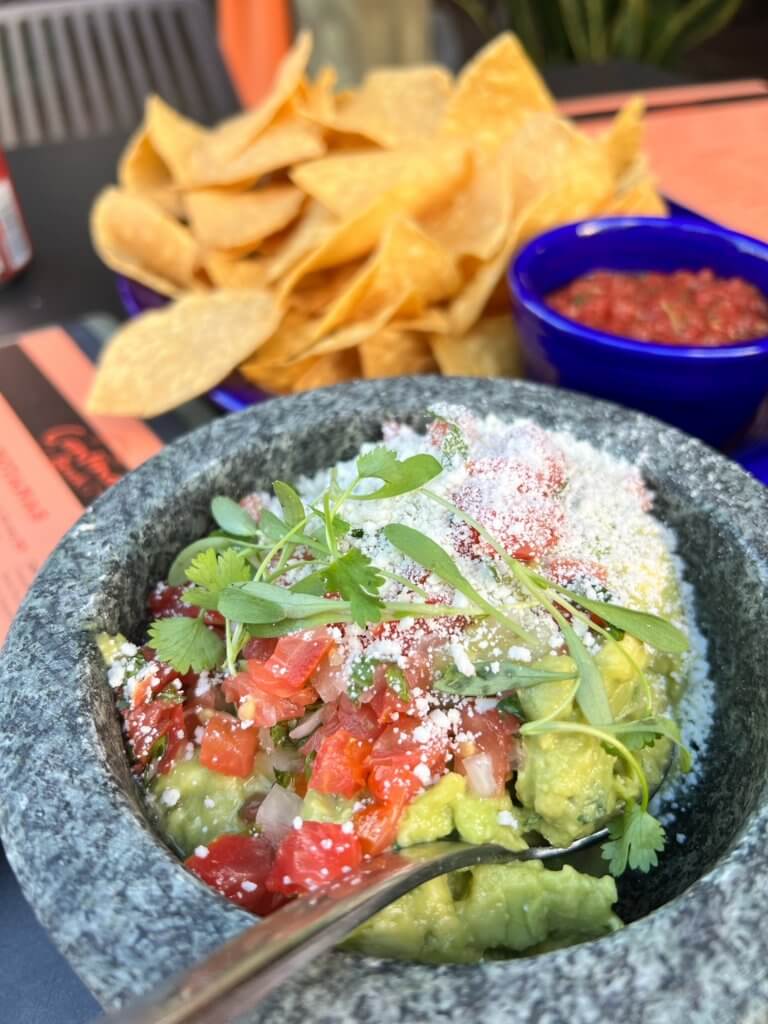 Casa Florida – I enjoyed my last meal in Miami at Casa Florida, which is located in the Selina Miami River Hotel. This restaurant is beautifully decorated (so many photo ops are possible here, I promise!) and you can often enjoy live music and special events as well. Just be sure to check the events schedule online here. Casa Florida's menu has so many options to choose from, but I ultimately decided on the coconut mojito to drink (if you like coconut, this is truly fantastic!) and we then got several tapas to eat. We had shrimp cocktail, beef empanadas, chicken empanadas, local burrata salad, and the Florida avocado smash & mariquitas, all of which was divine.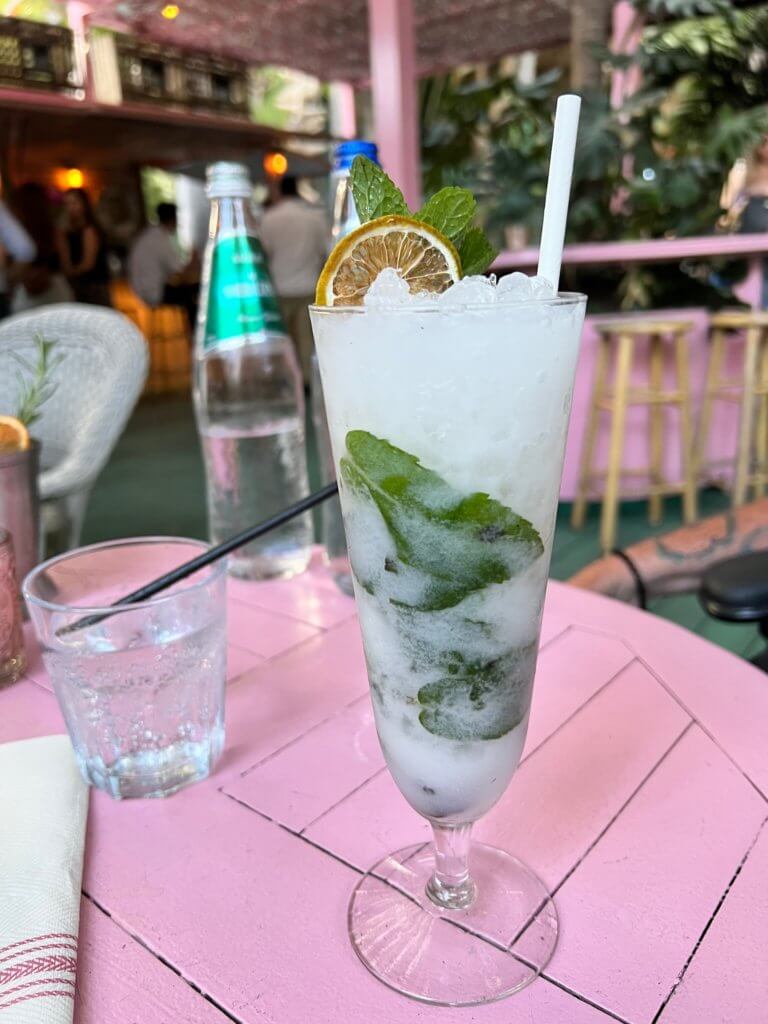 Where to Stay in Wheelchair Accessible Miami 
For my three nights in Miami, I stayed in two different hotels. My first two nights were spent at the luxurious Carillon Miami Wellness Resort and my last night was spent at the more budget-friendly Selina Gold Dust Motel. Both of these accommodations worked well for my accessibility needs, but let's dive into the specifics.
Carillon Miami Wellness Resort
Carillon Miami Wellness Resort is a luxurious oceanfront resort that allows guests to restore, relax, and transform. As soon as I arrived, I knew that I was in for something special, as the valet quickly helped with luggage and invited us to unwind in "paradise", as he called it. 
After a smooth and quick check-in process, we were escorted to our room. Our room was a wheelchair accessible suite and was one of the most spacious room I've ever stayed in.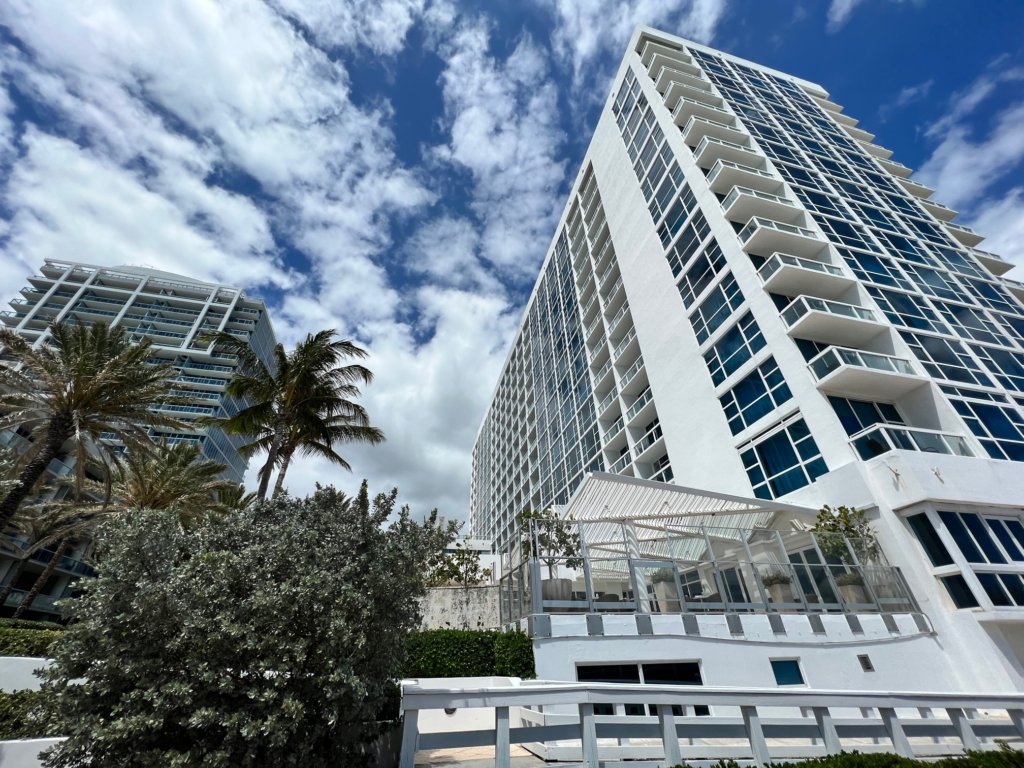 Upon entry, there was a full kitchen, complete with a refrigerator, microwave, sink, stove, coffee machine, and pretty much every other amenity you can imagine. The living area was connected to the kitchen and had a couch and a SmartTV. 
In the bedroom, there was a king sized bed and another TV. The bedroom was very spacious and the bed was a pretty good height if you need to self-transfer, but a hoyer lift could not roll under the bed, as it was on a block frame. I talked to the resort's manager about this issue and he seemed to understand, so hopefully it'll be fixed soon. Just call to check before booking if you use a hoyer lift. 
Our room actually came with not just one, but two bathrooms. The first one had a tub, a walk-in shower, a toilet, and a pull-under sink. The other bathroom was more accessible with a pull-under vanity mirror, grab bars by the toilet, a full-length mirror, and a roll-in shower. The roll-in shower was smooth to roll into with my shower chair, but a fold-down bench seat was available if needed. The bathroom worked perfectly for my needs and was absolutely beautiful (I don't think I've ever said that about a bathroom before).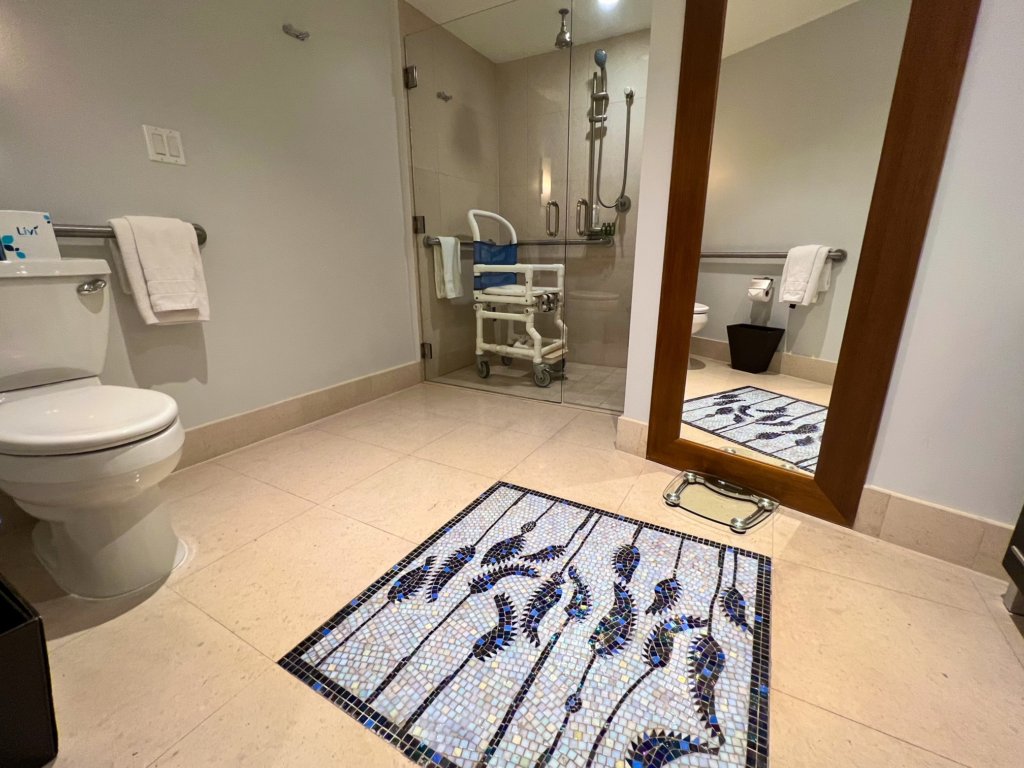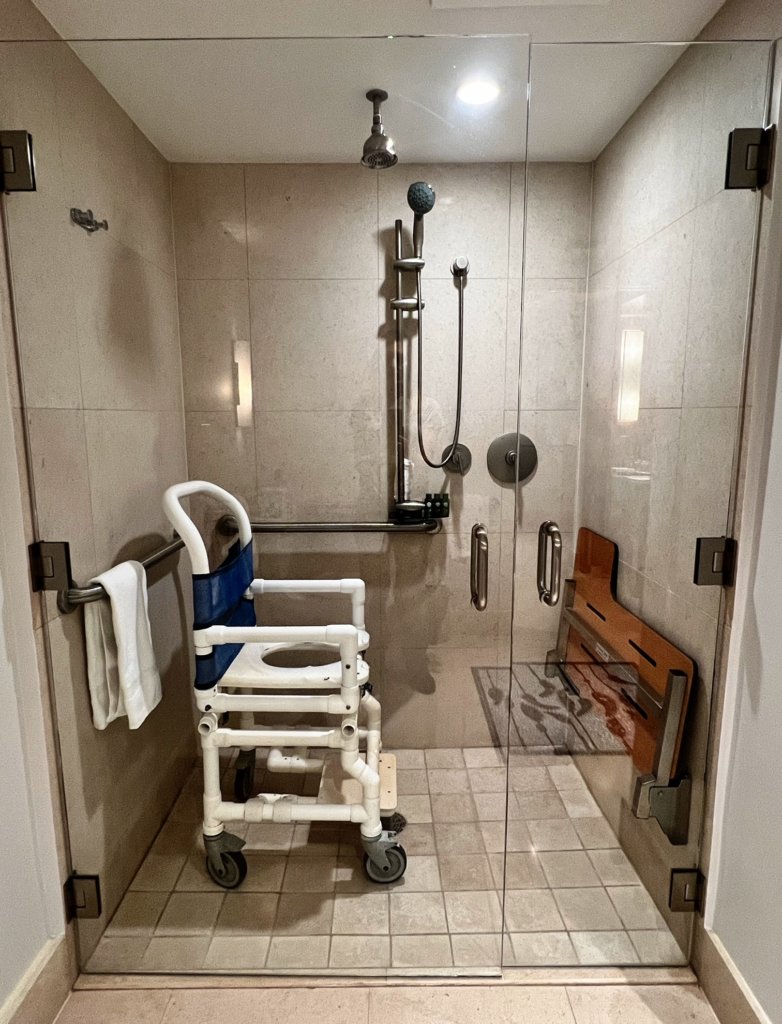 Aside from the stunning room, another thing that I loved about the Carillon Miami Wellness Resort was the fact that it was oceanfront. The resort even had a manual beach wheelchair for me to use and the path to the beach was smooth, making it easy for the beach wheelchair to roll on the sand. The resort's pool had an access lift as well, making it as simple and easy as possible for wheelchair users to cool off in the hot Miami sun.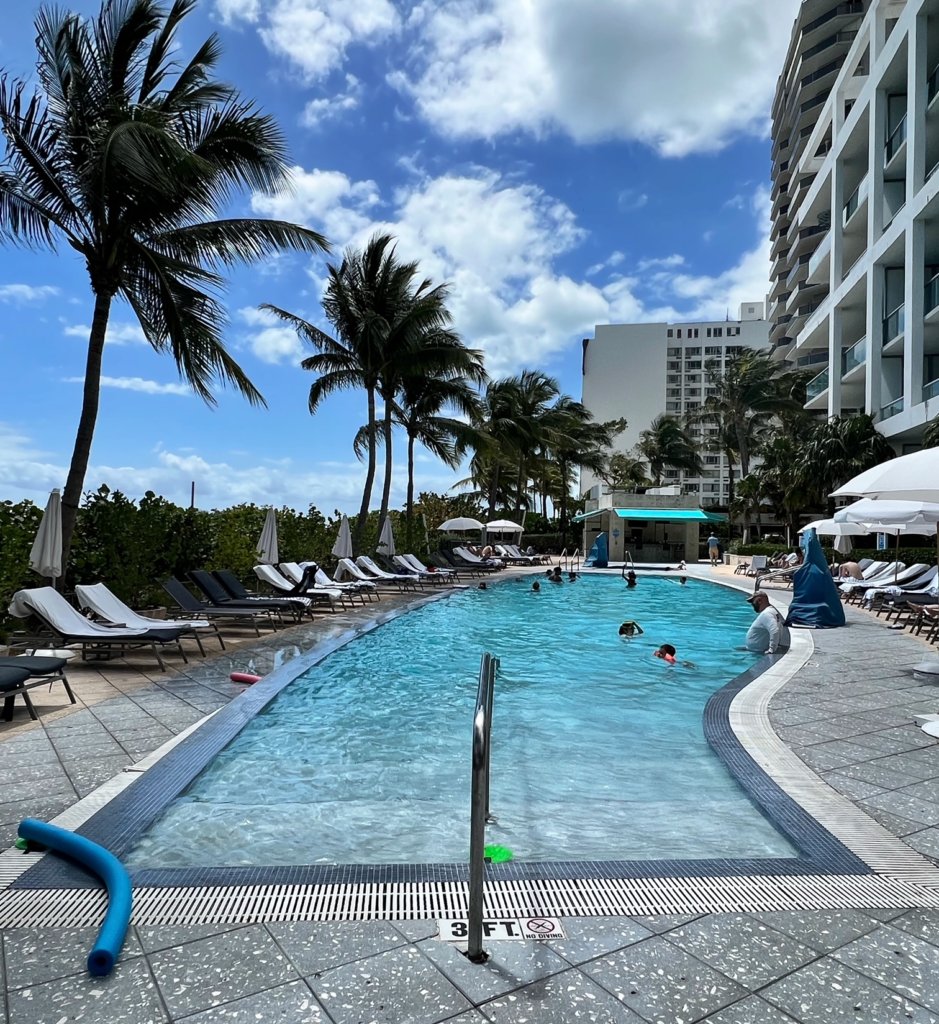 Most people stay at Carillon Miami Wellness Resort to enjoy the on-site spa, so of course I had to try out some treatments while staying here. The spa offers all kinds of traditional treatments like massages and facials, but they also have touchless treatments, which are really unique. 
I started my visit to the spa by meditating in the Somadome. It is the "world's first technology-enabled meditation pod that combines color, sound, and energy therapies to create the physical space to go within and experience the many benefits of deep meditation." To experience the meditation pod, I reclined my wheelchair all the way back and enjoyed about 20 minutes of meditation. I've tried to meditate in the past and wasn't a huge fan, but this was a relaxing experience and I tremendously enjoyed it. 
Another wellness treatment that I tried was called AVACEN. It is heat therapy and can relieve pain throughout the body, just by putting your hand into a machine. It was extremely relaxing and I was able to stay in my wheelchair for the treatment. To view all of the treatments that the spa offers, just click here.
I have stayed in some spectacular hotels around the world, but Carillon Miami Wellness Resort may be the nicest resort I've ever stayed in. Is it expensive? Yes, it is, but if you're looking for a luxurious, and wheelchair accessible, place to stay in Miami, look no further.
Selina Gold Dust
For my last night in Miami, I changed hotels and moved over to the Selina Gold Dust Motel in the MiMo District neighborhood of Miami. This motel is housed in a 1950's motor lodge and still pays homage to that with retro design, but it has a cool and modern vibe today. 
My wheelchair accessible room was on the ground level, which I am a big fan of since going down stairs in the event of an emergency would be a disaster. In the bedroom, there was one bed and it was a great height for self-transferring. A hoyer lift could also roll under it very easily, as there was a lot of clearance underneath the bed. 
Since the Selina Gold Dust is a budget-friendly motel, there was no television in the room, which was kind of different at first, but free WiFi was available and it was quite fast. Parking was also included and we were able to park right outside of our room, which was convenient.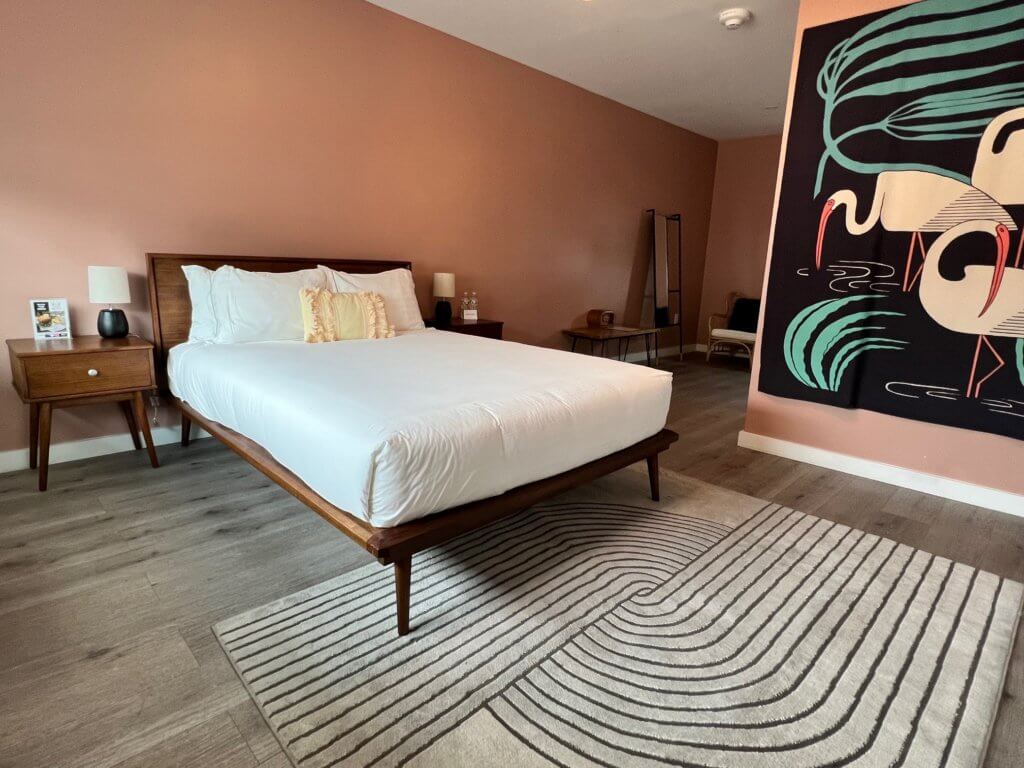 In our bathroom, there were grab bars by the toilet, a roll-under sink, and a nice roll-in shower. The roll-in shower was smooth to roll into and had a fold-down seat and a handheld shower wand available. Both the bathroom and the bedroom really couldn't have been more accommodating for my accessibility needs. 
The Selina Gold Dust has a pool as well, but wheelchair users need to take a lift to get up to the pool area. Unfortunately, that lift wasn't working during my stay, but the manager assured me that it was scheduled to be fixed the week after my stay, so it should be working by now. The pool does have an access lift to get into the water.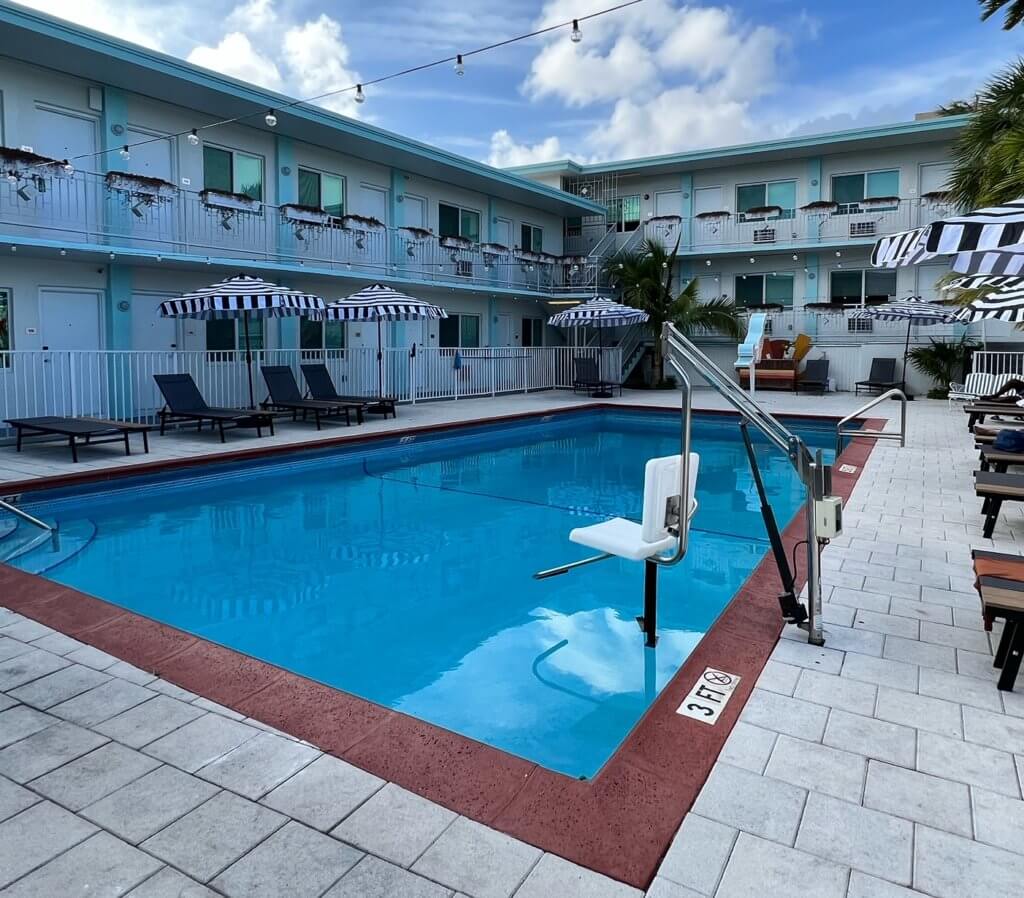 Aside from the lift at the pool area not working, the Selina Gold Dust Motel was perfect for me accessibility-wise. I enjoyed my stay here and was so happy to see that a budget-friendly option was so wheelchair accessible! 
While my time in Miami was relatively short, I had so much fun in my action-packed few days in the city. Miami truly offers something for people of all abilities and I am already looking forward to returning and checking out more of the wheelchair accessible Miami attractions. Now that you know about some of the best accessible things to do and places to stay in Miami, start planning your own wheelchair-friendly getaway to paradise!
.
*Thank you to Visit Florida and Visit Miami for working with me on this trip and showing me the best of wheelchair accessible Miami! While my experiences in Miami were complimentary, all opinions expressed are authentic and my own.
.