Several years ago, I saw the revival of Oklahoma on Broadway (yes, the one with the incredible Ali Stroker!). I was immediately enamored by the music and have pretty much been singing along to the soundtrack since then. While I loved the Broadway musical though, I didn't really know anything about the actual state of Oklahoma, aside from the fact that it's "where the wind comes sweepin' down the plain".
One of my favorite things to do is visit places that I don't know a whole lot about because it gives me the chance to go in with zero expectations and be totally surprised. So, when I got the chance to visit Oklahoma City for the first time recently, I thought about it for half a second and then said "I cain't say no!" Fast forward a few months and I was in beautiful Oklahoma City!
I visited Oklahoma City for a long weekend (four days, three nights) and during that time, I was able to experience some of the city's best wheelchair accessible attractions. From spending a "beautiful mornin'" at Myriad Gardens in downtown Oklahoma City to having an emotional visit at the First Americans Museum and so much more, the city surpassed all of my expectations and I left thinking that this is undoubtedly one of the most underrated cities in the U.S.
If you're looking for wheelchair accessible Oklahoma City attractions and wondering where to stay when you visit, I've got you covered. Here are some of the greatest accessible things to do for a phenomenal trip in Oklahoma City –
Wheelchair Accessible Oklahoma City Attractions & Things to Do
Myriad Gardens
My first stop in Oklahoma City was Myriad Botanical Gardens, which were right beside the hotel that I stayed at, which I'll discuss in just a bit. These gardens are in the heart of downtown and I enjoyed rolling around the garden's 15 acres for a couple hours. And best of all, it's completely free to visit Myriad Gardens!
Accessibility at Myriad Botanical Gardens was great. There were smooth, paved paths throughout and the children's garden even had rubberized turf and an inclusive playground. I loved spinning on the AbilityWhirl and to be intended for children, it sure was a real thrill!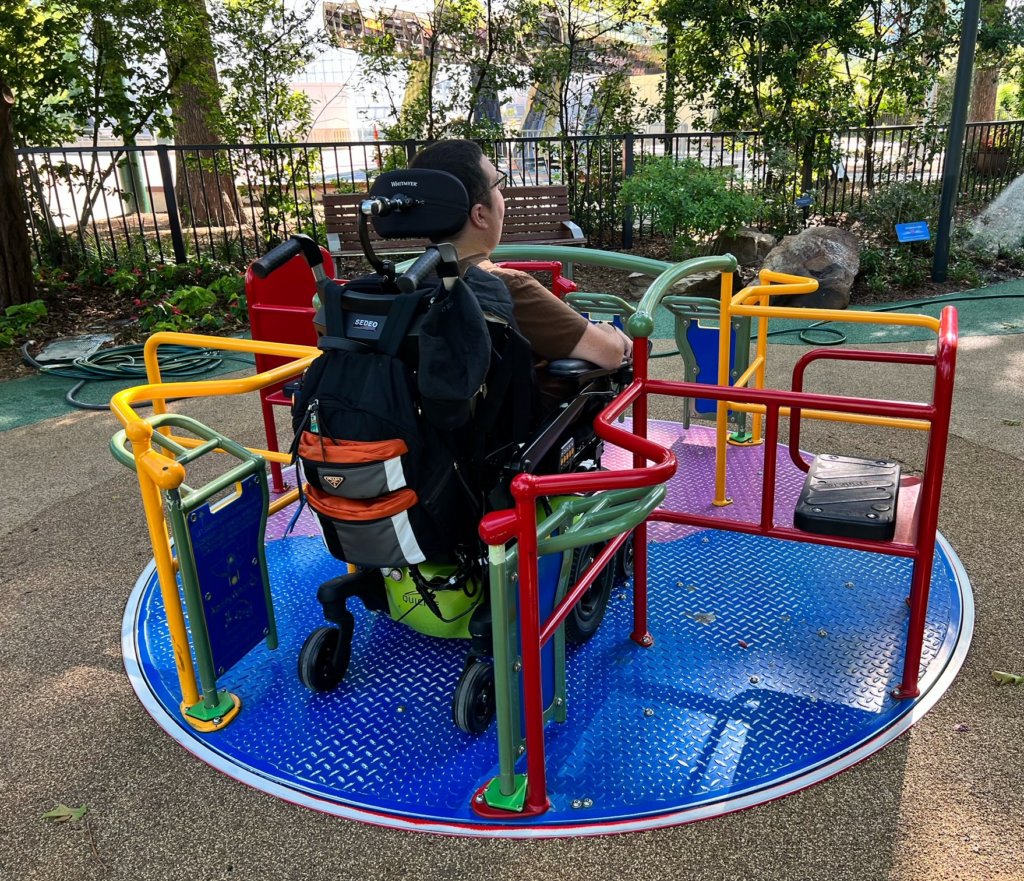 While the many outdoor elements of the gardens are open, the Crystal Bridge Conservatory is currently closed for renovation. It's becoming more wheelchair accessible & will be complete in November 2022. I got a bit of a sneak peek inside and it's starting to look pretty awesome. I can't wait to come back after November and see what it looks like when it's finished with renovations.
Myriad Gardens is a fun place to roll around and it's really unique to have such a huge outdoor space in the middle of a bustling downtown area. I visited the gardens several times during my trip and noticed something new every single time, making this a fantastic place to visit.
Factory Obscura
I'm a big fan of immersive art experiences and have visited quite a few different ones over the years, but Factory Obscura might be the most fun immersive art experience that I've ever seen. "Mix-Tape" is Factory Obscura's permanent exhibit and at 6,000 square feet, there's a LOT to see!
There are various rooms here and each one has a different theme relating to a mix-tape in some way. I was able to sing karaoke in an 80s themed room, view 3D installations with special 3D glasses, and more over the course of about an hour.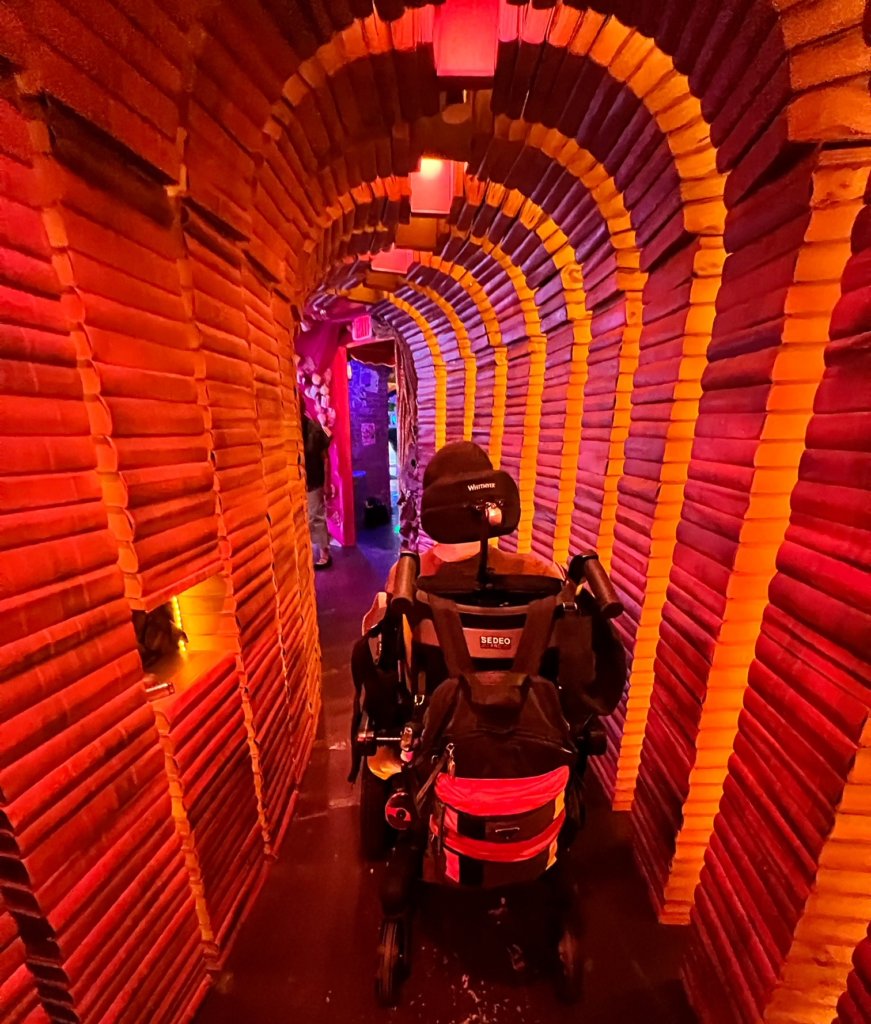 Accessibility at Factory Obscura was great for me, as I was able to easily enjoy almost everything in my wheelchair. While some doorways were a bit tight, my powered wheelchair got through them all and I had a fun time. There was even a gender-neutral restroom available.
If you're looking for a good time in Oklahoma City, this is the place to be! Factory Obscura has a really fun environment and is open every day of the week except for Tuesday. Admission is $20 per adult.
First Americans Museum
One of the newest museums in Oklahoma City is the First Americans Museum. It opened in 2021 and is beautifully designed, completely wheelchair accessible (there's even a spacious family restroom!), and it does a terrific job of explaining the cultural diversity and history of the First Americans.
I learned so much during my visit to this museum and was even moved to tears a couple times. It was truly one of the best museums that I have ever visited. There were informational short films to watch and they did a great job explaining the history of First Americans, but I also enjoyed reading the many informational placards on display in each exhibit. I'm usually not a huge fan of reading in museums, but the First Americans Museum did a beautiful job of explaining everything in an easy-to-read and unique way.
I spent about two solid hours exploring the museum and would highly recommend for you to really take your time and enjoy it. There is a lot to see here and it would be a shame to rush through it. At a minimum, I'd suggest two hours, but it could easily take more than that.
Upon arrival to the museum, before I even checked out any of the exhibits, I had a delicious lunch at Thirty Nine Restaurant. This is the museum's on-site restaurant and it serves modern, indigenous cuisine. The food here is fantastically unique and unlike anywhere else in Oklahoma City. I enjoyed skillet corn bread for an appetizer and chimichurri turkey cutlets for my entree. Everything was delicious and I would definitely eat here again!
National Cowboy & Western Heritage Museum
Yee haw! Out of all of the attractions that I visited in Oklahoma City, this was the only one that I had heard of and knew about before I started planning this trip. I was super excited to visit the National Cowboy & Western Heritage Museum in Oklahoma City and I'm happy to say that it certainly didn't disappoint.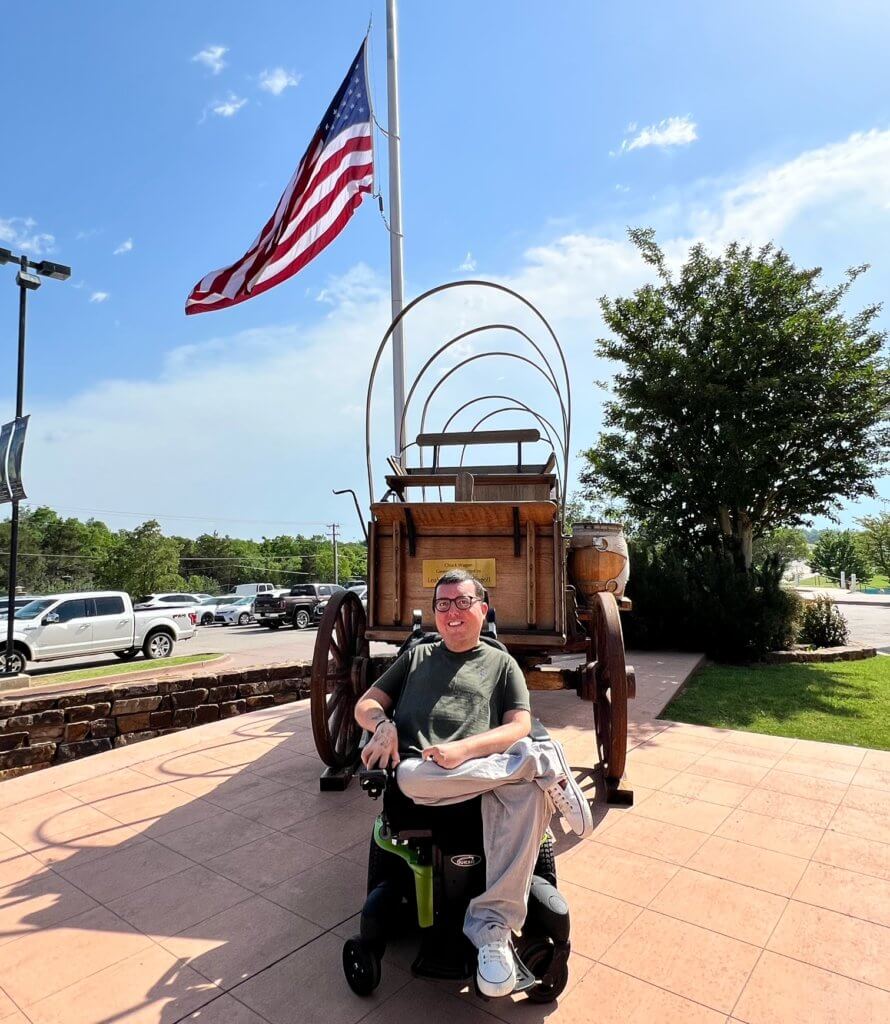 The National Cowboy & Western Heritage Museum is the premier institution in America for Western art, history, and culture. I was able to learn about everything Western-related during my visit, from rodeos to Western movies to Native American culture… just to name a few. There is even a recreation of a turn-of-the-century town inside the museum, where visitors can go inside a saloon, an old schoolhouse, a mercantile shop, and more.
If you'd like to venture outside, the museum has a huge outdoor exhibit (more than 100,000 square feet!) called Liichokoshkomo'. Here, there is an emphasis on purposeful play. You can go inside of a Kiowa Tipi, see a Puebloan cliff dwelling, play on a playground, or more. It's a nice outdoor space for all ages and abilities.
Wheelchair accessibility at the National Cowboy & Western Heritage Museum was great! I was able to easily access all areas of the museum. Exhibits were spacious and if you need to borrow a wheelchair for your visit, they are available from the museum for free on a first-come, first-served basis.
This museum seriously blew me away and is a definite must-visit in Oklahoma City. After my visit, I suddenly had an urge to start watching Western movies and I gained a whole new appreciation for western heritage.
American Banjo Museum
One of the most unique museums to visit in Oklahoma City is the American Banjo Museum. Before coming here, I knew absolutely nothing about banjos, but I left wanting to buy one… or at least attempt to play one.
The American Banjo Museum did a great job of explaining the history of the banjo & I got to see hundreds of banjos on display, each one uniquely designed. Before going to this museum, I had no idea that the banjo was invented by enslaved Africans, but the museum did a beautiful job of explaining the harsh history of the banjo and I certainly learned a lot.
The American Banjo Museum has two levels and there is an elevator to access both. To actually get in the museum, the main entrance has stairs, but there is a side entrance with a ramp. The side door stays locked, as people have entered it to steal banjos in the past, so call the museum upon arrival and they'll be happy to let you in.
Whether you are a fan of playing the banjo in particular, just want to see some cool banjos on display, or want to learn about the history of this musical instrument, the American Banjo Museum is a really interesting place to visit in Oklahoma City.
Stockyards City
When thinking of Oklahoma (especially if you've never been), you probably imagine western towns and cowboys. Am I right? While most of Oklahoma City is very modern, Stockyards City is a place to visit if you'd like to experience some Wild West charm.
As the name suggests, this area is home to stockyards and today, these stockyards have the largest stocker and feeder cattle market in the world. In addition to the stockyards though, you can shop, dine, and be entertained in Stockyards City.
I started by visiting Cattlemen's Steakhouse, which is one of the most popular restaurants in Oklahoma City. It's been visited by Guy Fieri, featured on Travel Channel's "Man Vs. Food", and even won the Best Steak Award from the Oklahoma Gazette. With over 100 years in business, they have perfected steaks and I was excited to try one for myself.
I ordered the Cattlemen's Strip Sirloin for my entree. It came with a side salad and bread to start and had a baked potato on the side. The salad was phenomenal, as they make their own homemade ranch dressing… yum! And the steak and baked potato were literal perfection. It was honestly one of the best meals I've ever had in my entire life. I would seriously travel back to Oklahoma City just to eat at Cattlemen's Steakhouse again.
After eating all of the steak that my stomach could handle, I rolled around Stockyards City and checked out a couple shops. One of my favorites was Western Wear Outlet. I didn't buy anything, but it was fun to see all of the cowboy boots and western apparel.
Bricktown Water Taxi
Similar to San Antonio's Riverwalk, Oklahoma City has the Bricktown Canal. Along the canal, there are restaurants, murals, and it's just a beautiful area to roll along. You could absolutely have a good time here enjoying dinner along the canal, but one of the best ways to truly experience the canal is with Bricktown Water Taxi.
Bricktown Water Taxi opened in 1999 and has been one of the most popular attractions in Oklahoma City ever since. Multiple times every day, they take passengers on a water taxi for a narrated tour of the historic Bricktown entertainment district. And luckily, the water taxis are wheelchair accessible!
I was able to easily board the water taxi with one of their portable ramps. The spot for a wheelchair is right by the guide and has a terrific view of everything along the route, but it is unshaded and gets quite hot on a warm day. I did a tour midday and it was pretty hot, but I immensely enjoyed the tour.
Over the course of about 40 minutes, we cruised along the canal and our guide told us interesting facts about Oklahoma City. He was humorous and even gave recommendations of some of his favorite local spots, which I appreciated. The ride was very smooth and comfortable, despite the heat, and it ended up being one of my favorite wheelchair accessible Oklahoma City attractions!
Where I Stayed: The Colcord
While in Oklahoma City, I stayed at the beautiful Colcord Hotel. It is in the heart of downtown and within walking/rolling distance of many of the city's best restaurants and attractions, including Myriad Gardens.
The Colcord is in a historic building (it was actually Oklahoma City's first skyscraper back in 1910), but it has undergone renovations and is now very modern. The Colcord opened over a decade ago and is now one of the best places to stay in the city.
I stayed in a wheelchair accessible suite on the ninth floor of the hotel. It had a spacious living room with a nice couch, TV, desk, and more as soon as I entered, so I was immediately impressed.
In the bedroom, there was one king sized bed. The bed was a pretty good height for self-transferring, but if you use a hoyer lift, it unfortunately would not roll under the bed, as it had a block frame underneath. I was disappointed to not see any clearance underneath the bed for a hoyer lift, but the bedroom worked for my needs and the bed was super comfortable.
The bathroom was huge and spread across multiple rooms. The toilet had its own room, the roll-in shower had its own room, and pull-under sinks were separately situated. All of this was just one room/area away from one another, so it worked really well. The bathroom could not have been any better for me accessibility-wise.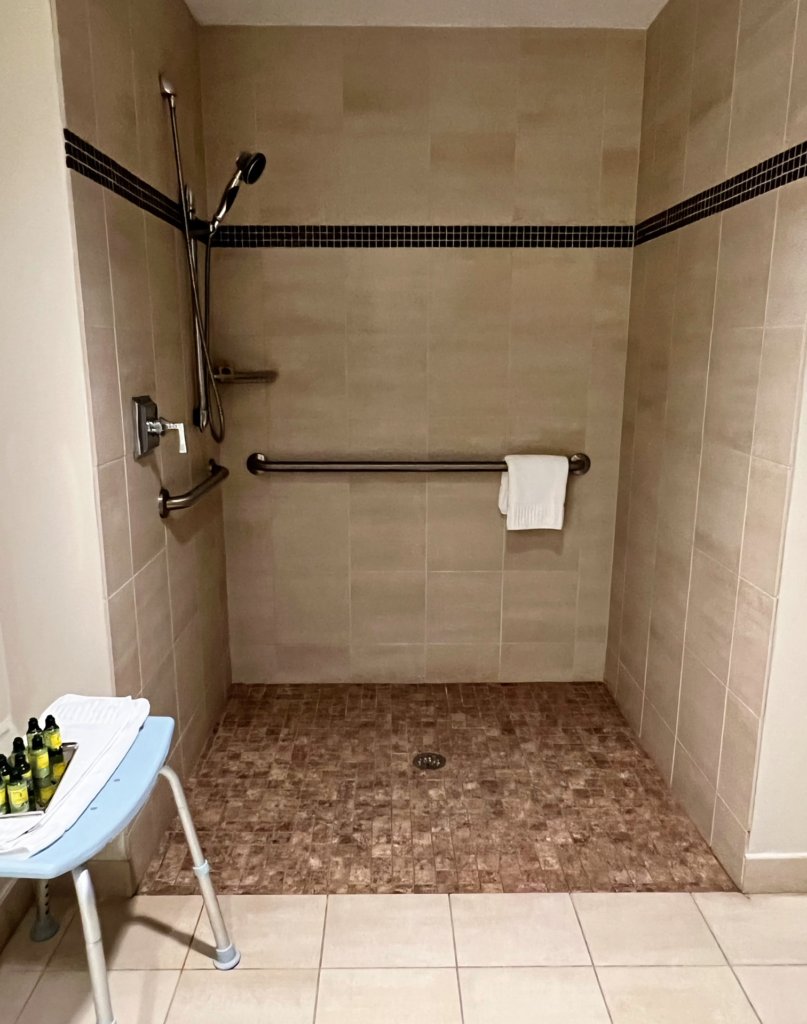 The Colcord has an on-site restaurant, Flint, that I was able to eat at and it was spectacular. I enjoyed baked Brie for an appetizer and the bacon-wrapped meatloaf with mashed potatoes and brussel sprouts for my entree. Everything was delicious! Usually, hotel restaurants can be sort of underwhelming, but not Flint. Whether you're staying at the hotel or not, I'd highly suggest eating here during your trip.
My stay at The Colcord was great! From the wheelchair accessible room to the fantastic restaurant and superb location, I would certainly stay here again the next time I'm in Oklahoma City.
During my short time in Oklahoma City, I was repeatedly surprised by how great of a city it is and I kept asking myself "Why in the world did it take me so many years to get here?!" I had so much fun during my four days in the city and already can't wait to return and experience more of Oklahoma City as a wheelchair user. If you are looking for a unique, underrated, accessible, and exciting place to visit, look no further than Oklahoma City, Oklahoma!
.
*Thank you to Visit OKC for working with me on this trip and showing me the best of wheelchair accessible Oklahoma City! While my experiences in Oklahoma City were complimentary, all opinions expressed are authentic and my own.