Since I've lived in the state of Georgia for most of my life, I have explored a lot of Florida, my sunny neighbor to the south. I've gone zip lining in Orlando, ridden in a catamaran in Miami, rolled on the beaches of Panama City and Pensacola, eaten all of the key lime pie that I could handle in Key West, and so much more. However, one part of Florida that I've never visited, and always wanted to, is The Palm Beaches. This south Florida destination has been calling my name for several years and I finally had the chance to visit recently.
The Palm Beaches has 47-miles of coastline and consists of a number of cities and beach towns that you've probably heard of, including West Palm Beach, Jupiter, and Boca Raton to name a few. With so many beautiful destinations in The Palm Beaches, I couldn't possibly experience all of the wheelchair accessible attractions in one trip, but I was able to hit some of the highlights.
My few days in The Palm Beaches were so much fun. From relaxing and enjoying the beach to going on a safari and more, I had a fantastic trip in this Florida destination and I am already itching to return and experience more.
Here are seven of my favorite things to do in The Palm Beaches as a wheelchair user –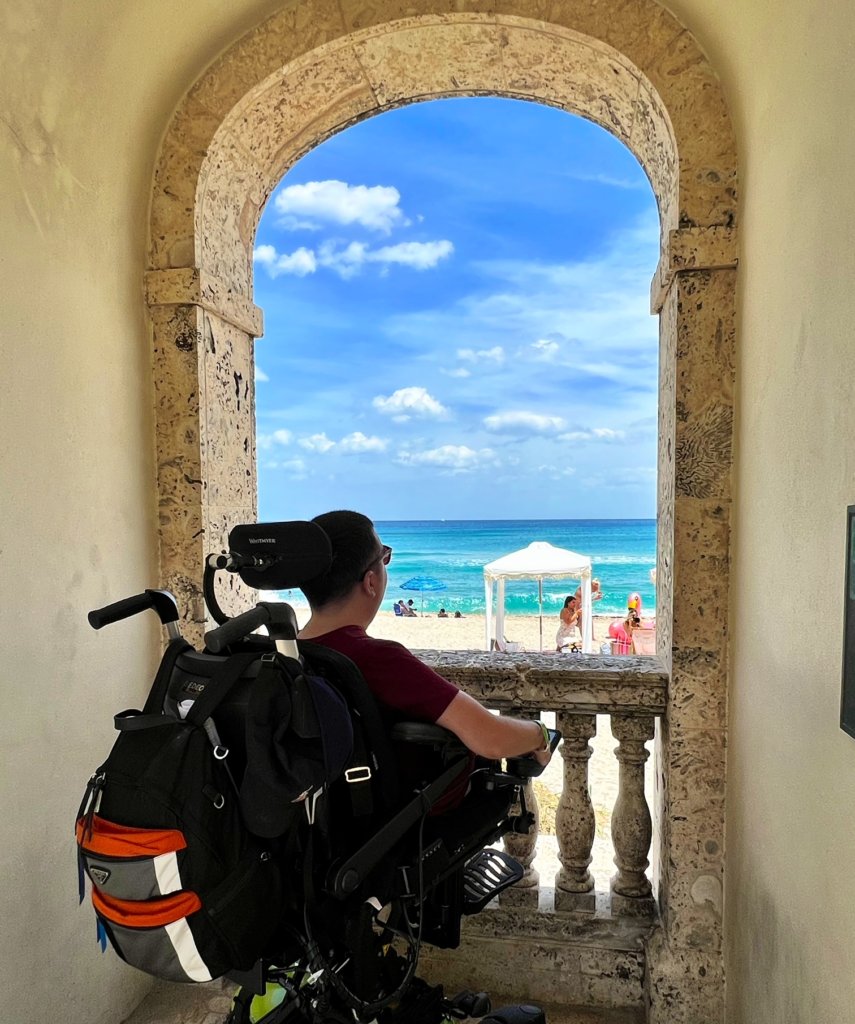 Wheelchair accessible things to do in The Palm Beaches
Enjoy the flora and fauna at Mounts Botanical Garden
After arriving in The Palm Beaches, my first stop was Mounts Botanical Garden, which is Palm Beach County's largest (and oldest) botanical garden. The gardens are spread out across 16-acres with a variety of beautiful displays. Over 6,000 species of tropical and sub-tropical plants can be seen here.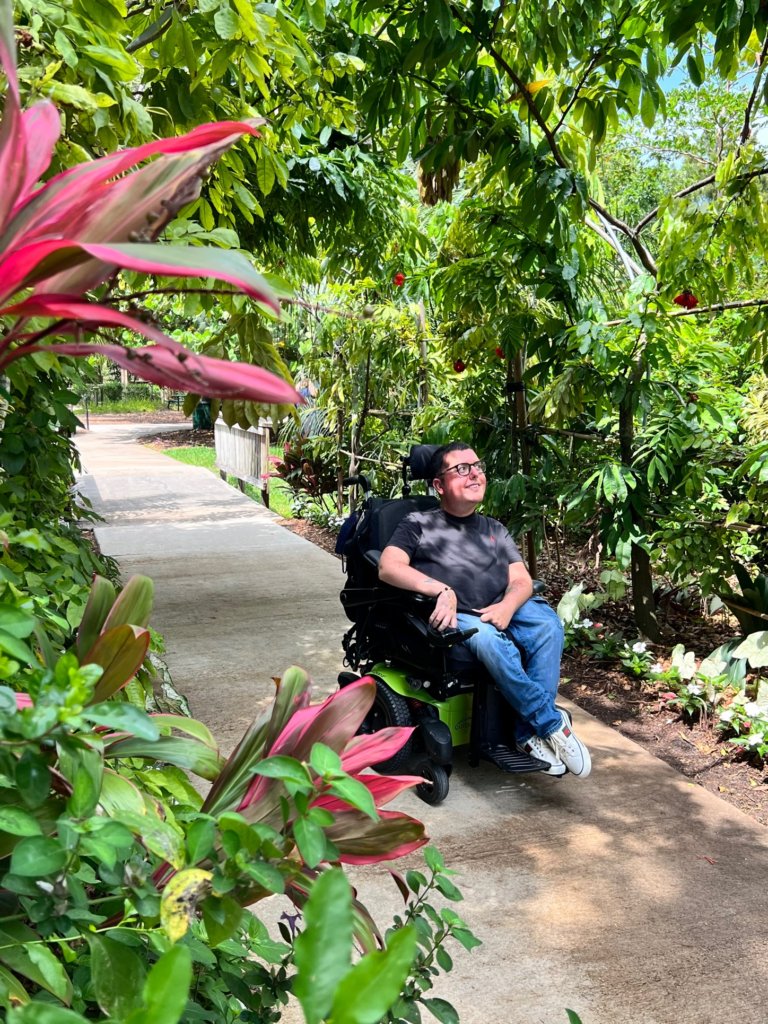 Mounts Botanical Garden is also fully wheelchair accessible, as there are smooth paths throughout. I had no problem getting around the gardens & really enjoyed seeing everything.
Sean Kenney's "Nature POP!" exhibit was temporarily on display while I was there, but it has now moved to another location. This exhibit had over 40 colorful sculptures made completely from LEGO pieces. The sculptures were all around the garden and were a lot of fun to see. It's really unbelievable how much work went into creating the LEGO sculptures!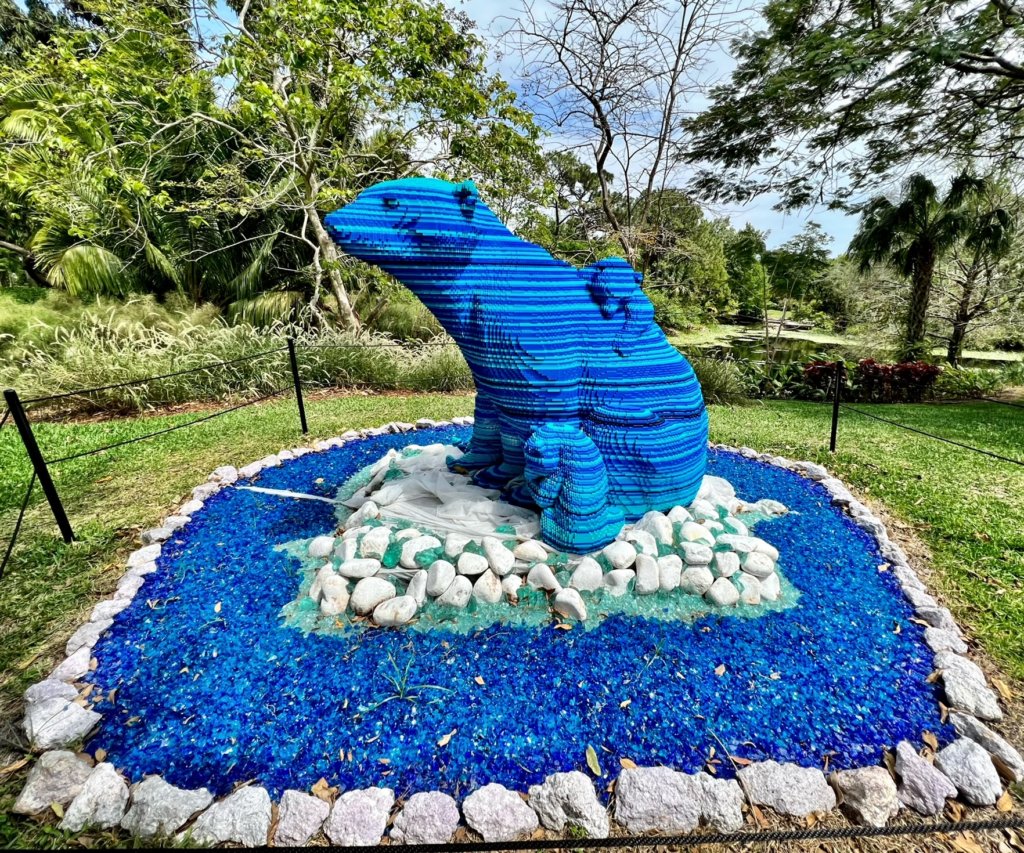 While the "Nature POP!" exhibit is no longer on display at Mounts Botanical Garden, be sure to check out the event calendar on the gardens' website. They frequently have fun events that you could enjoy during your visit.
Shop and dine at The Square in West Palm Beach
The Square, also known as Rosemary Square, is in downtown West Palm Beach & is such a fun area to explore! There are dozens of shops and restaurants, and the whole neighborhood is beautifully designed with Mission Revival architecture, murals, and the streets are lined with palm trees, of course.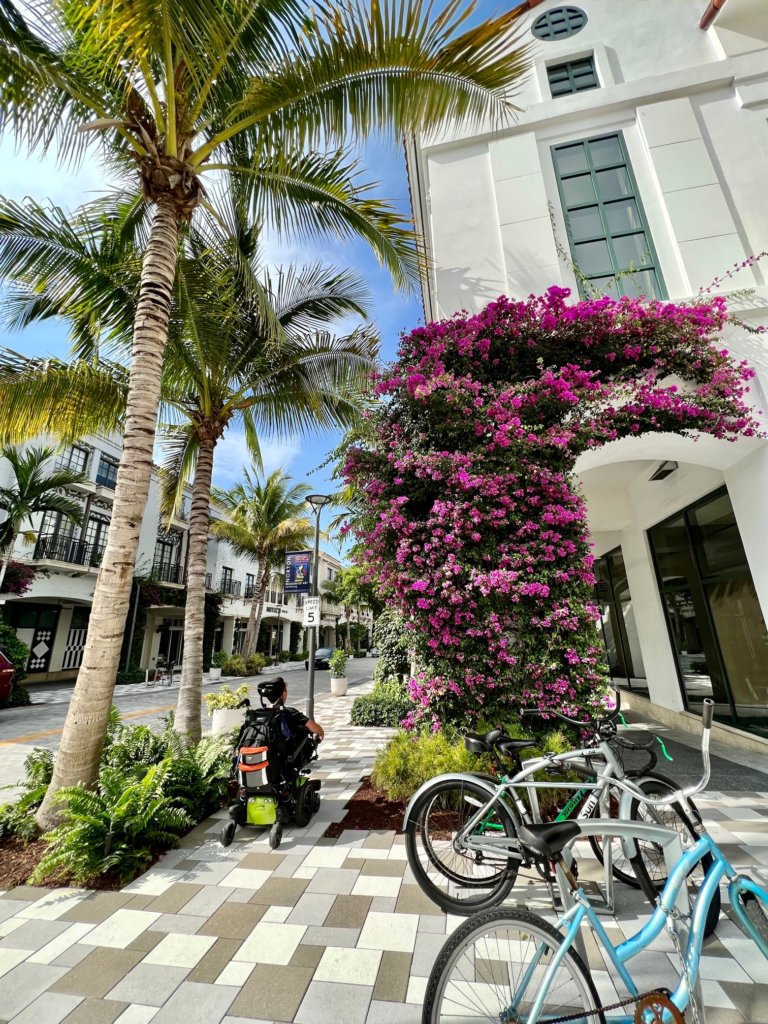 I enjoyed seeing the art installations and murals, eating the best ice cream of my life at Angie's Epicurean, shopping, and having a delicious dinner at Copper Blues West Palm Beach. Whether you are hoping to enjoy a fun night out on the town or a relaxing day, this is the perfect place to do it.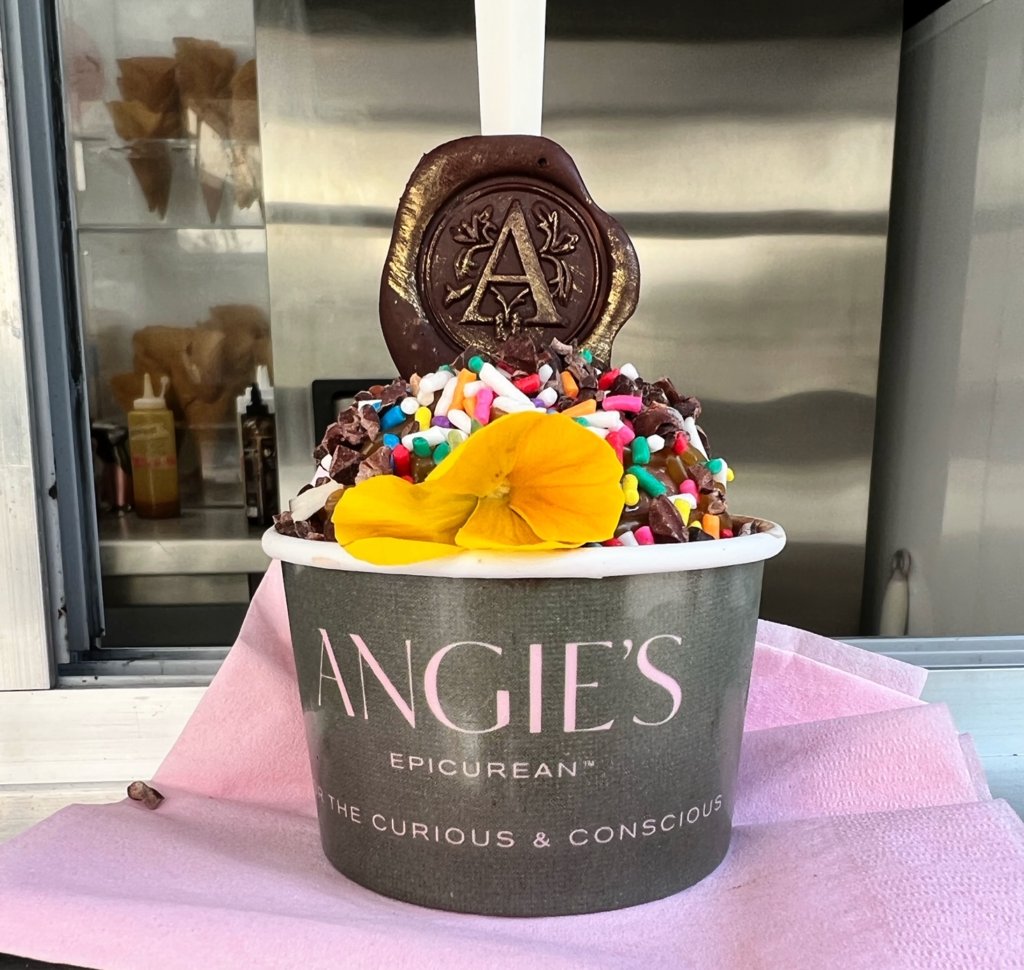 The Square is fully wheelchair accessible and every shop that I saw had a smooth entrance to get inside. Elevators were available to access the shops and restaurants on upper levels as well.
I spent a few hours rolling around The Square because there was so much to see (and eat!). It was the perfect way to end my first day in The Palm Beaches!
Roll through the beautiful Morikami Museum & Japanese Gardens
The Morikami Museum and Japanese Gardens are a must-visit in The Palm Beaches and this was one of my favorite places I visited during my trip. Not only can you learn about Japanese culture and art in the museum, but you can also roll in the Japanese gardens and even enjoy a meal here. Since 1977, this wonderful place has been educating and inspiring visitors in south Florida.
The Japanese gardens are spread across 16 acres and I thoroughly enjoyed rolling around and seeing as much of it as I could. All paths were smooth, making it wheelchair-friendly. During my accessible trek, I was able to view the beautiful lakes and koi ponds, see a world-class bonsai exhibit, and I enjoyed rolling on the trails and being immersed in nature. At times, I really felt like I had been transported to Japan.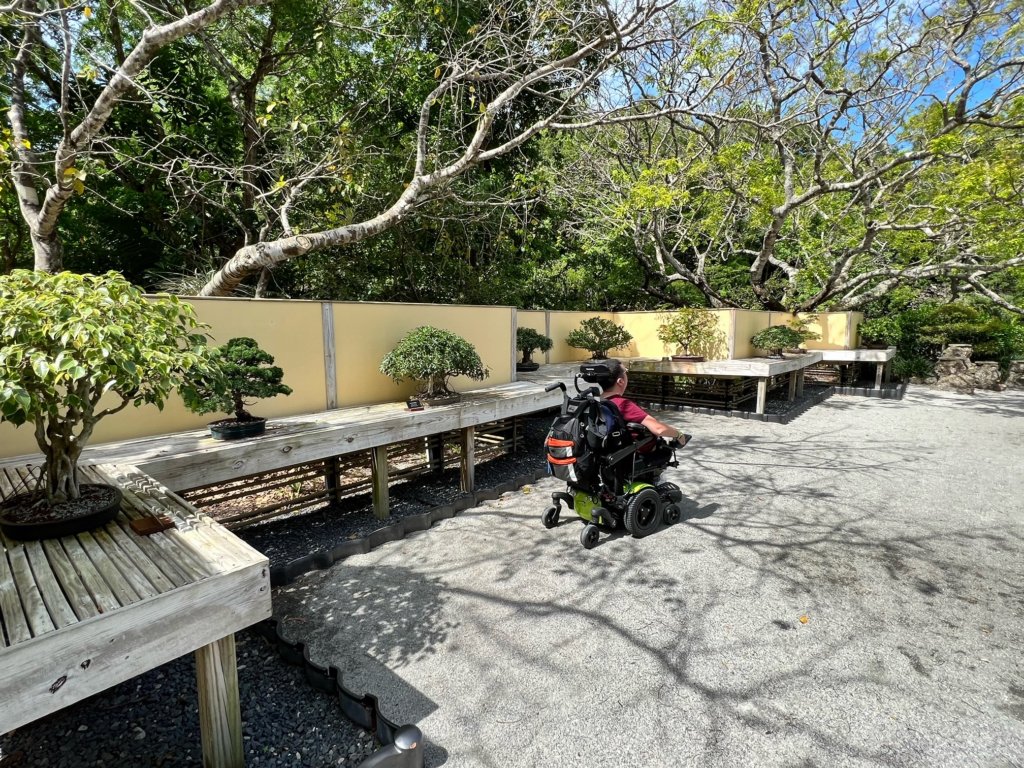 After meandering around the gardens for a while, I had a delicious meal at the on-site and award-winning Cornell Cafe. This open-air cafe has a Pan-Asian menu, and I opted for the classic bento box and a mango boba tea. The bento box came with white rice, teriyaki chicken, teriyaki salmon, dumplings, red shrimp, tofu, a chicken egg roll, mixed vegetables, and sushi for only $18. Everything was delicious and I cannot wait to dine here again!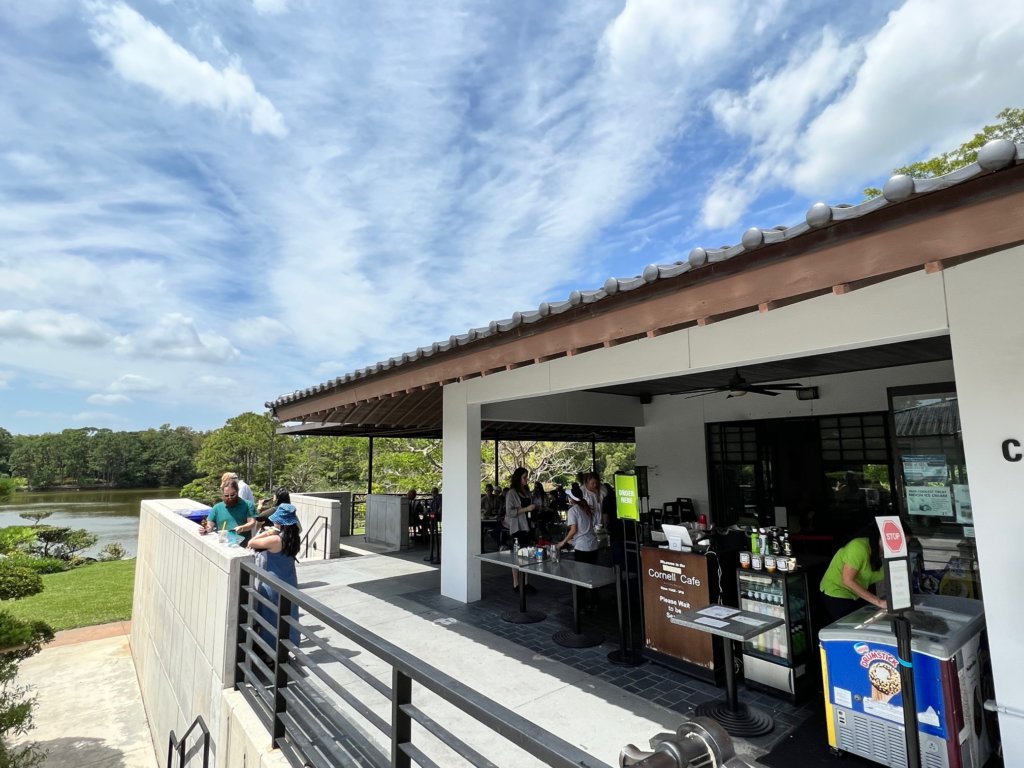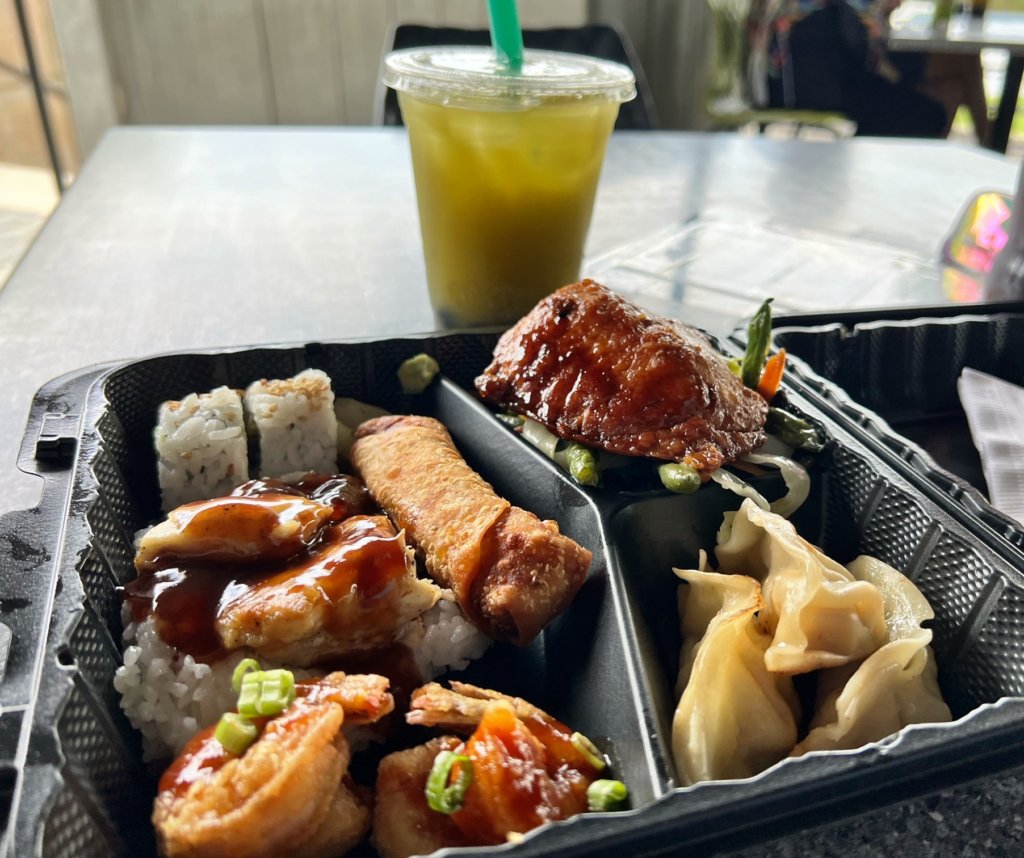 The Morikami Museum & Japanese Gardens are open every day of the week except for Monday. Admission costs $15 per adult. Be sure to check this place out when you're in The Palm Beaches. I promise you'll feel like you've been magically transported to the Far East!
See turtles at Loggerhead Marinelife Center
As an animal lover, I just had to visit the Loggerhead Marinelife Center in The Palm Beaches. This non-profit organization is committed to the conservation of ocean ecosystems through public education, research, and rehabilitation with a focus on threatened & endangered sea turtles.
The center features an on-site campus hospital, learning exhibits, a gift store, and aquariums. During my visit, I learned a lot about sea turtles and what we, as humans, can do to protect them.
While at Loggerhead Marinelife Center, I even got to see a turtle being transported to another facility. He was very sick, so he needed more care at a different place. Watching the turtle was an emotional experience, but seeing the Loggerhead team take such great care of him was wonderful. I could definitely tell that they love & care for their animals.
It is completely free to visit Loggerhead Marinelife Center, as they can't guarantee when turtles will actually be there for you to see, but I would highly encourage you to visit and at least give a donation toward their efforts. Even if no sea turtles are there when you visit, you can still learn a lot and see sharks, rays, and other marine life in their outdoor ecosystems.
Shop till you drop on Worth Avenue
Worth Avenue is one of Florida's most luxurious shopping areas. It's a street lined with dozens of shops, from Gucci to Louis Vuitton and pretty much everything in-between. If you've ever dreamed of going on a shopping spree, trust me when I say that this is the place to do it.
If all of the shopping gets you hungry for some good food, there are some great restaurants on Worth Avenue as well. I ate at Pizza Al Fresco and it was honestly one of the most delicious pizzas I've ever eaten… yum!
You can begin rolling on Worth Avenue at the Worth Avenue Clock Tower, which is at the beach. It's a gorgeous area, as is all of Worth Avenue, and the curb cuts all along Worth Avenue were smooth for my wheelchair. Whether you splurge in the stores or not, this is a fun area to explore in Palm Beach!
Enjoy the accessible beaches
You can't visit The Palm Beaches without enjoying some time on the beach, right?! Absolutely! There are a variety of places to enjoy a beach day in The Palm Beaches, but I visited two different beaches in the area to scout out accessibility – DuBois Park and Ocean Reef Park.
DuBois Park – This park is in Jupiter, Florida and offers beautiful beaches, fantastic views of the Jupiter Lighthouse, and plenty of areas to relax and spend the day. In terms of accessibility, there are accessible picnic tables, ramped access to the beach, and amphibious beach wheelchairs are available on a complimentary first-come, first-served basis. DuBois Park is quite large, but there are smooth sidewalks throughout and all along the Jupiter Inlet.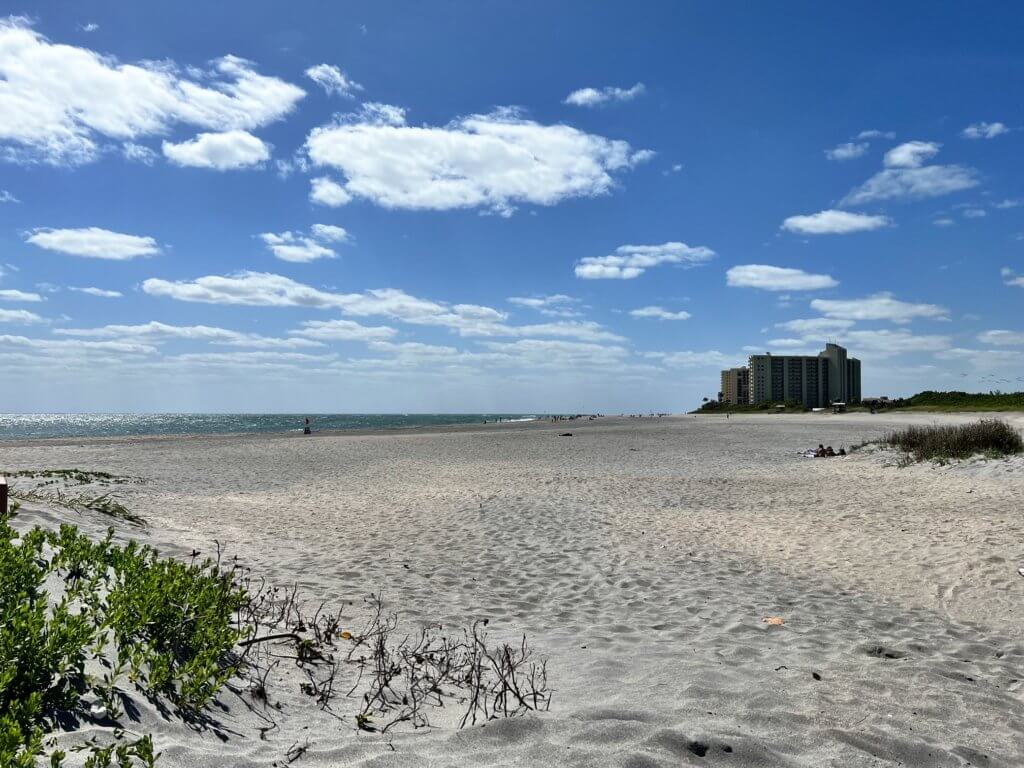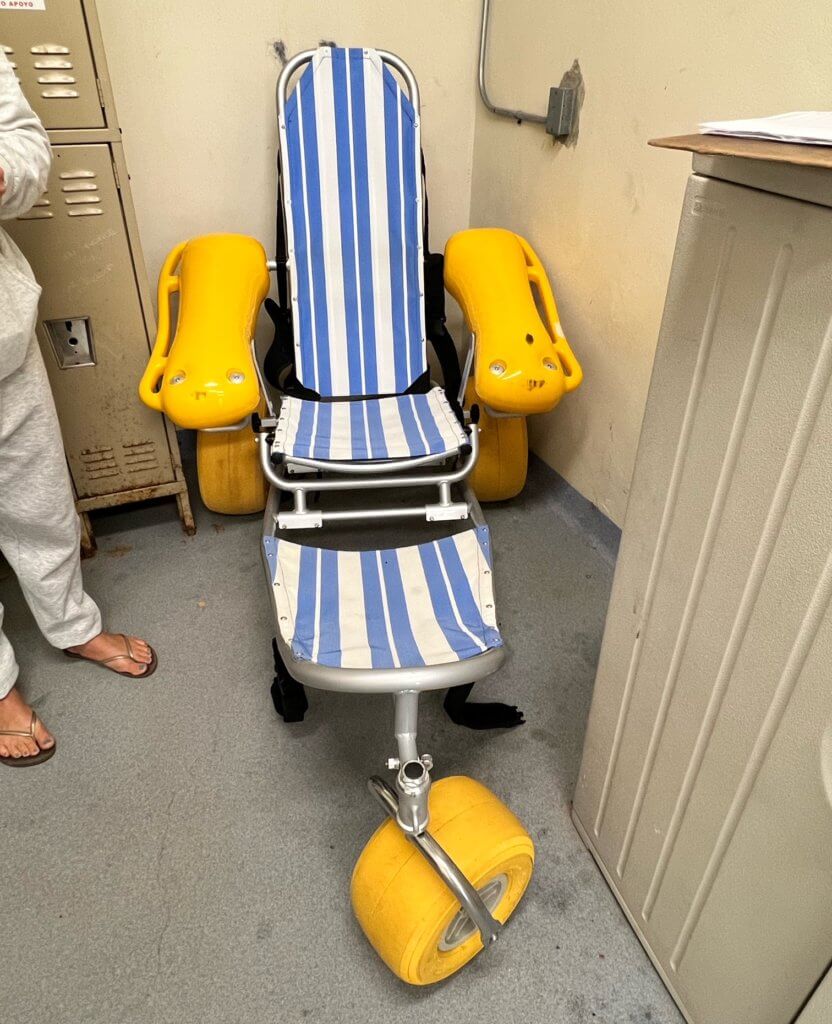 Ocean Reef Park – Located in Riviera Beach, Florida, this park is slightly smaller than DuBois Park, but offers many of the same amenities. There is ramped access to the sand and complimentary beach wheelchairs are available on a first-come, first-served basis. To get the beach wheelchair though, you need to go to a lifeguard stand & let them know you want it. The lifeguard stands are out on the sand of course, so you would need an able-bodied companion with you to go ask for the beach wheelchair.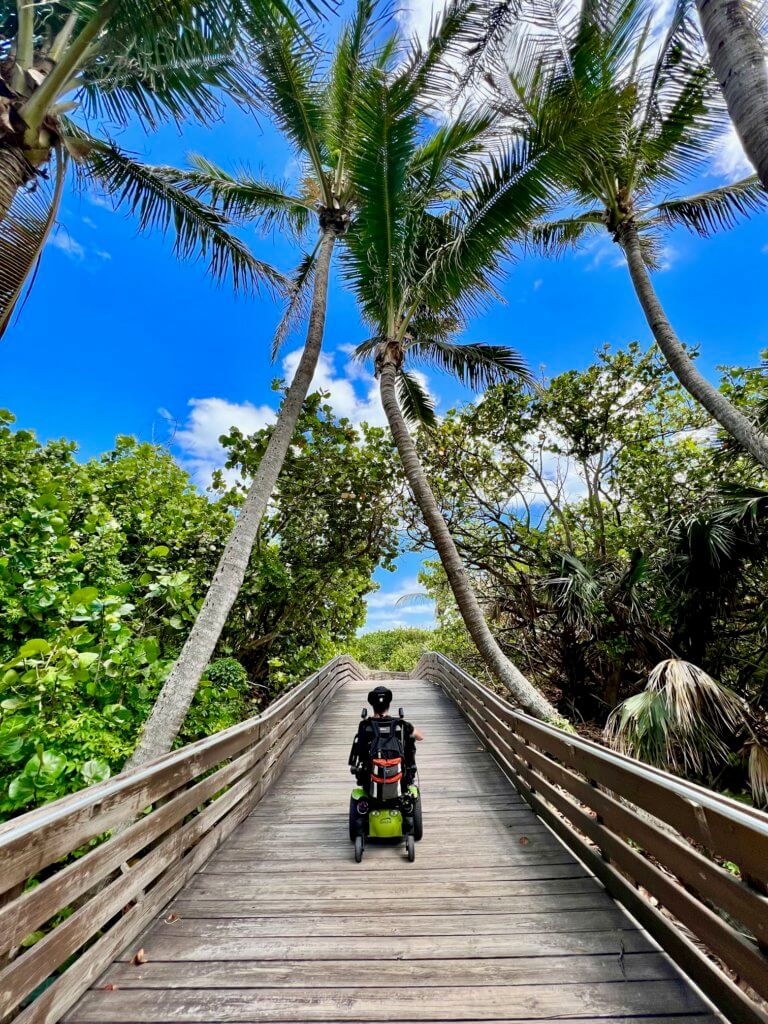 Neither DuBois Park or Ocean Reef Park had beach access mats (Mobi-Mats) available when I visited, but I have heard that DuBois Park has a Mobi-Mat during the busy months, so hopefully that'll go up sometime this summer if it hasn't already.
I had a great day at these two beaches here in south Florida and was so happy to see accessibility initiatives put in place. There's just nothing better than an accessible beach!
Go on a safari at Lion Country Safari
If you've ever wanted to go on safari, but don't want to attempt the long flight to Africa, check out Lion Country Safari in The Palm Beaches. This iconic attraction has a drive-through safari, where you can see hundreds of animals from the comforts of your own vehicle, and an adventure park, which you can explore after your safari.
Lion Country Safari has over 600 acres of natural area and nearly 1,000 animals that you can see. During the drive-through safari, I saw giraffes, rhinos, lions, zebra, and so much more. Many of the animals got very close to my van and it was awesome to see them up-close like that.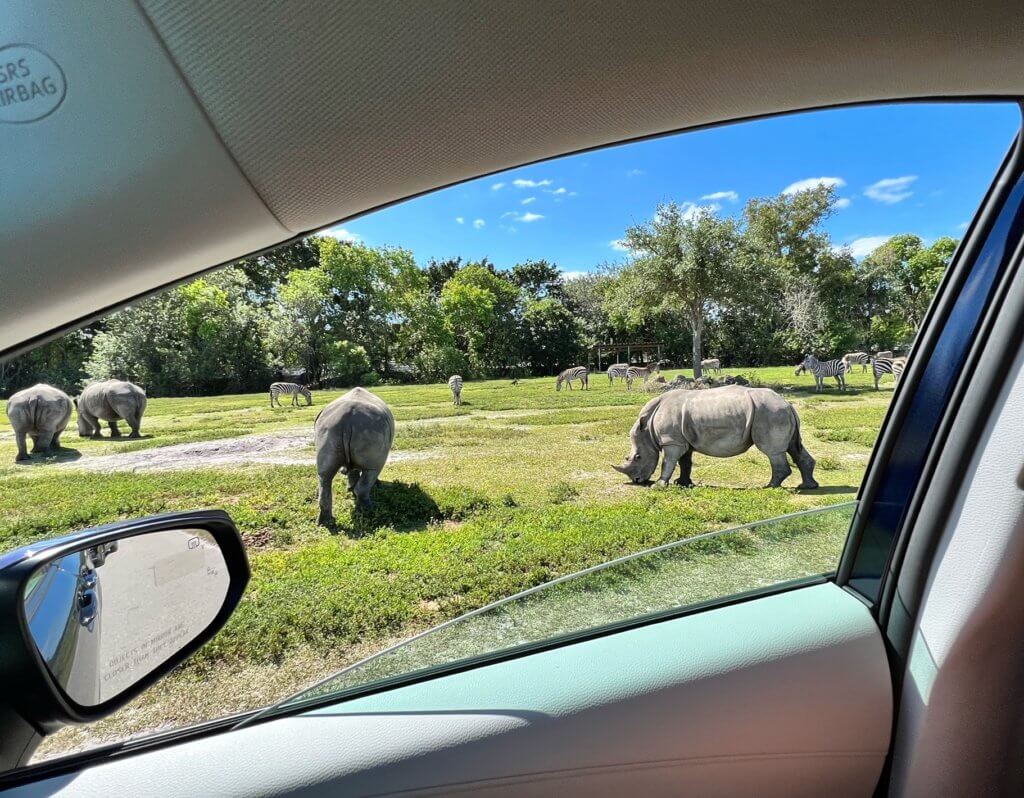 You can spend as much time as you like on the drive-through safari, but I'd plan for at least 90 minutes, as there are a lot of animals to see! Once you finish the drive-through safari loop, you can choose to either drive it again or visit the Adventure Park.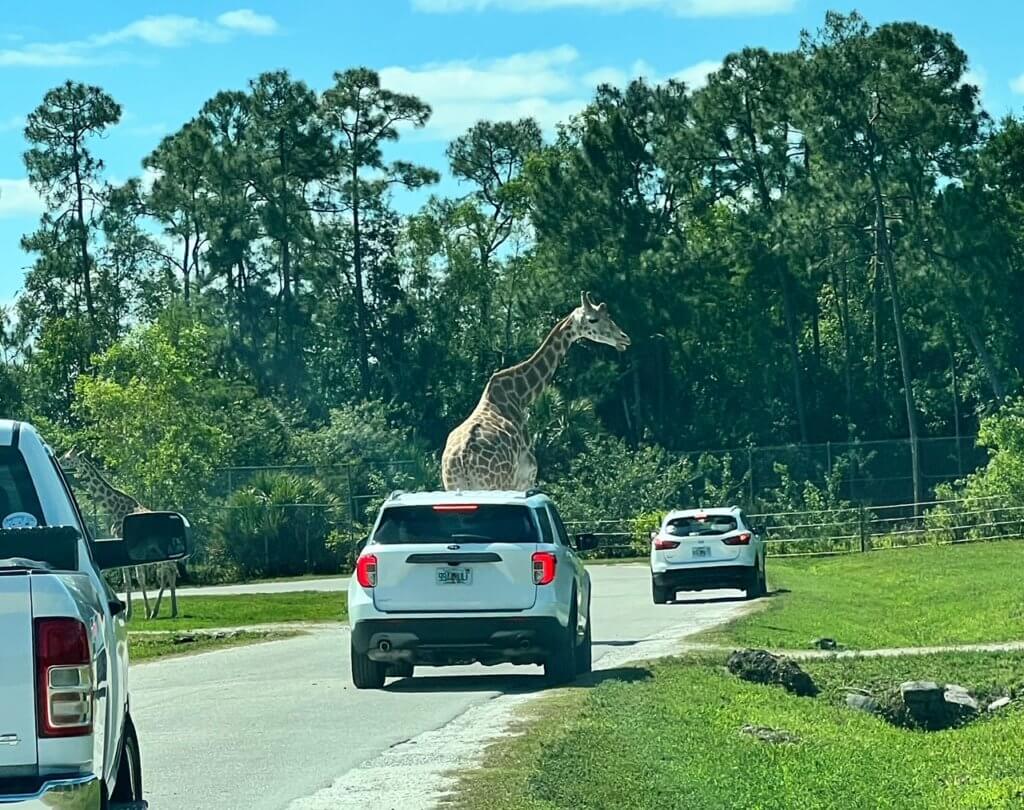 Admission to the Adventure Park area of Lion Country Safari is included in the admission price ($41 per adult and $31 per child). As the name suggests, this area is more of a theme park with a few rides, a water park, and animal encounters.
I loved the giraffe feeding and the lorikeet feeding, both of which cost a few dollars extra, but it was well worth it. I was able to hand-feed giraffes and lorikeets and it was so much fun! Feeding the giraffes, in particular, was truly a highlight of my time in Florida.
Within the Adventure Park, wheelchair users can also ride on the Safari Queen Pontoon Boat, try mining for gemstones, or see a variety of animals, including snakes… just to name a few activities. No matter what your abilities are, you're sure to have a fantastic time at Lion Country Safari.
Where to Stay: Home2 Suites by Hilton West Palm Beach Airport
While in The Palm Beaches, I stayed at Home2 Suites by Hilton West Palm Beach Airport. As the name suggests, this hotel is just minutes from the airport, but it's also only a short drive away from all of the attractions that I've mentioned above. I really enjoyed staying here and I was impressed with the hotel's accessibility.
In my wheelchair accessible room, there were two queen beds and enough clearance was under each bed for a hoyer lift. The room was also extremely spacious and had a couch, desks, a full refrigerator, a microwave, a sink, and more. It had everything that I needed during my stay.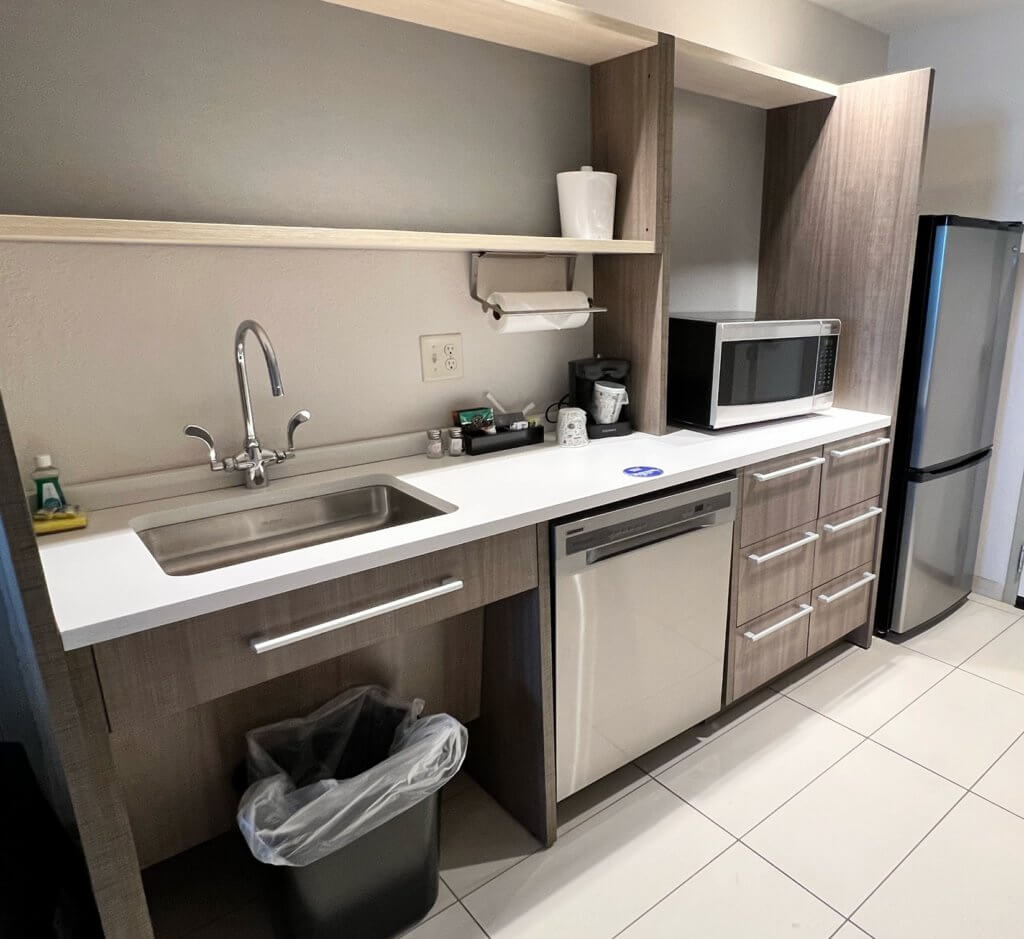 In the bathroom, there was a pull-under sink, grab bars by the toilet, and a roll-in shower. The roll-in shower was smooth to get in and there was a handheld shower wand and a fold-down bench. The bathroom couldn't have been more accessible for my needs. I loved everything about the bathroom and the bedroom!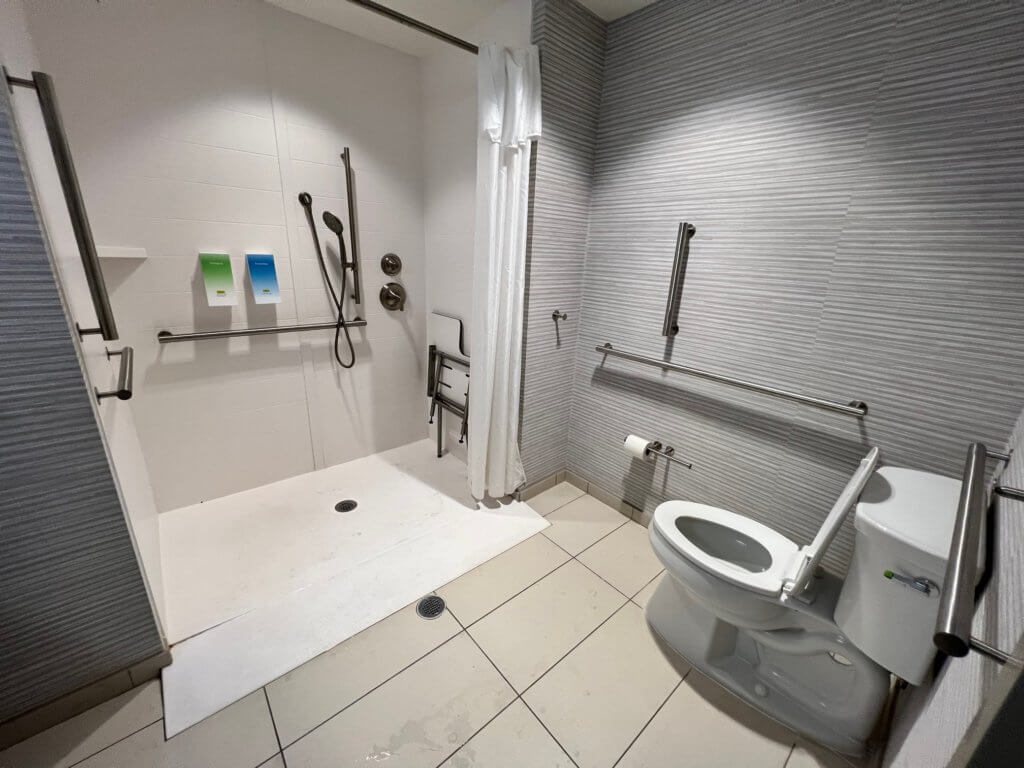 The Home2 Suites by Hilton West Palm Beach Airport was the perfect place for me to stay while in The Palm Beaches. While this is technically an airport hotel, I'd certainly recommend it no matter what you're planning to enjoy during your own stay.
As they say, "Time flies when you're having fun!" And my few days in The Palm Beaches definitely flew by. I loved checking out some of the best wheelchair accessible things to do and I am already looking forward to experiencing more the next time I'm in the area. If you're looking for an accessible south Florida paradise, be sure to visit The Palm Beaches!
.
*Thank you to Visit Florida and The Palm Beaches for working with me on this trip and showing me the best of The Palm Beaches! While my experiences were complimentary, all opinions expressed are authentic and my own.
.