Located in the heart of "lake country" in West Central Minnesota, Alexandria is a destination for people that are looking to unwind and enjoy some time by, or on, the water. There are over 300 lakes within Douglas County, which Alexandria is a part of, but the city has a small town feel to it. Despite being a smaller destination than well-known Minnesota cities like Minneapolis and St. Paul, Alexandria is an absolutely beautiful destination and has a lot to offer visitors, including wheelchair users. 
I spent a summer weekend exploring Alexandria and had so much fun. I wasn't sure what to expect before visiting, but my two nights in Alexandria ended up being one of my favorite parts of my nine day trip across Minnesota. From drinking fantastic wine at "Minnesota's best winery" to shopping downtown and learning about why Alexandria is referred to as "The Birthplace of America" (more about this in just a bit!), my weekend in Alexandria was one that I'll never forget. 
Here are five of the best wheelchair accessible attractions and things to do in Alexandria, Minnesota –
Wheelchair Accessible Alexandria Minnesota Attractions and Things to Do
Learn about Minnesota's lake history at the Legacy of the Lakes Museum
My first stop in Alexandria was the Legacy of The Lakes Museum. It is a great museum that celebrates lake traditions and legacies – exhibiting them and preserving them for the future. I'll be honest, I didn't expect for a museum about lakes to be so interesting, but I really loved it and was immersed in the various exhibits. 
In the museum, I was able to see a variety of boats, some from the 1800s even, and I learned a lot about the history of Minnesota lake life. It was cool seeing the rare boats and by the end of my visit, I was itching to buy a boat. First though, I just need to move to a lake and sell a kidney or two to afford it.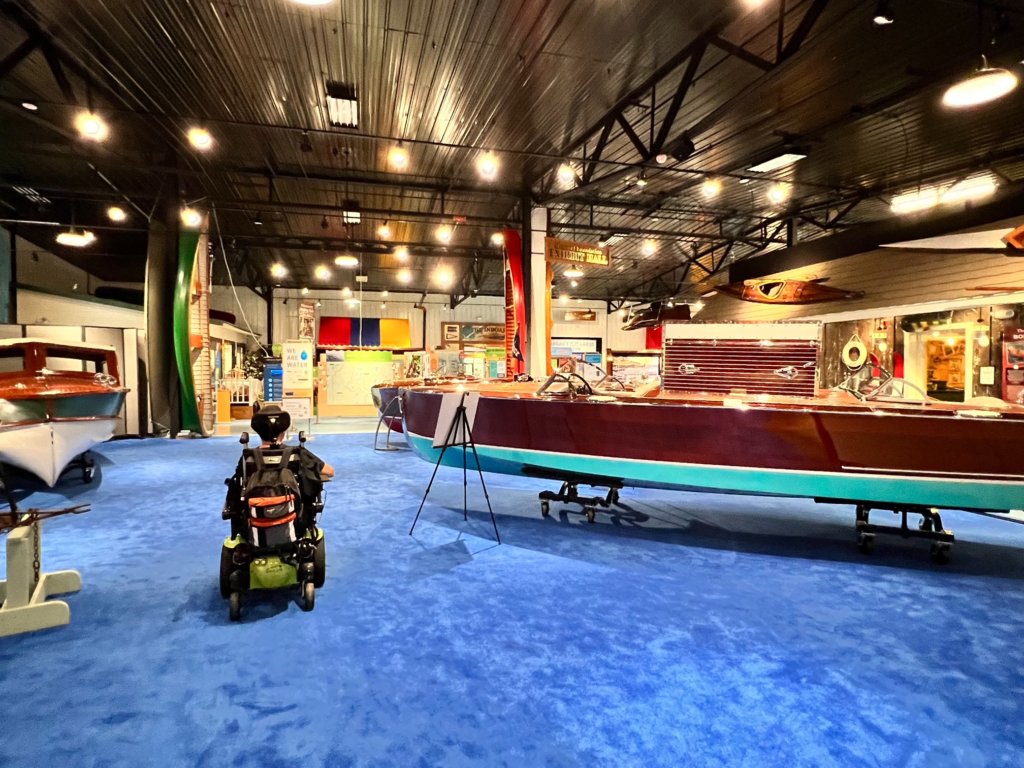 Accessibility within the museum was perfect for me. Everything is on one level and the exhibits are spacious enough for someone to easily maneuver in a wheelchair. I had no issues at all and was able to fully experience the museum in my powered wheelchair.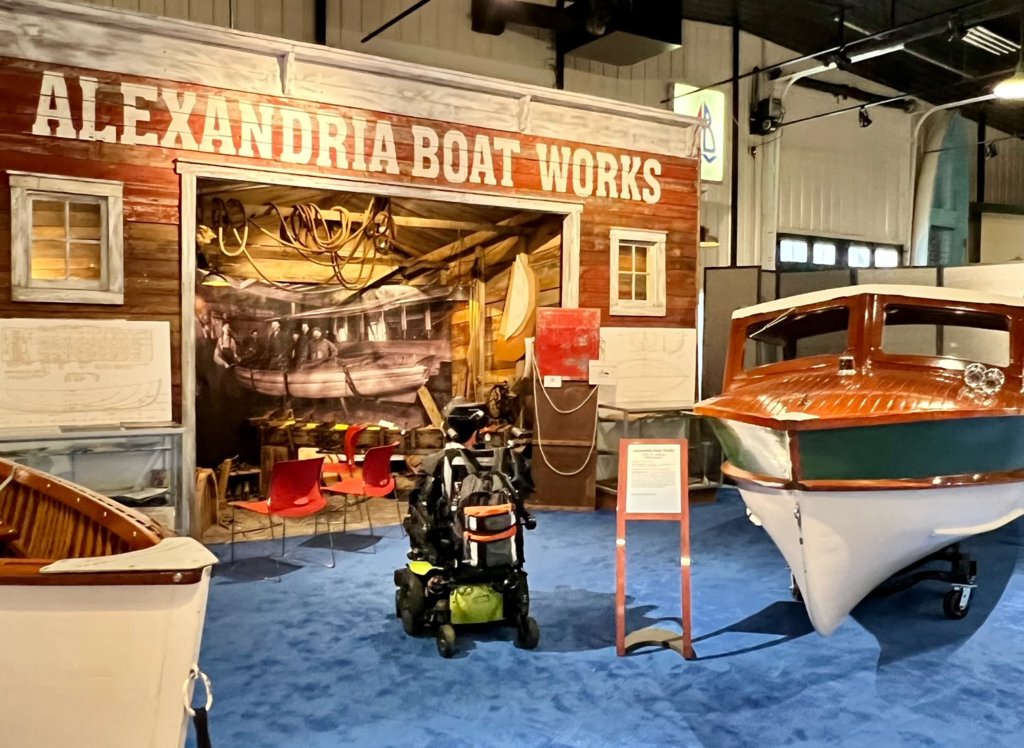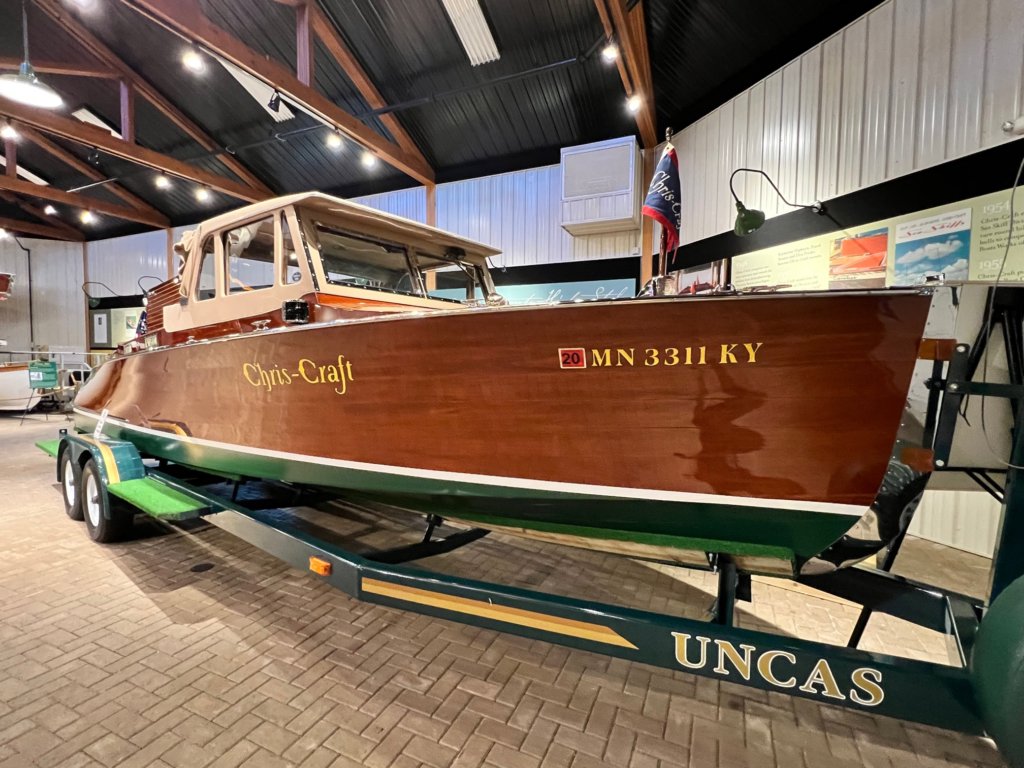 The Legacy of the Lakes Museum also has outdoor gardens, known as the Legacy Gardens, which I explored. Admission to the gardens is completely free. I enjoyed rolling on the smooth trails, seeing beautiful flowers, and taking in views of the lake from the gardens. 
The museum is open seven days per week and admission is just $10 per adult. The Legacy of the Lakes Museum is the perfect place to start any visit to Alexandria and I'd highly recommend checking it out!
Snap a selfie with Big Ole
If you're in Alexandria, one thing that you must do is snap a selfie with the iconic Big Ole statue. Big Ole is 28 feet tall and stands as a symbol of Alexandria's Viking pride. Don't you just love unique roadside attractions/selfie opportunities?!
When looking at Big Ole, you'll notice that he is holding a shield that says "Alexandria: Birthplace of America". As soon as I saw that, I immediately began googling to see why exactly Alexandria is considered the birthplace of America. 
It turns out that in 1898, an artifact known as the Kensington Runestone was discovered by a farmer near Alexandria. The artifact suggested that a group of Scandinavian explorers were in the area in 1362, which is a lot earlier than what we were taught in school. Apparently, this artifact is a bit of a controversy, but it has inspired many aspects of Minnesota, including the football team name of the Minnesota Vikings. 
If you'd like to see the actual Kensington Runestone, you can visit Alexandria's Runestone Museum. Unfortunately, I didn't have time to visit the museum during my visit, but according to the museum staff, it is wheelchair accessible. 
Roll on accessible trails at Lake Carlos State Park
Just a short 20 minute drive from downtown Alexandria is Lake Carlos State Park. This park contains marshes, lakes, woodland ponds, a tamarack bog, campsites (including a wheelchair accessible camper cabin), and accessible trails. I love being outdoors, so I was excited to check out this state park.
We drove to the lower campground at Lake Carlos State Park and parked in an accessible parking spot over to the far right side of the campground. A paved trail began from there, which I was able to roll on. 
The trail was probably a half mile long (one mile round trip), but I'm not sure of the exact measurement. It was a smooth trail and I had beautiful views of the lake for most of the trail. I even saw a snake at one point and nearly had a heart attack, but I survived after rolling for my life.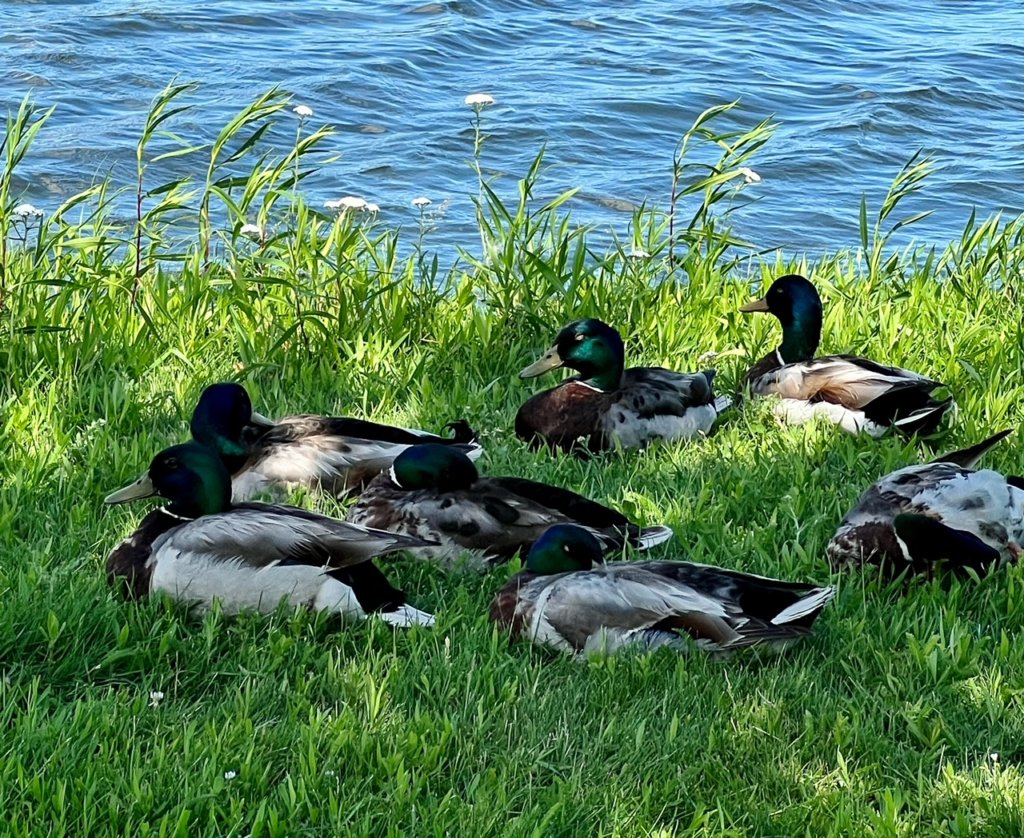 At the end of the trail, there is a small beach area, but it is not wheelchair-friendly. I did love rolling on the paved trail and around the lower campground though. Lake Carlos State Park is a terrific place to visit if you want to enjoy the outdoors for a while.
Shop, eat, and be entertained in downtown Alexandria 
Downtown Alexandria is such a quaint, fun area and I spent a lot of time exploring the various shops and eateries downtown. I rolled in antique shops, a sweets paradise known as The Sugar Shack, a book store, and even watched a lady making a quilt in Dawn's Quilt Shop… just to name a few. 
There were so many interesting shops that I went in, but one thing that I noticed after talking with multiple shop owners was how friendly everyone was. Without a doubt, Alexandria is one of the friendliest cities I've visited. I felt so welcomed everywhere that I went.
In addition to the many shops and eateries downtown, there is also the Andria Theatre. It is west central Minnesota's foremost live theatre and performing arts center. They perform five different plays/musicals per season, so if you'll be in Alexandria while a show is playing here, you should definitely try to see one. In the Andria Theatre's 2022-2023 season, they're doing Young Frankenstein, The Sound of Music, One Flew Over the Cuckoo's Nest, Matilda: The Musical, and The Play That Goes Wrong. Wheelchair accessible seating can be purchased online.
Accessibility downtown was really great as well. Every shop that I saw had a wheelchair accessible entrance and the curb cuts at the cross walks were smooth and flat. It was easy for me to get around downtown as a wheelchair user, which I was thankful for. 
Relax and enjoy Minnesota's best wine at Carlos Creek Winery
If you want to visit Minnesota's "Best Winery" (yes, it really won this award!), look no further than Carlos Creek Winery. This winery is in Alexandria and has wine tastings, delicious food, and I even enjoyed some live music during my visit.
If you're not a huge fan of wine though, don't worry because 22 Northmen Brewing Company is right next to the winery… just 15 feet away. You can get a beer and inside the brewery, you'll also find STOKE Wood-Fired Pizza, which I'd highly recommend. It was seriously some of the most delicious pizza I've ever eaten. I enjoyed some wood-fired pizza & cheese bread from STOKE while drinking a delicious glass of blueberry wine. To say that it was a perfect lunch would be an understatement. 
I was able to easily access the winery and brewery in my wheelchair. Entrances were accessible and Carlos Creek Winery was the perfect place to spend a beautiful afternoon in wheelchair accessible Alexandria Minnesota.
Where to Stay in Alexandria: Fairfield Inn & Suites
While in Alexandria, Minnesota, I stayed at the Fairfield Inn & Suites by Marriott. It is one of the newest hotels in Alexandria and it's in a great location, just a 5 minute drive from downtown and near many restaurants. 
My wheelchair accessible room had two queen beds. A hoyer lift could easily roll under each bed & they were a pretty good height for self-transferring as well. 
In the bathroom, there was a pull-under sink, grab bars by the toilet, and a roll-in shower. The shower had a fold-down bench and a handheld shower wand. There was also a little ramp to get in the shower, but my shower chair rolled in very easily. Both the bedroom & the bathroom really couldn't have been better for me in terms of accessibility. 
I do want to say though that to be sure you actually get a roll-in shower at the Fairfield Inn & Suites in Alexandria, call the hotel & specify that you need a roll-in shower… not a walk-in shower. I had a reservation for a roll-in shower here, but when I first got to my room, there was a step (about two inches tall) to get in the shower. Apparently, the hotel has listed walk-in showers as roll-ins on their website, but the staff were quick to find me a room that actually had a roll-in shower. Hopefully they'll get this issue fixed in their booking system soon, but I'd call them and check just to be sure.
My few days in the charming town of Alexandria, Minnesota went by pretty quickly (time flies when you're having fun, right?), but I am already dreaming of returning and experiencing more of Minnesota's "lake country" and wheelchair accessible Alexandria Minnesota. As a wheelchair user, I had a phenomenal trip and would encourage anyone to visit this lesser-known gem of Minnesota. 
.
*Thank you to Explore Minnesota and Explore Alexandria Minnesota for working with me on this trip and showing me the best of wheelchair accessible Alexandria Minnesota! While my experiences were complimentary, all opinions expressed are authentic and my own.
.
.