I have heard great things about San Diego and have wanted to visit since I first heard about how incredible the world-famous San Diego Zoo is many years ago. In the past few years, I have explored a lot of California and overall, I have discovered that it is a fantastic destination for wheelchair users. I've rolled across the Golden Gate Bridge, posed with the Hollywood sign, relaxed on the sand in Long Beach, and so much more. However, I didn't have a chance to explore the beautiful city of San Diego until very recently. Honestly, I had pretty high expectations for San Diego and after spending five days in the city, I'm happy to say that it surpassed all of my hopes and dreams. 
Of course, I visited the San Diego Zoo just like I've long dreamed of, but I also discovered that there is a lot more to enjoy in San Diego. From seeing California sea lions on a harbor cruise to eating my way through Old Town and more, San Diego quickly became one of my favorite accessible cities. Below are some of the best wheelchair accessible San Diego attractions that you shouldn't miss. By the time you finish reading this travel guide, I think you'll be ready to book your own wheelchair accessible getaway to San Diego, California!
Wheelchair Accessible San Diego Attractions & Things to Do
Explore the world-famous San Diego Zoo
I have heard amazing things about the San Diego Zoo for years. So many people have told me that it's the best zoo in the country & after visiting it for myself, I absolutely agree that it is one of the best zoos I've ever been to… quite possibly the best!
The San Diego Zoo is huge, so plan at least half a day to spend here. You could easily spend a full day in this zoo though as well. I was at the zoo for about 5 hours and during that time I saw gorillas, elephants, koalas, and so much more.
I was really amazed at how close I could get to many of the animals. At a lot of zoos, it can be challenging to actually see some of the animals, but I was easily able to see every animal that I wanted to at the San Diego Zoo. No barriers or fences were blocking my eye-line from my wheelchair as well, which was nice.
Accessibility at the San Diego Zoo was wonderful. There were smooth, paved paths throughout the zoo, companion care/family restrooms were available, and I was even able to ride the buses around the zoo, as they had a ramp for boarding. Some areas of the zoo were a bit steep, but I had no issues with my powered wheelchair. You could use the buses to get around and avoid some of the steeper areas if that's a concern for you though.
In addition to viewing all of the animals, the San Diego Zoo also offers a variety of special experiences, like a cheetah experience or a VIP tour. If you want to upgrade your visit and make it even more special, check out the special experiences here. 
Go on a tacos, tequila, and tombstones tour in Old Town
One of my favorite ways to experience any destination is through its food, so while in San Diego, I went on a "Tequila, Tacos, and Tombstones" tour with So Diego. And trust me when I say that San Diego has some fantastic food! 
The tour lasted for 2.5 hours and during that time, we ate tacos, street corn, and churros from some of the best restaurants in Old Town San Diego. We also drank margaritas from a couple different places. Two of my favorite restaurants we visited on the tour were Cafe Coyote and Casa de Fred's. In particular, I loved the carnitas tacos at Cafe Coyote and Casa de Fred's had one of the best margaritas I've ever drank.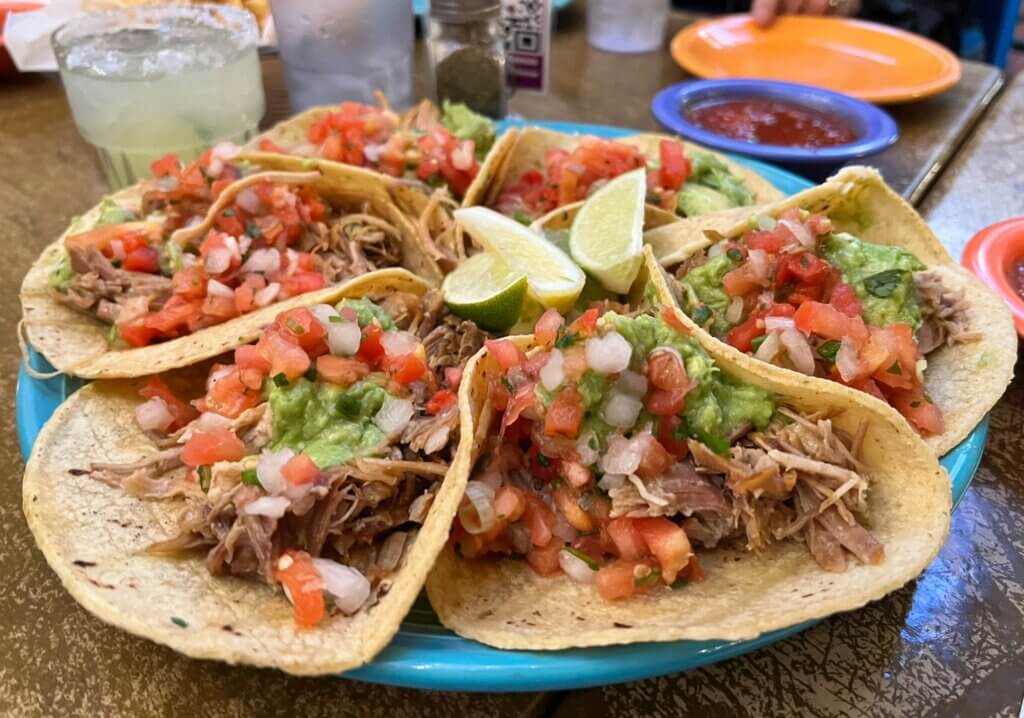 I also learned about the city's haunted history during our tour. Did you know that San Diego is home to the most haunted house in America, the Whaley House? We viewed it from the outside and our tour guide told us all about why it's haunted. As someone who enjoys a good scary story, I was enthralled during this part of the tour.
I had a lot of fun on this tour and found it to be very wheelchair-friendly. In total, we rolled/walked about 1.5 to 2 miles around Old Town and all of the eateries that we visited were accessible. The guide also did a great job of entertaining us & moving at a good pace for everyone in the group (there were 13 people total in our group!). If you'll be in San Diego and are a bit of a foodie, I'd highly recommend doing this tour! Just be sure to call the tour company and let them know if you use a wheelchair. They are happy to make any accessibility accommodations, but do need to know in advance of the actual tour.
Roll for miles on the Waterfront Walkway
While in San Diego, I was super excited to see the paved Waterfront Walkway right in front of the hotel that I stayed in, the Hilton San Diego Bayfront. While getting dressed during my first morning in the city, I could see people walking their dogs and riding bikes outside my window. They were enjoying the Walkway, so I quickly rolled out to enjoy the fun and see where the path would take me.
I found the Walkway to be completely wheelchair accessible. It was paved with concrete and very smooth and flat for several miles. It's also wide, so people are able to pass with plenty of space.
During my roll on the Waterfront Walkway, I stumbled upon Embarcadero Marina Park and Seaport Village. At Embarcadero Park, I saw gorgeous views of the San Diego skyline, yachts, sailboats, a fishing pier, exercise stations, and concession areas. Then, I shopped till I nearly dropped at Seaport Village, as it has dozens of shops and quite a few eateries as well.
With so much to see and do from the Waterfront Walkway, you could be entertained for hours. I highly enjoyed rolling for a few miles on it, but you can traverse it as much or as little as you like.
See a variety of marine life at SeaWorld San Diego
One of San Diego's top attractions is SeaWorld. I hadn't been to a SeaWorld (the one in Florida) in about 20 years, so I was really excited to check it out and see if I enjoyed it just as much now as I did as a kid.
What I love about SeaWorld is that while there aren't a ton of accessible rides (it's mostly roller coasters), there are a number of terrific shows that you can enjoy as a wheelchair user. My favorite was the Orca Encounter show, where I actually learned a lot about orca whales, but the dolphin show was amazing as well. And you can never go wrong with the Clyde & Seymour show with sea lions and otters. I really liked that the shows were not just entertaining, but also very educational. I left the park knowing a lot more about sea-life than when I arrived.
One ride that I was able to enjoy was the SkyTower, which was fully accessible & allowed me to have 360° views of the entire park. This ride was an additional cost, but at only $6 per person, I thought it was worth it.
Overall, I was impressed with the accessibility at SeaWorld. In the different venues where the shows took place, accessible seating was available in multiple sections. I liked being able to choose whether I wanted to sit in the front or further back. The entire park was also paved with smooth paths, so getting around was a breeze.
Nerd out at the Comic-Con Museum
I didn't visit San Diego during Comic-Con, unfortunately, but there is a whole museum devoted to Comic-Con and I was able to visit it! The Comic-Con Museum was fully wheelchair accessible and I enjoyed spending a couple hours seeing all of the exhibits.
Two of my favorite exhibits were PAC-MAN, where you could play the game on a variety of gaming devices, and the Spider-Man exhibit. The Spider-Man exhibit was really big and did a great job of explaining the full history of the superhero in an entertaining way. I'm not even a big fan of superhero movies, but by the end of this exhibit, I was definitely a new Spidey fan. This Spider-Man exhibit rotates, but there is always something new to experience at the museum. If you definitely want to see the Spider-Man exhibit, just be sure to check that it's still on display before you visit.
Whether you're a huge fan of comics or not, this is a really interesting museum to visit in San Diego. It's also in Balboa Park near several other museums, including the San Diego Automotive Museum and the San Diego Air & Space Museum, so you could make a full day of museum exploration!
See classic cars at the San Diego Automotive Museum
As I previously mentioned, the San Diego Automotive Museum is located in Balboa Park and within walking/rolling distance of the Comic Con Museum. I had no trouble at all parking in a wheelchair accessible spot near the entrance and rolling inside.
There were so many gorgeous cars here that I snapped way too many photos. This museum shows you the history and evolution of the automobile. You can view the actual DeLorean DMC-12 from the movie "Back to the Future," lots of classic cars, sports cars, and both American and international motorcycles.
The museum was easy to roll around in and I was able to get up-close to the vehicles. The aisles within the museum were also quite spacious, so I had no problems meandering around the many cars. If you love seeing classic cars, the San Diego Automotive Museum is a must-visit.
Relax on the beach with Access Trax
There's nothing better than an accessible beach day and luckily, San Diego offers several beach options for wheelchair users. Whether you want to roll on access mats in your own wheelchair or use powered or manual beach wheelchairs to roll on the sand, there are a plethora of possibilities! 
I had the chance to meet up with Kelly Twichel, founder of Access Trax, for an accessible beach day in San Diego. We met at Mission Beach and used Access Trax portable access mats to create a long beach mat. Thanks to Access Trax, I was able to get very close to the water and enjoy a couple hours on the sand!
Wondering what exactly Access Trax are? Well, according to the website, they are the "only foldable, lightweight, durable pathway designed to increase wheelchair access over uneven terrain such as sand, gravel, dirt, or grass." Each Access Trax panel is 36 x 36 inches and weighs just five pounds, so they are easy to set-up.
Access Trax was created in San Diego and they really are amazing. They're opening up the beach for so many people and making it easier to enjoy beaches with a wheelchair. As I told Kelly, if Access Trax would've been around 20 years ago, in a time when accessible beaches were impossible to find, it would have certainly made my life a lot easier.
Access Trax are available to rent in Southern California or you can buy some for your next beach trip here. You can even fly with them, as five mats only weighs about 26 lbs. These mats would be an easy way to guarantee accessibility at your next beach destination! 
Go sightseeing on a harbor cruise
One of the best ways to see San Diego is on a harbor cruise. I had the chance to do a 2-hour sightseeing cruise with City Cruises and during the cruise, we saw the city's skyline, sailboats, and even California sea lions… just to name a few. The cruise was narrated as well, so I learned all about the sights that we passed by.
It was easy for me to board the cruise, as a ramp was available, and the entire bottom level of the ship was wheelchair accessible. Unfortunately, an elevator was not available to get to the upper/outdoor levels, but I did have great views from the lower level through the large windows.
Food & drinks were available to purchase during the cruise and a restroom was on the lower level. The 2-hour cruise costs $39 per adult. If you'd like a unique vantage point of San Diego, consider doing this wheelchair accessible cruise with City Cruises.
As you can see, San Diego has so much to enjoy as a wheelchair user. No matter what kind of activities you like to do when you travel, there's a good chance that San Diego can suit your travel preferences. Now, start packing your bags (don't forget your wheelchair charger!) and get ready to discover the California gem that is San Diego.
.
Thank you to Visit San Diego for working with me on this trip and showing me the best of wheelchair accessible San Diego! While my experiences were complementary and I was compensated for my time, all opinions expressed are authentic and my own.
.