As a self-proclaimed Disney addict, I have always dreamed of visiting the original house of the mouse and the place that started it all – Disneyland Resort in Anaheim, California. I have literally been to Walt Disney World in Florida hundreds of times. I even did my college internship there. But I have never experienced the wheelchair accessible Disneyland attractions and fun… until very recently, that is.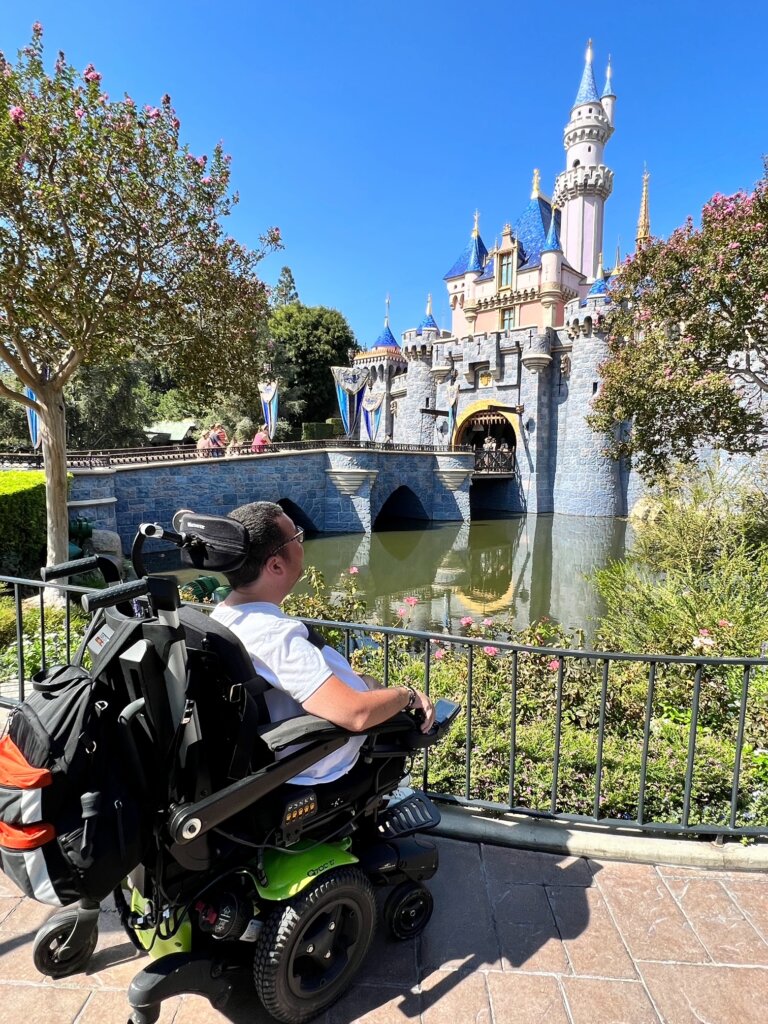 This past October, I visited Anaheim, California for the first time ever and spent two full days exploring both of Disneyland's parks. After visiting Walt Disney World so many times, I honestly worried that I would be under impressed since Disneyland is smaller. However, the exact opposite happened. I loved Disneyland and liked it just as much as Walt Disney World… maybe even more (yes, I really just said that!). I'm also happy to report that you can easily enjoy Disneyland's many offerings as a wheelchair user.
In this blog post, I'll cover all of the rides that you can enjoy at Disneyland and Disney's California Adventure theme parks as a wheelchair user, some accessibility tips for your visit, and other things to do in Anaheim outside of the theme parks. Here is your wheelchair accessible guide to Disneyland and Anaheim, California –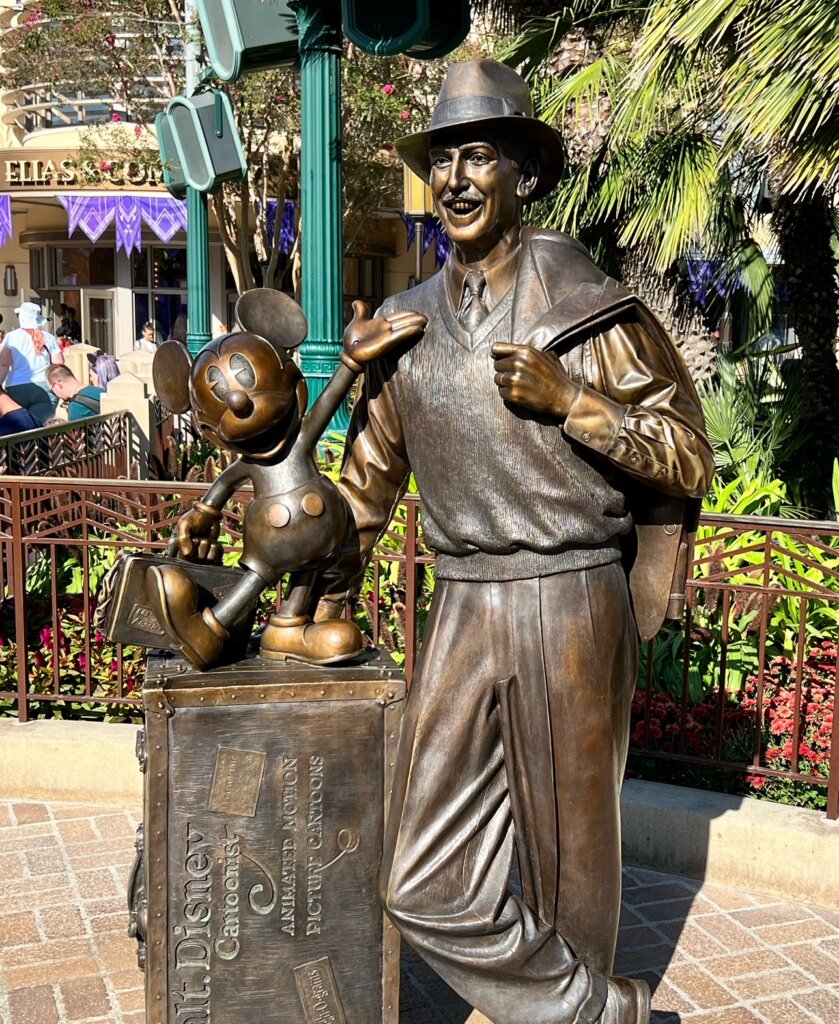 Wheelchair Accessible Rides at Disneyland
Disneyland has quite a few wheelchair accessible rides that you'll be able to enjoy if you need to stay in your wheelchair and are unable to transfer into the ride seat. I was able to stay in my powered wheelchair throughout the entire ride at these Disneyland attractions: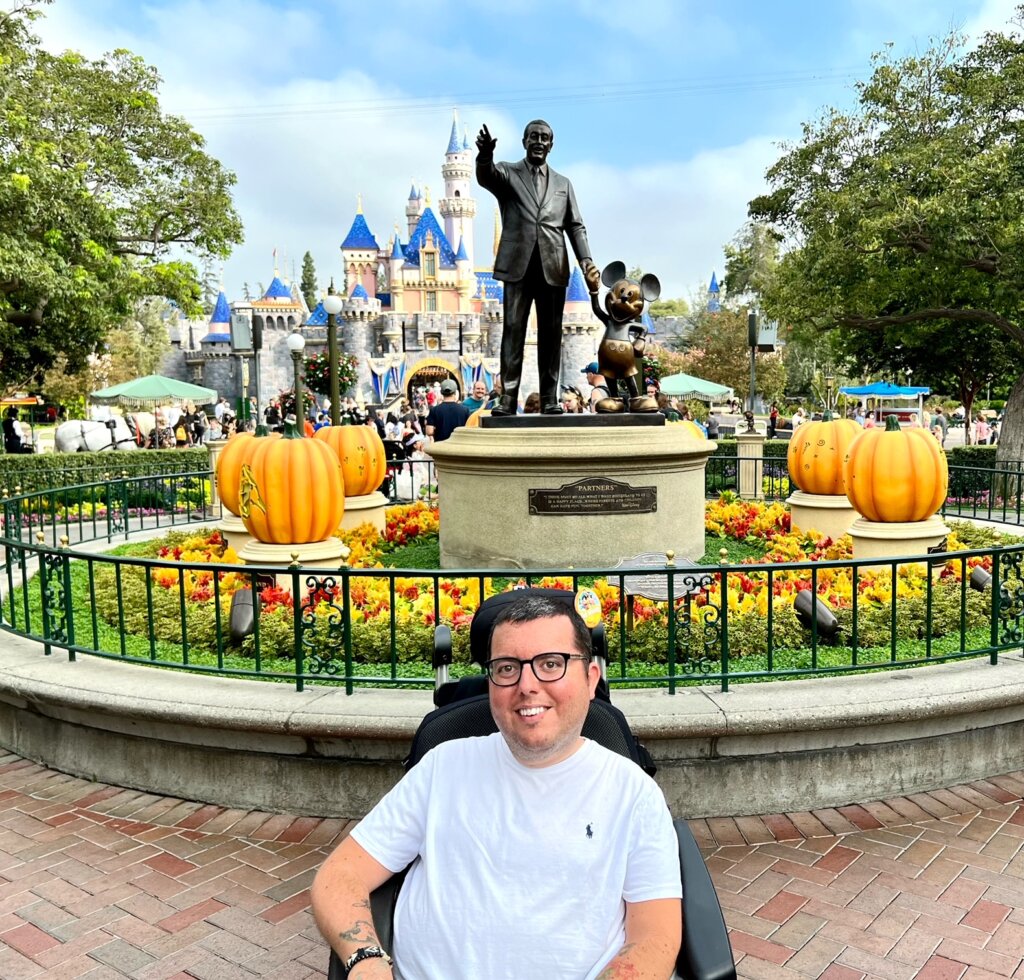 • Jungle Cruise – This is a classic and one of my favorite wheelchair accessible rides! For Jungle Cruise, I rolled onto a lift, which then lowered me down into a boat. The ride was smooth and I enjoyed all of the commentary throughout the ride. If you've ever done Jungle Cruise at Walt Disney World, expect many of the same jokes, but I did notice a couple different ones during my ride at Disneyland.
• Mark Twain Riverboat – You can enjoy a sightseeing tour on this 19th century paddle boat. I easily rolled onboard and was able to meander around the lower level. Unfortunately, there is no elevator to access the upper levels, but I had great views from the lower level during the short ride (it's about 15 minutes long).
• The Many Adventures of Winnie the Pooh – Winnie the Pooh is one of my favorite characters, so I was excited to learn that this ride is accessible at Disneyland. I simply rolled my wheelchair into the "honeypot" vehicle and had a relaxing ride. The ride was a little jerky one or two times, but predominantly smooth. I enjoyed it and actually got to ride it two times in a row since no other wheelchair users were waiting for the accessible honeypot.
• King Arthur Carousel – This is a standard carousel, but it is in the happiest place on Earth, so that definitely makes it more fun, right? In my opinion, absolutely! A ramp enabled me to get on the carousel with ease and I stayed in my powered wheelchair while the carousel went around and around.
• Disneyland Railroad – Somewhat surprisingly, this ended up being one of my favorite wheelchair accessible attractions at Disneyland. There are multiple places throughout the park to board the train and several of them are accessible. It's an open-air train and you can use it just to get from one side of the park to the other or you can do a full circle tour like I did. During the train ride, I learned interesting facts about Disneyland and I loved seeing the park from a different point of view.
• Buzz Lightyear Astro Blasters – This ride is just like Buzz Lightyear's Space Ranger Spin at Walt Disney World, which is always a lot of fun, so I enjoyed riding it a couple times. I was able to board the ride vehicle with a ramp and then my wheelchair was secured for a safe ride. During the ride, I loved being able to spin our ride vehicle, but since you can control how much it spins, spinning is totally optional.
• It's a Small World – This is another Disney classic and completely wheelchair accessible! At Walt Disney World, there is a ramp to get into the ride boat for It's a Small World, but Disneyland actually has a lift that lowers wheelchair users down into the ride boat. The lift dropped a bit suddenly, but otherwise, it was a smooth experience. And yes, I had this song stuck in my head for hours afterwards.
In addition to all of the rides above, I also enjoyed shows like "The Disneyland Story presenting Great Moments with Mr. Lincoln" and "Storytelling at Royal Theatre", which re-enacted the popular Disney movie Tangled. As a wheelchair user, I had a full day of fun at Disneyland and that made me so happy!
Wheelchair Accessible Rides at Disney's California Adventure
Directly across from the entrance to Disneyland is the entrance to Disney's California Adventure theme park. While Walt Disney World has four different theme parks, Disneyland Resort only has these two, but they are so special that you probably won't even notice the lack of additional parks. The Disneyland theme park is very much like Florida's Magic Kingdom, but Disney's California Adventure theme park is quite different than any park at Walt Disney World, so I was immensely excited to check it out for a full day.
I was on a mission to ride every wheelchair accessible ride at Disney's California Adventure & I did it! Here are all of the rides that I was able to do at California Adventure while staying in my powered wheelchair:
• WEB SLINGERS: A Spider Man Adventure – This was probably my favorite ride of the day! It's also one of the newest rides at California Adventure and the technology is sort of mind-blowing, to be honest. The ride did jerk me around a little bit, as it makes sudden moves, but I loved this ride so much that I did it twice… and would have ridden it again if I could.
• The Little Mermaid: Ariel's Undersea Adventure – Ariel is my favorite Disney Princess, so I enjoyed this ride. It's slow moving and easily accessible. It takes you through the story of The Little Mermaid.
• Jessie's Critter Carousel – This carousel is definitely meant for small children, but I still had fun riding it for a few minutes. A ramp was available for me to get on the carousel and it was a smooth and easy ride.
• Toy Story Midway Mania – This is a really fun ride and fully accessible, but it is very jerky. If you have poor upper body/neck control, it could be challenging. I struggled a bit with remaining stable during this ride, but luckily, my mom was right beside me throughout the whole ride, so she was able to help when I needed it.
• Pixar Pal-A-Round – This is the iconic Ferris wheel at California Adventure. You can choose for your accessible pod to swing or not swing during the ride. Choose the swinging option for an accessible thrill, but be aware that it really swings! I loved it, but may have screamed a time or two.
• Monsters Inc: Mike & Sully to the Rescue – This is a slow moving, fun ride and wheelchair accessible. If you are a fan of Monsters Inc, you will love it.
Of course, there are other experiences that you can enjoy at Disney's California Adventure theme park as a wheelchair user, but the 6 rides above are the wheelchair accessible rides where you can actually remain in your wheelchair throughout the entire experience. I loved that California Adventure had several wheelchair accessible rides that I had never done before, as they aren't at Walt Disney World. For that reason, California Adventure was probably my favorite theme park out of the two at Disneyland, but I really really really loved them both. If you can, I'd suggest planning for a full day at each theme park to fully enjoy all of the magic.
I also want to let you know about a great way to get around Disney's California Adventure theme park as a wheelchair user. The Red Car Trolleys are wheelchair accessible and can take you to various areas of the park (much like the Disneyland Railroad that I mentioned earlier). It's a good way to conserve your wheelchair battery life! Trust me, you don't want your powered wheelchair to die at a Disney park. I've been there, done that before and it wasn't fun.
Accessibility Tips for Your Disneyland Visit
As you've probably already noticed, accessibility at Disneyland Resort is pretty great. There are many wheelchair accessible rides and experiences to enjoy during any visit to the parks, but here are some additional tips to make your time at Disneyland even more enjoyable:
• If you have a disability, you can request the "Disability Access Service (DAS)" for your visit. I visited Guest Relations as soon as I entered the park and requested it, but you can also request DAS online 2-30 days before your visit. With DAS, you can get a return time for each ride instead of having to wait in the massively long lines. For example, let's say that you go to ride Pixar Pal-A-Round and there's a 45 minute wait. Instead of waiting in line for 45 minutes, you can check-in to the ride on the Disneyland app, go do something else for 45 minutes within the park, and then enter the Pixar Pal-A-Round lightning lane with little to no wait. Trust me, DAS is a game-changer & will make your day much more enjoyable. To request DAS in advance of your visit, go here.
• One thing that I always worry about in any destination I visit is the availability of companion care restrooms. Luckily, I'm happy to say that Disneyland Resort has a plethora of companion care/family restrooms throughout the parks. Some even have adult-sized changing tables if needed. For a full list of locations for companion restrooms in the parks, check out this article by my friend Angela of All Access Disneyland.
• Manual wheelchairs and Electric Conveyance Vehicles (ECV's) are available to rent on a first-come, first-served basis. If you need one of these, try to arrive to the parks as close to the opening time as possible. They require a refundable deposit and there is also a daily cost to rent them.
Now that you know all about wheelchair accessible Disneyland attractions and tips, you should be able to have the most magical time ever in the parks! There is so much to see and do at Disneyland as a wheelchair user, but there is a lot more to Anaheim, California as well…
Other Wheelchair-Friendly Attractions and Things to Do in Anaheim, California
Who knew that Anaheim, California has more than Disneyland?! To be completely honest, I had no idea before visiting, but Anaheim is an awesome city to visit even without going to Disneyland.
The Anaheim Packing House
The Anaheim Packing House is a must-visit. Here, you'll find a variety of eateries and shops in what used to be an orange packing facility in the early 1900s. It's now on the National Register of Historic Places and is a really cool spot to visit. There are incredibly diverse restaurants here, from Thai to sushi to a pie shop to soul food to Indian and much more.
I ate at Georgia's Restaurant inside the Packing House and had one of the best meals of my life. No lie. Fried chicken, collard greens, macaroni & cheese, cornbread, and sweet tea… oh my! It was so so so good and the next time I'm in Anaheim, I will certainly be returning to Georgia's.
No matter what kind of food you're in the mood for, I can promise you that the Anaheim Packing House has it. Plan for at least a couple hours here to try some of the different eateries and shop. An elevator is available to access all levels of the Anaheim Packing House.
Center Street Promenade
Just a short distance away from the Anaheim Packing House is another shopping and dining oasis, the Center Street Promenade. This area (it's more of a neighborhood actually) is home to dozens of shops and restaurants, and I found some new favorite shops and eateries here during my trip in Anaheim.
Two of my favorite stores at the Center Street Promenade were eco now, a zero waste lifestyle store, and RARE by Goodwill. RARE is an incredibly unique version of your typical Goodwill store. There are costumes for sale here, fun clothes, antiques, and so much more. It's completely unlike any other Goodwill that I've ever visited.
If you get hungry during your shopping spree, Center Street Promenade has quite a few different eateries as well. You can have Mexican food at Cervantes Mexican Kitchen, pizza at Promenade Pizza, and sandwiches and salads at K&A Cafe… just to name a few. One restaurant that I was able to try for dinner one night was Craft by Smoke & Fire. Craft was delicious and some of my favorite items that I had were the Bavarian pretzel, guacamole, and the brisket grilled cheese. Yum!!!
After dinner, head over to House of Chimney Cakes, which is also at Center Street Promenade, for dessert. This place specializes in Hungarian pastries filled with ice cream, and I can attest that it is delicious! I had the "Halloween Mickey" treat, which had black ice cream (tastes like chocolate though) & Oreos. It was a perfect sweet treat and I'd love to revisit in the future and try more of their specialties.
Where to Stay in Anaheim: Element Anaheim
While in Anaheim, I stayed at Element. It's a great hotel in a perfect location near the main gates to Disneyland and other Anaheim attractions. Sure, there are several hotel options on the Disneyland property, but Element Anaheim is a terrific option if you're looking to be near all of the action without spending a fortune. I really enjoyed staying here and would definitely do it again the next time I'm in Anaheim.
In all honesty, my wheelchair accessible room was one of the best that I have ever stayed in. It was an accessible suite with a full living area and kitchen. As soon as I entered the room and saw the size of the living area, I was amazed.
In the actual bedroom, there were two queen sized beds. A hoyer lift could easily fit under both beds and they were also a good height if you need to self-transfer.
The bathroom had all of the amenities that I needed. There was a pull-under sink, grab bars, and a nice roll-in shower. There was no lip to get into the shower, which was great. It was perfectly smooth and I really couldn't have asked for better accessibility for my needs in the room.
The hotel had an outdoor pool with an access lift as well and complimentary breakfast is included with every stay. Element Anaheim's staff was also exceptionally kind and helpful. They really made my stay a phenomenal one.
As you can see, there is so much to enjoy in Anaheim, California. From exploring the theme parks of Disneyland to indulging in delicious food across the city, you are sure to love your time in Anaheim as a wheelchair user. Now that you know just how amazing Anaheim is, take my advice and start planning your own trip to this fun-filled and inclusive destination!
.
*Thank you to Visit California for working with me on this trip and showing me the best of wheelchair accessible Disneyland and Anaheim, California! While my experiences were complimentary, all opinions expressed are authentic and my own.
.