Since the day that I ate my first slice of pizza as a young lad, I have dreamed of visiting Italy. Well, not really, but I have wanted to visit for a very long time… mostly just to eat all of the pizza and pasta that I could handle, but also to see the iconic sights and immerse myself in the same locations that Lizzie did in The Lizzie McGuire Movie, a timeless classic for us 90s kids.
Some friends and I (Bill of Mr. Milwaukee, his wife Melanie, my mom, and myself) decided to visit Italy in September 2021. We started our trip in the Eternal City of Rome and then went to Venice for a few days (read about our time in Venice here). Both Bill and I use powered wheelchairs, so before visiting Italy, we were a bit nervous about how accessible it would be. However, we quickly realized that it is completely possible to enjoy Italy as a wheelchair user.
Over the course of five days in Rome, we toured historical sights, saw more beauty than we could handle, and ate a lot (and I do mean a LOT) of great Italian food! Despite Rome being an older city, we found it surprisingly accessible as well. To discover all of the wheelchair accessible Rome Italy attractions that we enjoyed and view our day-by-day itinerary, keep reading and get ready for an accessible adventure through Rome!
Wheelchair Accessible Rome Italy Attractions & Itinerary
DAY 1
We arrived in Rome early in the morning and were met at the airport by representatives from Rome and Italy Travel, a tour company that offers wheelchair accessible tours throughout Italy. They arranged most of our itinerary and provided accessible transportation, tour guides, and attraction tickets in the cost of our trip. It was tremendously helpful to have their support during our time in Rome and I would 100% recommend using their services if you're planning to visit. They really could not have done a better job and I'll definitely be reaching out to Rome and Italy Travel for all of my future trips to Italy.
After arriving in Rome and loading up in the wheelchair accessible van, they drove us to our hotel, the DoubleTree by Hilton Rome Monti. I did a lot of research before the trip trying to find the best accessible hotel in Rome and this DoubleTree looked like the greatest option. It's in a fantastic location, within walking/rolling distance of the Colosseum and many restaurants, and the price wasn't too outlandish considering the location (about $300-400 per night).
I stayed in a wheelchair accessible room and it was a bit on the smaller side, but that's pretty typical for Europe. My room had one king sized bed and there was enough clearance underneath the bed for a Hoyer lift/hoist. If you need to self-transfer into bed though, it was a little tall. The mattress was about two inches above my knees while sitting in my wheelchair, so you might could make it work, but it certainly wasn't as low as most beds that I've encountered in Europe.
In the bathroom, there was a roll-in shower, a pull-under sink, and there was a fold-down grab bar by the toilet. The roll-in shower had smooth entry, a fold-down seat, and a handheld shower wand, so it was perfect for my accessibility needs.
The DoubleTree by Hilton Rome Monti was an excellent place to stay in Rome, especially as a wheelchair user. I would stay there again in a heartbeat. Check out the hotel and book your own stay by clicking here.
On this first day, we were all tired from the long flight from the U.S., so we relaxed at the hotel for most of the day, but we did go out for our first dinner in Rome. After scouring Tripadvisor for a while, we decided on Amedeo.
Amedeo Restaurant was only a short walk/roll from our hotel and the menu sounded great with lots of pasta options. It ended up being the perfect choice for our first meal in Italy, as everything was delicious. We had lasagna, ravioli, and more, and were able to sit outside at an accessible table. After this meal, we were all really excited to see (and taste) what the rest of our time in Rome had in store.
DAY 2
Our first full day of touring started by visiting the Baths of Caracalla. Before planning this trip, I had never even heard of the Baths of Caracalla to be honest, but it seemed fascinating and like it'd be a unique place to tour. After all, when in Rome, you have to see ancient Roman architecture!
These public baths were built between 212-217 AD approximately and served as a place for Romans to socialize. The Baths of Caracalla were the second-largest Roman baths and had enough space for up to 2,500 people. For about 300 years after being built, this was a great place to relax in Rome. It had cold, warm, and hot baths, pools, massage rooms, dressing rooms, libraries, and even brothels. It looks quite different today, but it is really cool to see the architecture and imagine what it would've been like 1,800 years ago.
The Baths of Caracalla have some smooth, accessible routes that could be manageable in a wheelchair, but thanks to a Joelette chair provided by Rome and Italy Travel, I was able to see the entirety of Caracalla, including the many bumpy areas that would be impossible with a standard wheelchair. The Joelette chair has only one wheel and is carried by someone in the front and someone in the back, as you can see in the photo below. To transfer from my wheelchair into the Joelette chair, the guys from Rome and Italy Travel lifted me with my ableMove transfer sling. It was an easy transfer process thanks to their assistance.
I felt like a true Roman Emperor as I was carried around the Baths of Caracalla in the Joelette and I was super thankful to be able to see so much of this place. This was seriously an epic way to experience one of Ancient Rome's most notable sites!
Once we finished touring the Baths of Caracalla, we headed back to our hotel and found a nearby restaurant for a quick lunch (my first pizza in Italy!). Then, we strolled into the Basilica Papale di Santa Maria Maggiore (AKA the Church of Santa Maria Maggiore).
The Church of Santa Maria Maggiore was built in 432 AD and it is the largest church that is dedicated to Mary in Rome. There are more than 900 churches in Rome and this one is consistently ranked as one of the best ones to see. It's wheelchair accessible with a ramped entrance and across from the DoubleTree by Hilton Rome Monti, so if you're staying there, you should definitely roll across the street and see it.
To finish off our second day in Rome, we went on the ultimate food tour. I mean, is there a better way to end a day in Rome than with a food tour?! I think not… We enjoyed a 6.5 hour food and history tour around Rome and lived our best lives along the way! We ate prosciutto, fried artichoke, Roman pizza, three different kinds of pasta, espresso, and gelato from six of the city's best restaurants.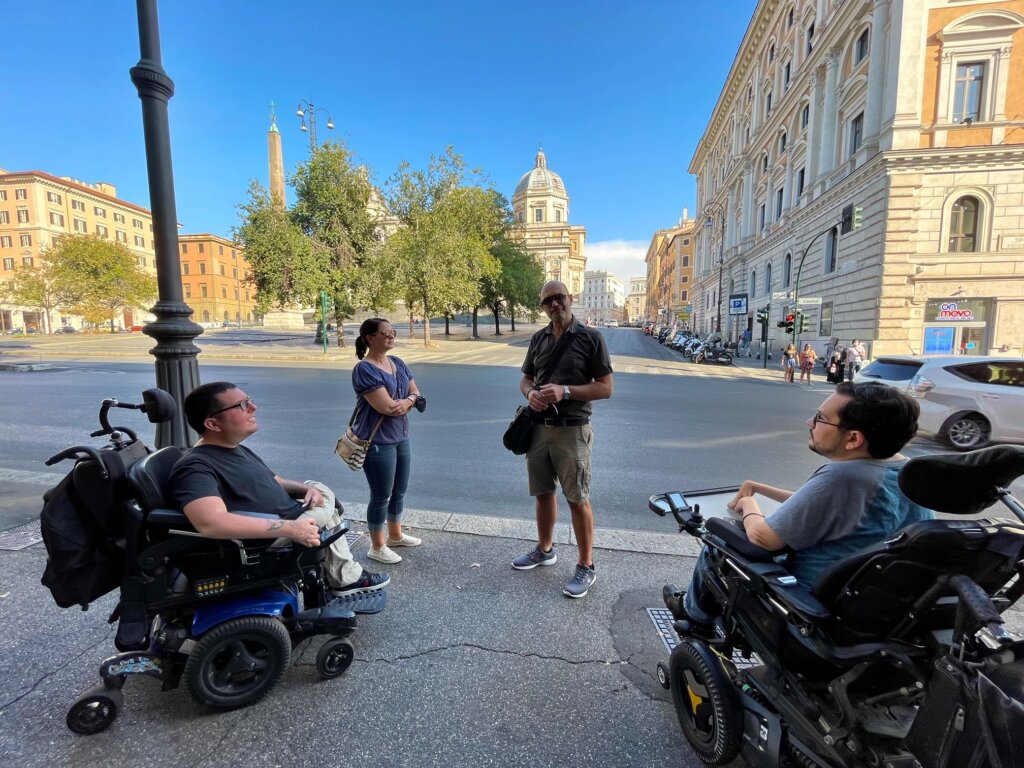 This was the only tour that we did in Rome without using the services of Rome and Italy Travel. Instead, we booked this private food tour on Tours By Locals. While not usually a wheelchair accessible tour, our guide, Cosimo, did a great job of adapting the tour to be as accessible as possible. Yes, there were some cobblestone streets, which were a bit bumpy at times, but Roman cobblestone is nowhere near as bad as other cobblestone I've experienced. My Quickie wheelchair handled this walking/rolling tour pretty well.
Our tour lasted about 6.5 hours, which probably seems like a really long time, but I enjoyed every single minute of it and was sad, but very full, when it ended. I'm not sure exactly how far we walked/rolled during the tour, but it was at least a couple miles, so keep that in mind. As long as you have your wheelchair fully charged before going on this tour, you should have a phenomenal time. I would certainly say that this tour is a definite must-do while in Rome!
DAY 3
The third day of our Rome visit was one that I was most looking forward to because we got to check out several of the iconic attractions on this day; the Roman Forum, the Colosseum, a winery, and the Trevi Fountain. I had extremely high expectations for this day and I'm happy to say that it definitely lived up to them.
Rome and Italy Travel picked us up with a wheelchair accessible van and drove us to the Roman Forum to begin the day. The Roman Forum was the center of Ancient Rome and served as the home of important religious, political, and social activities. People began meeting in the open-air Roman Forum as early as 500 B.C., so as you can imagine, accessibility can be challenging here.
Like the Baths of Caracalla, there were some wheelchair-friendly areas at the Roman Forum, but some parts of the Forum would be impossible to navigate with a regular wheelchair. Thankfully though, Rome and Italy had the Joelette chair for me to use again. It worked perfectly and I was able to see the Roman Forum in all of its glory!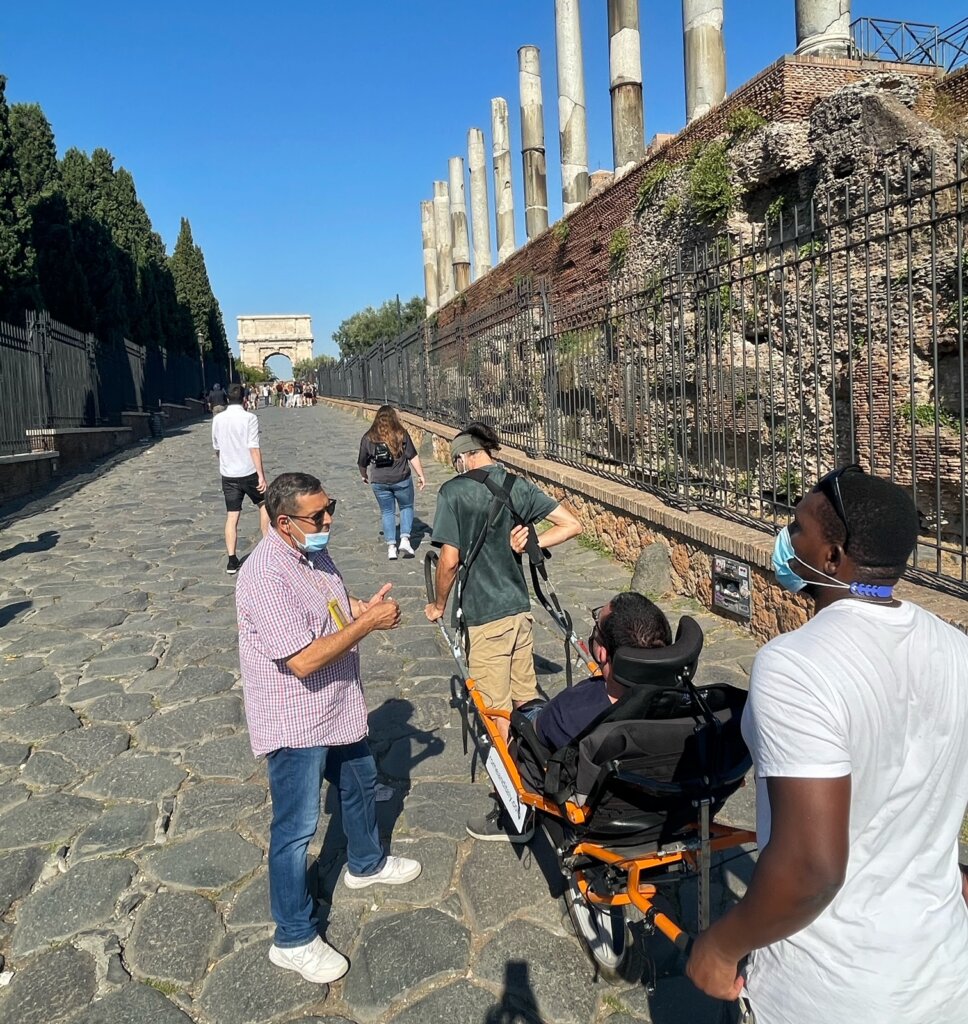 We spent a little over an hour exploring the Roman Forum, which was the center of daily life in ancient Rome. This was the site of trials, elections, and even gladiatorial combat, so you can imagine how incredible of a place this was and still is. It was pretty surreal to be rolling where Julius Caesar and so many other figures of Roman history had been.
Next to the Roman Forum is Rome's most well-known attraction, the Colosseum, so we went there next. The Colosseum is very wheelchair accessible though, so you won't need to use a Joelette chair. No matter what kind of wheelchair you use, you'll be able to easily enjoy a visit to the Colosseum in wheelchair accessible Rome Italy.
Construction on the Colosseum started in 72 AD and it then opened in 80 AD. It was predominantly used for gladiatorial contests, including animal hunts, group battles, and one-on-one competitions. But it was home to the occasional execution as well.
Despite being nearly 2,000 years old, there is an elevator inside the Colosseum to get to the different levels. I was tremendously impressed by that. If the Colosseum can be wheelchair accessible, anywhere can… there are no excuses!
After completing our bucket list worthy activity of seeing the Colosseum, we ventured about 30 minutes outside of Rome to Frascati, Italy. Rome and Italy Travel drove us to a fantastic winery known as Azienda Agricola L'Olivella.
Azienda Agricola L'Olivella was absolutely beautiful! It was everything that I envisioned when thinking of an Italian winery. While there for a few hours, we were able to try six different wines (4 red and 2 white wines) and enjoy some food pairings as well. At least, that's what I think happened because I might've drank a little too much. Haha! But really, visiting this winery was such a wonderful experience that I'll remember forever.
After our visit to the winery, we headed back to the hotel, sobered up for a couple hours, and then Bill, Melanie, my mom, and I wandered around Rome. The Trevi Fountain was our first stop and it was within walking/rolling distance of our hotel. The Trevi Fountain was larger and more beautiful than I expected. Tradition also says that if you throw a coin in the Trevi Fountain (must be with your right hand over your left shoulder), it means that you'll return to Rome one day. I definitely want to return to this incredible city, so I had to do it!
We finished the night by watching the sun set over the Eternal City and enjoying dinner in a nearby restaurant. As usual, I had pasta yet again because you truly can never go wrong with pasta in Rome.
DAY 4
On this day, we visited the smallest country in the world – Vatican City! That's right, the Vatican is "in" Rome, but it's a completely separate city-state and recognized as its own country. Trust me, I was probably as confused as you are when I learned that, but it's true.
We toured the Vatican museums, visited the Sistine Chapel (home of Michelangelo's paintings, including the most famous one where Adam and God's hands are touching), and rolled around St. Peter's Basilica. All of these attractions at the Vatican were incredible and our guide from Rome and Italy Travel knew all of the wheelchair accessible routes to take, so that made it very easy to see everything.
I even had some excitement while at the Sistine Chapel. They had a lift to go down a set of stairs at the entrance, which worked perfectly to enter the Chapel. But once I was ready to exit, the lift decided not to work anymore. It took about 30-40 minutes to fix, but the Vatican workers finally got it going after calling in additional help. It was a whole scene and while the Sistine Chapel was breathtakingly GORGEOUS (no photos were allowed inside though, so that's why I don't have any in this post), I'm glad I didn't have to end up living there. It's always an adventure when traveling as a wheelchair user!
We spent nearly the entire day exploring the Vatican. There is a lot to see and you really shouldn't try to rush through your visit, as it is stunning and quite special to be there. I would suggest planning a full day to enjoy everything that the Vatican has to offer and if you go with a guide from Rome and Italy Travel, they will ensure that you see all of the highlights.
After touring the Vatican, we headed back toward our hotel for a relaxing night. Of course, I enjoyed another delicious pizza from a restaurant across from our hotel known as Bistro Monti. This was probably my favorite pizza that I had in Rome actually, so I'd definitely recommend it.
DAY 5
This was our final day in Rome, so we were pretty busy seeing some last-minute places. We started the day by going to Ancient Ostia, which became one of my favorite Roman ruins sites. To be over 2,500 years old (the first buildings went up around 620 B.C.!), Ostia has been preserved very well.
Ostia was a port city for Ancient Rome & was a very busy place back in the day, having shops, bars, restaurants, theatre, and other places to socialize. As we rolled around Ostia, I could imagine a thriving community being there.
Much of Ancient Ostia is completely impossible to explore in a regular wheelchair, so Rome and Italy Travel once again provided an all-terrain Joelette chair for Bill and I to use. We were carried/rolled around Ancient Ostia, picked up over large steps, and more. It was awesome & I'm so thrilled that I was able to admire this ancient place!
Next, we were driven to the Capitoline Museums in Rome. They are a group of art and archaeological museums on top of the Capitoline Hill. They are also considered some of the most important museums in the city, as they preserve the memory of Ancient Rome.
Our visit took about two hours and the museums were completely wheelchair accessible. There were elevators to get to the various levels and our guide from Rome and Italy Travel did a great job of showing us the highlights in just a couple hours. You could easily spend more time exploring the Capitoline Museums, but I'd plan for at least two hours to hit the highlights.
For our final dinner in Rome, we walked/rolled from our hotel to Hostaria Isidoro. This restaurant had a beautiful interior and there were all kinds of Italian specialties on the menu. Whether you're in the mood for pasta, a great dessert, or just a good drink, you can find it here. We all loved our farewell dinner at Hostaria Isidoro.
On our way back to the hotel, we took the scenic route and had one last view of the Colosseum at night. After snapping a few selfies, we went to the hotel, packed our suitcases, and got a good night's sleep before taking the train to Venice the next day (more to come about that soon!).
Our five days in wheelchair accessible Rome Italy were truly better than I could've ever dreamed of. Being able to experience such historic, incredible sights as a wheelchair user made for a memorable trip and I cannot wait to return and see even more of the Eternal City one day. For so long, I thought that Rome would be too challenging with a wheelchair, but that isn't true at all. Sure, you may have to get a bit creative when it comes to accessibility at times, but Rome is certainly possible to enjoy no matter what your abilities are.
.