Grand Rapids, Michigan is a wonderful place to visit whether you are in a wheelchair or not. It is a city on the Grand River just east of Lake Michigan and boasts as the leader in the production of fine furniture. The downtown area is also vibrant with gorgeous views of the river and plenty of delicious restaurants, intriguing museums, and exquisite hotels all within walking/rolling distance of one another.
I have visited Grand Rapids once before and had a wonderful time, but I recently had the chance to return and experience even more of the city's accessible offerings. From rolling around beautiful gardens to enjoying a ghost tour in downtown Grand Rapids, I had a fun-filled few days in wheelchair accessible Grand Rapids.
Check out the video below to see some of the best wheelchair accessible things to do in Grand Rapids!
If you are planning your own trip to Grand Rapids as a wheelchair user, here are my top suggestions for wheelchair accessible things to do in Grand Rapids, Michigan. After reading, hopefully you'll feel prepared to embark on your own trip to this beautiful Michigan destination.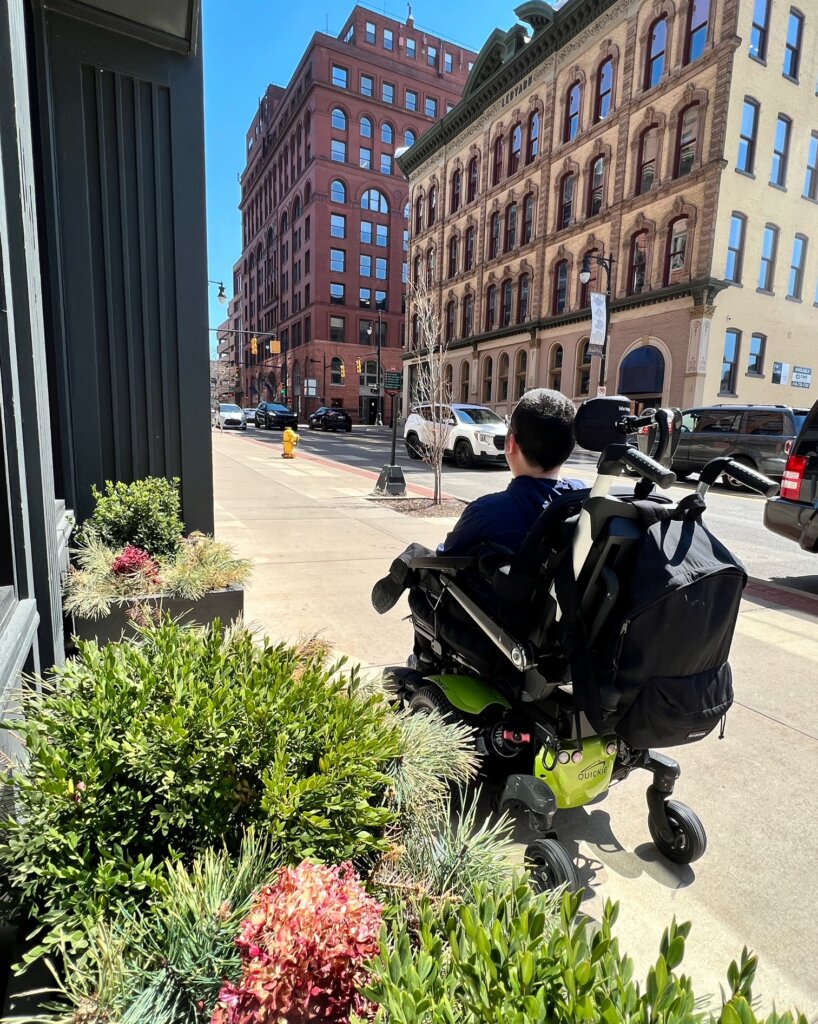 Wheelchair Accessible Grand Rapids Michigan Attractions & Things to Do
Frederik Meijer Gardens & Sculpture Park
When visiting the Grand Rapids area, the Frederik Meijer Gardens & Sculpture Park is a must-see and should be at the top of your list of places to visit. It is a 158-acre botanical garden, art museum, and outdoor sculpture park. I visited with my mom, Candice of Tours Around Michigan, and Meegan of AbleVu! We all had a spectacular few hours wondering around the gardens together.
The Frederik Meijer Gardens & Sculpture Park is fully wheelchair accessible with smooth paved paths, an accessible tram, and there is so much more to see and do. The parking here is free and there are more handicapped spaces on the front row than I have ever seen in any other location. The Guest Services desk also offers manual wheelchairs if you don't bring your own.
I would plan to spend no less than half a day here, as there is so much to see. I enjoyed rolling around the Japanese Gardens and viewing the lake from all angles. The terrain was easy to roll on, as it was smooth and only gently inclined. I found there to be no steep hills in the park, so going in either a manual or powered wheelchair should not be an issue.
I was also able to take a ride on the accessible tram. The staff was very friendly, pulled out the ramp for me, and happily assisted with securing my chair with a four point tie-down system. The tram tour was about 45 minutes long with a guide narrating what we were seeing along the way as we slowly rolled throughout the park. This gave a great overview of what all you might want to go back and see up-close later on. I would suggest doing this tram tour first for that reason.
There is also a large children's area with an accessible tree house! It is plenty big enough for the adults too and of course, I had to try this as well. The view from the tree house was great to see all the different birds and trees that are native in this area. And while at the Frederik Meijer Gardens & Sculpture Park, don't miss the butterfly house and conservatory. You can only see the butterflies during certain times of the year, but if you time your visit perfectly, it's a real treat. I visited in April and there were so many butterflies! I couldn't even roll a foot without seeing more and more fluttering around me. It was such a fun experience.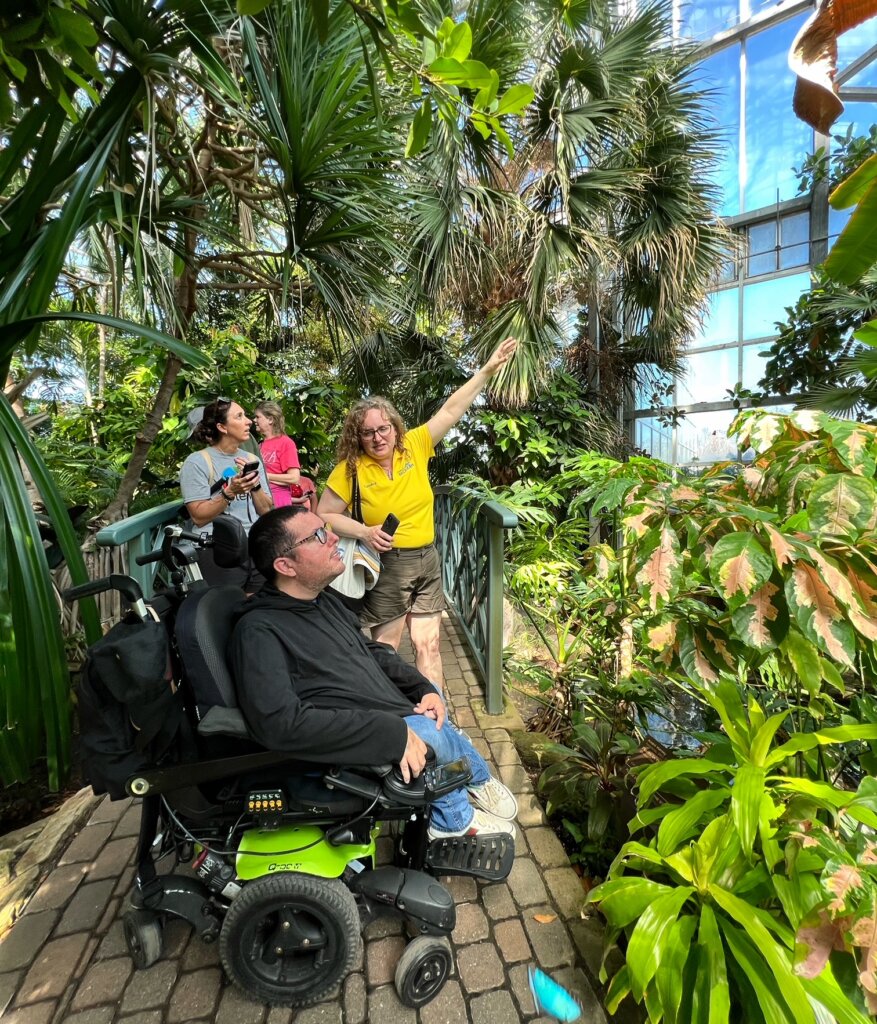 Gerald R. Ford Presidential Museum
The Gerald R. Ford Presidential Museum is really informative and educational, but it's also surprisingly entertaining. I'm not a huge fan of museums usually, but I actually loved my time at this one and I learned so much here that I did not already know about our 38th President. Did you know that he actually grew up in Grand Rapids?!
This museum was fantastic and the accessibility throughout was great. It is level and spacious, so I never felt crowded. There is an elevator to take you between the levels and there are also several companion care/family restrooms available. The parking is free and several accessible spots are offered near the entrance.
Rolling through the exhibits here, I learned that Ford was the only person to serve as President without being elected to either the presidency or the vice presidency. Another fun fact that I learned was that his birth name was Leslie Lynch King, Jr. I'm telling you, there were so many interesting facts to learn inside the Gerald R. Ford Presidential Museum.
After exploring inside the museum for an hour or so, I rolled outside to visit the burial site of both President Ford and former First Lady Betty Ford. It was a beautiful and peaceful burial site on the river, and a nice place to reflect on the impact that one person can have.
Grand Rapids Public Museum
The Grand Rapids Public Museum is a great way to learn more about science, history, and culture. Sitting waterfront along the Grand River in downtown Grand Rapids, and right across from the Gerald R. Ford Presidential Museum, is this gorgeous, wheelchair accessible museum.
There are free, accessible parking spots near the entrance and easy access curb cuts to get inside. The museum boasts three floors that are easily accessed via an elevator and ADA restrooms are available.
The Grand Rapids Public Museum is one of the oldest history museums in the country and it is nothing short of a fun time. My favorite exhibit was "Streets of Old Grand Rapids", where I rolled through a recreation of an 1890's street in Grand Rapids, Michigan. It submerged me into that era of time and I loved it.
There were also plenty of other exhibits too about fashion, toys, and zoology. There was even a room filled full with floor to ceiling shelves of dolls. I also enjoyed stepping back in time and playing a few old video games in an area full of old favorites, such as pinball and Galaga.
You could really spend the whole day here enjoying all of the exhibits at the Grand Rapids Public Museum. I'd suggest planning to spend a minimum of two to three hours here though. Admission starts at $12 per adult and only $5 per child, as of April 2023.
Downtown Market
First of all, parking at Downtown Market is super easy. There is a pay lot right out front and accessible parking spots are on the front row closest to the building. There is a ramp at the entrance to easily roll inside.
The hard part is once you roll inside the market, you have to decide which delicious food to eat first! Inside the market, you will find food options such as sushi, hot chicken, and even what I enjoyed, which was an avocado and fresh mozzarella panini from Cafe de Milo.
There are also plenty of desserts to top off any meal and I finally decided on the largest chocolate oatmeal no-bake candy that I have ever seen at Juju Bird and it was so good! I ate way too much once I got started on it.
Downtown Market has over 20 vendors, so you will definitely find a plethora of amazing options no matter what you're craving. There is also a large dining area, where you can sit with your family and friends and enjoy your selections.
An Accessible Tour with Tours Around Michigan
No matter what your interests are, Tours Around Michigan has you covered! Candice Smith, the Owner of Tours Around Michigan, takes pride in making her tours accessible for everyone. Her passion is to inspire people to keep exploring and wanting to see more of her great state.
Tours that are offered include history, the lakeshore, ghosts, visiting parks, and more. She leads public tours in Grand Rapids and private tours all over Michigan. She is more than willing to work with sign language interpreters and welcomes guide dogs as well.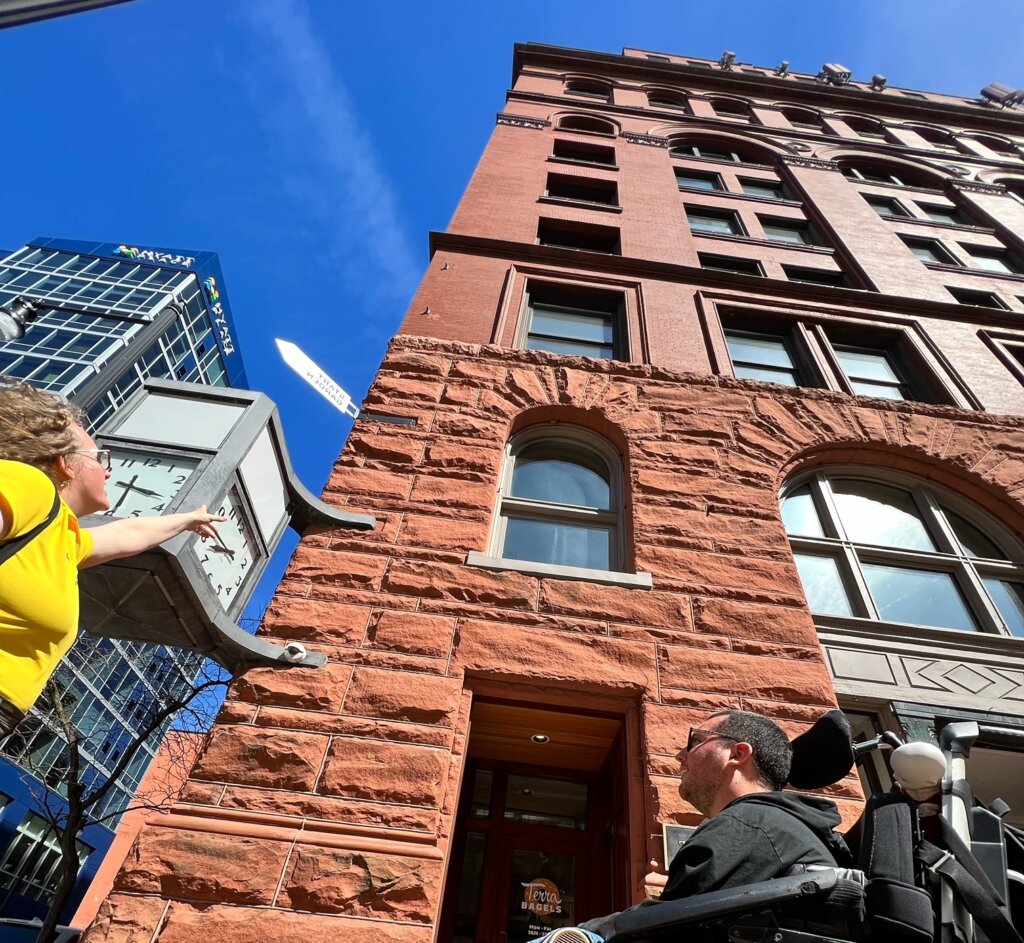 I thoroughly enjoyed my tour with Candice in Grand Rapids, as I never had an issue of looking for the wheelchair access or seeking an accessible restroom. She always made sure to lead the best possible route and offered suggestions of where the best restrooms were located along the way. Before our tour, she asked what our interests were and I told her that I love ghost tours and viewing murals, so she fully customized the tour to include both of those aspects. She even brought "Creepy Doll Amanda" along for our ghost tour.
I would give my tour with Candice a solid 10 out of 10 for accessibility and enjoyment. Her enthusiasm for Michigan and love of exploring is infectious and made my time spent touring with her exceptional. You can book a tour on her website here.
Where to Stay in Grand Rapids: Amway Grand Plaza
Now that you know some of the fantastic things to do in Grand Rapids, I couldn't let you go without telling you about one of the best places to stay! Located in the heart of downtown along the Grand River sits the Amway Grand Plaza, Curio Collection by Hilton. It is also a member of the Historic Hotels of America, which says how amazingly gorgeous this property is.
This hotel offers valet and self parking options, nine onsite restaurants and bars, including Ruth's Chris Steakhouse, Starbucks, The Kitchen by Wolfgang Puck, and more, and skywalk access to the Grand Rapids Convention Center. The staff here are very friendly and accommodating to guests as well. I couldn't have had better experiences with each member of the staff.
My room here included a roll-in shower with a fold-down bench and grab bars, two queen beds, a mini fridge, a safe, a roll-under sink, and a toilet with grab bars both behind and beside. The beds were a little on the tall side, but the friendly staff did say that if needed, they were happy to make adaptions to the frame to make them lower. A Hoyer lift could not roll under the bed as it was a block frame bed, but keep in mind, I was in the more historic portion of the hotel and not the modern side.
Although my room worked well for my needs, always call the front desk and ask the questions needed to make sure you pick the right room for you. The Amway Grand Plaza's phone number is 616-774-2000 and you can learn more here.
Now that you have an idea of some of the great, accessible things to do around Grand Rapids, Michigan, it is time to head there and see it all for yourself! Although the hustle and bustle of some cities can be a bit intimidating, Grand Rapids is certainly not one of those locations. It is the perfect place for an enjoyable and relaxing vacation, and it was everything I hoped it would be and more. I was amazed at the wheelchair accessibility that I found here as well. I will definitely be returning to Grand Rapids again in the future and I hope to see you here as well, rolling around and enjoying the many sights!
.
*Thank you to Experience Grand Rapids for working with me on this trip and showing me the best of wheelchair accessible Grand Rapids! While my experiences were complimentary, all opinions expressed are authentic and my own.
.
.