Hawaii has been a destination that I have wanted to visit for as long as I can remember. I have dreamed of attending a luau, experiencing Pearl Harbor, lounging on Waikiki Beach, and more. It took me over thirty years to make my dream of visiting Hawaii a reality, but in late 2022, I finally touched down in wheelchair accessible Oahu Hawaii and had the trip of a lifetime!
My mom, my friend Kayla, and I spent a full week on the island of Oahu before boarding a cruise to other Hawaiian islands such as Maui (read about our time in Maui here), Kauai (read about our time on Kauai here), and the Big Island. A full week was really the perfect amount of time for us to enjoy all that Oahu has to offer with our accessible rental van from Wheelers Van Rentals of Hawaii, but of course, I wouldn't have said no to another week or four as well. Oahu is truly a magical destination and exceeded my expectations in every possible way.
From riding in a helicopter and being moved to tears by the beauty of the island to relaxing at Disney's Aulani Resort, where we stayed for the week, this trip couldn't have been any better. I can assure you that if you're looking for tips on how to have the perfect trip on Oahu, this guide has you covered! Keep reading to discover wheelchair accessible Oahu attractions and things to do, where to stay on Oahu as a wheelchair user, and more.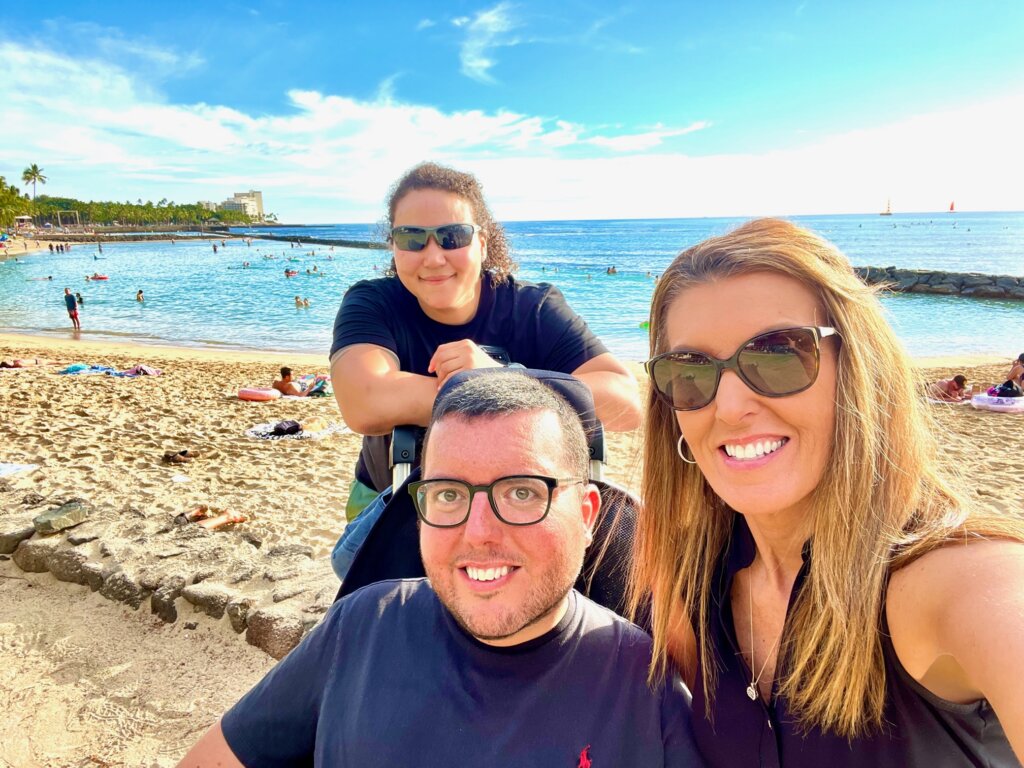 Wheelchair Accessible Oahu Hawaii Attractions & Things to Do
Soar over Oahu with Blue Hawaiian Helicopters
Several years ago, I saw online that Blue Hawaiian Helicopters is one of the most accessible helicopter companies in the world (we'll dive into why in just a bit!). Since seeing that, I said that if I ever went to Hawaii, I would definitely book a helicopter ride with them. I always love an adventure and this was hands-down one of my favorite experiences of all time!
Check out the video below to see our wheelchair accessible helicopter ride over Oahu!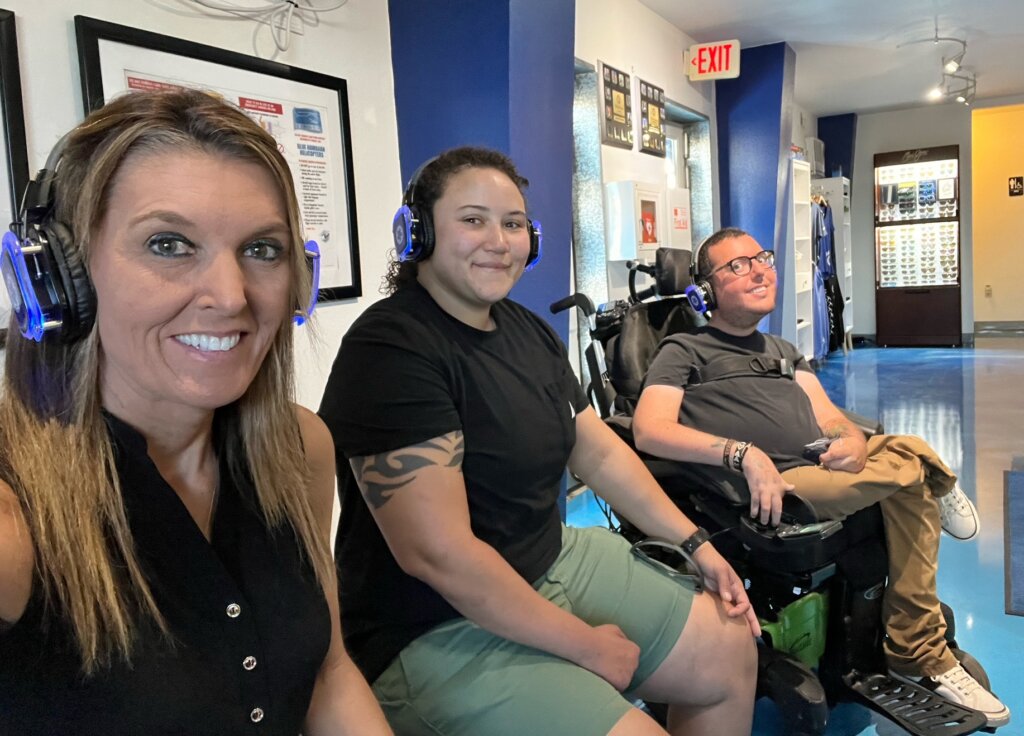 Blue Hawaiian offers helicopter rides on every Hawaiian island, so no matter where you visit, you can enjoy an accessible ride with them. On our second day on Oahu, we went on a helicopter ride with Blue Hawaiian and it was great because it showed us the layout of Oahu from above. It was incredible and we loved it so much that we actually booked another helicopter ride with them on Kauai for the next week.
To actually get me on the helicopter, Blue Hawaiian Helicopters had a chair lift that lifted me up to the seat in the helicopter. After a short ride in the chair lift, I was perfectly even with the helicopter seat and we used my ableSling to transfer me over into the seat. It was a really simple process and the staff of Blue Hawaiian Helicopters were phenomenal and super helpful during the entire process of getting into the helicopter.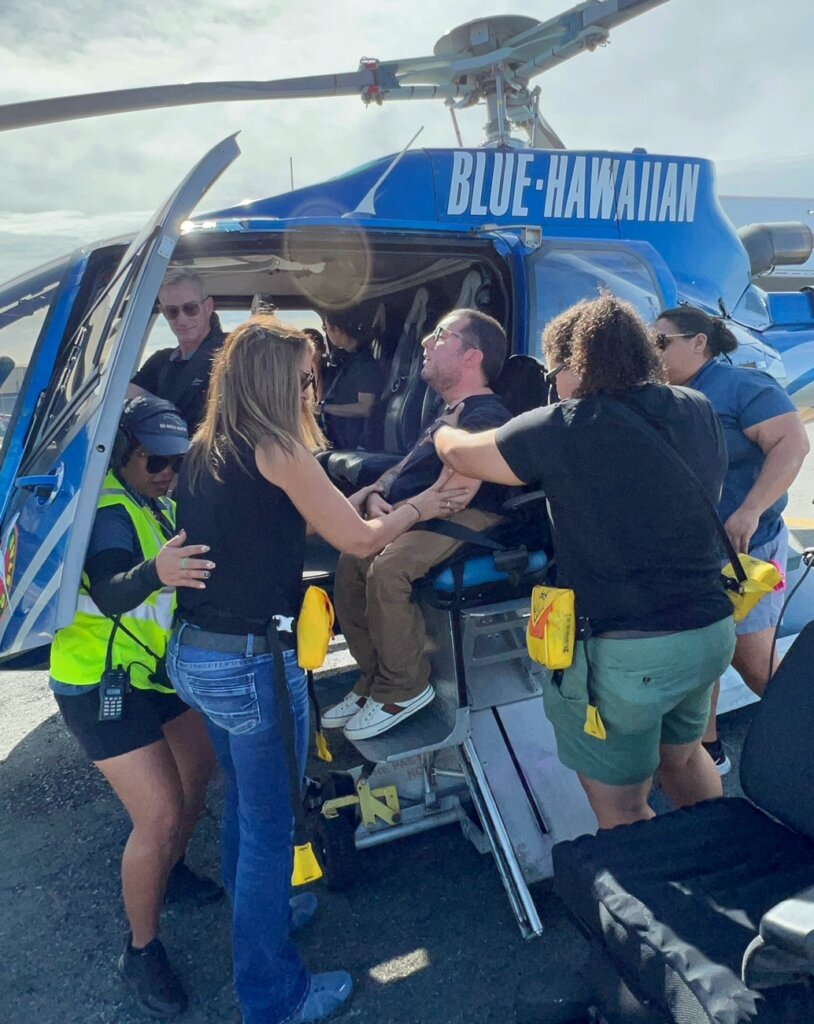 If you need to use the chair lift, you'll sit in the back row of the helicopter, but don't worry because there isn't a bad seat. A huge window was on my left side, so I could see absolutely everything throughout the 45-minute flight. I was also really surprised about how smooth the ride was, but Blue Hawaiian did strap me in good for added support. My friend Kayla also sat right beside me in case I needed anything during flight.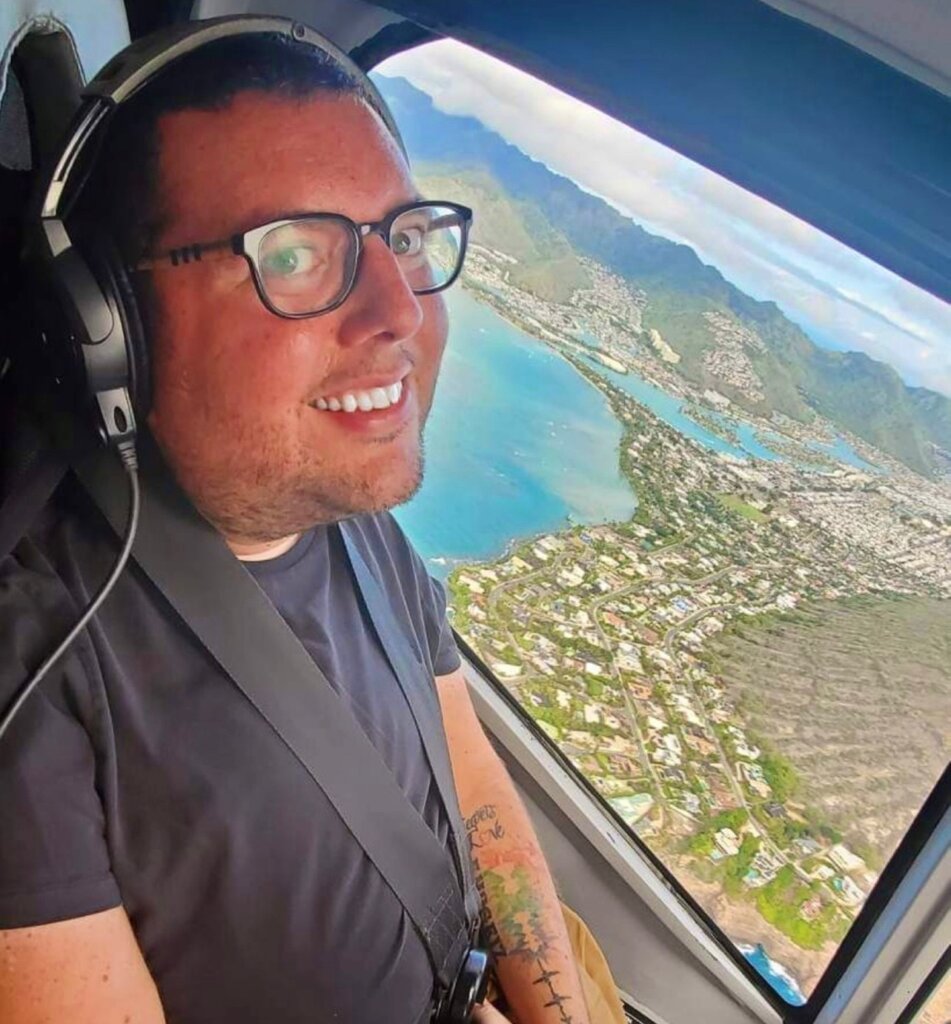 While in the air, we saw Waikiki Beach, Pearl Harbor, some waterfalls, and so much more. It was stunningly beautiful and at one point, I even teared up for a moment. I was just so grateful to be having that experience and Blue Hawaiian was playing great music throughout our ride, which certainly made me tear up even more. Our pilot also thoroughly described everything that we saw, which was nice and informative.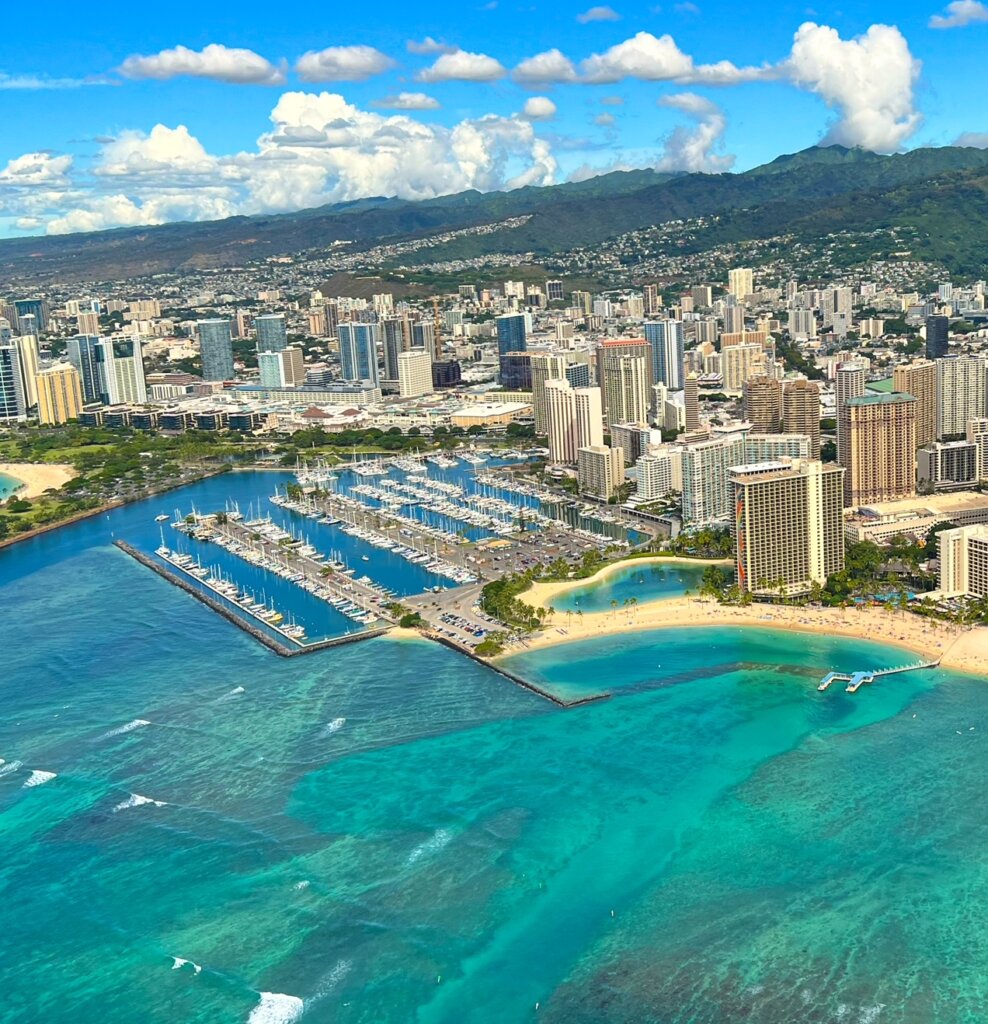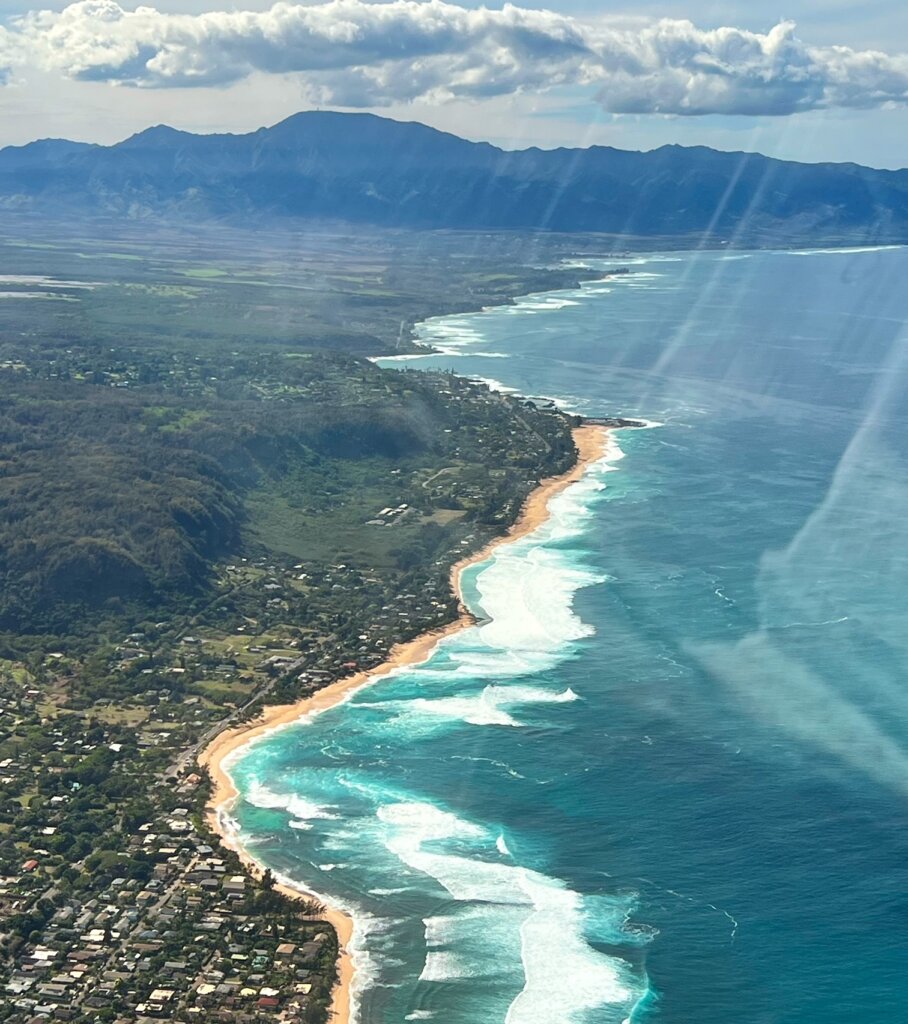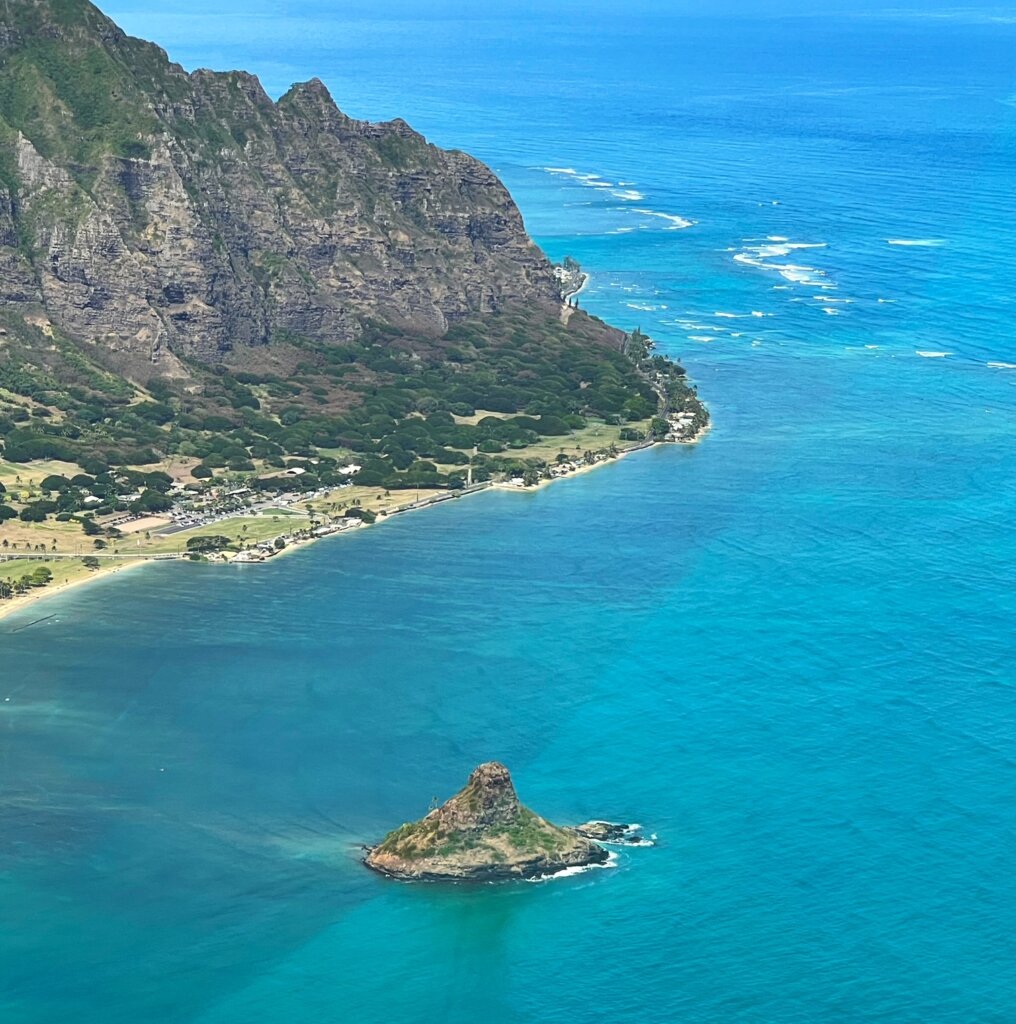 If you are visiting Hawaii as a wheelchair user, this should be at the top of your list of things to do! I enjoyed so many aspects of my trip on Oahu, but without a doubt, this ride with Blue Hawaiian Helicopters was my favorite part of the trip.
Attend the Paradise Cove Luau and eat delicious Hawaiian foods
There are a variety of luaus to choose from on Oahu, but while doing research in advance of our trip, Paradise Cove Luau kept topping lists as the best luau on Oahu. So, we decided to try it out and after attending, I have zero doubts about this being not only the best luau on Oahu, but one of the best luaus in all of Hawaii. It was such a fun experience!
We arrived at Paradise Cove at about 5pm and enjoyed some activities for about 90 minutes before the dinner show began. We held parrots, got henna tattoos, made crowns (as seen in the photo below), drank mai tais, my mom learned how to hula, and we even watched the pig, which we later ate, be brought out of the pit in the ground. It was wild, but really cool to see.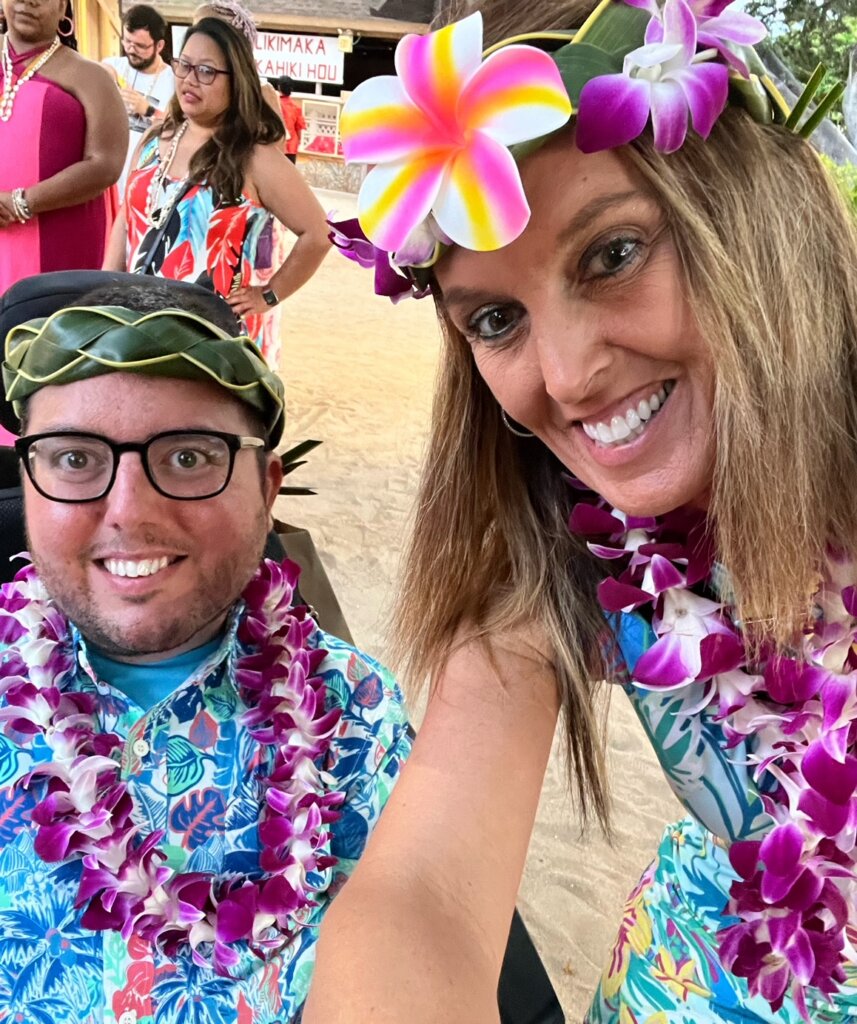 Accessibility at Paradise Cove was good for the most part. I only got stuck in sand for about 30 seconds at one point and had to be pulled out, but I wasn't really paying attention to where I was rolling, so it was my fault. The entirety of Paradise Cove is sand, but it is very hard packed and was tremendously easy for my powered wheelchair to roll on, minus that one incident. No matter what kind of wheelchair you use, I really think you will be fine at Paradise Cove.
Once the dinner and main show began, we were enthralled for about an hour and a half. The show was INCREDIBLE and the food was so delicious! We had deluxe front stage seats (you can book these when making your reservation) & we had a perfect view from our seats. I would highly recommend booking this deluxe package, so that you can have prime seating. It is an extra cost, but completely worth it in my opinion… especially if it's your first ever luau!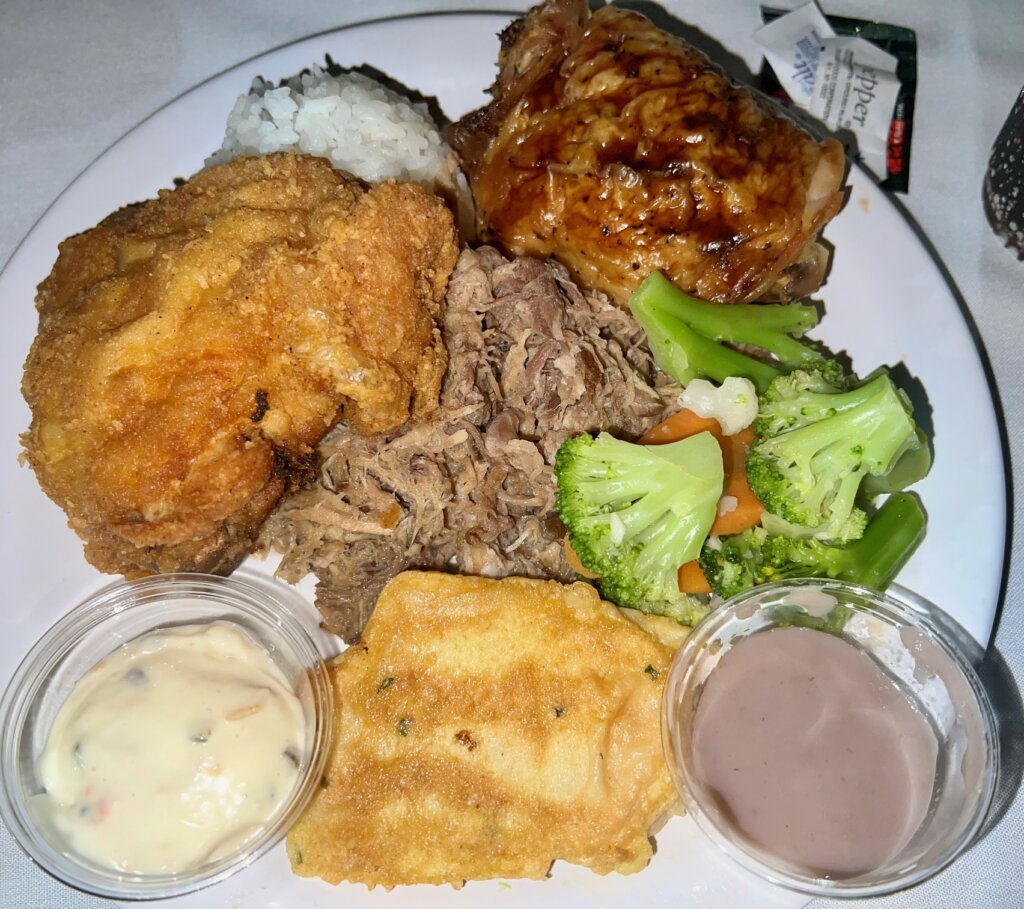 I was able to enjoy everything that the Paradise Cove Luau offered as a wheelchair user and had such a special evening! The next time I'm in Oahu, I will certainly be returning for more fun at Paradise Cove.
Enjoy the North Shore of Oahu
A great day trip option on Oahu is the North Shore. We decided to drive about an hour from Disney's Aulani Resort to visit the North Shore one day and I would say that it was absolutely worth it! By the end of our day on the North Shore, we all agreed that this was one of our favorite days of our trip.
The North Shore is famous for big waves and one of the most popular places for surfing in the world. We visited Ehukai Beach Park, where we saw literally hundreds of surfers surfing the Banzai Pipeline. It was so fun to watch them for a while. Accessibility at Ehukai Beach Park was a bit tricky, as I had to roll over rough, grassy areas to get to a viewing point, but it all worked out in the end and I had a perfect view.
After watching the surfers for a while, we headed to the nearby town of Hale'iwa. This surf town has lots of shops and restaurants, and is a fun area to roll around in. We got some Hawaiian shave ice from Matsumoto's and a great burger from Teddy's Bigger Burgers. Hale'iwa is a spectacular little town to visit and every shop and restaurant that I saw was wheelchair accessible.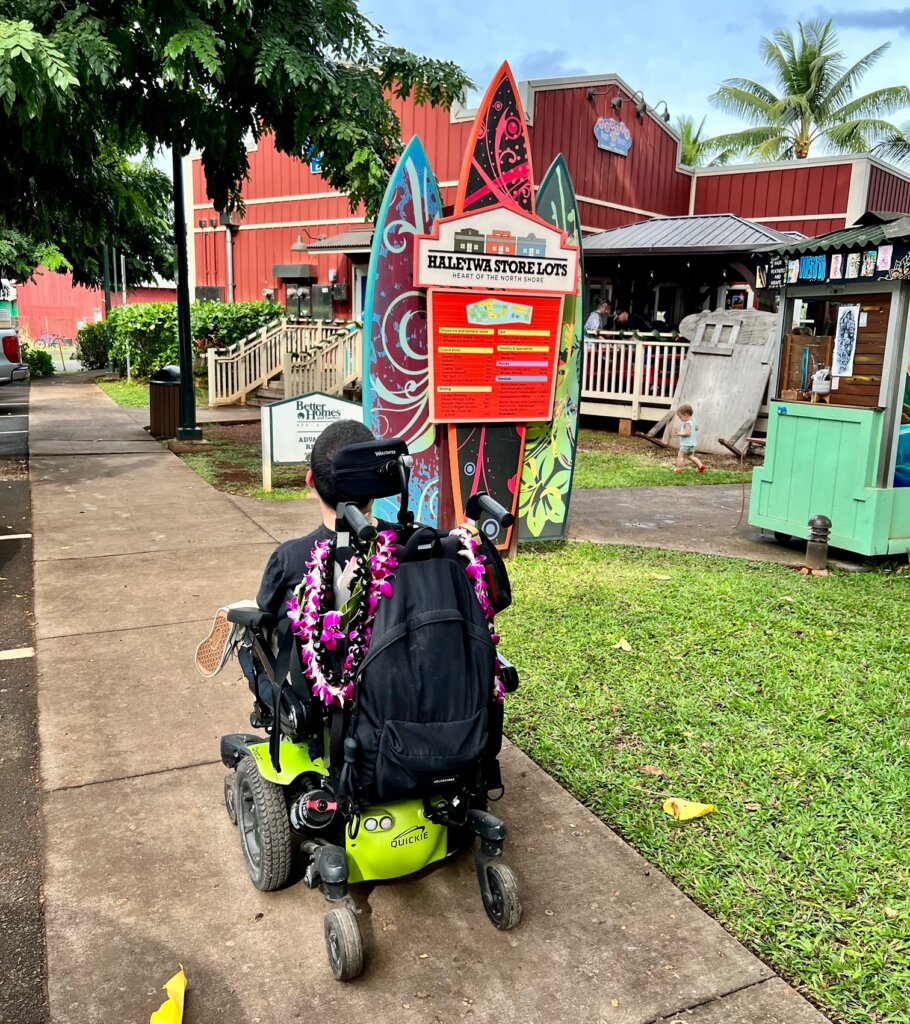 If you're looking for a place to relax and get away from the more populated city of Honolulu, the North Shore should be a must-visit. I loved it and would even consider staying in this area during a future trip to Oahu. To be so close to all of the action of Oahu, the North Shore is like a totally different destination.
Learn about the history of Pearl Harbor
During our flight to Hawaii, I watched the movie 'Pearl Harbor' and it made me really excited to explore the real Pearl Harbor. It was so much better than I could've ever imagined. To be honest, I'm not a huge history buff, but I was completely enthralled at Pearl Harbor.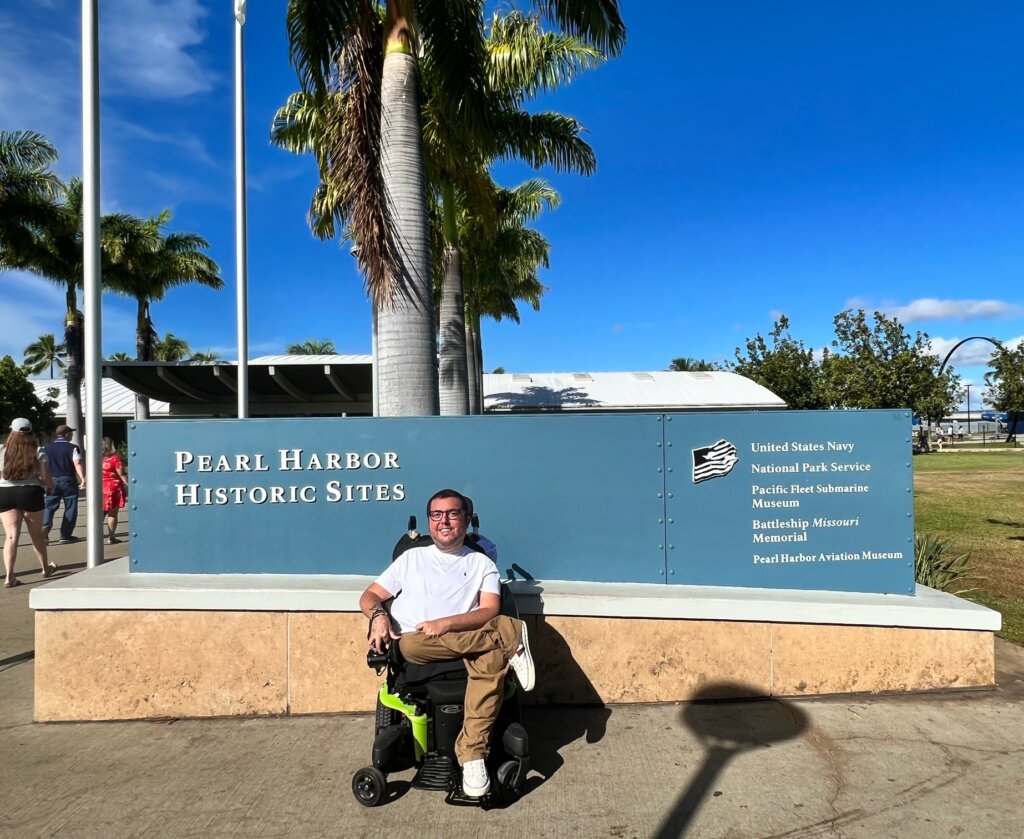 It took us a full 6 hours to experience all of Pearl Harbor, but we did it! Before visiting, we thought it might take two to three hours, but there was much more to see than we expected. We checked out the Pearl Harbor Visitor's Center, the USS Arizona Memorial, The Pearl Harbor Aviation Museum, the Battleship Missouri, and the USS Bowfin Submarine Museum.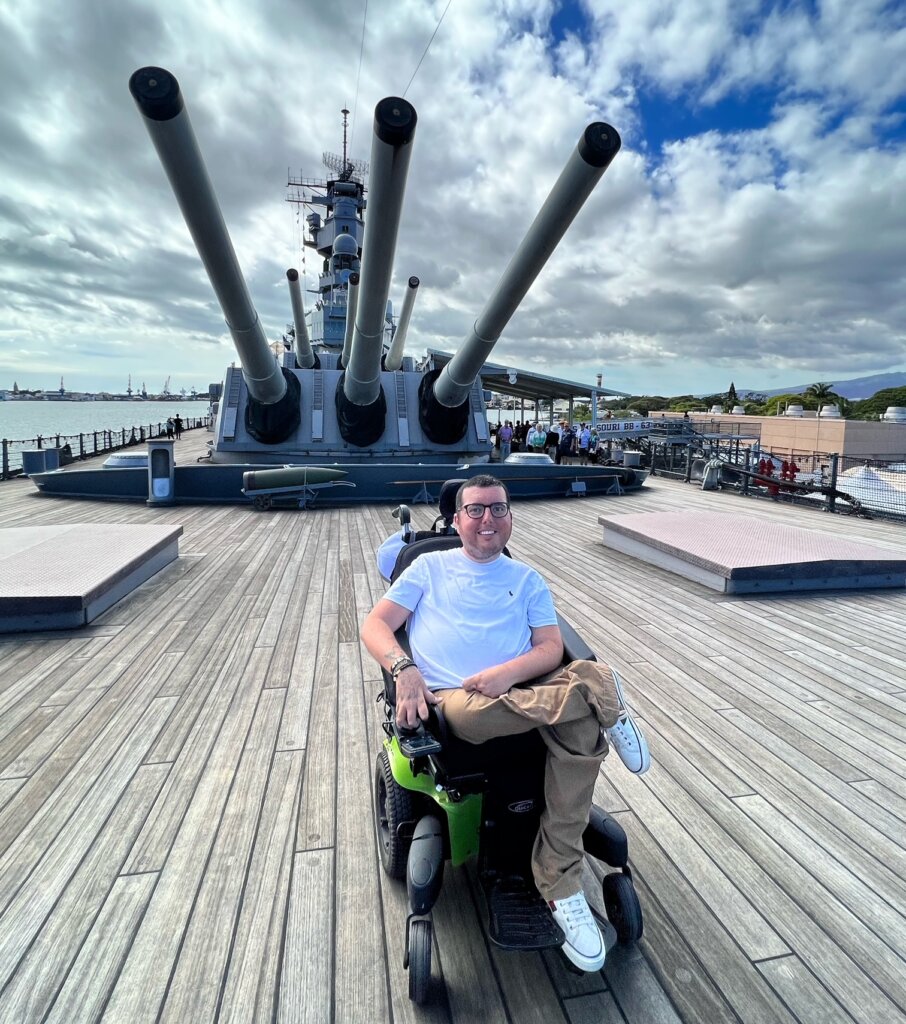 We learned so much across the various attractions at Pearl Harbor and accessibility was great! I was able to fully enjoy nearly everything that I wanted to. The only thing that I couldn't do was get on the Bowfin Submarine, but the museum for it was accessible. There were also companion care restrooms available and all transportation at Pearl Harbor (the buses and the ferry ride to the USS Arizona Memorial) was completely wheelchair accessible.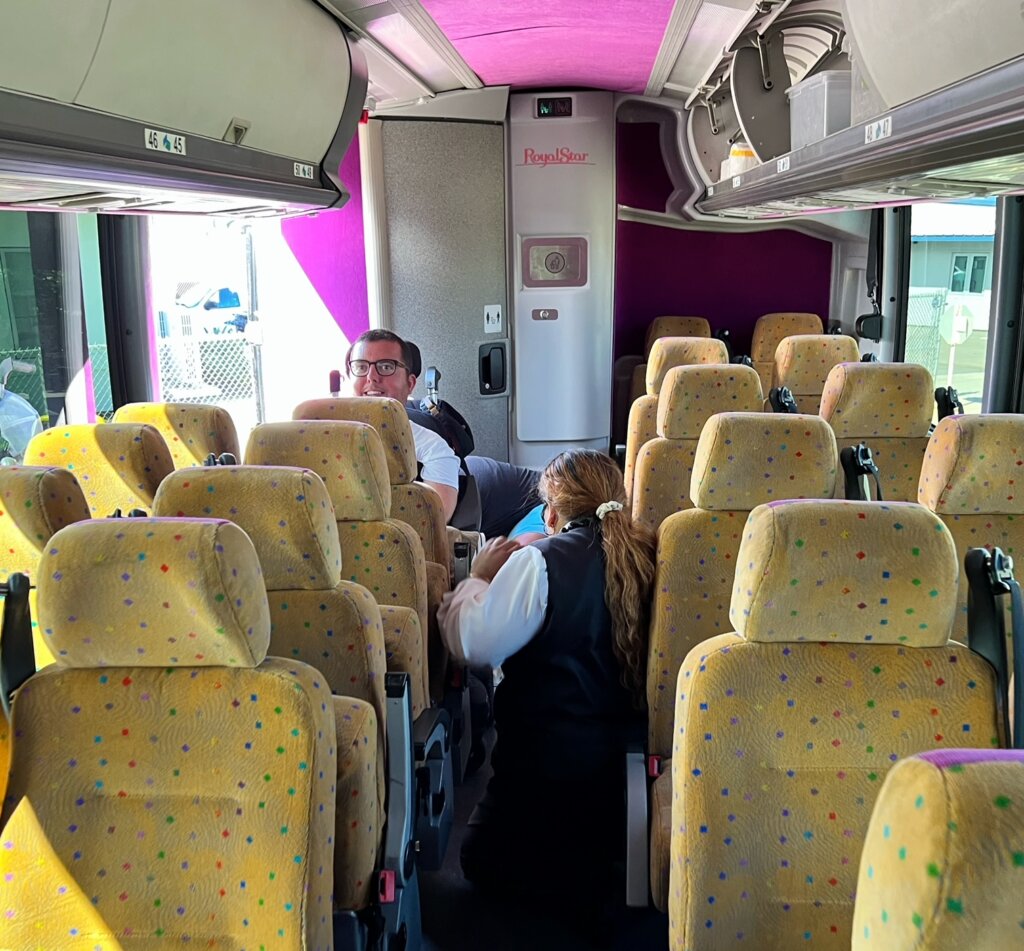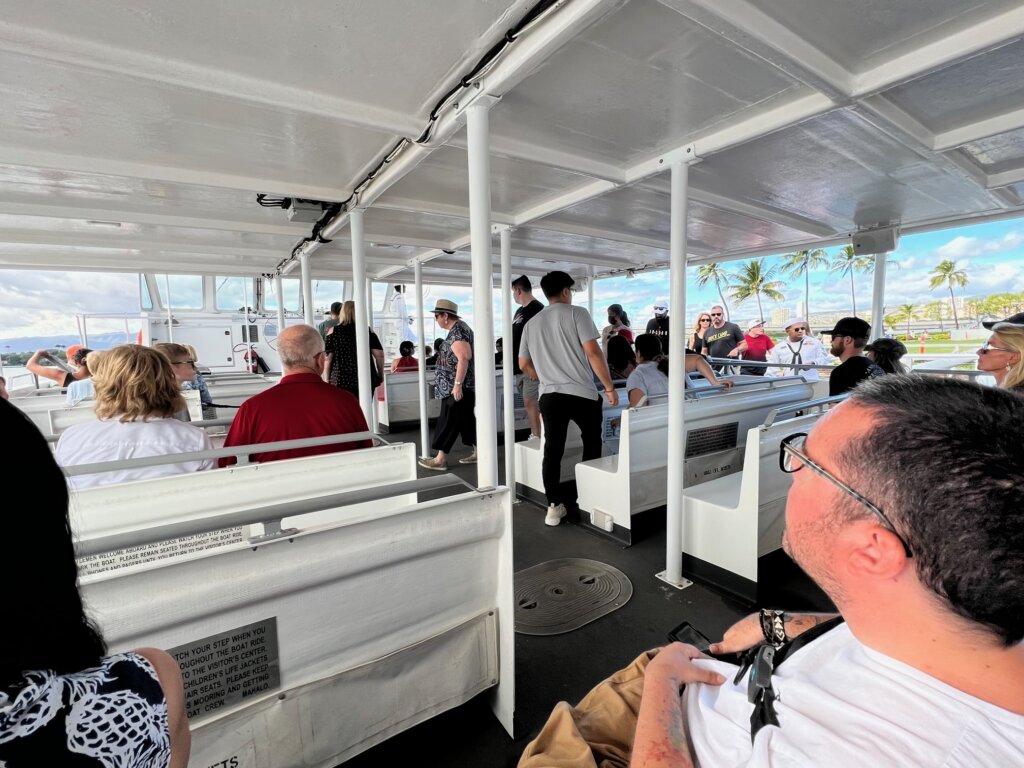 Additionally, here are some tips to keep in mind for your own visit to Pearl Harbor:
1) Book your tickets in advance. We got the "Passport to Pearl Harbor" tickets, which included access to ALL attractions. You also need to book the USS Arizona Memorial tickets separately and they must be booked before your arrival. You can book your "Passport to Pearl Harbor" tickets here and your USS Arizona Memorial tickets here.
2) On the day of your visit, arrive as early as possible. To see everything, it takes a minimum of 6 hours, but really about 8 hours would be ideal. Exploring Pearl Harbor is a full-day event, but worth it.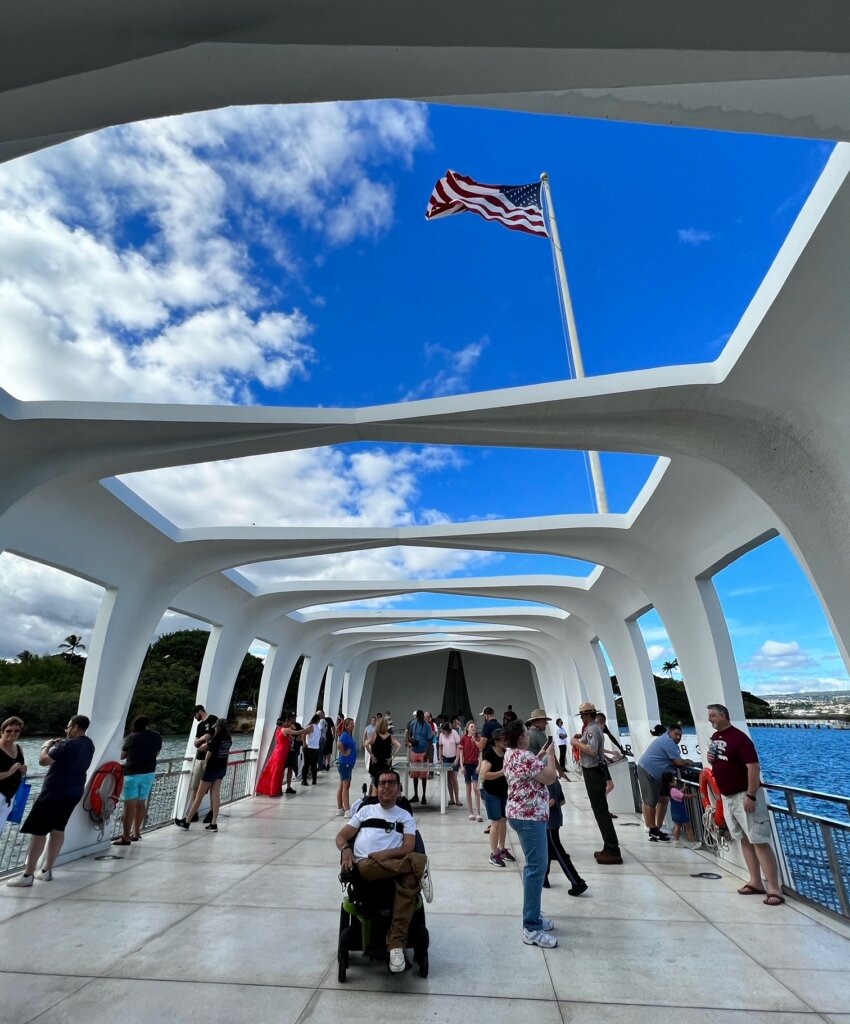 Visiting Pearl Harbor really put history into perspective for me and made me realize how life-changing December 7, 1941 was. I will never view that day the same way again. Whether you're a history fanatic or not, exploring Pearl Harbor is something everyone needs to do at least once.
Relax on the world-famous Waikiki Beach
Waikiki Beach is one of the most famous beaches on the planet and it's wheelchair-friendly! I was able to lounge on the beach for a while thanks to a MobiMat, which extended fairly close to the water. Unfortunately, there aren't any beach wheelchairs at Waikiki Beach, but other beaches on Oahu do have them. Check out this website to find out where you can get a beach wheelchair on Oahu.
There are lots of stores and restaurants near Waikiki Beach as well. You'll find everything from high-end shopping to a Tesla dealership and convenience stores. You could easily spend a full day in this area shopping, eating, and relaxing on the beach.
As I mentioned, there are a lot of restaurants to choose from, but I would highly recommend dining at RumFire. This restaurant is inside the Sheraton Waikiki and you can enjoy oceanfront views from your table. I had the best ahi poke bowl of my life at RumFire and have been dreaming of it ever since.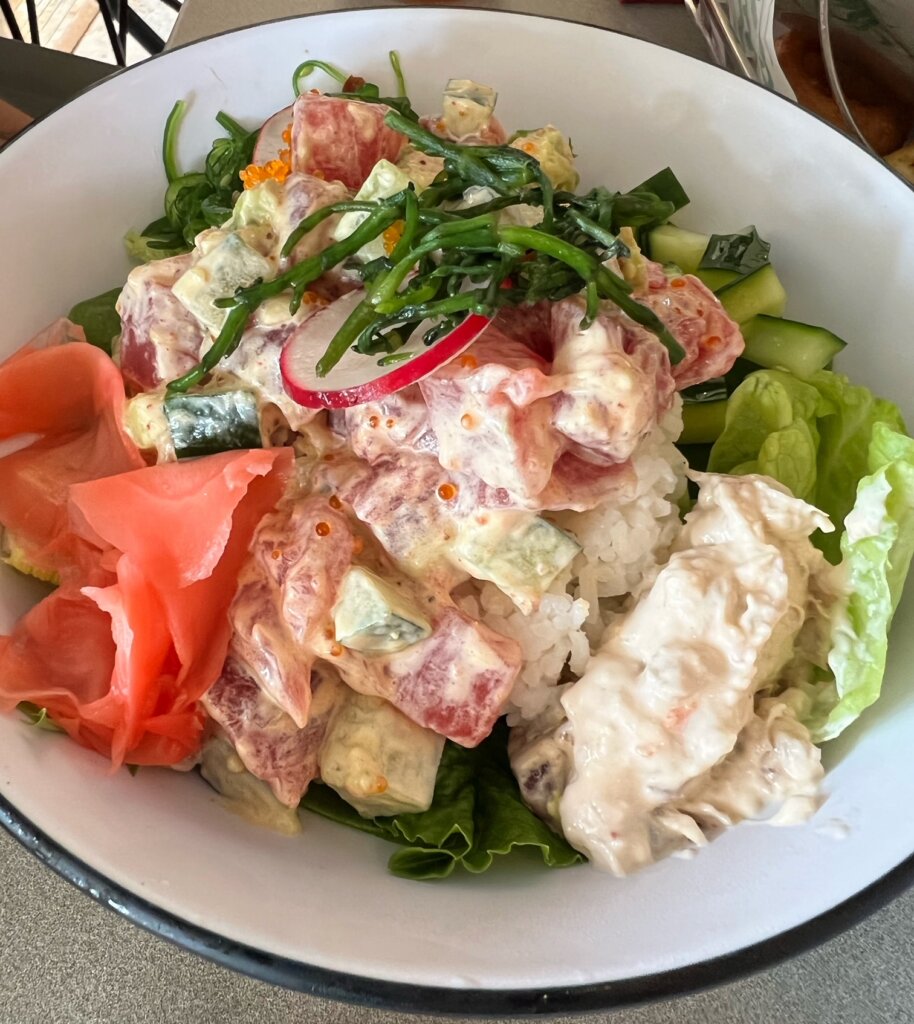 Have a dole whip (and much more) at the Dole Plantation
A lot of people recommended that we visit the Dole Plantation while on Oahu, so we decided to check it out toward the end of our trip and I'm so glad that we did! The Dole Plantation accepts more than one million visitors per year and was quite crowded when we visited. The earlier that you can get there, the better.
We started our visit at the Dole Plantation by riding the train for a 20-minute narrated journey through the plantation. On the train ride, we saw where the pineapples (and many other fruits!) are grown. The train was fully wheelchair accessible with a ramp and I had great views from my accessible spot on the train.
After the train ride, we rolled/walked through the botanical gardens, which were beautiful. Seeing all of the flora & fauna that's native to Hawaii was really cool. There was a paved path throughout the garden, and it was very smooth and accessible.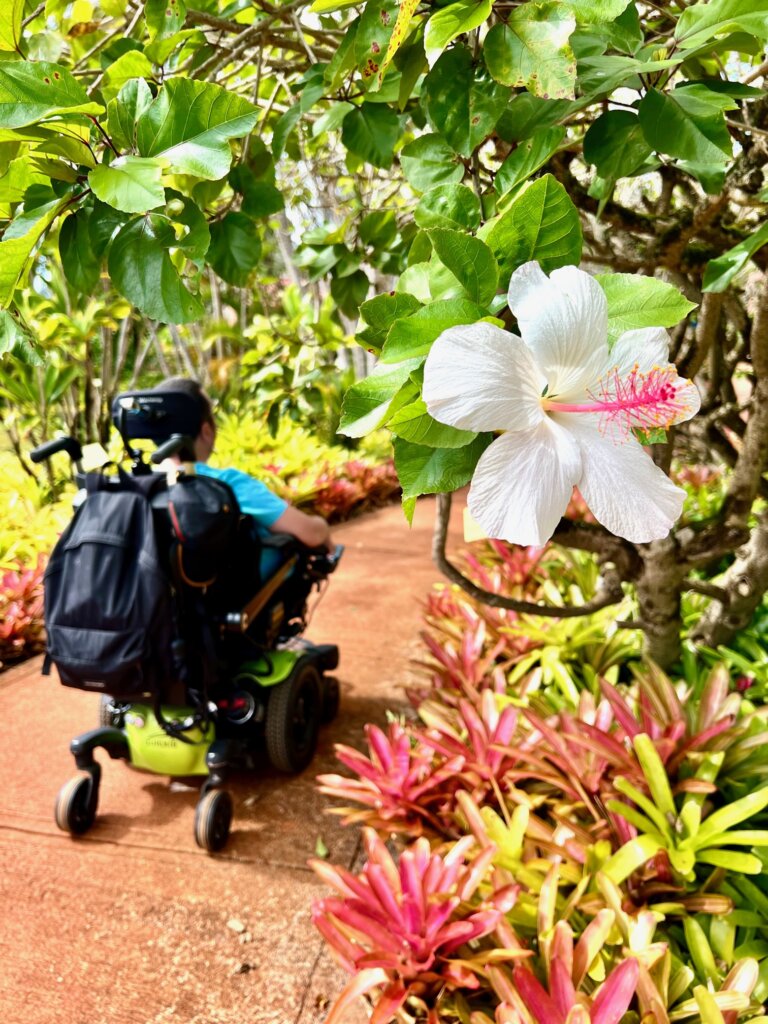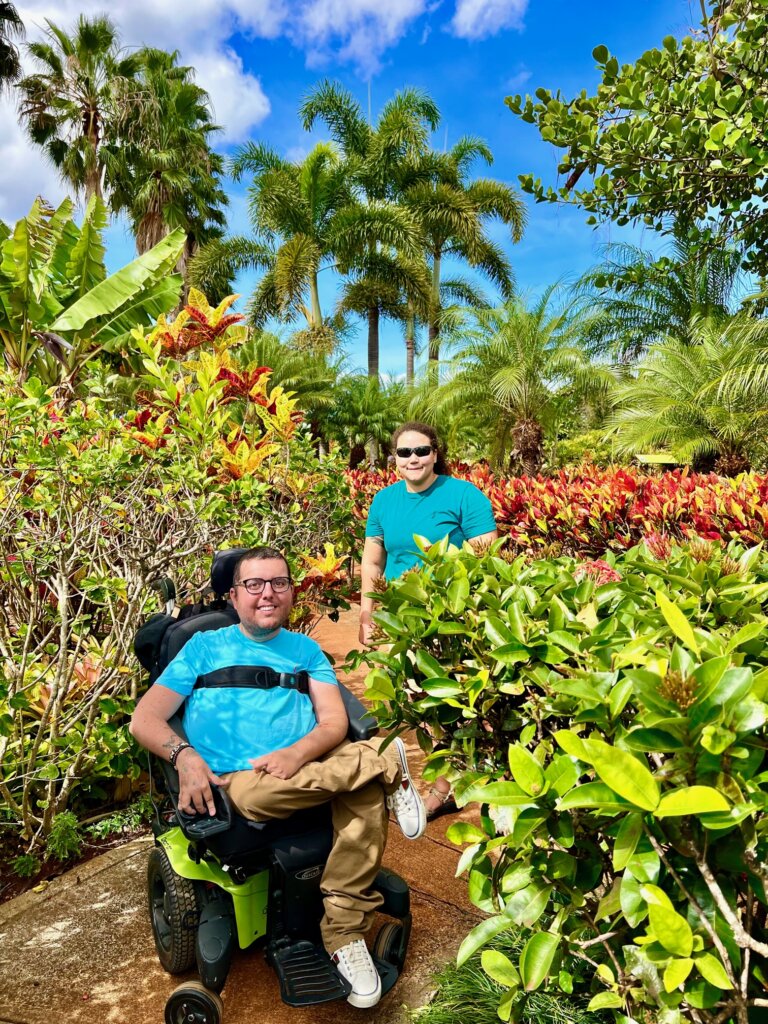 Next, we attempted the Pineapple Garden Maze. It is the world's largest maze, but the paths through the maze were bumpy and it was tremendously difficult for me to do the maze as a wheelchair user. In addition to being jarred around on the rough paths, some of the aisles of the maze were too narrow for me. I chose to exit the maze after about ten minutes.
Lastly, we ended our visit at the Dole Plantation by getting a dole whip (yum!!!) and shopping in the huge gift shop! If you're looking for any Hawaiian souvenirs, this is definitely the place to get them. I spent about an hour shopping in the gift store, but could've spent even longer.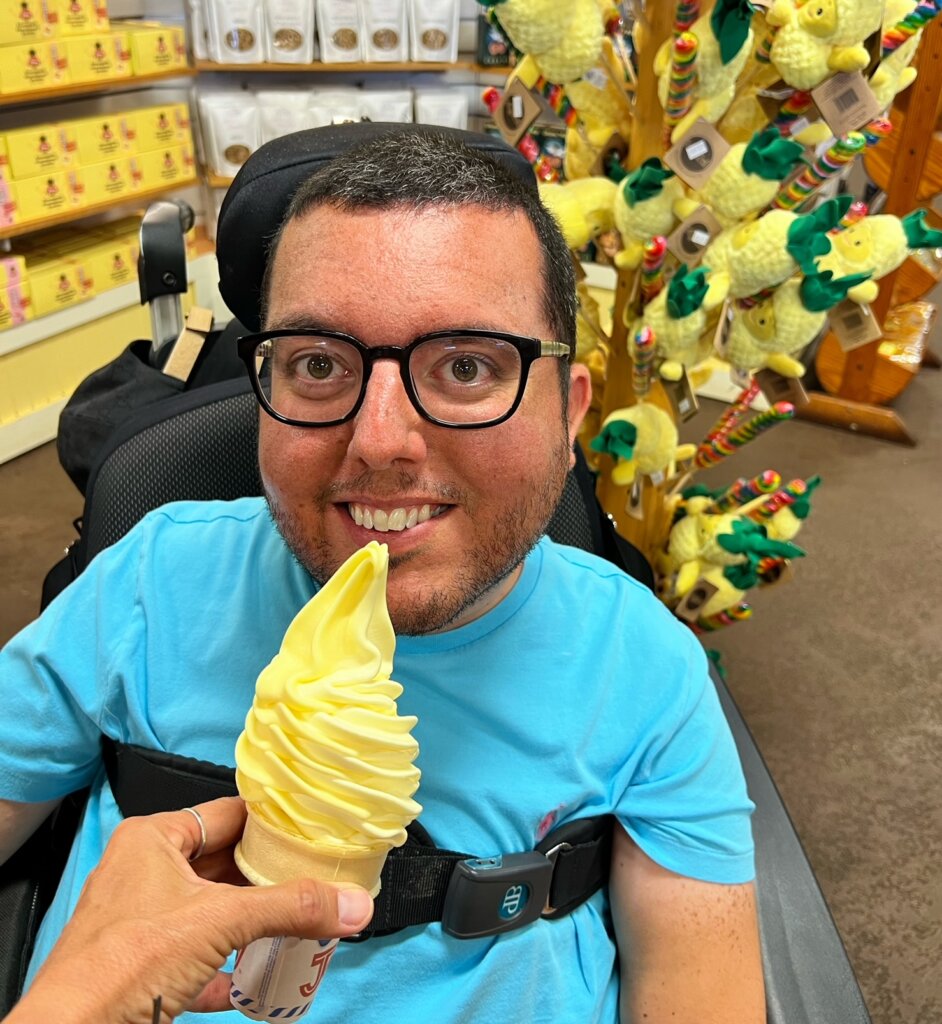 I had a fun-filled few hours at the Dole Plantation and aside from the maze, it was very accessible. If you'll be visiting, I'd recommend just getting tickets for the train ride and the botanical garden. The Dole Plantation is certainly worth visiting without doing the maze!
Where to Stay on Oahu: Aulani, A Disney Resort & Spa
If you've followed along with my travels for any amount of time, then you probably know that I'm a Disney addict. So, I couldn't resist staying at Aulani, A Disney Resort & Spa during my time on Oahu. I had dreamed of staying at this resort for years and it was absolutely MAGICAL and better than I could've ever hoped for.
We stayed in a wheelchair accessible ocean view room, which had one king sized bed and a sofa bed. The bed was the perfect height for self-transferring and a hoyer lift could easily roll under the bed. There was no block frame underneath the bed, which was amazing. We had a balcony as well and it was very spacious and totally accessible. I spent a lot of time on the balcony enjoying the spectacular views.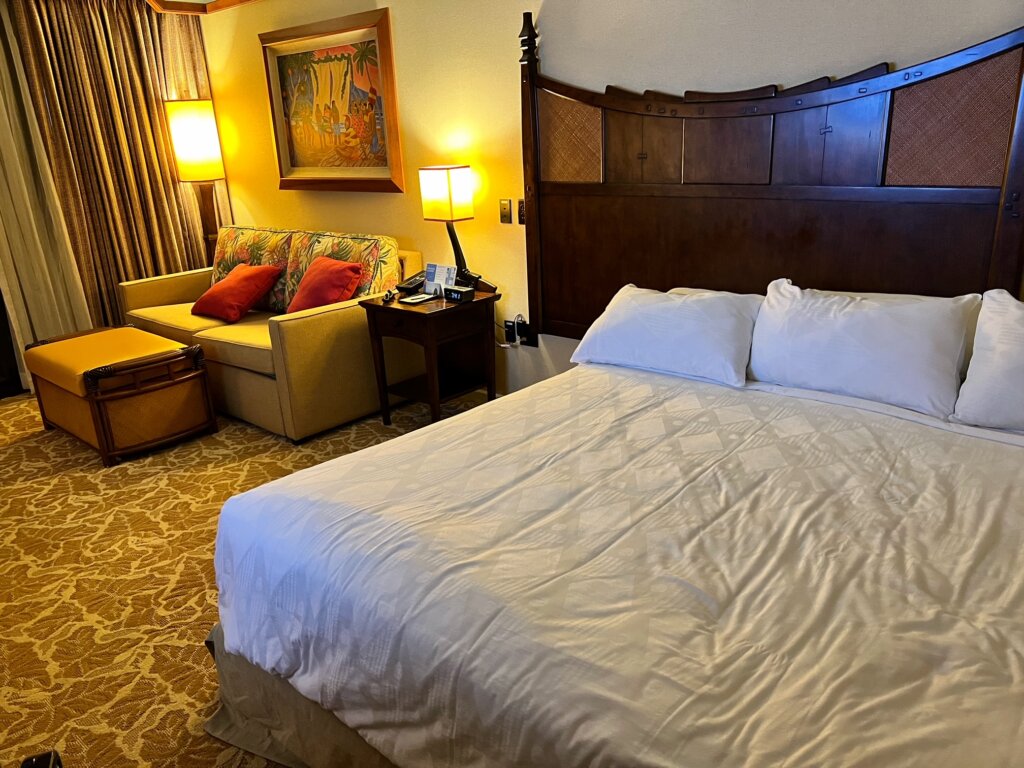 In our bathroom, there were grab bars, a pull-under sink, and a nice roll-in shower. Everything about the room, including the bathroom, was truly perfect for my accessibility needs!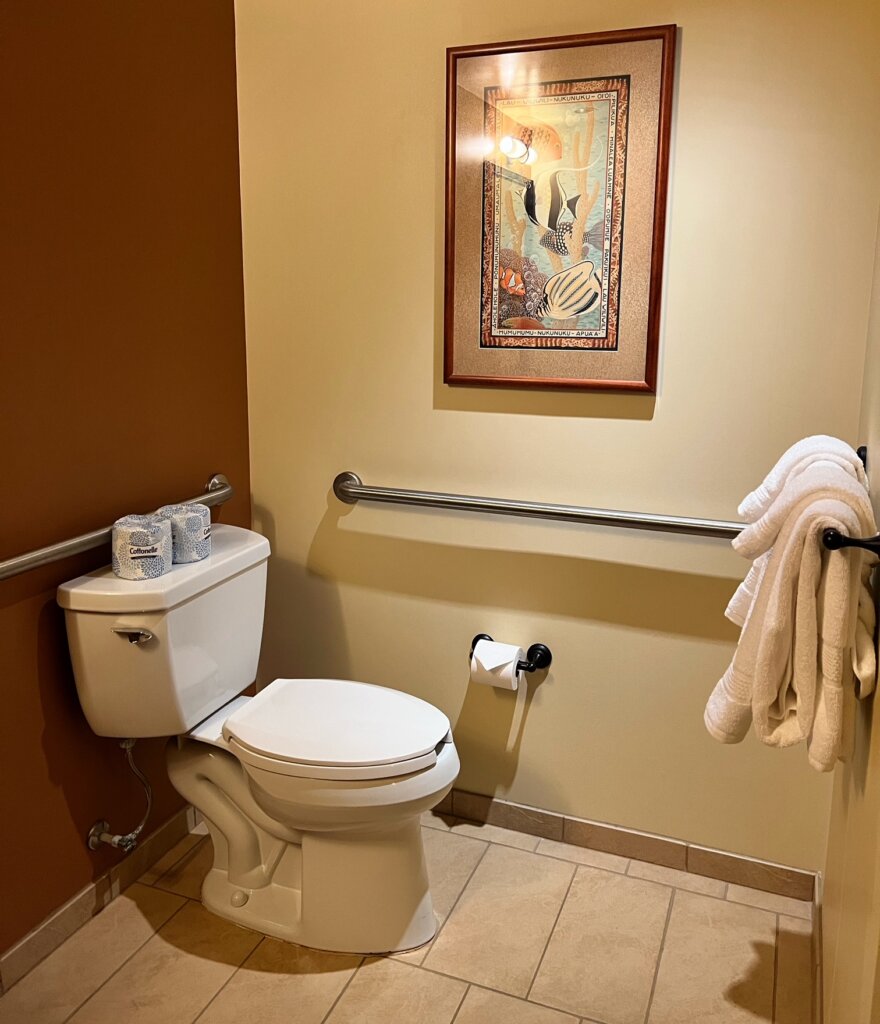 In addition to the excellent room, Aulani has so many other things to offer as well, especially for wheelchair users. You want to know something awesome?? EVERY pool (and the lazy river!) at Disney's Aulani Resort has an access lift! No matter which pool you want to go in as a wheelchair user, you can! I even got in the Rainbow Reef pool one day and went snorkeling. I saw so many fish and beautiful coral reef.
Aulani also has a manual beach wheelchair that you can use on their beach, which is located just a short roll away from the pools. It's available on a first-come, first-served basis.
One of my favorite things about staying at Aulani, A Disney Resort & Spa was the accessible walking/rolling trail. The beachfront trail is fully paved and is nearly two miles long. You can start the trail at the beach at Aulani and it then goes by many of the other resorts, including the Four Seasons. You will have epic beachfront views the entire way. It's a great way to enjoy the outdoors, but make sure that your wheelchair is fully charged before embarking on this hike.
There are numerous restaurants and even a luau that you can enjoy at Aulani, all of which are wheelchair accessible. Since we went to the Paradise Cove Luau (it's located right beside Aulani!) though, we did not attend the luau at Aulani or eat at any of the resort's on-site restaurants with the exception of a character breakfast one morning. We got to meet Mickey Mouse, Pluto, Max, and Chef Goofy while eating a delicious breakfast. I had French toast and it was a 10/10. As a Disney fanatic, there is nothing better than a character breakfast!
To close out our epic stay at Aulani, my mom and I enjoyed some treatments at Laniwai, the resort's spa. The spa was luxurious and really made for a perfect ending to our time on Oahu. My mom had a massage and I had a facial. The staff at the spa were fantastic and totally accommodating. There were zero issues with navigating the spa as a wheelchair user and I was able to sit back, relax, and be pampered. It was wonderful!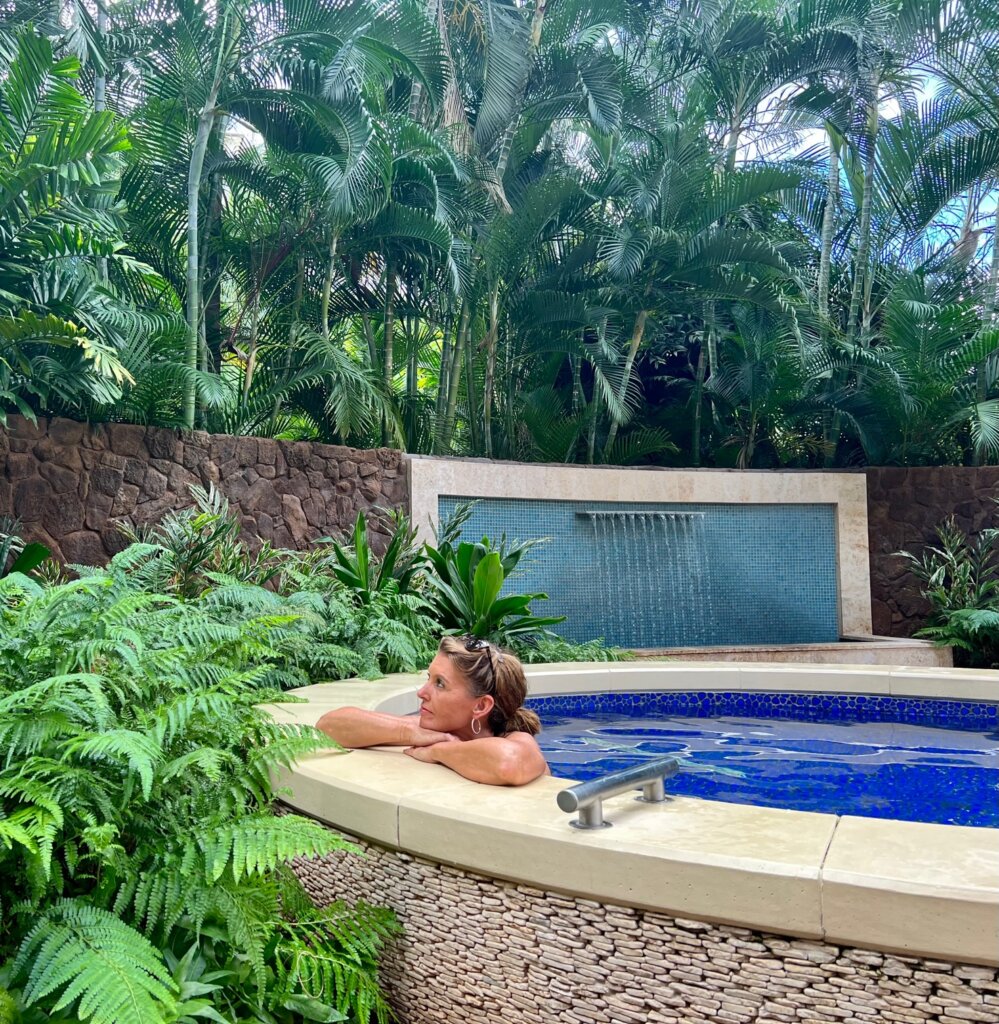 Aulani, A Disney Resort & Spa was easily my favorite place I've ever stayed. From the many accessible pools to an accessible beach to meeting Disney characters and more, it was literally a dream come true for me. If you are a Disney fanatic like me, or really even if you're not a Disney fanatic, this is undoubtedly the perfect place to stay while on Oahu.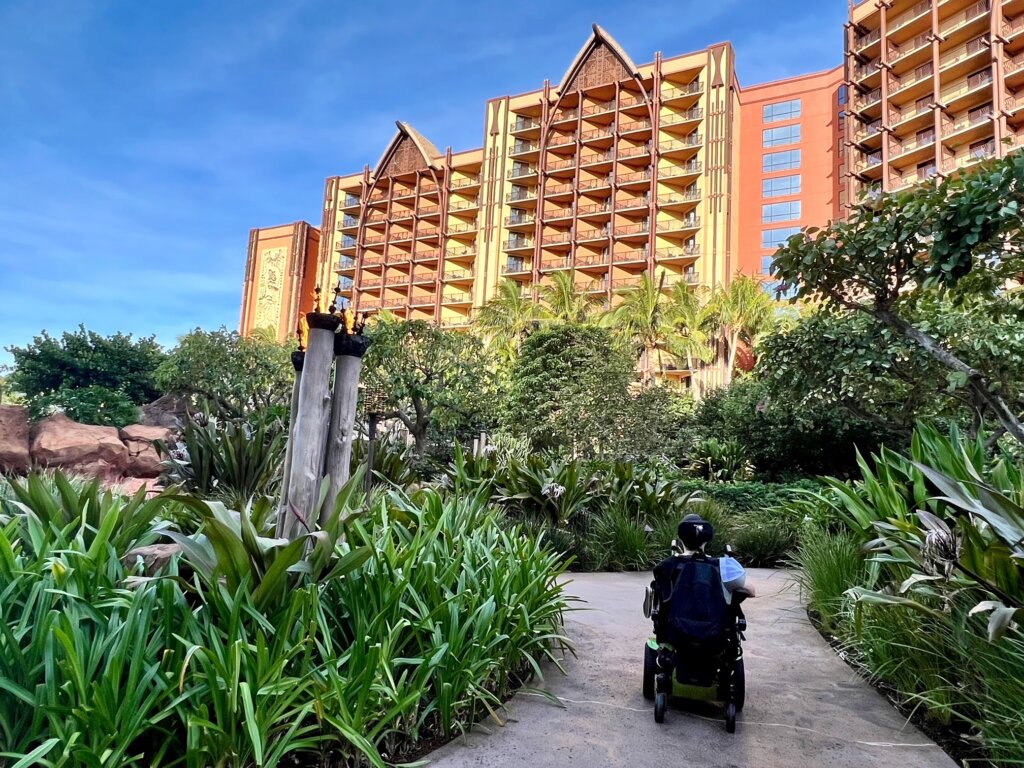 My week on Oahu was everything that I wanted it to be and so much more. As a wheelchair user, it can be challenging to find a tropical destination with excellent accessibility, but Oahu was completely inclusive and I was able to enjoy it to the fullest. If you've been contemplating a trip to Hawaii, I can assure you that wheelchair accessible Oahu Hawaii is the perfect place to start planning your trip!
.
.