Recently, I visited Hawaii for the first time. In addition to spending a full week on Oahu, I also did a cruise with Norwegian Cruise Line and visited several other Hawaiian islands, including Maui, the Big Island, and Kauai. To be honest, I knew absolutely nothing about Kauai before visiting, but it ended up being one of my favorite ports of call. Luckily, our cruise spent two days on Kauai, so my mom, my friend Kayla, and I had plenty of time to explore the best wheelchair accessible Kauai attractions and things to do!
We used a wheelchair accessible van rental from Wheelers Van Rentals of Hawaii while on Kauai, so that gave us a lot of freedom to explore the island however we wanted. From being in awe at the massive Waimea Canyon to viewing the beautiful Na Pali Coast from a helicopter, we truly made the most of our two days on Kauai and had some epic experiences!
If you have been dreaming of visiting Kauai as a wheelchair user, or maybe you're like I was and don't know a lot about Kauai currently, I think you'll be itching to visit this destination by the time you finish reading this article. Here are seven wheelchair accessible Kauai attractions and things to do –
Wheelchair Accessible Kauai Hawaii Attractions & Things to Do
Fly over Kauai with Blue Hawaiian Helicopters
After hearing from multiple people that a helicopter flight is the best way to see Kauai, we decided to book a last-minute ride with Blue Hawaiian Helicopters. We actually used this same company for a helicopter ride on Oahu the week before and we were super impressed with them, so we knew we'd be in good hands with Blue Hawaiian again. 
To get me in the helicopter, Blue Hawaiian had a lifting device/stair climber thing to get me up to the seat. Once the stair climber seat had me even with the seat in the helicopter, we used my ableSling transfer sling to transfer me. My friend Kayla and someone from Blue Hawaiian did a great job of transferring me into the helicopter with the ableSling. It was an easy process and within just moments, I was comfortably in the helicopter and had a great seat right by a huge window. My mom did sit beside me throughout the flight in case I needed any assistance.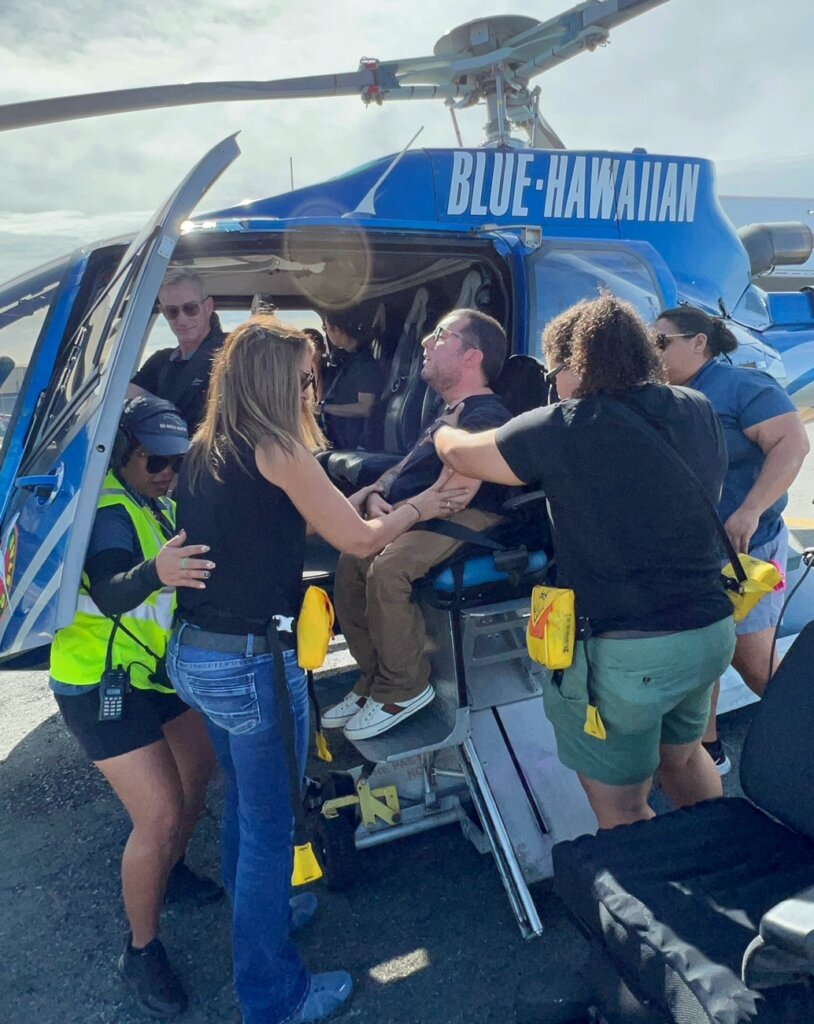 During our 50-minute helicopter flight, we saw Waimea Canyon, literally went inside a volcano, viewed the unbelievably gorgeous Na Pali Coast, saw Jurassic World filming locations and many waterfalls, and we were even treated with a rainbow toward the end of our flight. It was an unbelievable journey.
I actually became a little teary-eyed while viewing the Na Pali Coast because it was so beautiful. I don't think I've ever seen anything so amazing in my life. No wonder Condé Nast Traveler named the Na Pali Coast one of the 50 most beautiful places in America! 
Our flight was a bit bumpy at times, but it was mostly smooth and I never had an issue with the turbulence. Honestly, I was surprised at how smooth helicopters are! If you'll be on Kauai, this should absolutely be a must-do!
View the towering Wailua Falls
One of our first stops after disembarking our cruise ship on Kauai was Wailua Falls. This waterfall was only a short drive away from the port and it is one of the most accessible waterfalls to see, as you can view it from the road. You may also recognize Wailua Falls if you've ever watched the television show "Fantasy Island", which aired from 1977-1984. Wailua Falls is featured in the opening credits. 
Once we arrived to Wailua Falls, it was quite crowded, but we managed to snag a parking spot. I'd suggest arriving as early as possible because there aren't many parking spots. After getting out of our rental van, we wandered over to where we could have the best view of the waterfall. 
Wailua Falls is a 140-foot waterfall and is beautiful to watch. We admired it for a while and took plenty of photos with it. While I could see the waterfall pretty well from my wheelchair, I could see it even better when I elevated my chair. Thanks to the C-Me feature on my Quickie wheelchair, I could see the falls really well, but even if your wheelchair can't raise up, you should still have a good view. 
There were a couple vendors, including a talented artist, at Wailua Falls, but don't expect a huge gift shop or anything like that. It's really just a place to admire the waterfall and snap a few selfies with it. In total, we were probably at Wailua Falls for about 20 minutes. 
Relax at Poipu Beach and see turtles
While on Kauai, or any Hawaiian island really, visiting the beach is a must-do activity! There are quite a few to choose from on Kauai, but after seeing online that Travel Channel named Poipu Beach the number one best beach in America, we thought we better check it out for ourselves! 
Unfortunately, I didn't see beach access mats available at Poipu Beach, but there were some grassy areas that I was able to roll on and enjoy the beach. The grass section actually got pretty close to the water and I had terrific views of the ocean. If you'd like to actually roll on the sand or get in the water, amphibious beach wheelchairs are available to rent from Gammie HomeCare. Just contact them in advance of your trip and they'll have one ready for you. 
My favorite part of Poipu Beach was seeing the many sea turtles that were on the beach. There were dozens of them and they were huge! It was so incredibly cool to see that many sea turtles and we actually sat there for well over an hour watching them. It is important to note that, depending on when you visit Poipu Beach, you may or may not see sea turtles on the beach, but hopefully you will! 
Across the street from Poipu Beach, there are some shops and eateries that are worth visiting. I really enjoyed browsing Nukumoi Surf Company, which had some great Kauai souvenirs and shirts, and another popular place to visit is Puka Dog. At Puka Dog, they serve Hawaiian style hot dogs, which come with garlic lemon sauce and one of their unique relishes, including mango relish, banana relish, and coconut relish to name a few. 
We had a lot of fun relaxing on Poipu Beach and exploring the surrounding area for a couple hours. It's a gorgeous place and after visiting, I can easily see why it was named the best beach in the U.S.
Watch the Spouting Horn blowhole
The Spouting Horn blowhole is only a short drive from Poipu Beach (about ten minutes) and since it's one of the most popular wheelchair accessible Kauai attractions, we decided to swing by and check it out. I've seen geysers and blowholes in other places around the world, including a huge geyser in Iceland, but Spouting Horn is certainly a sight to behold! 
There was a great parking lot at Spouting Horn and a paved path/sidewalk to the viewing area. It was fully wheelchair accessible and I had a fantastic view of the blowhole. I also noticed a couple accessible picnic tables, which was nice to see. 
In case you're curious like I was about how exactly the Spouting Horn blowhole works, the ocean water channels into a natural lava tube and releases the giant spout of water. Sometimes, it can reach up to 50 feet high. The blowhole also erupts every five to ten minutes or so, so stay around and watch it at least a couple times. It's so much fun to witness! 
Be in awe of Waimea Canyon
In advance of our trip to Hawaii, every time I looked up "things to do on Kauai", the number one suggestion on every list was Waimea Canyon. I've been to the Grand Canyon before, so I honestly thought I might be underwhelmed with Waimea Canyon, but I think that I actually liked Waimea just as much… maybe even more! 
At 14 miles long, 1 mile wide, and more than 3,600 feet deep, Waimea Canyon is known as the "Grand Canyon of the Pacific". It is a majestic sight to see and after visiting, I could easily understand why it topped every list as the best thing to do on Kauai. 
A paved road will take you to the main Waimea Canyon Overlook, which is wheelchair accessible. There are accessible parking spots and then there are ramps that lead to the overlook. The ramps are a bit steep, but nothing that my powered wheelchair couldn't handle. If you use a manual wheelchair, you should be able to handle the ramps pretty easily as well. 
When I got to the overlook, I was in complete awe. Waimea Canyon was absolutely beautiful and I couldn't believe that this was in Hawaii. It was definitely more stunning in-person than all of the photos I saw online ahead of our trip. This is a place that you have to see in-person to truly appreciate. 
It is completely free to visit the Waimea Canyon Overlook and it's open daily during daylight hours. As you drive up to the main Overlook, there are other places you can pull over and take in the views, but nothing quite compares to the main Overlook. If you'll be on Kauai, Waimea Canyon is a must-visit no matter what your abilities are.
Visit Hanapepe, the home of Lilo & Stitch
Growing up, Lilo & Stitch was one of my favorite cartoons. As soon as I learned that the small town of Hanapepe was the "home" of Lilo & Stitch, I was determined to visit it while on Kauai. But Hanapepe is certainly worth visiting for other reasons as well! 
Hanapepe isn't too far from Waimea Canyon, so this is a great place to visit either before or after you see Waimea Canyon. Hanapepe is known as "Kauai's biggest little town" and it actually has more art galleries than any other town on Kauai. 
We loved just walking/rolling around downtown and popping in to some of the stores. I did notice that some places weren't wheelchair accessible, but there were enough accessible shops that I was able to have a good time. Some of my favorite shops were Aloha Spice Company and JJ Ohana, which had souvenirs. 
There isn't really a lot to do in Hanapepe as a wheelchair user other than shop, but since I enjoy shopping, especially for souvenirs, I loved it. It's such a cute little town and totally worth stopping in for a quick visit while on Kauai. 
Enjoy the outdoors at Smith's Tropical Paradise
For our last stop on wheelchair accessible Kauai, we decided to enjoy the outdoors at Smith's. At this location, you can attend a luau on select nights (the luau is wheelchair accessible!) or stroll through a lush garden park. Since we attended luaus on both Oahu and Maui, we chose to skip this luau and we just explored Smith's Tropical Paradise during the day. 
Smith's Tropical Paradise is 30-acres large and it is one of the most beautiful botanical gardens I've ever had the pleasure of visiting. Throughout the gardens, you'll see peacocks, a tropical orchard, bamboo forests, and much more. My jaw was on the floor pretty much the entire time I was there because it's so gorgeous. 
Accessibility at Smith's Tropical Paradise was great. There were paved paths throughout the whole place. The only thing you'll need to worry about as a wheelchair user is whether your wheelchair is fully charged or not (if you use a powered chair), as there are over a mile of pathways. 
Tickets for Smith's Tropical Paradise start from $10 per adult and $5 per child. It's also only open on Monday, Wednesday, and Friday every week, so plan your visit accordingly, as this is a wheelchair accessible Kauai attraction that you definitely don't want to miss! 
Kauai may be a place that I didn't know much about before visiting, but it quickly won me over and became a highlight of my trip in Hawaii. With so much natural beauty and accessibility, Kauai is a place that I already cannot wait to return to one day. If you've ever wanted to visit paradise, look no further than the beautiful island of Kauai! 
.
.