c
Hey there! I'm Cory Lee.

Welcome to my travel blog, Curb Free with Cory Lee. Here on the site, I hope to share my experiences as a disabled traveler with you and many tips as well. Have you ever wondered:
c
How can I fly as a wheelchair user?
Which hotels are the most accessible?
What beaches have powered beach wheelchairs?
How do I charge my wheelchair in a foreign country?
What cities are the most wheelchair friendly around the world?
c
If any of these thoughts have ever crossed your mind, you're in the right place. On Curb Free with Cory Lee, my goal is to show you how to travel, where to travel, and most importantly, why travel as a person with a disability.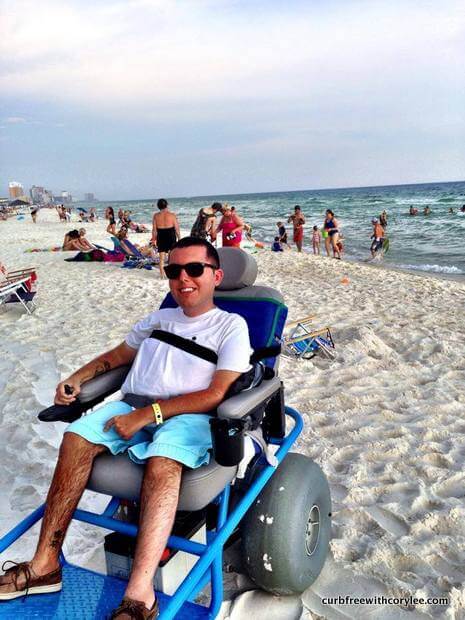 Why should you trust what I have to say?
At the age of two I was diagnosed with Spinal Muscular Atrophy (type 2), but that certainly never diminished my desire to explore the world.
When I was four years old, I got my first powered wheelchair and took my first trip. It was just to Walt Disney World, but then at the age of 15 I went to the Bahamas. This was my first time ever traveling internationally. Seeing the culture and trying the new foods sparked something inside of me that made me want to see so much more of this big, wild, beautiful world of ours.
From then on, travel wasn't something that I wanted to do, it was something I needed to do. I'm a big believer that travel is the best teacher, so throughout college I traveled to places like Germany, England, and I even went down under in Australia.
At times, traveling wasn't easy. My wheelchair charger blew up (literally – sparks were flying) in Europe, I got trapped on a burning bus once, and I've even been attacked by a hippo in South Africa. Despite these crazy travel experiences, I have learned a lot and had the time of my life along the way.
Just before I graduated from the University of West Georgia with a degree in Marketing, I launched Curb Free with Cory Lee because I wanted to share what I've learned on the road with you. Since starting this blog in December 2013, I have gained more than 100,000 engaged and supportive followers, traversed all 7 continents, and became the leading travel blogger focusing on accessibility.
I am a 2-time Lowell Thomas Award winner for Best Travel Blog, I was named the 2018 Person of the Year by New Mobility Magazine, and I have won 3 Webby Awards for Best Personal Blog/Website. Over the years, I've also been featured on Travel Channel, CBS News, National Geographic, Forbes, Lonely Planet, in the Los Angeles Times, and many more (to see the full list of where I've been featured, click here). I also frequently speak about accessible travel at conferences around the world. Needless to say, it's been a whirlwind past few years and more than I could have ever imagined.
I hope that you enjoy this blog and if you have any questions for me, feel free to get in touch via the Contact page or send me a message on Facebook.
Safe travels,
c
wheelchair travel wheelchair travel wheelchair travel wheelchair travel