For some odd reason, I've wanted to visit San Juan, Puerto Rico for as long as I can remember. I'm not sure what exactly started my fascination with Puerto Rico though. Perhaps it's because I'm a sucker for pretty much anywhere in the Caribbean or maybe it's just because I really like rolling my R's when I say Puerrrrto Rrrrico. Whatever it is, I was psyched to find out that San Juan would be a stop during the recent 8 day Eastern Caribbean cruise that I went on.
Wheelchair accessible things to do in Puerto Rico:
Before going, I did all of the typical research trying to find wheelchair accessible things to do in Puerto Rico's beautiful San Juan. I scoped out a wheelchair accessible tour company and surprisingly, I found that there were quite a few options. Puerto Rico is technically part of the USA, which means that all of the same ADA rules apply in Puerto Rico as well. I found a few different companies that offered private wheelchair accessible tours and they ranged anywhere from $250 to $700 in price.
Needless to say, I ended up going with the cheapest option that I could find and that was Adames Luxury Transportation.
Manny, our driver from Adames, showed up on time to pick us up for our 3 hour tour in a full size van with a lift. This van was smaller than the van we used during our tour in St. Maarten and could only hold one wheelchair easily, but it was plenty big enough for Kela and I. I actually probably liked this van better because I wasn't sitting in the very back so far away from the driver. Manny was a fantastic tour guide and told us all about the history of San Juan as we drove to our first stop, the Bacardi Distillery.

As we arrived at the Bacardi Distillery, we saw huge iguanas roaming freely around the property. I've seen iguanas before, but I'm not sure if I've ever seen any quite this big. After seeing a few of these large creatures, we made our way to the desk to get our tickets. Our admission was already covered in the price of our tour so I'm not exactly sure how much it cost.
With the admission tickets, we also got four drink tickets (2 per person) that we could use at the bar anytime during our visit. There are about three options of drinks that you can get: Bacardi & coke, rum punch, or a mojito. For my two drinks I chose to get the rum punch and I was not disappointed with my selection. The bartender was a little stingy with the rum however, but I honestly didn't care because I don't like the taste of it that much anyway.
After quickly tossing back our drinks, we made our way to the tour where we boarded a tram to ride around the property in. The tram had a foldout ramp and it was very easy to get in. There are not any tie-downs for the wheelchair however, so hold on for dear life! Haha! I'm just kidding, the tram goes a maximum of 15 mph probably.
After riding around for a few minutes, we got out and made our way into a building. There are several different sections to the tour and they are all within this building. The first room that we entered didn't really have much in it, but our guide explained a bit of Bacardi's history. I learned that they use a bat as the logo because fruit bats used to occupy the rafters in Bacardi's first shop back in 1862. In the next room, we watched a short movie about the history of Bacardi. The film was only about ten minutes long, but it was very interesting to see how Bacardi has became such a recognizable brand around the world.
After watching the movie, we made our way into another room where you can view various artifacts and can even smell some of the different types of rum. Next, and lastly, on our tour was the bartender room. The bartender demonstrated how to make some of the most famous cocktails with Bacardi and after he was finished, we finally got to sample some Bacardi. We were given about half a shot of some Bacardi that was aged 12 years. It was extremely strong though and that half a shot was plenty for me.
Once the tour was finished, we were dropped off at the gift shop. There is a lot of merchandise that you can buy, but the real treasure here is the cheap Bacardi liquor. For 2 liters of Bacardi Superior it was only $23! That is insanely cheap and I couldn't resist buying them. Here in the US, it would be about $34 for that much. Can you say "bargain"?! And the fact that this Bacardi actually came from the Bacardi Distillery in Puerto Rico makes it even more irresistible.
Next up on our list of wheelchair accessible things to do in Puerto Rico is visiting the forts in Old San Juan.
We were supposed to visit Castillo de San Cristobal because it is supposedly the most wheelchair friendly fort, but it was closed for some reason so instead, we made our way over to Castillo San Felipe del Morro. I'll go ahead and say that this was my favorite part of my time in San Juan, and one of the best wheelchair accessible things to do in Puerto Rico. This fort is huge and sits right by the ocean so the views are fantastic. It is $5 to get in, but they let us in for free. I'm not sure if this is something that they do for all wheelchair users or if they were just being nice that day.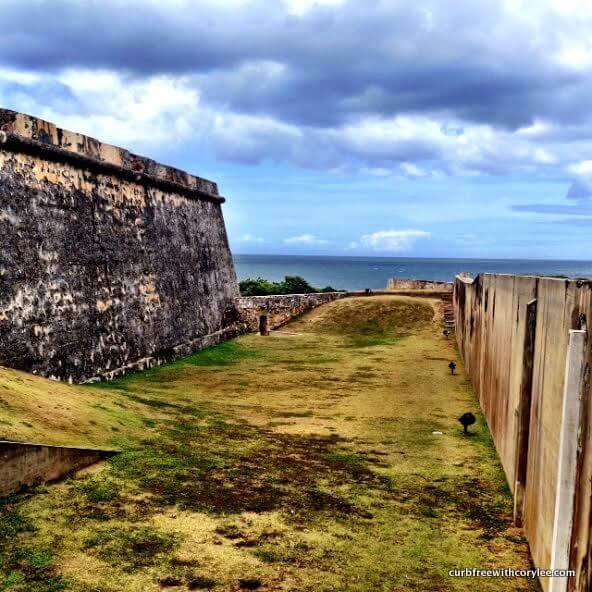 If you want to go to the very top level of del Morro, there are some very long and very steep hills to climb, but I managed to make it so surely you can also. It is among the most adventurous wheelchair accessible things to do in Puerto Rico. It was a bit scary coming back down however, but definitely worth the fear. The views from the top are stunning and were worth every ounce of battery power that I used to climb up there. We stayed at del Morro for about an hour and checked out the barracks, dungeons, and lookout points as well. If you are in San Juan, I really can't urge you to visit this incredible place enough.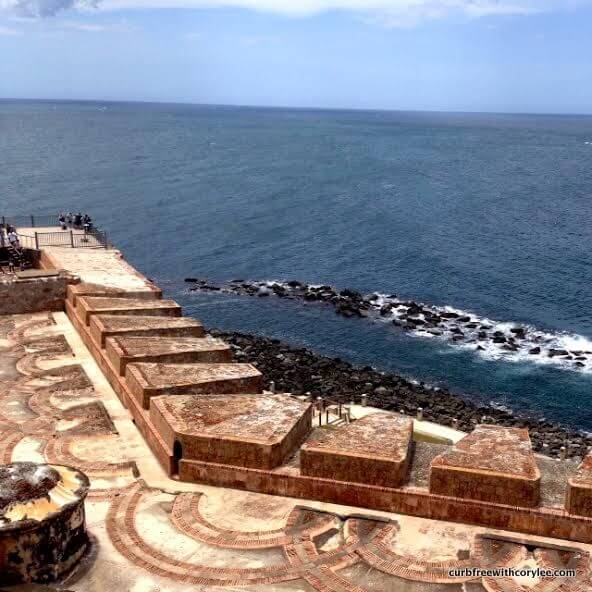 Before heading back to the cruise port area, we drove around Old San Juan and our driver explained what some of the more notable buildings were. The buildings and cobblestone streets of Old San Juan reminded me a lot of Europe and it was crazy to think that we were still technically in the United States. As a US citizen, San Juan has to be one of the more beautiful parts of our great country. There is so much history and beauty to this island and I am so happy that I was finally able to see it. It took 24 years for me to get there, but I know that I'll be back to see beautiful Puerto Rico before 24 more years pass me by. I hope you've enjoyed this short list of wheelchair accessible things to do in Puerto Rico's San Juan!
Interested in knowing more about cruising as a wheelchair user? Check out 5 Reasons Cruising Is The Best Way To Travel In a Wheelchair.
For more local tips, take a look at Greater Than a Tourist – San Juan Puerto Rico: 50 Travel Tips from a Local
*This post contains affiliate links. When you click on a link, I may receive a small compensation, which will help this blog grow into a better resource for disabled travelers. All opinions are authentic and my own.