I recently went on a weeklong cruise around Scandinavia and Russia with my mom and my friend Sylvia of Spin the Globe. We were all pretty stoked for some of the cruise ports, especially Saint Petersburg, Russia, but to be completely honest, I wasn't looking tremendously forward to being in Copenhagen in the days leading up to our cruise.
Since our cruise departed out of Copenhagen, we thought we should get in the city a couple days before sailing out so that we could get over jet lag and be in tip-top shape before the cruise began. I will admit that I was excited to add Denmark to my growing list of countries that I've been to, but prior to this trip I had never really dreamed of visiting Denmark. And I think that it's because I did not know anything about it. Well, that's technically a lie… I did know that the Little Mermaid statue was in Copenhagen, but that's it. Frankly, I was clueless about both Danish history and tourism.
Now, you're probably thinking "Well, how was Copenhagen?" and surprisingly, I can say after visiting that Copenhagen very well may be my new favorite European city. My mind was BLOWN. Usually when I travel, I research every little detail about a city before going and my expectations get built way up. Then, as a result, I'm often under impressed in the end. I am so thankful that I went to Copenhagen with almost no knowledge about the city because that gave me a chance to truly meet this Danish gem for the first time.
I'm psyched to share this wheelchair accessible Copenhagen travel guide with you. After reading it, hopefully you will know a bit more about the city than I did, and I'm positive that you'll be adding Copenhagen to your bucket list if it isn't on there already.
Arriving into Copenhagen
If you're traveling to Copenhagen from the U.S. like we did, then you'll probably need to do a layover somewhere in Europe before touching down in Copenhagen. We had a 90 minute layover in Amsterdam on the way to Denmark and we were worried that it wouldn't be enough time. If you know anything about air travel as a wheelchair user, then you can understand our concerns. Luckily though, the Amsterdam airport crew were fantastic in assisting us and we even had time to spare somehow.
The flight from Amsterdam to Copenhagen was short, at only a little over an hour. Once we arrived in Copenhagen, the crew were fairly quick at bringing up the aisle chair to get me off the plane. Usually my least favorite part of air travel is transferring and getting on/off the plane. I've been tossed around and nearly dropped several times, so it's quite an adventure just disembarking the aircraft. However, the two crew members that transferred me from my plane seat and into the aisle chair in Copenhagen did an excellent job. They were two very strong guys and had no trouble lifting me.
The most impressive thing about the Copenhagen airport was the fact that they had an Assistance Center. In the Assistance Center, people with disabilities can relax before their flight or during transit. The center comes with an accessible restroom, couches, hoyer lifts, and even a rest cabin, complete with a plank bed for travelers needing a little shut-eye. I didn't use the Assistance Center upon arrival, but when I flew out of Copenhagen 10 days later I took full advantage of it.
After grabbing our luggage at baggage claim, we headed to the taxi queue and called Taxa 4×35. According to their website, they have adapted taxis that can carry wheelchair users. Unfortunately though, when we called they told us that none of the accessible taxis were operating on that day. In a bit of a panic, we contemplated riding the metro from the airport to our hotel, but my mom and I had way too much luggage to haul on the metro. We eventually decided to call our hotel, AC Hotel Bella Sky, and ask them if they had any suggestions for accessible transportation. It turned out that their hotel shuttle had a ramp and was wheelchair friendly! We only waited about thirty minutes and then we were rescued from the airport. I mean, the Copenhagen airport was extremely nice, but I was ready to get to the hotel and lay down after flying for the past 15 hours.
Where to Stay in Copenhagen
The AC Hotel Bella Sky was just a short drive from the airport and as we arrived to the hotel, I knew that we were in for a spectacular stay. The modern glass exterior was exquisite. The hotel is made up of two towers that are connected via a bridge, and since it's so tall, you can easily notice the hotel from its nearby surroundings.
I stayed in a wheelchair accessible room and it was perfect for my needs. It was spacious and had a desk that I was able to pull up to, a TV, a large roll-in shower, and more. I had zero complaints about the room.
While the room was impressive, the hotel had more awesome features as well. Perhaps the best thing about the AC Hotel Bella Sky was the fact that it had its own metro station. We used the metro throughout our stay and it was an efficient way to get around, and completely accessible! There was no gap to get on the metro and it was relatively easy to figure out the map/layout of the city thanks to Google Maps.
After wandering around Copenhagen all day, you may be hungry for some good food. We had dinner at the hotel's signature restaurant, BASALT, one night with my friends Sebastien and Shirley from Handiscover and it was delicious! All of the food is made from local ingredients and BASALT is all about cooking around fire. I had the salmon for my entree and the brioche twirls, which were served on hot coals with chocolate and brown butter, for dessert. It was pretty much an upscale Danish version of s'mores and I don't think I can ever go back to regular graham cracker s'mores again.
The AC Hotel Bella Sky was the perfect place to stay in my opinion. It was accessible and offered something for everyone, while being in a prime location near the metro. It was easy to get to central Copenhagen and see the sights. Speaking of seeing the sights, would you like to learn about what all we got to see in the city?
*To check prices for AC Hotel Bella Sky, just click here.
Sightseeing in Copenhagen
On the day that we arrived in Copenhagen, we took a short nap in the hotel to recover from the long flight, and then wanted to see some sights afterwards. Sylvia, my mom, and I hopped on the accessible metro and went downtown. We immediately started ooh-ing and ahh-ing over the gorgeous buildings and cathedrals that surrounded us.
Just a ten minute walk (or roll) away was the National Museum of Denmark. We wanted to visit it to try to learn a little bit about Danish history. The National Museum is the largest museum devoted to Danish culture and history and the wide variety of exhibits was astounding.
There were exhibits on Danish prehistory, the Middle Ages, and more. The entire museum was also wheelchair friendly with lifts and elevators. Unfortunately, since we arrived to the museum pretty late in the afternoon, we only had one hour to see it all before it closed for the day. We tried to pack everything in, but it was next to impossible since it's so large. We did see many of the highlights though, and I was glad that we went.
Before going back to the hotel, we grabbed some dinner at an outdoor cafe in one of the town squares near the National Museum. The restaurant was called Højbro Cafe and had sandwiches and pasta. I had a salmon pasta that was delicious, but the best part of eating here was getting to sit outside and watch all of the locals and tourists strolling by. There's nothing better than people-watching in a foreign city. Now that we had seen a small bit of Copenhagen, it was time to rest up and get a good night's sleep.
After a nice slumber, we were all refueled and ready to see much more of Copenhagen. Since this was really our only full day in the city, we thought it would be a good idea to do an organized tour with a guide to make the most of our day. A few months before going, I contacted Copenhagen By Mie & Friends and asked if they had wheelchair accessible day tours. While this tour company had never done an accessible tour before, they were willing to give it a try and were determined to give us the best day ever, as they strive to do with all tours.
On the day of, we met our tour guide, Mie, in the lobby of our hotel at 9:30am. Mie is not only a guide though; she's also the owner of Copenhagen By Mie & Friends, so we were definitely in good hands. She greeted us with a smile and we were soon off to begin our tour!
We got on the metro and then a train, but after about 30 minutes, we were at our first stop on the tour. It was an area called Nyboder and the Nyboder Houses are quite famous in Copenhagen. They are distinctly yellow and we enjoyed seeing them. We rolled down the street between them, but there was some pretty bumpy cobblestone. Luckily, it didn't last too long, so it wasn't that bad. After a while, Sylvia and I started rating all of the cobblestone on a scale of 1-10, with 10 being "I'll need a chiropractor when this is over".
If you are wondering why the Nyboder Houses are special to Danish history, it's because they were commissioned by Christian IV to house the nation's naval families. Nyboder even had its own schools, police, and hospital, and was considered a "privileged area" to live in because of all of this. The original houses were completed around 1641, but later went through expansions to house more seafaring families.
For the rest of the tour, we walked/rolled from place to place. Copenhagen isn't a huge city, so everything is relatively close and within walking distance (well, maybe a long walk for some things). Without our guide, we definitely would have been extremely lost, but Mie knew the quickest, and most wheelchair friendly, route to everything. Mie said that she had studied the accessibility of our route before we visited to make sure it was doable, and I greatly appreciated that gesture. If you've traveled a lot like I have, then you know that many tour companies just try to wing it and therefore, it doesn't always go smoothly. I loved the fact that Mie actually cared and wanted us to have a spectacular day.
After admiring the Nyboder Houses, we took a short walk over to The Citadel (AKA Kastellet). Like Nyboder, Christian IV also founded The Citadel. This area is a large fortress complete with military barracks, cannons, a church, and more. While it is still an active military area, it acts as more of a public park today.
On the day that we visited, the sun was out and it was great to just roll around The Citadel and take in the green views. As an older military fortress, there was some cobblestone and steep ramped areas, but it was nothing that Sylvia's scooter and my powered chair couldn't handle. For the most part, the grounds were in nice condition and it was easy to get around.
Near The Citadel was Copenhagen's most famous landmark, The Little Mermaid. Before visiting Copenhagen, I read online that the Little Mermaid statue is underwhelming and some people even said that it's not worth visiting, but I'll admit that I was ecstatic to see it anyway. The animated version of The Little Mermaid has been my favorite Disney cartoon forever. I'm not sure what exactly I expected to happen at the statue in Copenhagen, but I was excited.
The bronze Little Mermaid statue sits on top of a large rock at the edge of the water, and she is a little over four feet tall and weighs about 385 pounds. She actually was a little underwhelming, mostly due to the swarm of tourists trying to see her (seriously, it was soooo packed), but seeing her has been a must-do since she was unveiled in 1913. I was tempted to sing "Part of Your World" near her, but opted not to since there were so many people around. Maybe next time!
From the Little Mermaid, we ventured nearly a mile to Copenhagen's "royal" area. The first royal stop was Amalienborg Palace. At Amalienborg, there were four nearly identical buildings and they are still the home of the royal family today. Mie said that sometimes you can see the royals biking outside and spending time with their kids. She also told us some interesting facts, including that Denmark has one of the oldest monarchies in the world.
If you arrive to Amalienborg at the correct time (12 noon daily), you can view the Changing of the Guard just outside the palace. Mie timed our visit perfectly, so we were able to witness it, along with hundreds of other tourists. It was jam packed, but well worth seeing. I even managed to snag a perfect spot in the front, so I could easily see them walk by.
The next royal stop on our tour was Rosenborg Castle and Gardens. This was one of my favorite stops during our entire tour. As soon as we arrived to the gardens, I knew that we were somewhere special. It was absolutely beautiful and since it was such a nice day, rolling around the gardens was a wonderful experience. Aside from the many flowers and the actual castle, the statue of Hans Christian Andersen was a highlight in the gardens. Andersen was the author of The Little Mermaid, so his profound impact is seen in both the mermaid statue and the statue of him.
The surrounding gardens were incredibly impressive, and so was Rosenborg Castle. This castle, like almost everything else in Copenhagen, was built by Christian IV. Unfortunately, the castle is not wheelchair friendly since it was constructed in the 1600s, but we took some time to admire it from the outside.
Now that we had seen some of Copenhagen's best sights, it was time to grab lunch before the second half of our tour. For a uniquely Danish experience, Mie took us to Torvehallerne market. Torvehallerne is a large mostly indoor market with dozens of shops and restaurants to choose from.
The most popular lunch item in Denmark is an open-faced sandwich, so that's what we decided to have. The food stall where we got our sandwiches was called Hallernes Smørrebrød and there were many options for sandwiches, including chicken salad, roast beef, potato, and fish just to name a few. I went with the fish filet open-faced sandwich and it was probably my favorite thing that I ate during my entire 10 days in Scandinavia. The fish was lightly fried and served over a slice of bread with capers, dill pickles, lemon, and a remoulade sauce that was to-die-for. I think that I could eat that sandwich every day for the rest of my life and be happy.
After stuffing our faces with sandwiches, we looked around Torvehallerne for a bit, got some dessert, and made our way to Kultorvet. Kultorvet is a public square in the Old Town of Copenhagen. The name Kultorvet translates to "coal square" because it is where locals used to buy coal. Today though, it is a pedestrian area full of shops, restaurants, and somewhat surprisingly, an accessible restroom. The accessible restroom basically sits in the middle of the square, but it worked perfectly. I actually saw a couple of these accessible restrooms scattered around Copenhagen while I was there. The restroom was spacious and had grab bars.
Just a quick stroll from Kultorvet was the beautiful area of Copenhagen known as Nyhavn. Nyhavn was originally a port for ships to dock at, but today people enjoy it for the hive of activity around the canal. There were musicians, restaurants, and more, but the best thing to do at Nyhavn is to look in awe at the old houses that line the canal. They are multicolored and just spectacular to see in person. Hans Christian Andersen spent much of his life living in Nyhavn in these houses as well.
If you are wanting to get some great photos while in Copenhagen, this is the place to do it! We spent quite a while taking photos of the canal and houses, and we got some nice shots of us with Nyhavn in the background.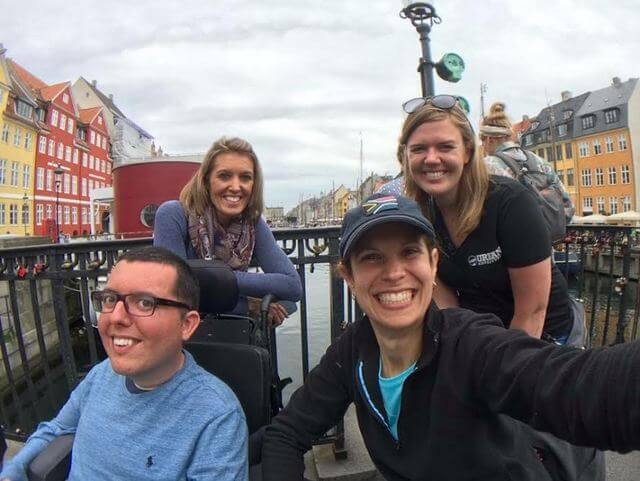 With enough Nyhavn selfies to have a new Facebook profile picture every day for a year, we made our way to the Royal Library garden. The Royal Library is one of the largest libraries in the world with over 35 million items and while we didn't go inside, the garden on the outside was gorgeous. There was a fountain, flowers, and the library building in itself was stunning.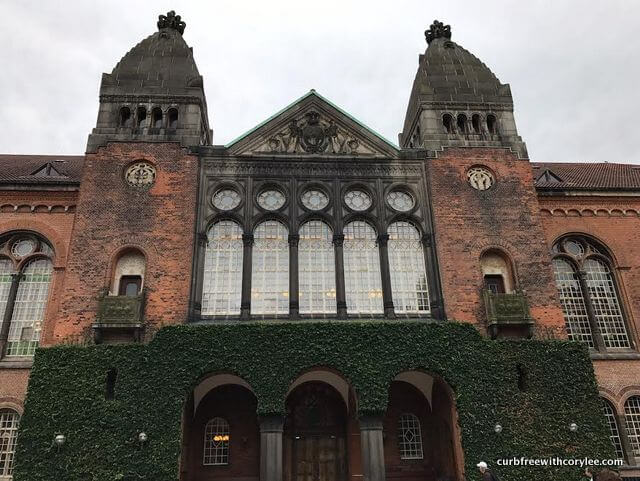 As we left the library, we passed by Christiansborg Palace and it definitely had the worst cobblestone of the day. They were hardcore level 10s on the cobblestone scale, but luckily we were only on them for maybe ten minutes. Copenhagen can be rough in some areas, but just keep telling yourself "I think I can, I think I can" and you'll be able to endure it. And I promise you that the tough cobblestone is worth it for the amazing views.
After a full day of sightseeing, it was time to head to our last stop: Tivoli Gardens. Unlike the name suggests, Tivoli Gardens is not just gardens. Instead, it's an entire amusement park right in the center of the city. It has the distinct honor of being the second oldest theme park in the world and is so magical that Walt Disney got some of his inspiration for Disneyland here.
While the rides are not exactly wheelchair friendly, I would still highly recommend to visit Tivoli Gardens no matter what your abilities are. The design is remarkable and as I rolled around, I really felt like I was in a fairytale. There are various eateries and plenty to observe, so you certainly won't get bored here.
Saying Goodbye to Copenhagen
My time in Copenhagen wasn't incredibly long, but I truly feel like I saw everything thanks to our fantastic tour with Copenhagen By Mie & Friends. It's rare to visit a city, especially for only 2 nights, and not feel like you're missing out on a lot, but with Mie's help, we conquered the city… and we gave our wheelchairs a work out with the cobblestone and the 8 miles that we walked/rolled on our tour. There honestly is no other way I'd rather see Copenhagen though!
As I rolled from place to place, I became sort of embarrassed at the fact that this city had never been on my travel radar. Copenhagen was more than I could have ever imagined and now, I can't wait to return for a second visit. If you have ever thought about visiting Copenhagen, or even if you haven't, make a plan and do it. I can assure you that this city will capture your heart just like it did mine.


*Thank you to Copenhagen By Mie & Friends for the phenomenal tour. All opinions are authentic and my own. This post includes affiliate links. When you click on a link, I may receive a small compensation, which will help this blog grow into a better resource for disabled travelers.