Minneapolis' reputation as artsy and progressive combined with St. Paul's charming and quieter historic atmosphere means that the Twin Cities have a lot to offer. Tourists can take advantage of cutting edge museums, zoos, and botanical gardens during the day and catch a concert (rock and jazz are common here) at night. Many visitors love to complement St. Paul's historic charm with the bustling and modern Mall of America for a truly comprehensive Twin Cities trip. If you're wondering, it's easy to get around the Twin Cities area on wheels, and I'll show you how right here.
Taxis
The City of Minneapolis government's recent actions make taxis an excellent option for wheelchair users visiting the Twin Cities. The local government initiated a service just last year to provide wheelchair accessible taxi service to the public, and five cab companies are involved. All of the participating companies have ADA compliant vehicles and charge the same rates as all the other taxi companies. And the best part? These services are available 24 hours a day!
The cab companies participating in the program include Airport Taxi (612-987-5888, 7 accessible cabs), Yellow Taxi (612-644-6569, 7 accessible cabs), Green and White Taxi (612-522-2222, 6 accessible cabs), Minneapple Taxi (612-338-9300, 2 accessible cabs) and La Mexicana Taxi Cab (612-701-5673, 1 accessible cab). In total, there are more than 23 ADA accessible cabs available to wheelchair users in the area, so if for some reason your first choice isn't available, just call another company!
Another great option is Driving Miss Daisy, a Minnesota business which has a Twin Cities location. They're a taxi company specifically oriented toward accessible vehicles and can customize your request, since they have different service levels available. You'll know that you're in good hands here, so call 1-877-553-4403 or visit their website for a quote.
Shuttles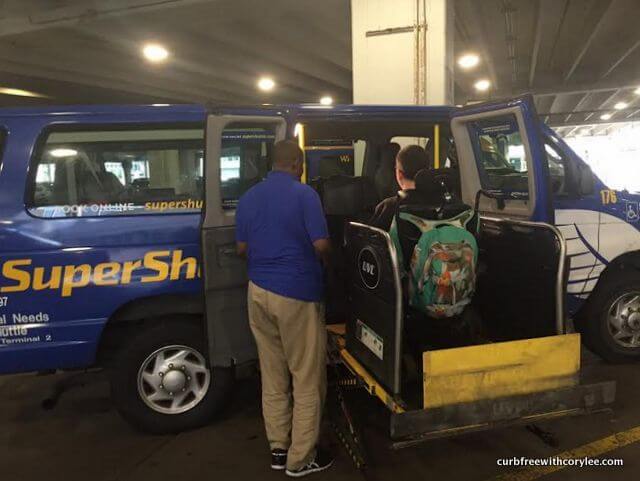 If you're headed to or from the airport, Super Shuttle is an excellent choice. Call them locally at 612-827-7777 to arrange your ADA compliant ride, and be sure to mention that you'll have a wheelchair with you. If you're headed to the airport then you'll need to arrange your transportation in advance, but if you're arriving at the Twin Cities airport, you can just find the Super Shuttles there and they'll take care of you.
There's also the great option of Metro Mobility, a door-to-door public transit service that wheelchair users can take advantage of. It serves customers in the Twin Cities area and some suburbs, especially those who are unable to use buses. You can buy tickets in advance for a set number of rides online here. You generally have to apply to be certified to use the Metro Mobility service, but call 651-602-1111 to see what they can do for you if you're only in town for a short period of time.
Metro
The public light rail trains in Minneapolis and St. Paul have a lot of amenities for wheelchair users. As you board, you'll notice that it's a step-free process and that the station platform is completely accessible. Once on the train, just find the designated section for wheelchair users and you'll be all set.
If you ride the Northstar train, these stations will be a bit trickier – you'll have to use a ramp to overcome the gap between the train and the platform, but the conductor can assist you in boarding.
No matter where you're going, here's a good tip: Use the trip planning tool on the Metro Transit's website to make the most of your time. If you have any additional questions about the system or about using the Metro in your wheelchair, you can call the Metro authorities at 612-373-3333 or contact a Customer Advocate.
Bus
Taking the bus in your wheelchair is much easier than you might think, due to the excellent Twin Cities public transit. When you board the bus, you'll need to use a lift, so make sure to stay at least seven feet away from the curb while the driver lowers the lift. You can simply roll onto the lift, but usually it's easier if you roll onto it facing backwards. Always make sure your brakes are locked once you get on the lift and if you need assistance getting on, just let the driver know and he or she will gladly help you!
Make sure to secure your wheelchair once you're on the bus, and if you have a scooter-type chair, the bus system considers it preferable for your own safety to transfer to a seat if possible. When you're getting off the bus, it's general practice to allow customers who aren't using the lift to exit first.
Each bus will have two spaces for wheelchair users, so if they're both full, the driver will let you know when the next bus is coming. If the wait time would be more than a half hour, then they'll arrange for a different type of accessible transportation for you — so be aware that there's a small chance of delays when traveling on a bus with your wheelchair.
If you have any additional questions about the system, you can call the Metro and bus authorities at 612-373-3333 or contact a Customer Advocate.
Rental Vans
There are also convenient wheelchair and scooter accessible vans for rental at a number of places in the region. Call Cummings Mobility at 651-633-7887 to take advantage of their options, which are available for short or long term rental. They're located in the suburbs outside Minneapolis. You can also contact IMED Mobility in Minneapolis, which has their own wide selection of wheelchair accessible van rental options. Their number is 612-236-1118.
Different vacations and distinct itineraries call for a variety of transportation options. Luckily, if you're a wheelchair user headed to the Twin Cities area, you need not worry at all! Whether you'd like to get around by taxi and shuttle or try the area's ADA accessible public transport options, you'll find quick and convenient transportation at your fingertips. So go ahead and get planning your future trip to St. Paul and Minneapolis — the tantalizing twin cities await!
Have you been to the Twin Cities before? I'd love to hear what you think about the accessible transportation options!
*A Note from Curb Free with Cory Lee: This post includes affiliate links. When you click on a link, I may receive a small compensation, which will help this blog grow into a better resource for disabled travelers.