Halloween might be my favorite holiday. There is nothing I love more than haunted houses, candy corn, horror movies, fun Halloween costumes, pumpkin spice, and the crisp fall air that comes around every October. As a lover of fall and all things Halloween, I had wanted to visit Salem, Massachusetts since I was a young kid and watched the movie Hocus Pocus for the first time. I still watch that movie multiple times every October (it's just the best!).
For Halloween 2021, I decided to finally book the trip to Salem and it was better than I could have ever imagined, to be completely honest. Over the course of four days, I enjoyed a variety of wheelchair accessible Salem attractions, attended the nation's most epic Halloween party, and learned a lot about the infamous Salem Witch Trials. While I personally visited Salem for Halloween, there is so much to do in the city as a wheelchair user no matter what time of year you visit.
From seeing Hocus Pocus filming locations to touring the Salem Witch Museum and more, keep reading to discover 11 of the best things to do in Salem, Massachusetts as a wheelchair user. If you're curious about accessible hotels in Salem, my recommendation is at the bottom of this blog post as well.
Wheelchair Accessible Salem MA Attractions & Things to Do
Check out the short video below to see some of the best wheelchair accessible Salem attractions –
Tour the Salem Witch Museum
The Salem Witch Museum is by far the most popular attraction in Salem and tickets should be purchased online in advance of your visit, especially if you are visiting during the month of October. Only same-day tickets can be purchased, so I actually stayed up until midnight to buy tickets, so I could visit the next evening.
The museum has life-size stage sets with animatronic characters that show the history of the 1692 Salem witch trials. I went to this museum with my friend Adriana (she's the founder of Puffin Innovations!) and before going, I didn't know a whole lot about the witch trials. However, we quickly learned all about them and it was an incredibly interesting show.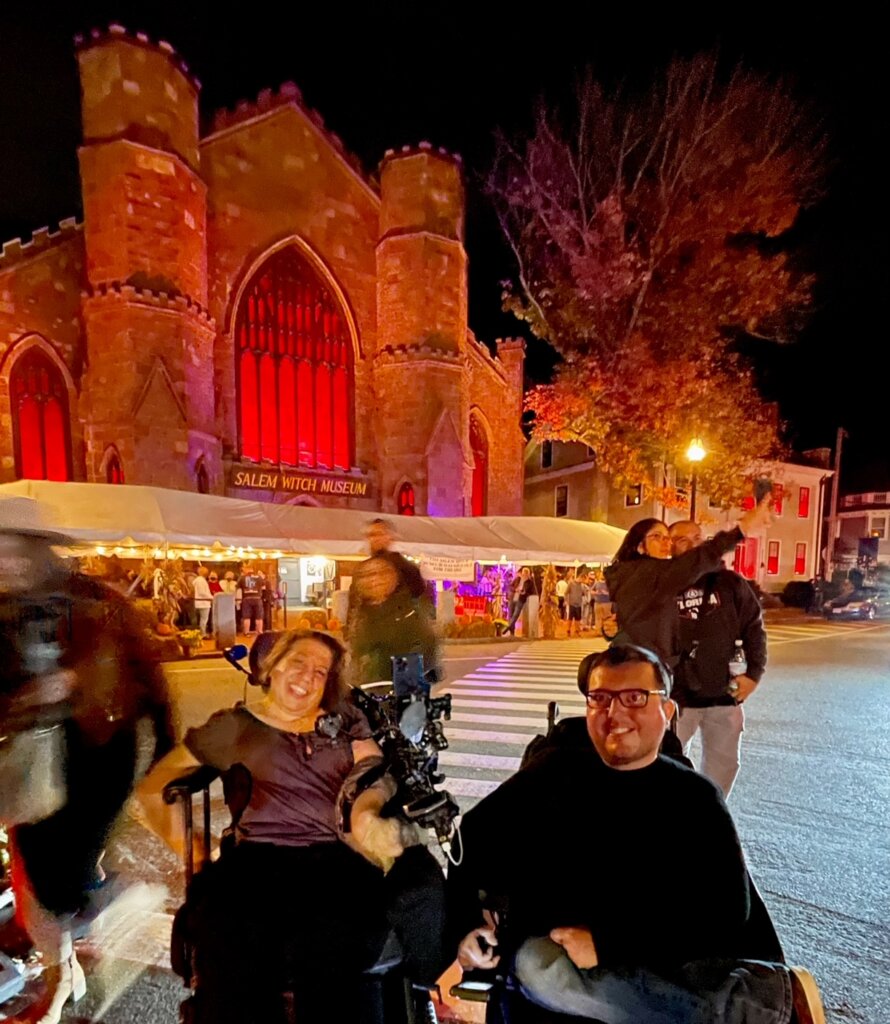 The second half of our time at the Salem Witch Museum was spent exploring the exhibits. After the show, it becomes more of a museum and the exhibits provided an opportunity to further learn about the witch trials and what exactly it means to be a witch. In total, we spent about an hour at the Salem Witch Museum.
I really enjoyed the informative show, museum, and even the souvenir shop, so I would highly recommend visiting. The museum is wheelchair accessible with lifts available to access the entire museum.
Experience history at The Witch House
The Witch House is the only structure that you can still visit in Salem with direct ties to the 1692 witch trials. This house was the home of Jonathan Corwin, who was a judge during the Salem witch trials. Today, the house serves as a place to gain a deeper understanding of the people that were involved in the witch trials.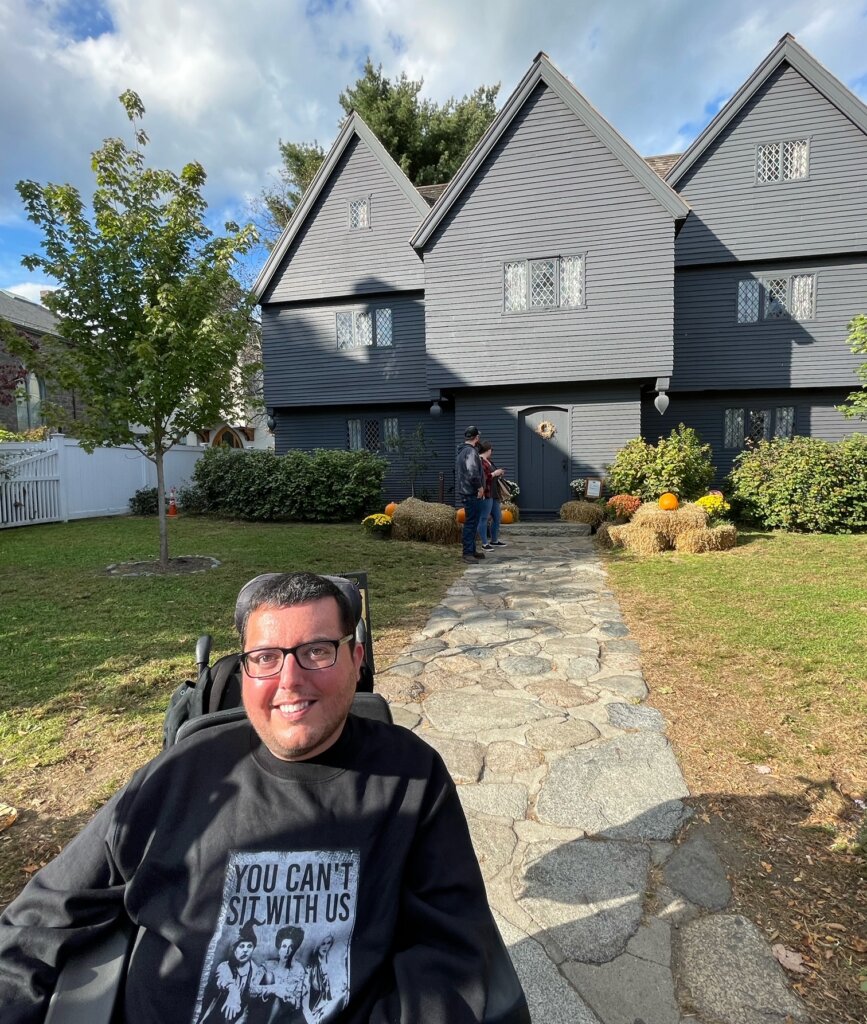 While the main entrance of The Witch House has a step to get inside, the back entrance is wheelchair accessible. The entire bottom floor is accessible, but the top floor is up a set of stairs. I really enjoyed touring the bottom floor though and the staff did a great job of explaining what all was on the second floor to me. I definitely learned a lot at The Witch House and my entire visit lasted less than an hour.
Tickets must be purchased online in advance of your visit if you'll be visiting during October. Same-day tickets go on sale every morning, so try to grab yours as early as possible since this is an extremely popular attraction in Salem.
Pay your respects at the Salem Witch Trials Memorial
The Salem Witch Trials Memorial is a tribute to the victims of the Witch Trials. It is right by Old Burying Point Cemetery, which I'll talk about next, and the memorial is outside and completely wheelchair accessible.
The memorial is small and only takes a few minutes to experience. No tickets are needed to visit the memorial, so you're free to come and go as you please.
After learning so much about the witch trials from other attractions like the Salem Witch Museum and The Witch House, this was a somber place to reflect and honor the 20 victims of the witch trials of 1692.
Visit Old Burying Point Cemetery
Right by the Salem Witch Trials Memorial is the Old Burying Point Cemetery, which is one of the oldest cemeteries in the United States. It opened in 1637 and serves as the final resting place for several notable people from Salem's past, including Judge John Hathorne, who was one of the leading judges in the witchcraft trials.
To be such a historic cemetery, I was surprised by how wheelchair accessible it was. I entered via a side entrance and there were smooth paths throughout most of the cemetery. I didn't have any issues getting around and I even saw Michael Myers in the cemetery at one point, which was quite scary (and yes, I did ask him to pose for the photo below).
Salem has a few different cemeteries that are related to the witch trials, but Old Burying Point is the oldest maintained cemetery in Salem. It's also easy to get to, as it's just a short walk/roll from the city's most popular attractions, so I'd recommend spending 20-30 minutes wandering around this cemetery.
Be scared at Count Orlok's Nightmare Gallery
I always enjoy visiting wax museums and I love horror movies, so Count Orlok's Nightmare Gallery was one of my favorite things to do in Salem. At this attraction, you can view over 60 life-size reproductions of popular characters from horror movies.
The museum is rather small, so it only took me about 30 minutes to see everything, but it's certainly a must-visit in Salem. During your visit, you'll see Frankenstein, Dracula, and a variety of other horror icons, but keep in mind that no photos are allowed. You can only take photos in the gift shop.
Count Orlok's is completely wheelchair accessible and I'd highly recommend purchasing tickets online in advance of your visit. Tickets start at only $15 per adult and $8 for children from 6-12 years old. While children are allowed, some of the creatures on display may be a bit scary to younger kids.
Visit the Peabody Essex Museum
If you're a fan of art museums like me, be sure to check out the Peabody Essex Museum while you're in Salem. Artwork from around the world is featured in a variety of permanent and temporary collections, and the art is predominantly from the 1700s to present day.
The Peabody Essex Museum is completely wheelchair accessible. There are elevators available to access every floor of the museum, spacious exhibits, a private companion-care restroom is located on the lower level, and wheelchairs can be borrowed on a first-come, first-served basis.
When I visited the museum in October 2021, there was a special exhibit titled "The Salem Witch Trials: Reckoning and Reclaiming". The exhibit showed the history of the Witch Trials, but also did a phenomenal job of showing the impact of the Witch Trials in our modern world. I left the exhibit feeling inspired and it changed my perspective on what a "witch" is. That particular exhibit was temporary, but the Peabody Essex Museum tries to have a Witch Trials themed exhibit every fall, so if you're visiting during the Halloween season, you should be in luck.
I spent about two hours at the Peabody Essex Museum admiring all of the artwork, but you could easily stay longer. The museum is open Thursday-Monday every week and tickets can be purchased online in advance.
Shop (and more) along Essex Street
You can't visit Salem without visiting Essex Street, as many of the city's most popular attractions, shops, and restaurants are located on it. In fact, many of the attractions that I've already mentioned up above are on Essex Street. The street is a pedestrian area and closed off to traffic.
Before traveling to Salem, I was told to be prepared for brutal cobblestone, but 99% of where I rolled in Salem had smooth brick tile and wasn't really bumpy at all. I was pleasantly surprised at how smooth the streets and sidewalks were for the most part. In October when I visited, there were many interesting characters on Essex Street as well and I enjoyed getting photos with them.
Most of the shops (but definitely not all!) on Essex Street were wheelchair accessible. I loved popping in to various shops, but two of my favorite places were Witch City Mall, which had various shops and eateries inside of it, and New England Magic. I got a tarot card reading at New England Magic and it was fantastic! I was shocked by how spot-on it was.
Essex Street is such a fun area to explore since it's the heart of Salem. During October, it can get extremely crowded, but in my experience, that made it even more fun. It was awesome to see everyone dressed up in Halloween costumes and having a great time!
Hang out in Salem Common
One of the best places to enjoy a nice day in Salem is Salem Common. It is an eight-acre public park and is located in the heart of downtown Salem, Massachusetts. It's been a common area since the 17th century and is still a popular location today.
In terms of accessibility, there are smooth paved paths throughout Salem Common. I was able to easily get around this park as a powered wheelchair user and I loved that it was so close to all of the other Salem attractions I've already mentioned above. It's nice to have a large greenspace in the heart of the city.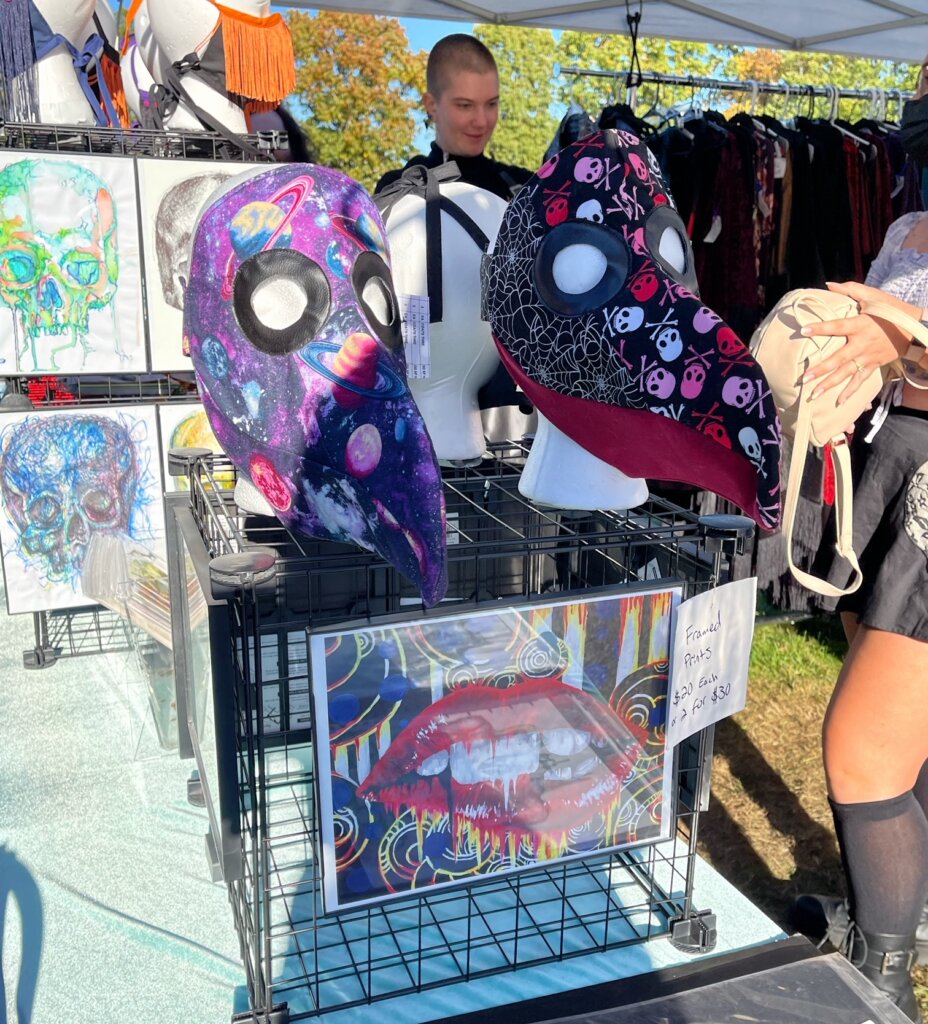 If you visit Salem in October, you could stumble upon the Haunted Happenings Marketplace. It happens every weekend in October at Salem Common, and there are dozens of vendors. Whether you want to shop for art, clothes, Halloween goodies, or something else, you're sure to find it at the Haunted Happenings Marketplace in Salem Common. 
See the "Hocus Pocus" filming locations
If you're as obsessed with the 90s movie Hocus Pocus as I am, then you'll be thrilled to learn that much of the movie was actually filmed in Salem. There are quite a few locations that you can visit and while in Salem, I made sure to visit several of them. Here are the Hocus Pocus locations that I visited:
The Hocus Pocus House – In the movie, this was Max and Dani's house, which is obvious by the iconic attic bedroom exterior. It's located at 4 Ocean Avenue and is a private residence, so be respectful of the area.
Old Town Hall – In the movie, this is where the Halloween party was held, where Bette Middler sang "Put a Spell on You". It's located on Essex Street.
Phillips Elementary School – All of the exterior shots of Max and Allison's school in the movie were of Phillips Elementary School at 86 Essex Street. This "prison for children" is right by Salem Common.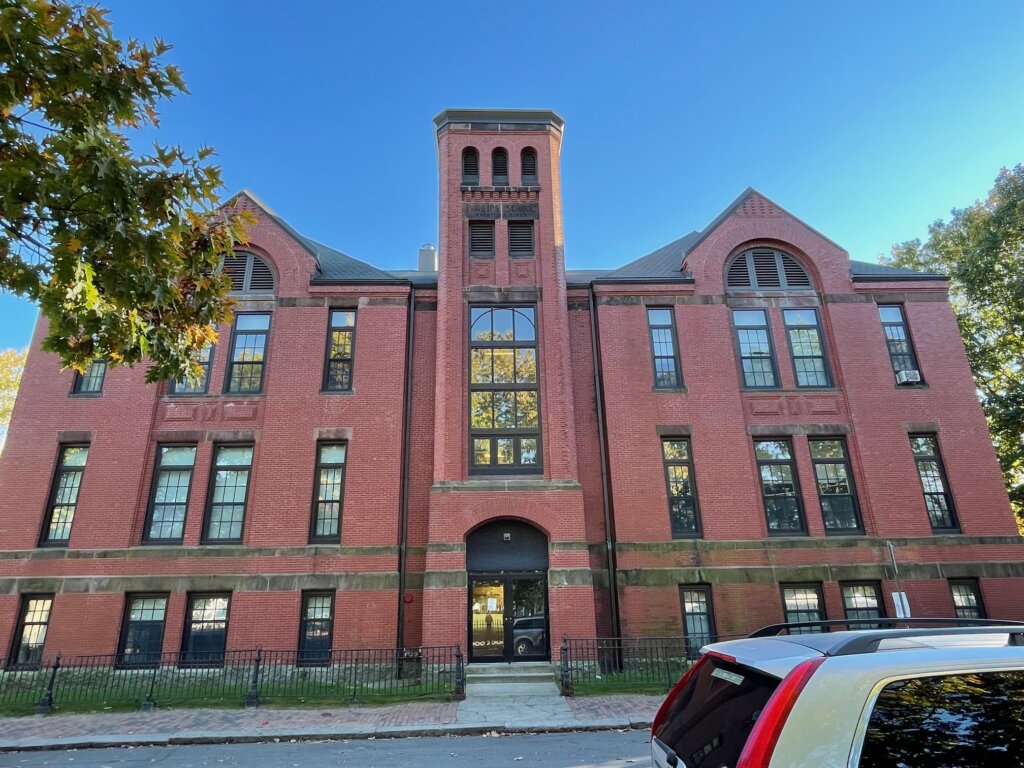 Salem Common – Some of the outdoor scenes in Hocus Pocus, including when Allison handed Max a note in the beginning of the film, were filmed in Salem Common.
These four locations were the only ones from Hocus Pocus that I actually visited, but if you have time, there are other notable filming locations that you can see as well. Some of the other places are the Pioneer Village, the Ropes Mansion (It was Allison's house in the movie), and the nearby Old Burial Hill Cemetery in Marblehead, Massachusetts. If you'd like to learn more about Hocus Pocus filming locations, check out this article.
Watch the Salem Haunted Magic Show
I love any kind of live theater, so when I heard about the Salem Haunted Magic Show, I immediately booked tickets. This show is only performed during the Halloween season, but they do it every year, so this is one of many reasons why you should visit Salem in October.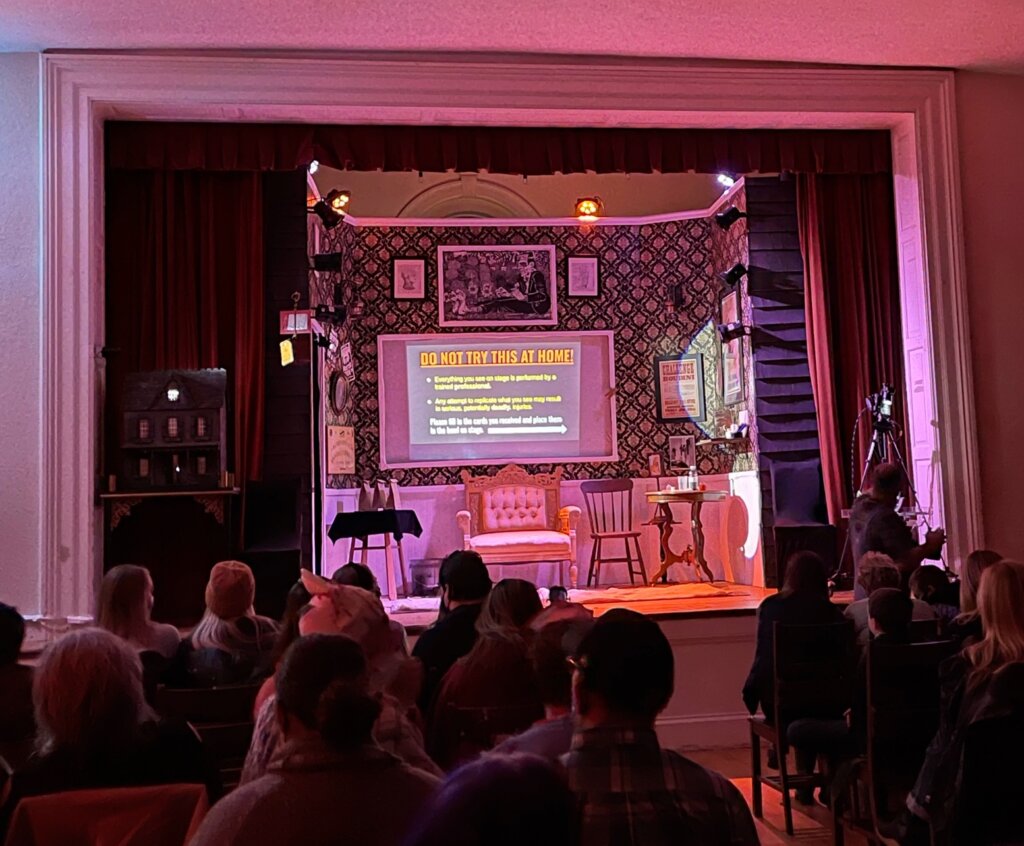 The Salem Haunted Magic Show is an interactive magic show with a focus on scary ghost stories, bizarre real-life happenings, and impossible magic. The show wasn't too scary, so I think it'd be okay for most children. It was thoroughly entertaining and I really enjoyed watching it.
The show takes place in the Emerson Hall Theater, which is actually inside a church. There is a wheelchair accessible entrance around the back, but my mom had to go in the main entrance and ask for someone to let us in the back. Once inside, I was able to find a good accessible place to sit and watch the show.
Attend the Hawthorne Hotel's Halloween Ball
Okay, I've saved the best thing to do in Salem for last. In fact, this was the event that I based my entire trip around. Every Halloween, the Hawthorne Hotel in Salem hosts the ultimate Halloween event and I finally had a chance to attend it myself… the Hawthorne Hotel Halloween Ball!
People from all over the country/world descend upon Salem annually for the Halloween Ball and I was pretty ecstatic to experience it myself. I expected for it to be an amazing event, but it was even better than I could've ever imagined for a variety of reasons.
A few months before going to Salem, I reached out to the incredible team at Magic Wheelchair and asked if they could possibly make me a Halloween costume for the Halloween Ball. They agreed to do it and hired a local company (Narwhal Labs) to build a remarkable "Snakes on a Plane" wheelchair costume for me. They literally turned my wheelchair into an airplane. It was insanely cool! 
Magic Wheelchair also hired a makeup artist, the amazing Sy Bedrick, to do mine and my mom's makeup for the event. Sy created some epic looks and had snakes coming out of my arms, ears, and face. It was wild and by the time they had my makeup and costume finished, I was just in awe of how awesome it was. My "Snakes on a Plane" idea turned out to be more than I could've ever dreamed of thanks to Magic Wheelchair. They are a nonprofit and are on a mission to create amazing costumes for wheelchair users, so definitely check them out here and consider donating if you have the means.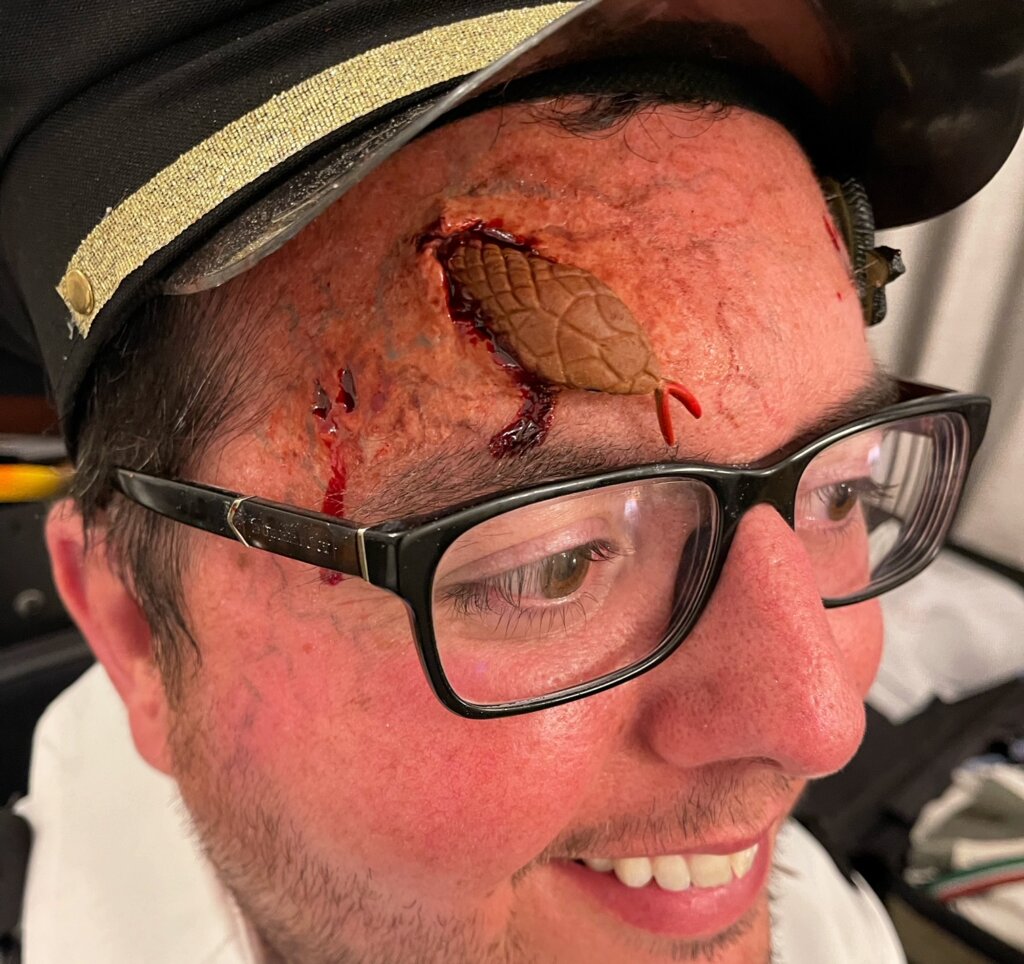 The Halloween Ball took place inside the Hawthorne Hotel on three floors and was completely wheelchair accessible. There was live music, hors d'oeuvres, cash bars, and photo booths, but the best part was seeing everyone's costumes. People really went all out with their costumes and it was so much fun to see them.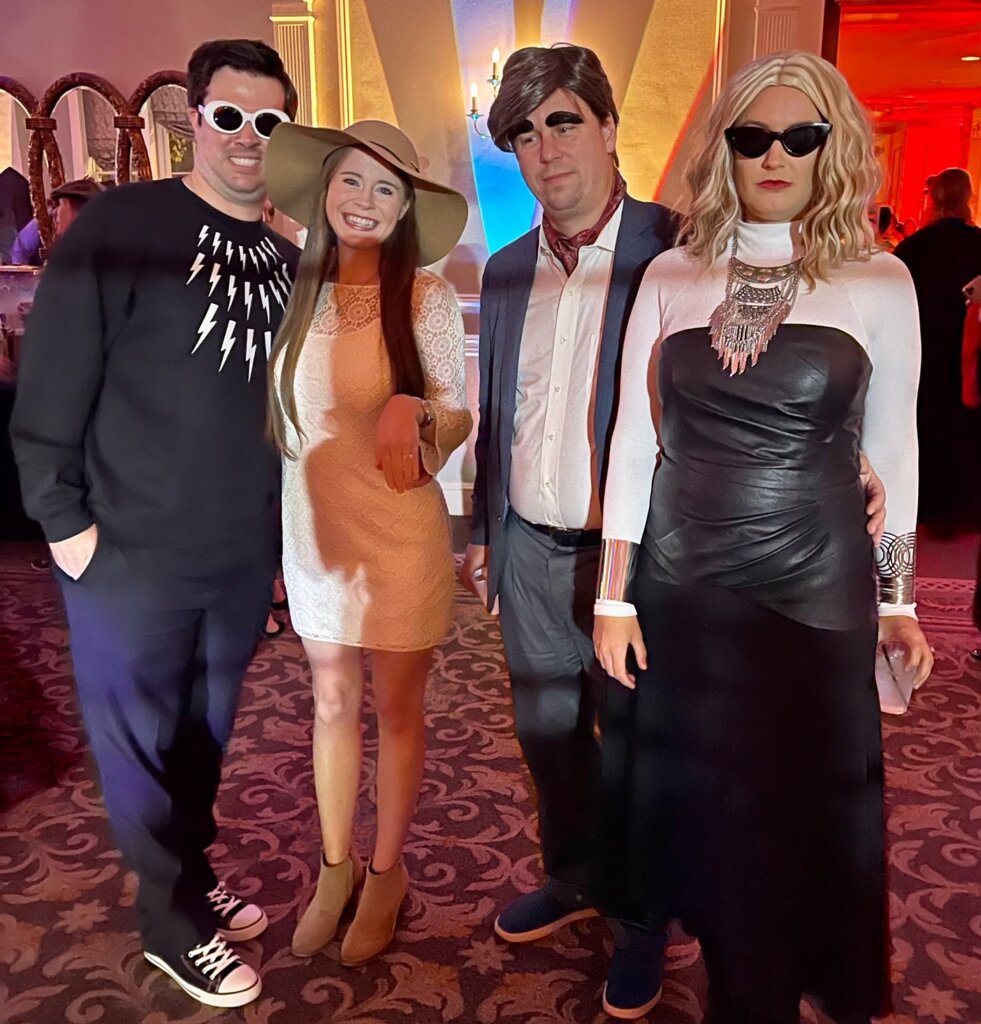 Toward the end of the night, there was even a costume contest. And I'm thrilled to say that my mom and I won the award for Best Cinematic Costumes! It was such a good surprise and the perfect ending to the Halloween Ball. I'm extremely tempted to make the Hawthorne Hotel's Halloween Ball an annual tradition for us, but I just don't know if we could ever have such a remarkable time again. It truly was perfection.
If you are interested in attending the Halloween Ball (and why wouldn't you be?!), it's important to plan ahead. This event always sells out way in advance. If you want to stay at the Hawthorne Hotel for the Halloween Ball, which is what I did, the hotel opens up bookings about 10 months in advance of the Halloween Ball. I booked my stay and Halloween Ball tickets in January on the day that reservations opened, and the hotel sold out that same day. If you want to stay up to date on when reservations will open, keep an eye on this page. 
Where to Stay in Salem: Hawthorne Hotel
Throughout my entire time in Salem, I stayed at the historic Hawthorne Hotel. This hotel is in a brilliant location within walking/rolling distance of every attraction that I mentioned up above. Once we parked my van at the hotel, we didn't see my van again until we were checking out, so that was very convenient.
The Hawthorne Hotel is one of the most haunted hotels in America. There have been countless ghost sightings from guests staying in the hotel, so if that makes you nervous, you might want to stay elsewhere. But during my three nights at the Hawthorne Hotel, I didn't see any ghosts or experience anything out of the ordinary.
My wheelchair accessible room was quite spacious and had a desk, a TV, and one bed. Unfortunately, a hoyer lift could not roll under the bed since it was on a block frame, but the room worked for my needs.
In my bathroom, there was a pull-under sink, grab bars by the toilet, and a great roll-in shower. The roll-in shower had smooth entry and there was a handheld shower wand. The bathroom really could not have been any better for my accessibility needs.
The Hawthorne Hotel also has on-site restaurants and I really enjoyed having lunch at The Tavern one day. The thing that really stood out to me about the hotel though was how friendly the staff was, despite being extremely busy at Halloween. To be honest, I can't imagine staying anywhere else in Salem and I can't wait to return to the Hawthorne Hotel! Learn more about the hotel by clicking here.
Whether you are visiting Salem during October or any time of year, you're sure to enjoy all of the charm that this city has. Salem offers many accessible things to do and has a fascinating history, making it one of New England's best destinations. If you dream of experiencing wheelchair accessible Salem, it's never too early to start planning your trip!
.