Southern California is full of beautiful, and accessible, beach destinations. I've been able to explore some of them in the past, including Santa Monica, but I recently had the opportunity to spend a couple days in Long Beach, California and I think that I can confidently say that it is my new favorite California beach destination!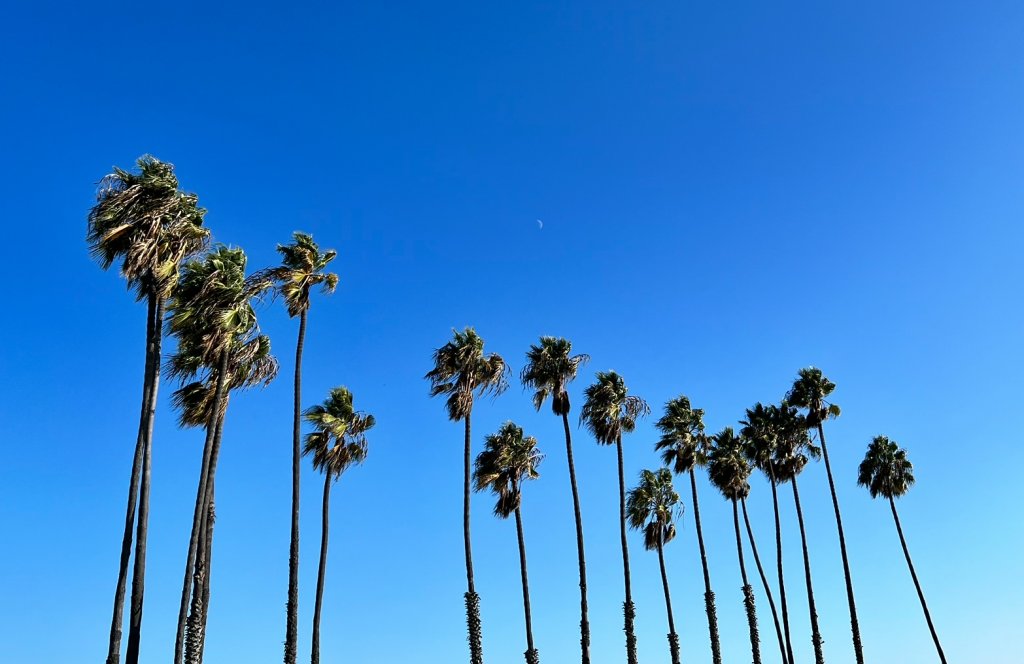 Long Beach has an average of 345 days of sunshine per year and it's only about 25 miles south of Los Angeles, so it's super easy to get to. In addition to the incredible beaches, which I'll tell you all about in just a bit, Long Beach also has some great attractions that are worth checking out as a wheelchair user. I only spent a couple days in Long Beach, but I quickly fell in love with the area and already can't wait to return and experience more.
From relaxing on accessible beaches to visiting a world-class aquarium and more, there are a variety of wheelchair accessible Long Beach attractions and things to do. Here are some of my favorites that I was able to enjoy during my recent trip, and some information about where I stayed while in Long Beach is included at the end of this blog post –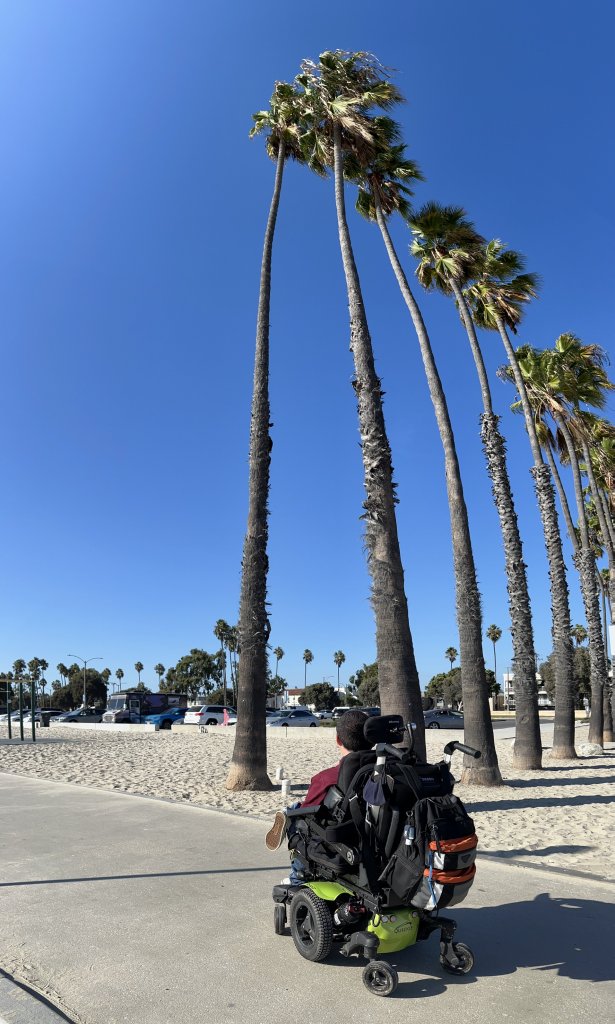 Wheelchair Accessible Long Beach Attractions & Things to Do
Unwind and relax on accessible beaches
After arriving in Long Beach, my first stop was Granada Beach. Of course, I had to immediately hit up the beach and soak up some rays. There's nothing I love more than accessible beaches, after all.
Granada Beach is one of the best accessible beach options in all of Southern California. It has everything that I love in a beach destination, including a beach access mat. The mat was smooth and went pretty close to the water, so I was able to stay in my own wheelchair and still have a terrific view and feel the ocean breeze.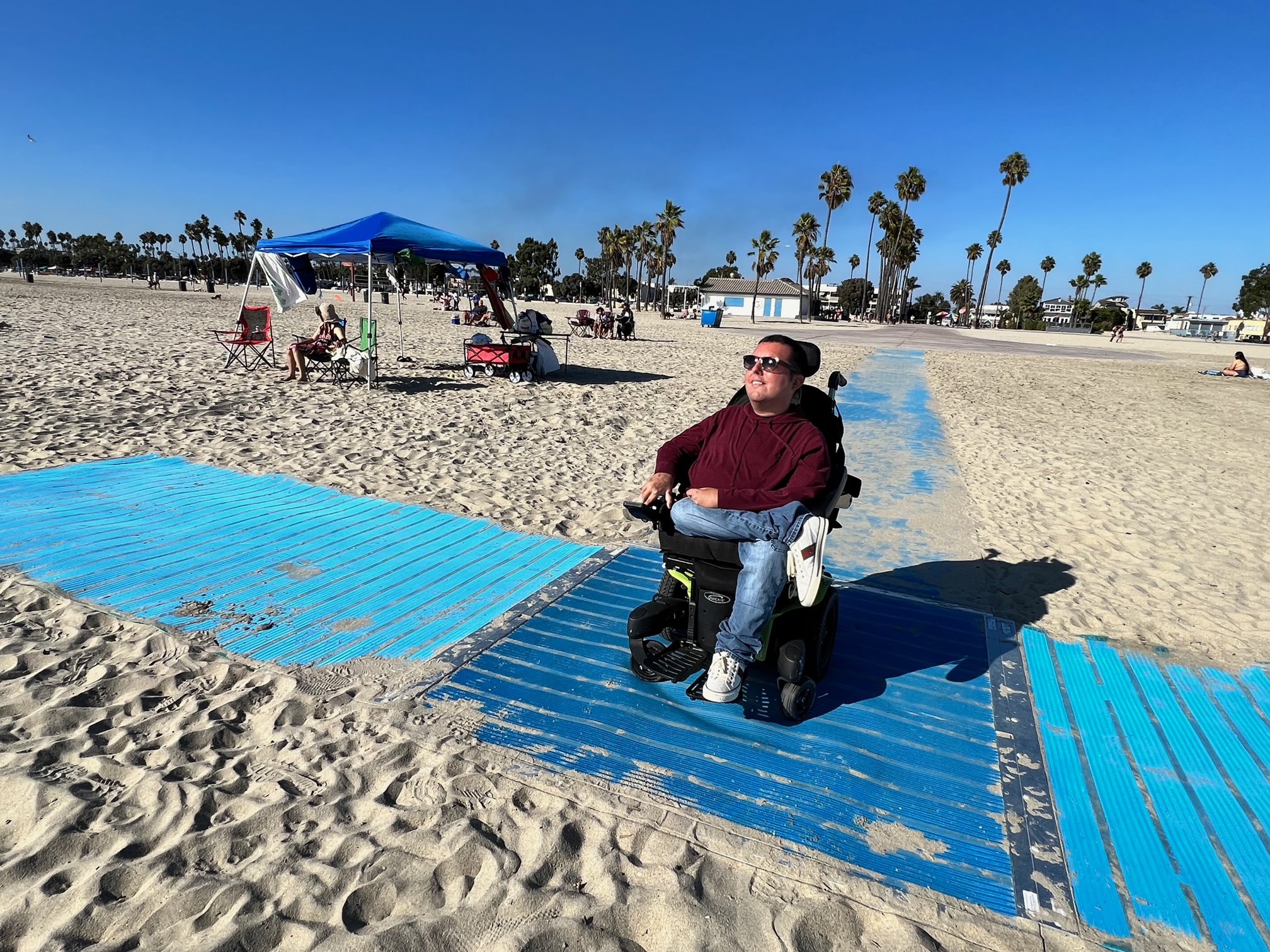 Accessible companion-care restrooms were available at Granada Beach and you can request a complimentary beach wheelchair to use during your visit by calling 562-570-1360 in advance of your visit. I chose to just use the beach access mat and stay in my own wheelchair, but I love that beach wheelchairs are an option.
Aside from accessibility, one of my favorite things about Granada Beach was the fact that it had a dog beach known as Rosie's Dog Beach. Dogs can be off-leash at this four-acre beach and I loved watching all of the dogs playing on the beach. There were dozens of them there when I visited and it was certainly entertaining.
A 5.5-mile paved path runs along the beaches as well. There is a bike path and a path for people that are walking/rolling. It was quite active when I visited and I enjoyed rolling on it for about a mile. If you go on the path long enough, you'll visit various beaches, including Alamitos Beach.
I visited Alamitos Beach during my trip, but chose to drive there. Accessible parking spots were available in the on-site parking lot. It's also worth noting that Granada Beach has a parking lot.
Like Granada Beach, Alamitos Beach has a beach access mat and complimentary beach wheelchairs are available by calling 562-570-1360 and requesting one. The beach access mat at Alamitos Beach didn't go quite as close to the water as the one at Granada Beach, but it was still worth visiting and I had a fun time.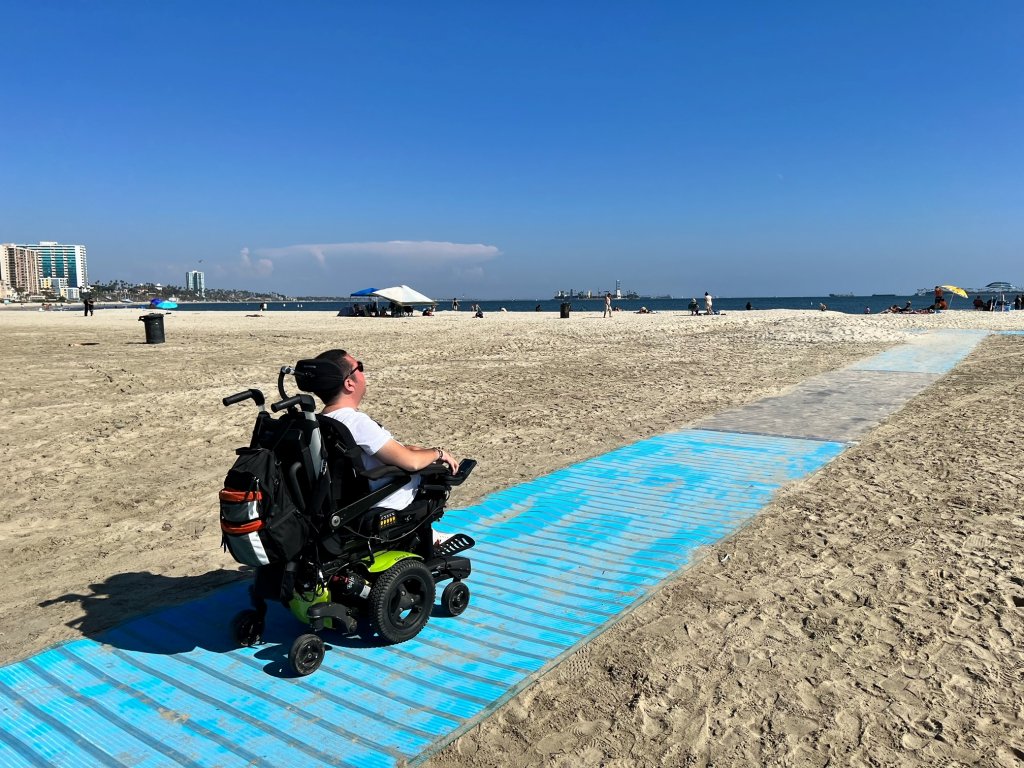 As you can see, Long Beach has multiple accessible beaches & this makes me so incredibly happy! In most destinations, I'm lucky to find one accessible beach option, so the fact that I was able to enjoy two different beaches in the same city is awesome! Long Beach, California is undoubtedly the place to be for a phenomenally accessible beach day in Southern California.
Visit the Aquarium of the Pacific
While in Long Beach, California, the Aquarium of the Pacific is a must-visit! As Southern California's largest aquarium, there are approximately 12,000 animals on display here. From seals to sharks to penguins and everything in-between, I was able to see it all during my visit.
This aquarium is fully wheelchair accessible with spacious exhibits, elevators to access the two levels, companion care restrooms, and if you need to borrow a wheelchair to use while here, they are available from the Member Services desk. I was really impressed with how accessible the Aquarium of the Pacific was.
One of the newest exhibits at the aquarium is called "Babies!" and you can check it out until April 2023. In this exhibit, you can see baby animals such as rescued sea otters, sharks, tiny sea jellies, and more. It's a cute exhibit that is worth seeing if you'll be in Long Beach before April 2023.
If you're planning to visit the Aquarium of the Pacific, plan to be there for at least 2-3 hours, as it is huge & has a ton to see. You could easily stay longer than that as well, but I'd say to plan on a few hours as a starting point. Admission to Aquarium of the Pacific is $36.95 per adult and tickets can be purchased in advance on the aquarium's website here.
Shop and dine in Long Beach
There are some amazing shopping, dining, and entertainment areas in Long Beach. The first one that I visited was Shoreline Village, as it was just a short walk/roll away from the Aquarium of the Pacific. I'd highly suggest visiting Shoreline Village either before or after any visit to the aquarium.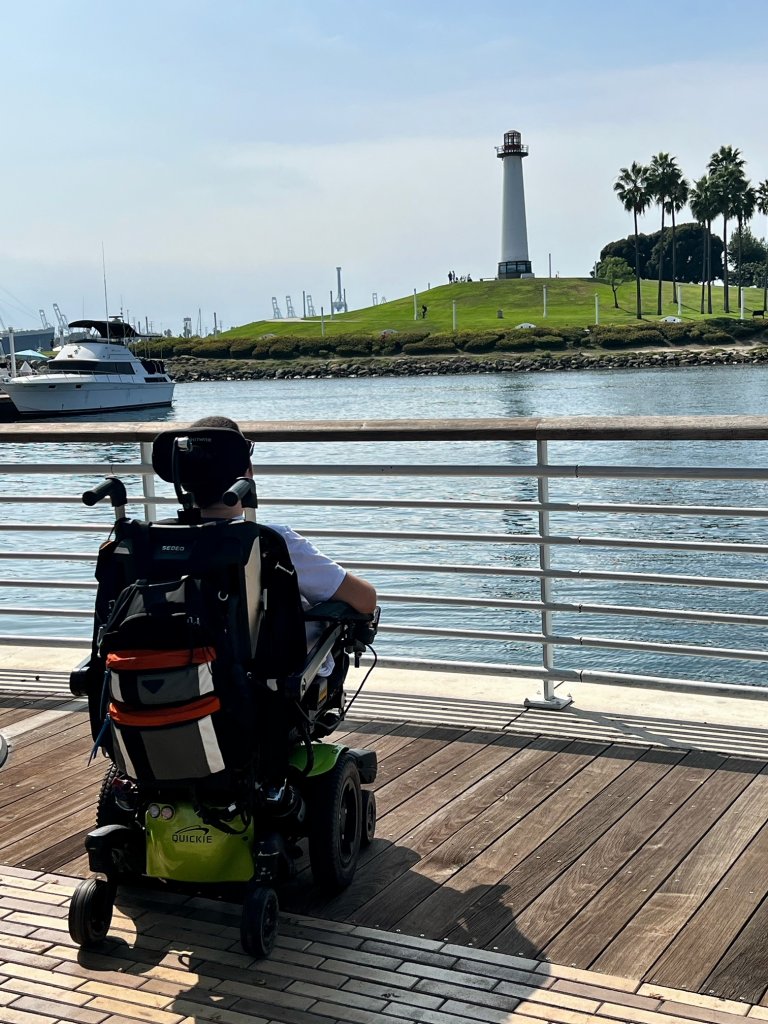 From Shoreline Village, you can go on a narrated harbor cruise (Spirit Cruises has an accessible cruise option), browse numerous shops, and eat at several different restaurants. Most of the shops were wheelchair accessible and one of my favorite stores was the Village Hat Shop. They had hundreds of different hats and I had fun trying on a few.
If you're looking for something to eat at Shoreline Village, there is literally an option for anything you are craving. You can chow down on pizza at Gilan Pizza & Grill, enjoy Louisiana staples at Louisiana Charlie's, treat your sweet tooth at Rocky Mountain Chocolate Factory, and so much more. I dined outside at Parkers' Lighthouse and had a wonderful view of the harbor from my table. The lobster and shrimp taquitos for an appetizer and fish & chips for my entree were delicious as well!
Another fun shopping and dining area that I visited in Long Beach, California was 2ND & PCH. There are dozens of great shops here, including Nike, Urban Outfitters, Whole Foods, Tuesday's Sweet Shoppe, where I gorged on pumpkin spice malt balls and chocolate covered candy corn, and much more.
There are a number of restaurants at 2ND & PCH as well. Whether you're craving Mexican food, sushi, a burger from Shake Shack, or something else, you can find it all at 2nd & PCH!
Accessibility at 2ND & PCH was fantastic! The sidewalks were wide with smooth curb cuts and every store and restaurant that I saw was wheelchair accessible. It was a very modern area and I had a fun couple of hours exploring it on a nice day.
Where to Stay in Long Beach: The Westin Long Beach
While in Long Beach, I stayed at The Westin Long Beach. I'm a fan of Westin properties and usually find them to be very accommodating for my accessibility needs. This one in Long Beach was no different. It was a great hotel and worked perfectly for me!
In my accessible room, there were two beds and both of them had plenty of clearance underneath for a hoyer lift. The beds were a bit on the tall side though, so if you need to self-transfer from your wheelchair to the bed, it may be challenging.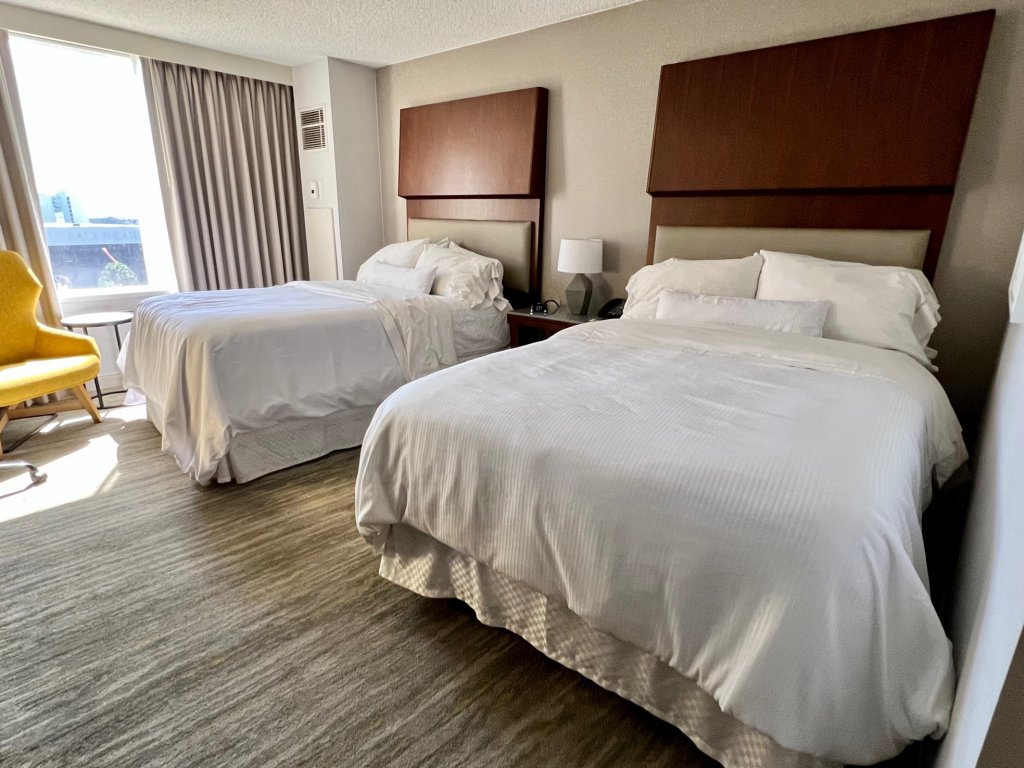 In the bathroom, there were grab bars by the toilet, a nice pull-under sink, and a roll-in shower. There was no lip to get into the roll-in shower. It had smooth entry and two handheld shower wands, plus an overhead shower.
The room worked perfectly for me, but I can't mention The Westin Long Beach without talking about its on-site restaurant, Navy Proof Food & Spirits. I enjoyed a delicious dinner at this restaurant on the first night of my stay. In my experience, hotel restaurants are usually very average and not that great to be honest, but this place is definitely the exception. It's so good!
I started with crispy calamari and then had salmon with mashed potatoes, gravy, and vegetables for my entree. My mom had a meat lover's flatbread, which she really liked. For dessert, we had a dulce de leche brownie topped with salted caramel gelato, strawberries, and candied bacon. Everything was fantastic!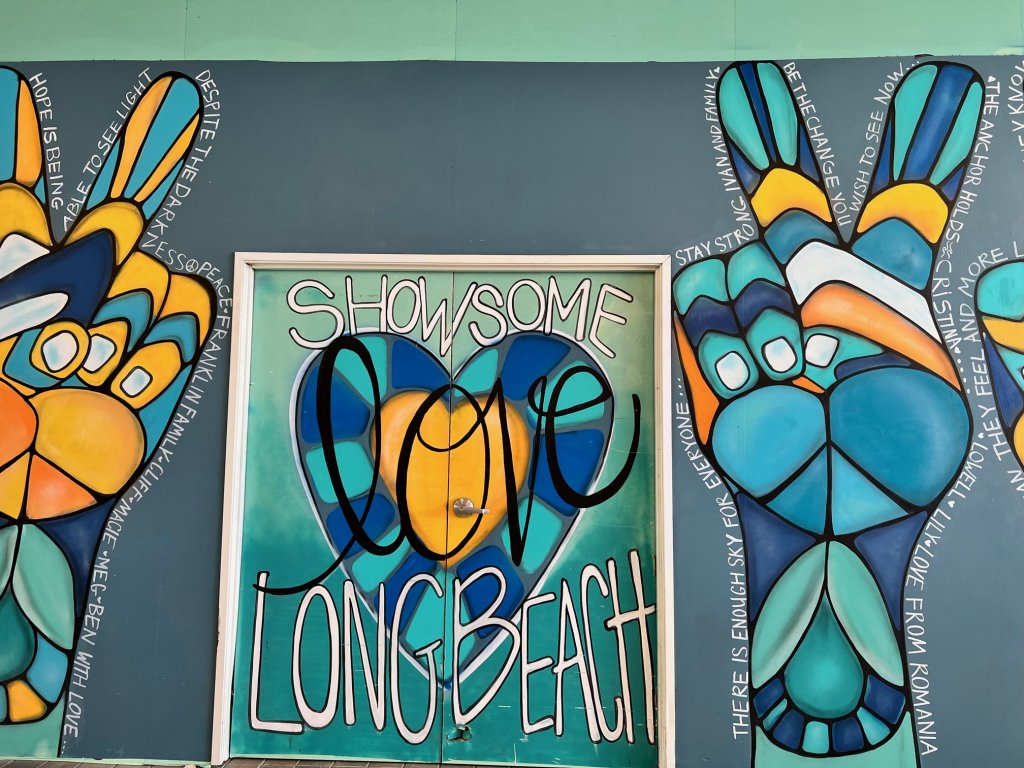 If you are looking for an accessible destination to visit during your next trip in Southern California, Long Beach is absolutely a terrific place to consider. With wheelchair accessible beaches, great shopping districts, and more, I am sure that you'll fall in love with Long Beach, California… just like I did.
.
*Thank you to Visit California for working with me on this trip and showing me the best of wheelchair accessible Long Beach! While my experiences were complimentary, all opinions expressed are authentic and my own.
.