I've visited California numerous times and explored some of the best cities within the state in recent years. I've rolled across the Golden Gate Bridge in San Francisco, had the time of my life at Disneyland in Anaheim, and admired the beautiful desert oasis that is Palm Springs. I always love spending time in California, as I believe it's one of the best wheelchair accessible destinations in the U.S. While I've spent time in many of California's wonderful cities, I had never visited the state's capital city of Sacramento… until very recently, that is.
Check out the video below to see some of the best wheelchair accessible things to do in Sacramento!
I had the chance to spend a few days in Sacramento and the surrounding area after speaking at the Visit California Outlook Forum. To be honest, I wasn't really sure what to expect in Sacramento, but I had such a great time! Within just a few days, I shopped (and ate) my way around the Old Sacramento Waterfront, saw a Sacramento Kings basketball game, and so much more. I even did a day trip to nearby Folsom, California (yes, it is home to Folsom Prison, where Johnny Cash performed in 1968).
In this wheelchair accessible travel guide, I'll share my top five picks for wheelchair accessible Sacramento attractions and things to do, where I stayed while in Sacramento, and all about my day trip to Folsom and why it's worth visiting during any trip to Sacramento!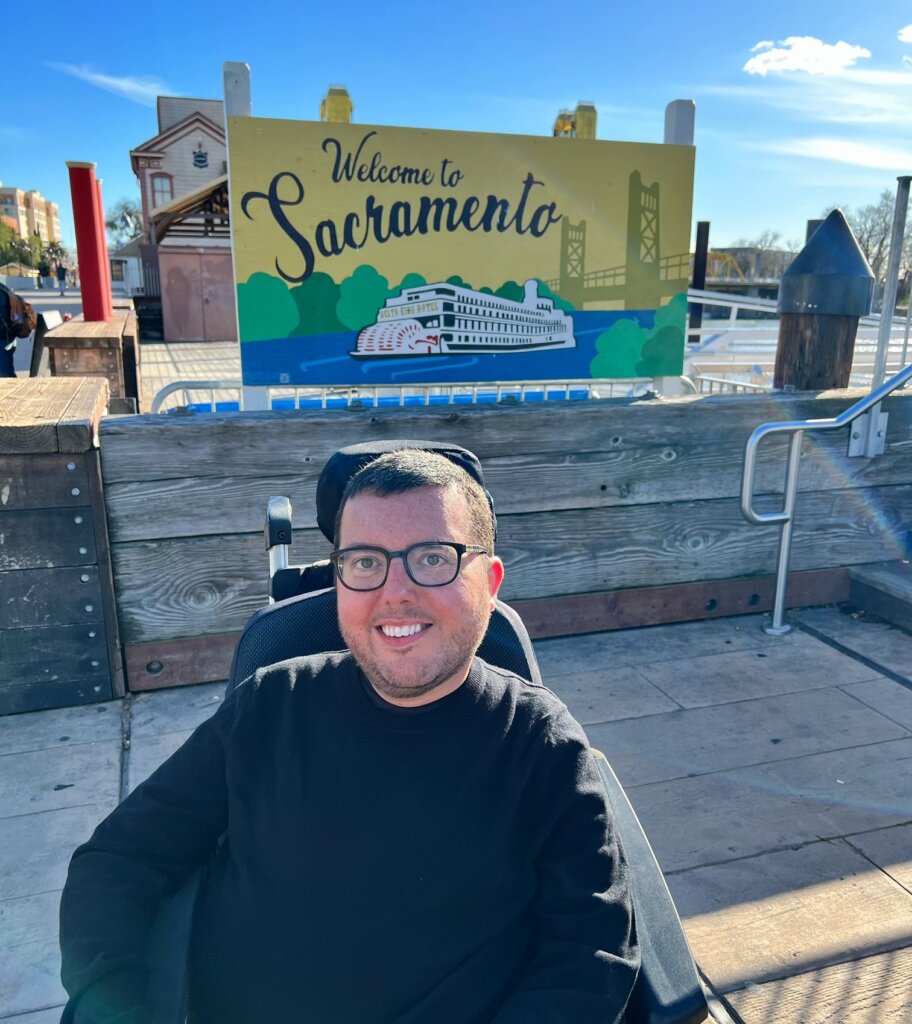 Wheelchair Accessible Sacramento Attractions & Things to Do
Explore the Old Sacramento Waterfront
The Old Sacramento Waterfront is a shopping, dining, and entertainment district in a beautiful waterfront location. It is undoubtedly one of the most popular places to visit in the city and a must-do on any itinerary. Within the 28-acre area, there are more than 125 shops, restaurants, and attractions. No matter what you're looking for, you're sure to find it here!
Upon arriving to the Old Sacramento Waterfront, you'll immediately feel like you've gone back in time. The area pays tribute to California's beginning with the Gold Rush in the mid-1800s. There are restored building from the Gold Rush era, cobblestone streets, wooden sidewalks, and you may even see a horse-drawn carriage during your visit.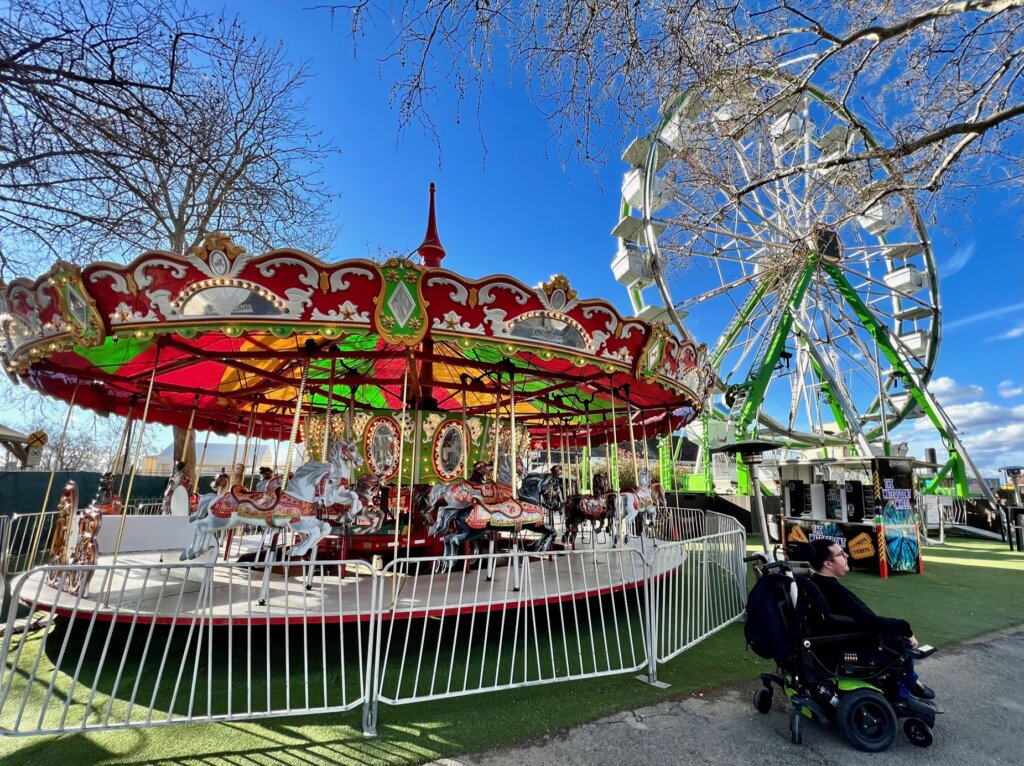 Despite being an older area, I was really impressed with how wheelchair-friendly they've made the Old Sacramento Waterfront. There were paved paths over the cobblestones, so I was able to completely avoid all of the cobblestone and have a smooth journey in my powered wheelchair. The wooden sidewalks were also fairly smooth to roll on and the large majority of the shops were wheelchair accessible.
I loved shopping in the different businesses, taking in the views of the water, and I even enjoyed delicious meals at two of the Old Sacramento Waterfront's restaurants – Joe's Crab Shack and Rio City Cafe (the fish tacos were fantastic!). I also hit up Danny's Mini Donuts for a sweet treat and I haven't stopped thinking about them since! The mini donuts were phenomenal and melt in your mouth. I spent several hours exploring the waterfront area, but you could easily spend longer, as there is so much to enjoy.
I loved the area so much that I went here two different days during my time in wheelchair accessible Sacramento. This would probably be my number one must-do, so I would highly recommend visiting the Old Sacramento Waterfront if you're in the area!
Admire art at the Crocker Art Museum
The Crocker Art Museum is located in downtown Sacramento and has so much incredible art to see. In fact, this museum has the world's foremost display of California art, but it has many other kinds of art as well.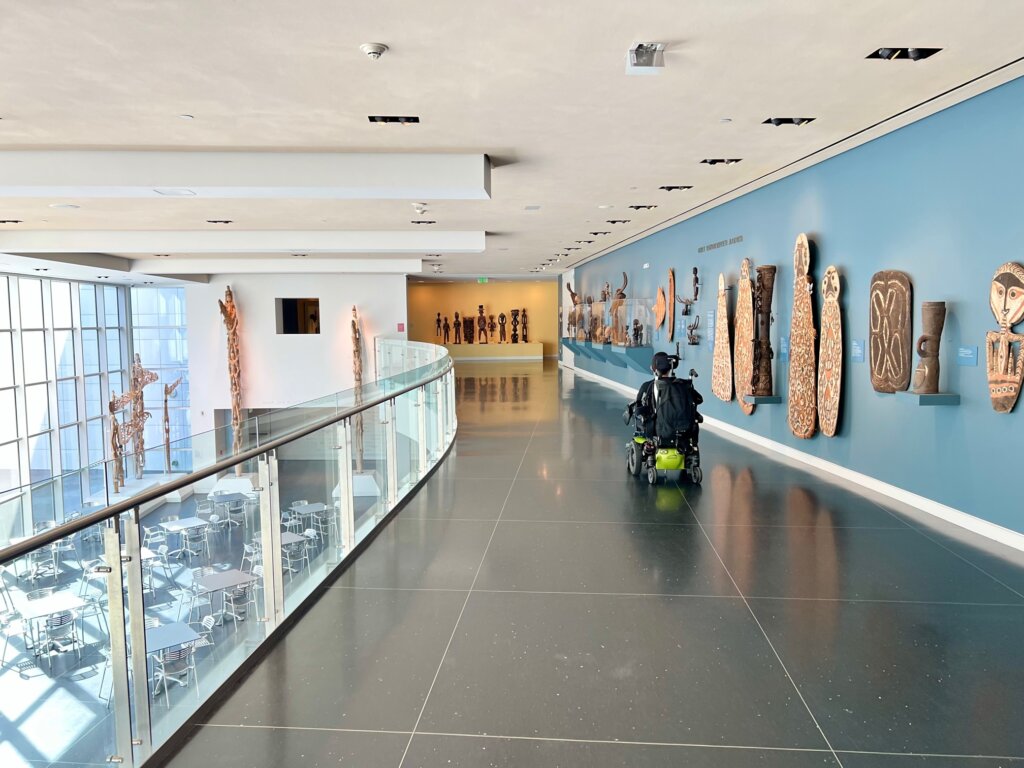 The museum is spread across three different levels and elevators are available to access every floor. The museum is very spacious and I had no issues navigating the Crocker Art Museum as a powered wheelchair user. If you need to borrow a wheelchair for your visit, the museum offers them at no charge on a first-come, first-served basis. I was also happy to see that family/companion care restrooms are available throughout the museum.
There are thousands of pieces of art on display in the museum's permanent collections, but they have spectacular temporary exhibits throughout the year as well. One of my favorite exhibits was "Lee Alexander McQueen & Ann Ray". In this temporary exhibit, I saw some of Alexander McQueen's greatest works, but the exhibit did a fantastic job of showing behind the scenes of Alexander McQueen's work and fashion. You can check to see what the museum's current and upcoming exhibits are here.
The Crocker Art Museum is open every Wednesday-Sunday (closed on Monday and Tuesday). Admission costs $15 per adult. I admired the art throughout the museum for a couple hours and was really impressed with how much the museum had to offer. This is a world-class art museum and certainly worth visiting in Sacramento!
See a Sacramento Kings basketball game
I had actually never been to an NBA game before visiting Sacramento, but I am now a fan. The energy at the Sacramento Kings game was incredible and my mom and I had so much fun!
We had wheelchair accessible seats in section 116 and they were great. We could easily see all of the action on the court and there were companion care restrooms nearby, which was nice.
If you can, arrive to the arena a bit early (about an hour or so) to wander around before the game starts. There are various food options and we even got a face painting to represent the Sacramento Kings. It was a lot of fun just to see the enthusiasm that everyone had for their team.
The Sacramento Kings won the game that we attended! Woohoo!!! Every time they win, a purple beam lights up the sky (see it in the photo below). Everyone was cheering and having a great time celebrating outside the arena afterwards. There is really no better energy than after a Kings win, I discovered. What a night!
See some of Sacramento's best murals
Sacramento is a city that really puts an emphasis on creativity and art, which I love! All over the city, there are beautiful murals that you can see completely for free, so this is a great budget-friendly tour option while in Sacramento.
There are so many incredible murals throughout Sacramento and I immensely enjoyed seeing them. In case you'd like to plan out which murals you want to see in advance of your visit, check out the Wide Open Walls website.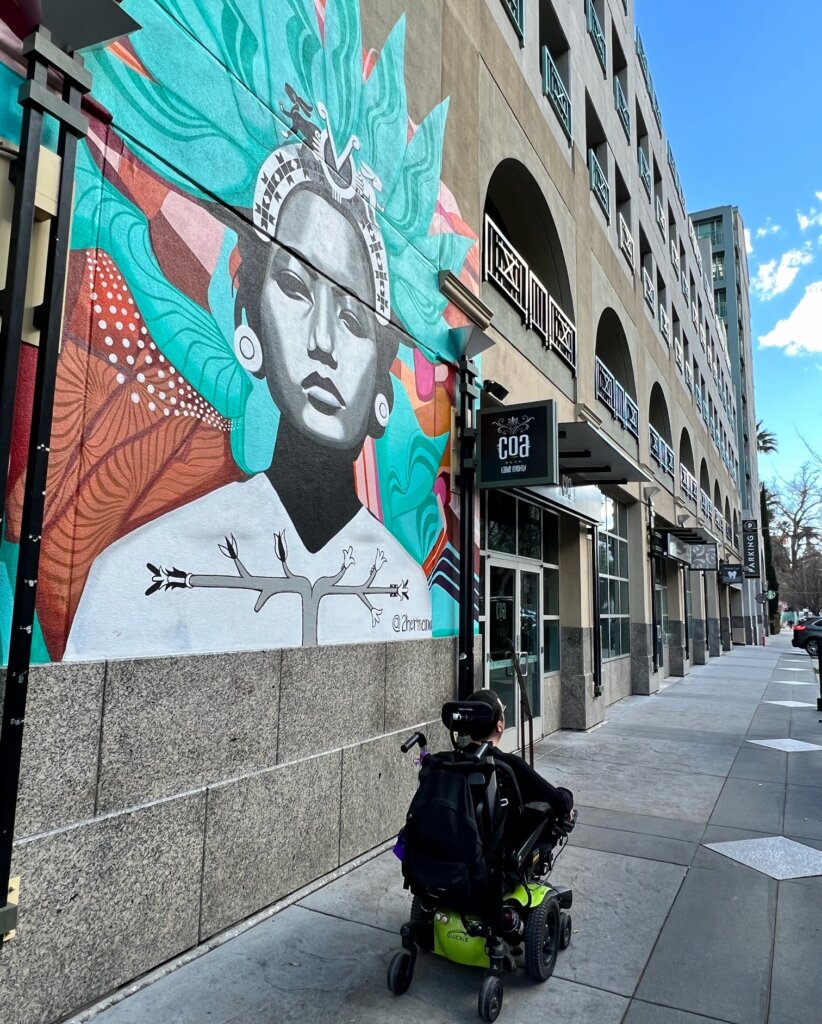 I certainly didn't have enough time in Sacramento to see all of the murals that I would've liked to, but I was able to see quite a few. And whether you scout them out on the website in advance or not, you're sure to still see a lot of murals while driving around the city. Sacramento has to be one of the best cities for mural-spotting that I've ever encountered!
Learn about the history of railroads at the California State Railroad Museum
The California State Railroad Museum is located in the Old Sacramento Waterfront area of Sacramento, so be sure to check out the museum either before or after you enjoy shopping and dining at the waterfront. In this museum, you will find locomotives, a large model train exhibit, and an accessible postal train car that you can roll inside, among many other exhibits.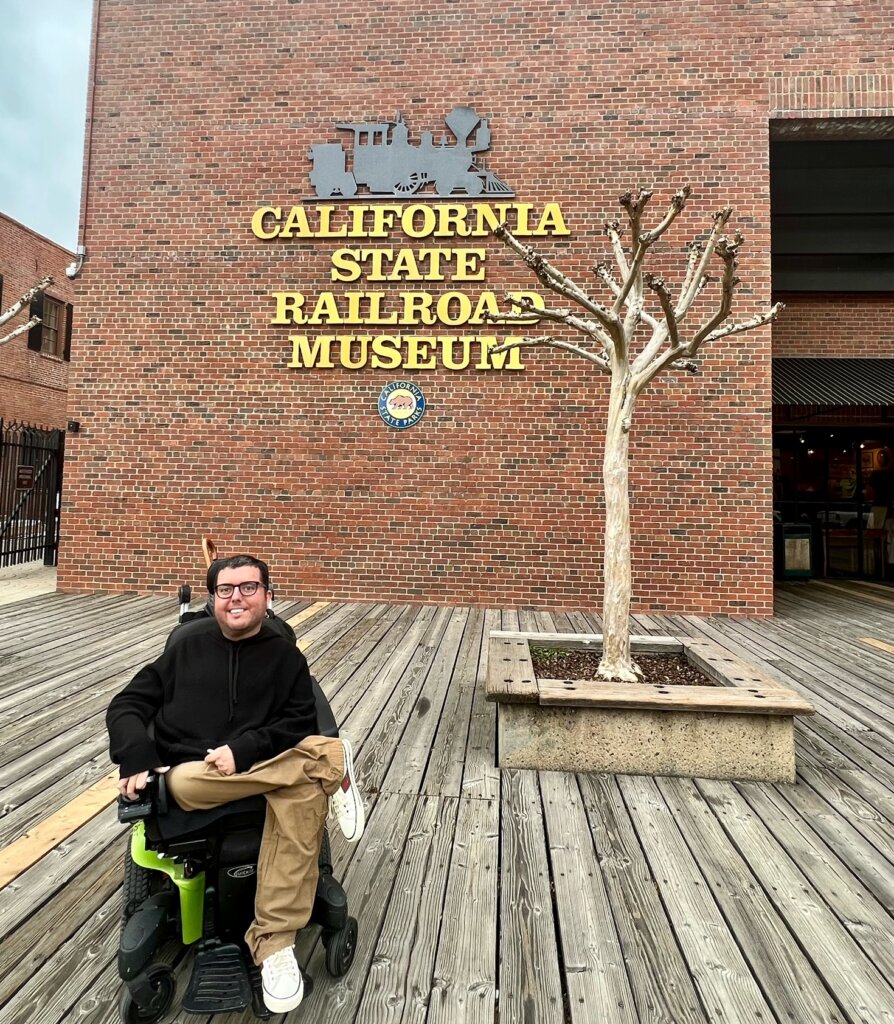 This museum is huge (over 225,000 square-feet) and it does a phenomenal job of detailing the history of the railroad in California and the West. That may seem like a very niche topic, but it was honestly fascinating. I'm usually not a big fan of museums (I'd rather be outside exploring most of the time), but I spent a couple hours trying to learn as much as possible in the California State Railroad Museum and it was such a fun museum. Before visiting, I never thought it'd be a highlight of my trip for me, but it absolutely was!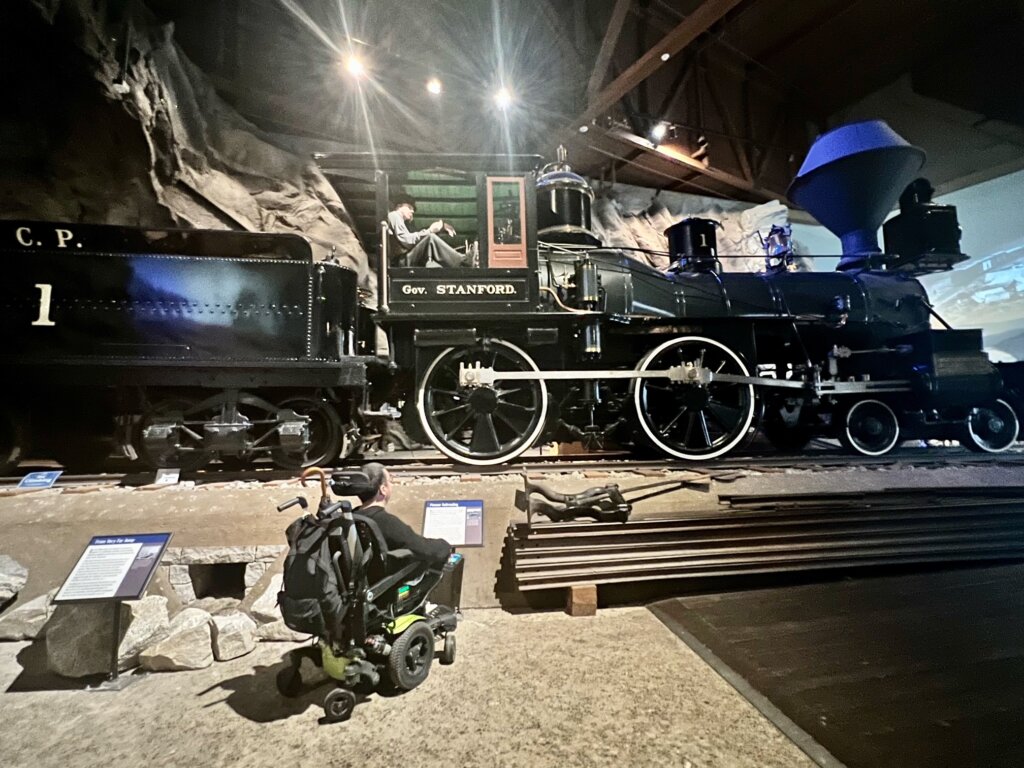 The entire museum is easy to maneuver with smooth floors and great access to the different levels of the museum. There are even wheelchair lifts to access some of the train cars, including the postal train car. While some of the trains in the museum aren't wheelchair accessible, I was really impressed with the effort that the museum has put into making as much of it accessible as possible.
If you'll be in Sacramento, definitely plan to visit the California State Railroad Museum. It is open every day of the week from 10am-5pm and admission costs $12 per adult. Trust me, it's worth that price and more! You'll have a wonderful time at this museum, no matter your age or abilities.
Where to Stay in Sacramento: Kimpton Sawyer Hotel
While in Sacramento, I stayed at the luxurious Kimpton Sawyer Hotel. It was fantastic and is probably one of my top ten favorite hotels I've ever stayed at for numerous reasons. For one, the staff was incredibly kind and helpful, but another reason why I loved it so much was because of the perfect location.
The hotel is located in downtown Sacramento in the DOCO (Downtown Commons) area. There are lots of restaurants and shops in this area and the Golden 1 Center, where the Sacramento Kings play, is directly across from the Kimpton Sawyer Hotel. The location couldn't have been more perfect!
In my wheelchair accessible room at the hotel, there were two queen beds. There was plenty of clearance underneath the beds for a hoyer lift/hoist and the beds were a pretty good height for self-transferring. We also had a mini fridge, a TV, and a desk in the room.
In the bathroom, there were grab bars by the toilet, a pull-under sink, and a roll-in shower. The roll-in shower had a fold-down seat and a handheld shower wand. The bathroom and shower were quite spacious and worked well for my accessibility needs.
The next time I'm in wheelchair accessible Sacramento, I hope to stay at the Kimpton Sawyer Hotel again. I have full confidence that it is the best place to stay in Sacramento and I am thrilled that it was so wheelchair accessible. Learn more about the Kimpton Sawyer Hotel and book a stay of your own by clicking here.
A Wheelchair Accessible Folsom, California Day Trip
For one of our days in the Sacramento area, we decided to do a day trip. There are several cool cities within a short driving distance of Sacramento, but we ultimately decided on Folsom, California. You may have heard of Folsom because it's home to Folsom Prison, where Johnny Cash performed in 1968, but there is so much more to this charming town!
Folsom is only about a 30 minute drive from Sacramento, so it's an easy, quick day trip (or even half a day) option. There's a lot to do in Folsom as a wheelchair user, but our first stop was the American River Bike Trail!
The American River Bike Trail stretches 32 miles from Folsom to Sacramento and I absolutely loved exploring part of it. The views of the American River are beautiful and the paved terrain was smooth for me to roll on with my wheelchair. If you want to enjoy the outdoors on a nice day, this is a fantastic wheelchair accessible trail!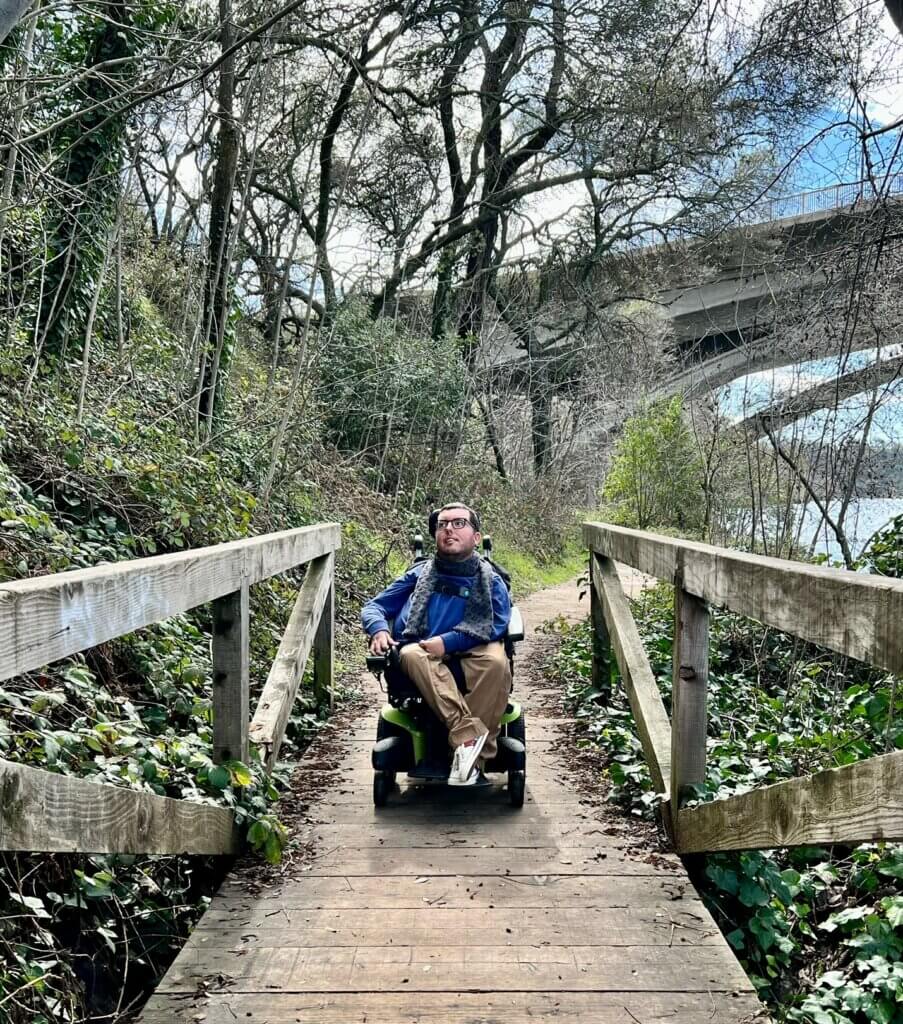 The entrance to the accessible section of the trail is just below Karen's Bakery in Historic Folsom. There is a parking lot with accessible spaces and just across the street, you'll find the entrance to the trail. The first quarter mile or so of the trail isn't very scenic, but keep rolling and you'll be rewarded with great views, I promise.
Folsom, California's downtown area (along Sutter Street) is so awesome and just a block or two from the American River Bike Trail. It's one of the cutest downtowns I've seen and not at all what I expected to see in California. When I think of California, I think of beach towns and big cities like Los Angeles and San Francisco, but Folsom reminds me of places like Juneau, Alaska or Gatlinburg, Tennessee. I absolutely loved it and spent a couple hours exploring Sutter Street.
Some of my favorite places along Sutter Street were the YNOT Art Studio, Snook's Chocolate Factory, and I had a delicious lunch at Scott's Seafood Roundhouse. I enjoyed the salmon with mashed potatoes and it was so good. I will say though that Scott's is the go-to spot for people in Folsom, so it can get pretty busy during peak hours. Just keep that in mind and maybe try going to eat either before or after the usual lunch/dinner hours.
Another really cool place that I visited on Sutter Street was the Folsom History Museum. This museum is small (only one level), but it is a great place to learn all about the unique history of Folsom and it is wheelchair accessible. The museum is open from Thursday-Monday every week from 11am-4pm and admission is only $9 per adult.
One interesting aspect of Folsom's history is that it is home to a powerhouse that used water from the American River to turn generators for electricity 22 miles away in Sacramento. In 1895, this was a huge deal (it still is pretty awesome) and you can tour the original powerhouse today.
The Folsom Powerhouse still has the massive General Electric transformers, which can conduct 800 to 11,000 volts of electricity, and you can see the control switchboard as well. It looks much like it did back in the late 1800s, so it was cool to see and wheelchair accessible. I had no issues rolling around the powerhouse and seeing everything.
My last stop in Folsom was the Folsom City Zoo Sanctuary. This zoo houses dozens of rescued wild and domestic animals, including bears, monkeys, and cougars just to name a few. Seeing the bears was my favorite, but the entire zoo was special.
There were smooth, paved paths throughout the entire zoo. I was able to see every animal from my wheelchair and it was a really enjoyable experience. Some parts of the zoo are a bit steep, but I didn't have any problems with a powered wheelchair. If you use a manual chair though, you might want to have someone with you to assist if needed, but only in a couple areas.
The Folsom City Zoo Sanctuary was the perfect place to end my day in Folsom, California. If you're in the Sacramento area, I cannot recommend a day trip to Folsom enough! Whether you want to enjoy accessible trails, shop downtown, or something else, Folsom is an amazing destination to consider visiting.
Over the course of a few days, I had a fun and memorable trip in California's capital city and the surrounding area. Your options are limitless for accessible things to do, there's great food, and accessibility is top-notch, no matter what your interests are. Now that you know what all there is to do in both Sacramento and Folsom as a wheelchair user, it's time to start planning your own accessible getaway to this part of California!
.
*Thank you to Visit California for working with me on this trip and showing me the best of wheelchair accessible Sacramento! While my experiences were complimentary, all opinions expressed are authentic and my own.
.
.