Let's be honest… there's a reason why I have never stayed in a vacation rental house. It's because wheelchair accessible vacation rentals are nearly impossible to find. They are far and very few between, so I have always just ended up booking a hotel instead. I mean, who wants to search around for hours online and then get to the destination, and the rental house turns out to not be quite as accessible as you were promised?! Not me! I always thought that a hotel was a safer bet, but after my recent experience at a wheelchair accessible vacation rental in Orange Beach, Alabama, I'll definitely bypass the hotels and search a bit longer for a house from now on. If you're looking for handicap accessible vacation rentals in
Orange Beach or Gulf Shores
, Alabama, I have the perfect recommendation for you. Get ready to be wowed!
 .
Wheelchair Accessible Vacation Rentals in Orange Beach
 .
For our three night stay in Orange Beach, my family and I stayed at Snell's Pace, a 3 bedroom/3 bathroom house that can sleep up to 17 people! Yes, you read that correctly… 17! This would be a great place to stay if you have a large family, but for my mom, stepdad, stepsister, and I, it was great as well. We had a ton of space and none of us ever felt cramped in the slightest. Trust me when I say that we were really living our best lives!
 .
.
Snell's Pace was on the bay and even had a dock, so you could dock your boat if you have one or go fishing. The beach was just a short drive (5-10 minutes) away too. Gulf Shores and Orange Beach have great accessibility, including beach wheelchairs and access mats on the sand. When you're not at the accessible vacation rental, you'll have plenty to keep you busy. Look at some of your options
by clicking here
.
 .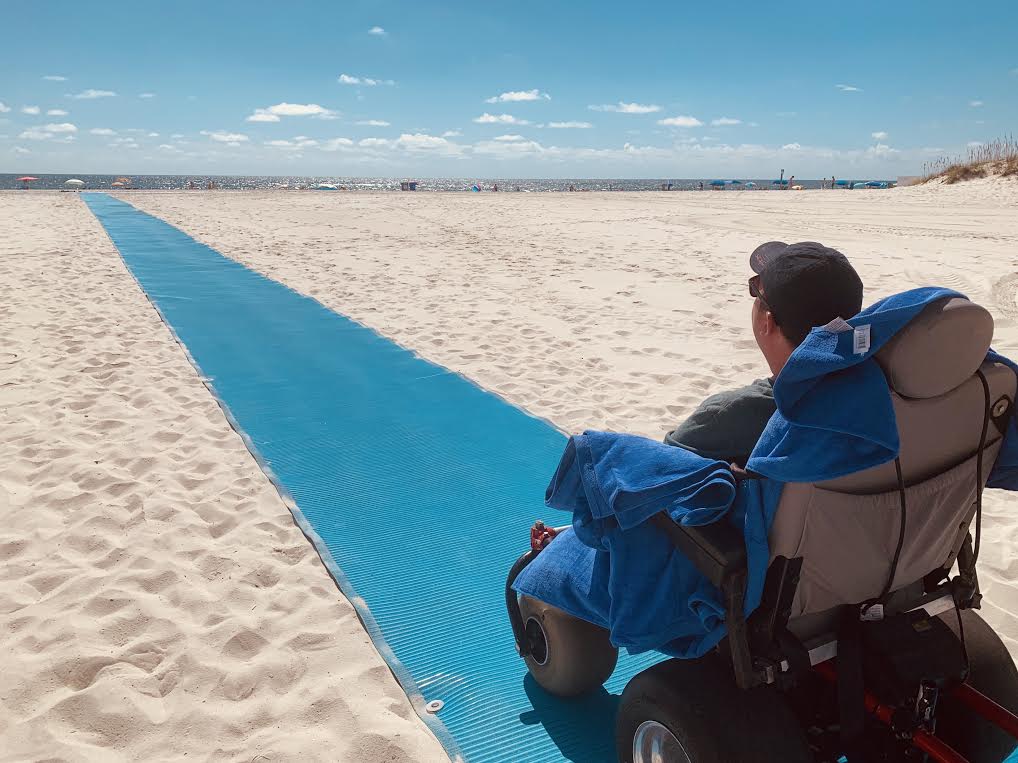 .
As soon as we arrived at Snell's Pace, which can be
rented on Vacasa.com
, I was immediately impressed by the long wooden ramp that stretched up to the deck. On the deck, there were tables, so this would be a nice spot to have a meal at or just watch the sunset.
 .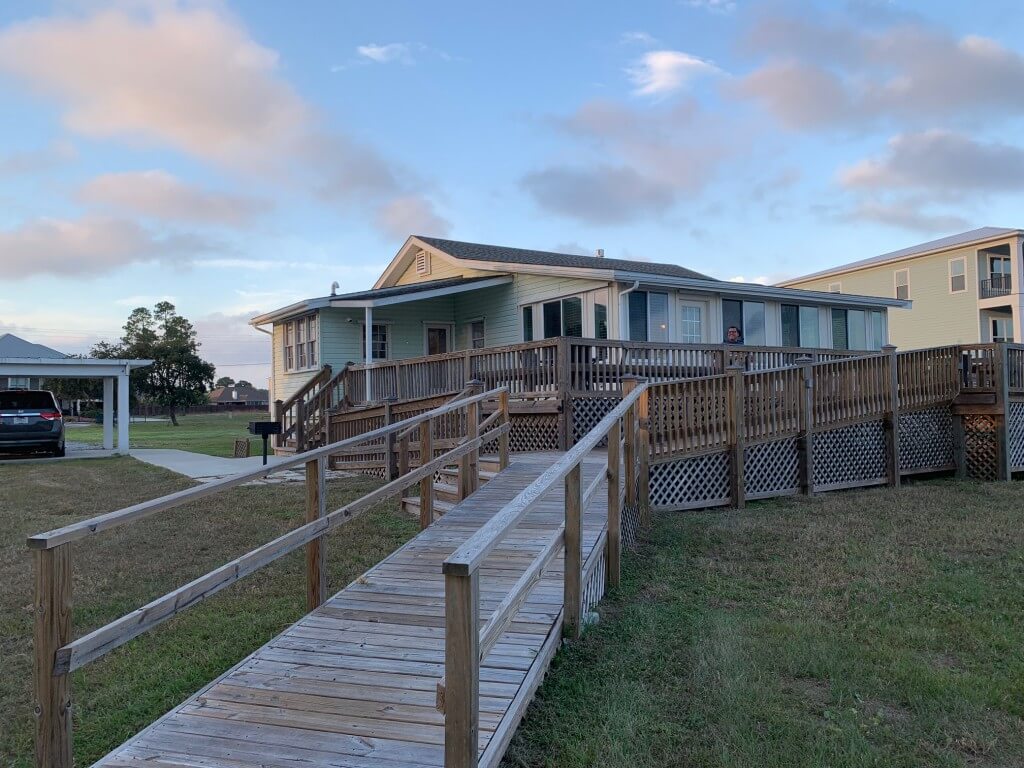 .
Inside, the house had all of the amenities that you could possibly wish for; a washer and dryer, WiFi, TVs, and exceptional access. The doorways were wide enough for my power wheelchair and the house was all on one level, so I could easily get to every room. I also loved that the entire house had a beach theme. There were decorations and it felt like I was in Orange Beach, which is great because I was!
 .
.
There was a full kitchen, complete with a refrigerator, stove, microwave, and more. If you can imagine it, it had it. The only thing you need to bring with you is the food. Of course, there are plenty of tasty restaurants in the area if you'd rather eat out, but cooking in the house might be a good way to save some money a few nights during your trip. There were two dining tables inside, plus the ones outside on the deck.
 .
.
.
.
Alternatively, if you want to enjoy a fantastic meal, but don't really feel like going out to a restaurant, you could even hire a private chef. On our first night in Orange Beach, Chef David Pan of
Orange Beach Concierge
came to the house and cooked us a remarkable four course meal. We had hummus and tabbouleh with fresh pita bread, a microgreens salad with beets, polenta with steamed kale and lima beans, and a chocolate cupcake with berries for dessert. It was seriously one of my favorite dining experiences ever and we didn't even have to leave the house to get it. If you feel like treating yourself, don't hesitate to reach out to Orange Beach Concierge. I promise you'll be glad you did.
.
.
 .
The living area had multiple couches and a large TV with premium cable access. It made for a perfect place to relax after a long day of seeing the sights and soaking up some rays on the beach. If your idea of relaxing includes playing some games, there were several board games for use as well.
.
 .
The house had 3 bedrooms, with the master bedroom at the far end of the hallway being the most wheelchair accessible. There was a queen bed and a hoist could easily roll under it if needed. There were also 4 twin bunk beds built into an alcove area. The bunk beds were not in my way at all since they were over to the side.
.
.
.
 .
The only thing more difficult than finding a great accessible rental house is finding wheelchair accessible vacation rentals with roll in shower options. I'm happy to say that the bathroom that connected to the master bedroom did have a roll-in shower to my delight! There was a ramp to get into it and it was a bit steep, but we made it work. As long as you have someone to help wheel you in there, you should definitely be okay.
 .
.
There were two other bedrooms, one of which had a king-sized bed with a queen sized hideaway bed and the other bedroom had a full-sized bed and three twin beds. I could roll into both of these rooms, but they weren't quite as spacious as the master bedroom. They did both have a TV and the full-sized bed + three twin beds room had a connecting bathroom. The third bathroom was off the hallway and had double vanity sinks with a tub and shower combination. With three bedrooms and three bathrooms, it was super easy for the four of us to get ready in the mornings. So much better than sharing a single bathroom in a hotel room!
.
.
.
 .
If you're looking for wheelchair accessible vacation rentals in beach destinations, Snell's Pace would be a wonderful choice. It's near the beautiful beaches of Gulf Shores and Orange Beach, Alabama and has plenty of space, whether you're bringing one person with you or 15. I can't wait to return to living the good life in this vacation rental!
 .
 .
 .
*Thank you to Gulf Shores and Orange Beach Tourism for working with me on this trip! While my stay was complimentary, all opinions are authentic and my own.
.
.
.