I visited Iceland for the first time back in 2015. During that trip, I fell in love with the capital city of Reykjavík,
swam in the Blue Lagoon
, and explored the famous Golden Circle. After that trip, I felt like I had seen a lot of the country, but really, I had barely scratched the surface.
As I continued to read about Iceland after that first trip, I quickly realized how much more there was to see and do. Many places were jotted down on my list of possible sights to see on a future visit, but the South Coast was at the very top for me. With waterfalls, black sand beaches, glaciers, and so much more, how could it not be at the top of my list?!
Fast forward a few years and I was finally planning my return trip to Iceland and I was determined to see as much of the South Coast as possible. In fact, I decided to make Iceland the destination for the 2019 Curb Free Group Trip!
With the help of the amazing team at
Iceland Unlimited
, a tour company that specializes in accessible travel throughout Iceland, six of us (3 wheelchair users + 3 companions) had the time of our lives during our eight day trip.
The South Coast of Iceland blew us away with its natural beauty and despite being somewhat rugged and adventurous, we found that it certainly had a lot to offer people of all abilities. Here are 10 of the most wheelchair accessible places to visit along the South Coast of Iceland –
Things to Do in the South Coast of Iceland
Kerid Volcanic Crater
If you're visiting Iceland, there's a good chance that you'll be touring the Golden Circle. An additional stop that you should make once you're finished with the Golden Circle's three main sights (
read about them here
!) is Kerid.
Kerid is just a 30-40 minute drive from the other Golden Circle sights, and while not as many people visit Kerid, it is equally, or maybe even more, impressive. In fact, one of the members of my Curb Free Group Trip said that this was her favorite stop of the entire trip!
Wondering what exactly Kerid is? Well, it's a volcanic crater lake that is a few thousand years old. Sounds pretty old, right? It is, but Kerid is actually only about half the age of most of Iceland's volcanic calderas, so it's slopes are more red, whereas the older ones are black.
The red really pops against the Icelandic scenery and the water inside the crater is vividly blue. It was quite a spectacle to see and I never expected for a volcanic crater to be so beautiful.
Accessibility-wise, there is a smooth path all the way up to the crater viewing area. I had no problem seeing the volcanic crater lake and I took too many plenty of selfies with Kerid. This may be a place that's often overlooked for trips along the South Coast of Iceland, but it certainly shouldn't be.
Seljalandsfoss Waterfall
Less than two hours from the capital city of Reykjavík is one of the country's most jaw-dropping things to see – Seljalandsfoss!
I've seen waterfalls all around the world and this one impressed me so much. It easily became one of my favorite things in Iceland and I would highly recommend visiting, as Seljalandsfoss is also wheelchair friendly.
Seljalandsfoss is about 200 feet high, but the cascade of the falls is relatively narrow compared to some of Iceland's other waterfalls. In no way though does that make it any less impressive.
What made me really fall in love with
Seljalandsfoss
was the fact that I could get so close to it. A paved path went from the parking lot all the way up to, and partly around, the waterfall.
I could almost feel the power of Seljalandsfoss by being so close to it and I did get a bit wet from the mist, but no complaints. As Iceland's most accessible waterfall, I was taking full advantage of every view and photo opportunity that I could.
Skogafoss Waterfall
Only a short drive from Seljalandsfoss is another stunning waterfall known as Skogafoss. Skogafoss is probably the most Instagram-worthy waterfall in all of Iceland and while it is possible to visit it as a wheelchair user, it's not quite as easy as Seljalandsfoss.
At more than 80 feet wide and approximately 200 feet tall, it's easy to see the mighty Skogafoss from a distance, but you can also get extremely close to it if you like. There is a path that goes to the waterfall, but it's excessively bumpy for a wheelchair.
I went about halfway down the path, where I could still have a great view without getting jarred around too much. The path is totally possible with a wheelchair, so don't be deterred… just be mentally prepared for a bit of a bumpy journey.
A couple recommendations if you're planning to visit Skogafoss: plan to get there early and take your time enjoying the view. Skogafoss is very popular, so the earlier you can get to it, the less crowded it will likely be. Also, take the time to actually enjoy viewing the waterfall. Iceland has a beauty like nowhere else, so soak it up all you can.
Reynisfjara Black Sand Beach
Before touring the South Coast of Iceland, I told the team at Iceland Unlimited that the one place I wanted to visit more than anywhere else was a black sand beach. Online, it looked otherworldly and I felt like I needed to see it to believe it. Was it actually real?! Could it be?!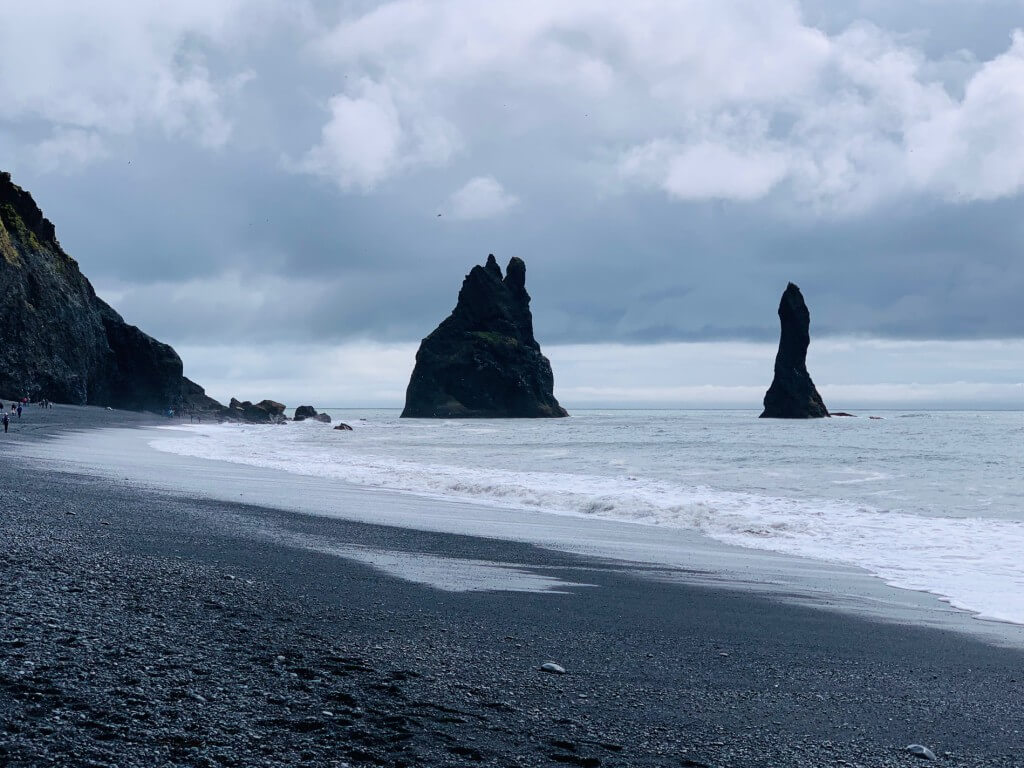 Iceland Unlimited made my wish of seeing a black sand beach come true on the South Coast. The sand really was black and as soon as I laid my eyes upon it, I felt like I was in an episode of Game of Thrones. Reynisfjara has actually appeared in an episode of GOT, so no wonder I felt like that.
The sand at Reynisfjara is black because it was formed from heavily eroded volcanic rocks. Therefore, since Iceland has a lot more volcanoes than most beach destinations, some of its beaches have black sand.
While beach wheelchairs are not available at Reynisfjara, it's still relatively wheelchair accessible. I couldn't roll my powered wheelchair on the main part of the sand where it's not hard-packed, but I was able to roll on a small area of the beach near the parking lot.
From the accessible area, I could see how gorgeous the waves crashing against the shore were and I could see the towering basalt columns as well. I could have sat there for hours admiring the scenery to be honest, but eventually we had to get to our next South Coast stop.
The Village of Vík í Myrdal
Vík is the southernmost village on the mainland of Iceland and a perfect stop during any trip in the South Coast. It's a charming village near many of the South Coast's best sights, so it's a good location for visitors to get a hotel for at least a night or two. We stayed at Hotel Katla, which I'll discuss later in this article.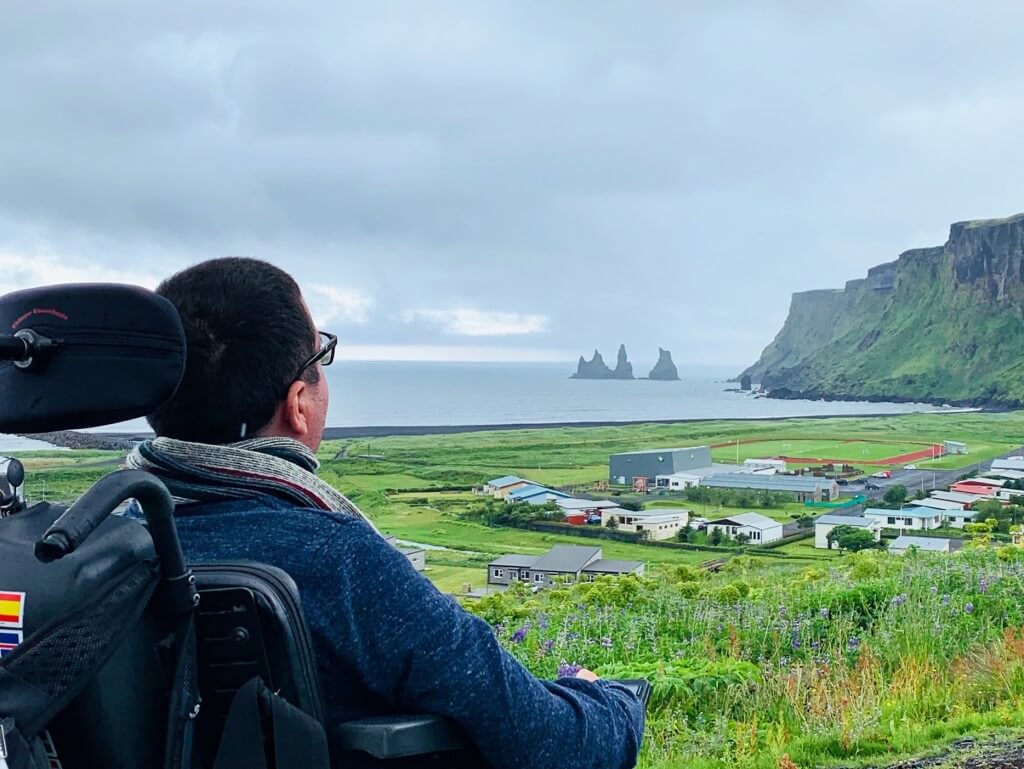 Whether you are staying overnight in Vík or just driving through as you travel the South Coast, it's worth taking some time to visit the massive Icewear store inside the mall.
Icewear
had every souvenir that I could possibly imagine, including the famous wool sweaters, and if you're a shopaholic, plan to spend at least an hour or four here.
Another great attraction in downtown Vík is Reyniskirkja. Reyniskirkja is a quaint church that was built in 1929. It sits at the top of a hill overlooking Vík and the views are spectacular.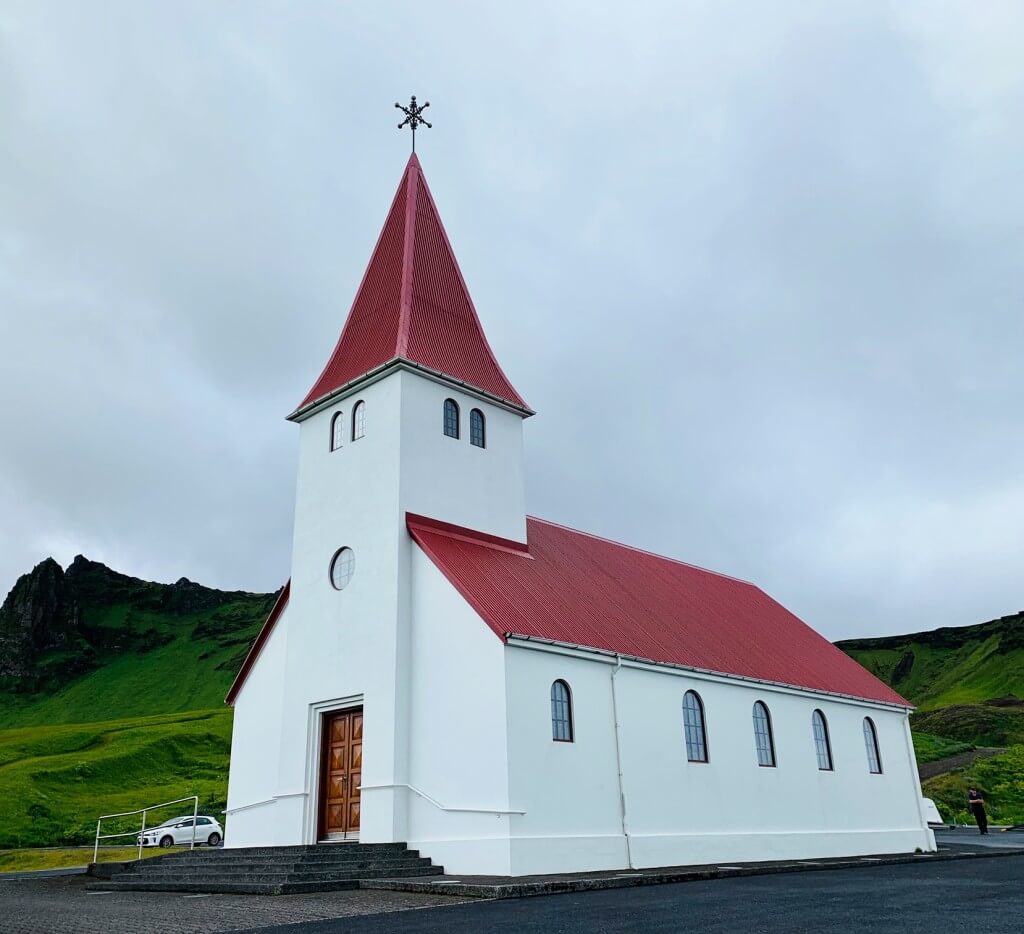 Skaftafell Visitor Center & Falljokull Glacier
A little further east on the South Coast of Iceland is the Skaftafell Visitor Center and its main attraction, the nearby Falljokull Glacier. This is all part of the large Vatnajökull National Park. The national park is huge and could be explored for days, but if you're short on time, this is just one area to check out.
Inside the Skaftafell Visitor Center, there was a small gift shop and they show an informative and interesting documentary throughout the day. The documentary lasted only about 20 minutes, but I learned about the national park and the glaciers that encompass it. Since glaciers technically aren't "accessible", this was a good way to see them.
We couldn't roll on the glaciers and go hiking like many able-bodied visitors do, but from the Visitor Center, we had a pretty good view of Falljokull Glacier. Falljokull is part of the giant Vatnajökull Glacier, which is actually the largest glacier in all of Europe. It was cool to see it, even though it was from a distance.
Jökulsárlón Glacier Lagoon
Before my trip around the South Coast, I had never heard of Jökulsárlón, but the team at Iceland Unlimited said that it was a must-do. I trusted them, so we decided to add it to the itinerary and wow, I am so glad that we did. It is now my absolute favorite place in Iceland.
Jökulsárlón is a glacier lagoon that is full of icebergs. Some of the ice is over 1,000 years old, but the glacier lagoon first started forming in 1934, when a glacier began retreating and left the lagoon in its path. Jökulsárlón also happens to be Iceland's deepest lake, so don't jump in if you can't swim (or even if you can actually).
From the parking lot to the viewing area, it is not paved, so it's quite bumpy for a wheelchair. My wheelchair did pretty well though and it was definitely worth getting bumped around a bit for the view.
Jökulsárlón Glacier Lagoon
is a sight like no other and as Iceland Unlimited said, it's a must-do on any South Coast itinerary. It's one of those rare places that you just have to see to believe, as photos can't do it justice.
When I was there in person looking at all of the icebergs, it was a beautiful and moving experience for me, and a good reminder that nature is truly incredible.
Diamond Beach
Just a few minutes drive from Jökulsárlón Glacier Lagoon is another place that shouldn't be missed – Diamond Beach!
The icebergs from Jökulsárlón wash up on the shore here and since the sand is black, the large pieces of ice really pop and sparkle. The ice looks like diamonds on the shore, which is why it's called Diamond Beach.
Accessibility at Diamond Beach isn't the greatest, but if you're already visiting Jökulsárlón, it's worth popping over for a few minutes since it's so close. I, of course, couldn't roll in the sand to get close to the "diamonds", but I could see them from a distance at the parking lot.
It was still a pretty sight and even though I didn't have the best view up close, it was enjoyable.
Dyrhólaey (and puffins!!)
Since my first visit to Iceland in 2015, I have dreamed of seeing puffins in person. I told our driver/guide that I wanted to see puffins if at all possible, and luckily he knew just the spot! Dyrhólaey is in Vik, so on our last morning, we set out to try to see puffins.
Dyrhólaey is a small peninsula and during the summer, puffins frequently nest on the cliffs here. I hoped that we would get lucky and be able to see them, and the universe must have heard my wishes.
We saw so many puffins at Dyrhólaey within just minutes of arriving! They were flying around and many were just hanging out on the cliffs. The puffins put on quite a show for us and my Icelandic bucket list was now complete.
To get to the viewing area where the puffins are visible, it was graveled. My wheelchair didn't have any problems and it wasn't too bumpy. There was an additional viewing area up a hill and I tried to roll to the top of it as well, but got stuck. If you visit in a wheelchair, stick to the lower section.
LAVA Centre
On the drive back to
Reykjavík
from Vík, we had one more stop to make at LAVA Centre. As you probably already know, Iceland has many volcanoes (more than 30 active volcanic systems!!), so the LAVA Centre gives visitors a chance to learn more about volcanoes.
LAVA Centre is a high-tech, interactive museum that depicts earthquakes, volcanic activity, and it shows how the country of Iceland was created. It was a fascinating museum and completely wheelchair accessible.
There was also a short film to enjoy in the cinema, accessible restrooms, a large souvenir store, and an on-site restaurant and cafe. LAVA Centre was the perfect last stop on our epic tour along the South Coast of Iceland.
Where to Stay: Hotel Katla
While exploring the South Coast, we stayed in the city of Vík at
Hotel Katla
. It was in an ideal location near the black sand beaches and downtown Vík, and only a short drive from other South Coast sights.
My wheelchair accessible room was spacious and had two twin beds. I was thrilled to see that a Hoyer lift could easily roll under the beds as well.
In the bathroom, there was a spacious roll-in shower and grab bars on both sides of the toilet. My entire room was perfectly accessible for my needs.
Hotel Katla offers free WiFi, complimentary breakfast, and complimentary parking. The on-site restaurant was great and offered Icelandic specialties like fermented shark and the ever-popular Brennivin. You have to try these at least once in your life.
My time on the South Coast of Iceland surpassed all of my expectations… and my expectations were pretty high to begin with. I was in constant awe of the natural beauty and while not everything was 100% accessible, I was happy to see that they're trying to make it as accommodating as possible.
I had a phenomenal time and would highly recommend touring the South Coast with
Iceland Unlimited
. They took all of the stress out of our journey, which allowed us to all have a more enjoyable and fun adventure.
*
Thank you to Iceland Unlimited for showing us the best things to do on the South Coast of Iceland! While my experiences were complimentary or discounted, all opinions expressed are authentic and my own. This post contains affiliate links. If you click through on a link, you won't pay a penny more, but we'll receive a slight commission which helps us keep this information available to you. Thanks!
.
.
.