When the weather is warm, it's always great to be able to spend some time outside. There are so many outdoor activities in Chattanooga that it can be difficult to decide where to go and what to do. The best outdoor activities in Chattanooga TN for wheelchair users are visiting parks, as Chattanooga TN parks provide paved paths and trails with museums, picnic space, fishing, and lots of trees and sunshine.
For those that would like to explore Chattanooga attractions that are mostly outdoors, there's Rock City, the zoo, and the market.
All of these parks and attractions are wheelchair accessible, giving you a place to go, a thing to do, and some outdoor time all in one.
Accessible Chattanooga TN Parks
Tennessee RiverPark
The first stop in exploring the Chattanooga outdoors is the Tennessee Riverwalk at Tennessee RiverPark. This is a great place for outdoor activities in Chattanooga. The Riverwalk is a 13 mile paved trail that follows the Tennessee River, giving a great vantage point to explore nature, culture, and a range of dining options.
The trail can start near the Tennessee Aquarium on Broad Street, and then goes to the Bluff View Art District. Past the art district, along the trail, is the Battery Place neighborhood. This neighborhood gets really close to the river's edge, making it a good location to take in the old trees, waterfront homes, and visit the water. The trail ends at Chickamauga Dam (or you could start at the Chickamauga Dam and do it in reverse, which I often do), but along the trail there are places to drive in and out, so you don't have to explore all 13 miles in one trip.
This is one of Chattanooga's great parks for wheelchair users. The entire 13 miles is a paved trail, which provides a smooth ride from start to finish. Along the path, there are several entry points, so you don't have to do the whole path in one day.
In terms of wheelchair friendly stops, there are seven wheelchair accessible bathrooms, which all include water fountains and toilets. The path has security, is well lit, and is marked at every one-mile distance. There are even picnic spaces and wheelchair accessible fishing piers.
Coolidge Park
On the other side of the Tennessee River from the Riverwalk, and across the beautiful Walnut Street Bridge, is Coolidge Park. This is a popular start and finish for many outdoor walks, as there are lots of parking options. The park itself is a great place for a stroll or a picnic, offering lots of Chattanooga outdoor activities. There are several local Chattanooga restaurants within a short distance, including two of my favorites – Cashew and Good Dog. This makes Coolidge Park a great place to take your lunch and enjoy the river.
This park is home to an interactive water fountain, which is both fun to play with and fun to watch. The open space park has plenty of room for picnics and dining, either one you packed or one you picked up down the street. Cashew is a plant-based vegan cafe that offers salads, sandwiches, and bowls that have classic flavor profiles. There are meatball subs, pizza, and nachos, all with plant and vegan components. Another great place is Good Dog, which offers a "hotdog for all". There are traditional beef hotdogs as well as vegan options, with fun flavors like BBQ and fajita.
If you're looking for a quiet natural space, spend some time in The Peace Grove. This area was added in 2006 as a circular space featuring trees to represent Chattanooga's sister cities. The space was designed to celebrate friendship and community, which is also a nice place to sit in peace and quiet surrounded by nature.
Coolidge Park is a great place for wheelchair users, as there are paved paths throughout. It's close to many parking lots, so you can enjoy the park and won't have to worry about where to start.
Point Park
Fans of local history will want to check out Point Park, a 10 acre memorial park that overlooks Chattanooga and the Lookout Mountain Battlefield. The paved walking paths lead visitors to monuments, as well as the scenic overlook to take in the view. The largest monument in the park is the New York Peace Memorial, which was built by the state of NY to stand as a tribute to peace and reconciliation with veterans. Admission to the park is $7 per adult.
This is one of the great outdoor activities in Chattanooga TN for anyone that likes a destination or something to explore while spending time outside. The views, the park, and the history can be a great motivator for spending time outdoors. With the Visitor's Center, there's also space to get out of the sun and continue learning about the area. The paved paths make it easy for wheelchair users to enjoy every stop and get a great vantage point.
Any trip to Point Park isn't complete without stopping at Clumpie's. This ice cream shop makes every batch by hand with quality ingredients. These small batches, often 10 gallons or less, offer a rich and creamy scoop that you can't get anywhere else. There are a few Clumpie's locations throughout Chattanooga, but the one at Point Park is seasonal, which makes it that much more fun to stop at during the warmer months.
Chester Frost Park
For an authentic Chattanooga outdoors experience, try camping at Chester Frost Park. There are 228 campsites with a range of locations including waterfront, interior, tent spaces, utility spaces, and even primitive camping. If camping isn't your style though, you can still spend the day in nature at this park, with open air shelters and pavilions available for rental. A couple of the shelters offer ADA restrooms.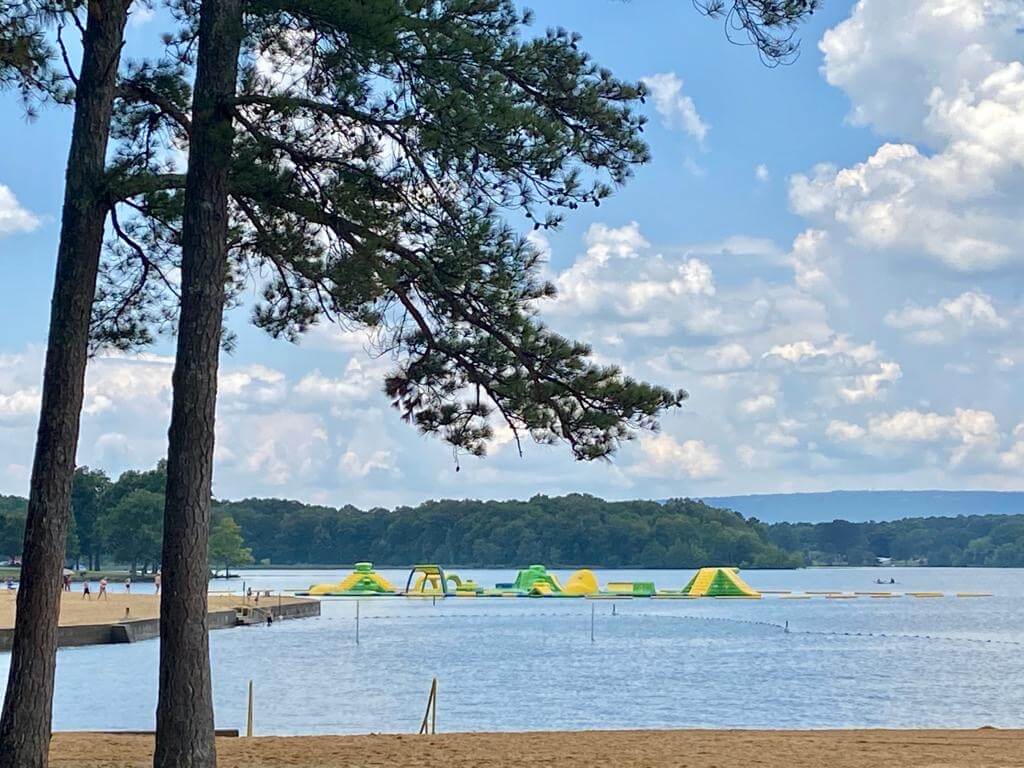 This park is great for truly getting out into nature. There is a beach space, fishing piers, boat ramps, a playground, picnic spaces, restrooms, and tennis courts, all for that full park experience. There are paved paths as well, which help make the natural landscape wheelchair accessible. The great views, natural setting, and ability to camp make this park a great spot for Chattanooga outdoor activities.
Accessible Mostly-Outdoor Attractions in Chattanooga
Rock City
Another outdoor activity destination with plenty to do is Rock City, located 6 miles from downtown Chattanooga, atop Lookout Mountain and near Point Park. There are massive natural rock formations, natural gardens with native plants, and a view that boasts you can "see 7 states." This is a great destination at any time, as each season brings something new to Rock City.
Rock City is wheelchair friendly to some degree. The entrance has an ADA ramp that leads to Legacy Lane, which is a ½ mile trail that is part of the Enchanted Trail. This path leads to the overlook and the Seven States Flag Court. If you're looking for outdoor activities in Chattanooga, this is a highly recommended destination, as it offers plenty of natural landscaping and native wildlife.
Read my full article about accessibility at Rock City by clicking here.
Chattanooga Zoo
Visiting a local zoo is always a great way to get outside and explore, while also having spaces to get inside out of the heat or the sun. The Chattanooga Zoo is highly recommended, as you can practically travel the globe all in one place. The zoo has wide paths that connect circles of exhibits to each other. This is a great setup for taking your time, setting your own pace, and visiting the wildlife.
The Chattanooga Zoo is very wheelchair friendly, including accessible pathways, bathrooms, and exhibits. Visiting the zoo is a recommended outdoor activity in Chattanooga because there's something for the whole family and plenty of shade, places to pause, take a break, or go inside.
Read my full article about the Chattanooga Zoo by clicking here.
Chattanooga Market
Lastly, getting outdoors can be an exciting experience at the Chattanooga Market. This local farmer's market brings vendors, music, and neighbors together to create a sense of community. Markets are set up every Sunday and offer local produce, meals, and artisans. The market is usually a source of entertainment as well, with options to sample local goods, listen to live music, and eat a meal or snack while you visit and shop.
There are several markets to choose from and often, the market is a place of celebration for local festivals. The market is wheelchair friendly, with larger crowds and popular hours of operation making it more congested.
I recently had a chance to interview Marissa Bell, the Public Relations Manager for Visit Chattanooga, for my #CurbFreeFromHome Facebook Live series. We talked all about accessibility in Chattanooga and what makes it a fantastic place to visit. Check out our chat by watching the video below –
Whether you're a fan of the outdoors and enjoy all the Chattanooga TN parks, or you'd rather spend some time outside while also having an opportunity to see new things inside, Chattanooga offers a range of outdoor wheelchair accessible activities. Spending time in the parks with paved paths and plenty to do provides some of the best outdoor activities in Chattanooga TN to enjoy the weather, dining options, museums, the zoo, and shopping.
.
.