Throughout my life, I have explored a lot of Tennessee. I learned all about Elvis at Graceland in Memphis, I've explored the Great Smoky Mountains National Park and the nearby tourist towns of Gatlinburg and Pigeon Forge numerous times, Nashville is somewhere that I go to at least a couple times every year, and I live in northwest Georgia, which is only about 45 minutes away from Chattanooga, Tennessee. I thought that I had seen the best of what Tennessee has to offer, but it turns out that there are some lesser-known cities that are just as worthy of visiting as the popular destinations. I learned this recently on a four-day, three-night trip to the spectacular city of Franklin, Tennessee.
Franklin is a short 25-minute drive from Nashville, making it the perfect destination for anything from a day trip to a weekend getaway or even a longer stay. There is a lot to see in Franklin and I recently checked out its wheelchair accessible offerings. From rolling in the great outdoors on accessible trails to enjoying a variety of adult beverages at the area's best distilleries, breweries, and wineries, there was certainly no shortage of wheelchair accessible Franklin Tennessee attractions.
In this guide, I'll share with you some of the best things to do in Franklin as a wheelchair user and where to stay. After reading this article, you should be fully prepared to have a great time on your own trip to Franklin, Tennessee.
Wheelchair Accessible Franklin Tennessee Attractions and Things to Do
Shop and explore in Franklin
While in Franklin, I stayed at The Harpeth Hotel (more details about that in just a bit, I promise!) and it was just a short walk/roll away from all of the hustle-and-bustle in downtown. I easily rolled to the downtown area several times, thanks to smooth sidewalks and curb cuts. In many southern cities, the downtown area can often be very hit-or-miss with accessibility, but downtown Franklin is incredibly easy to navigate as a wheelchair user.
Downtown Franklin is bustling with activity and has a plethora of shops, restaurants, and sights to explore. In just a few hours on my first roll through downtown, I saw people tap-dancing on the square, more dogs than I could even count (Franklin is extremely pet-friendly), and there was an overall friendliness that made me feel welcomed. It's no wonder why Southern Living named Franklin one of the South's Best Small Towns! If you spend any amount of time downtown, you'll see why it's deserving of the accolade.
There are dozens of great shops downtown, but some of my personal favorites were White's Mercantile (all things southern and owned by Holly Williams, daughter of country singer Hank Williams, Jr), Landmark Booksellers (a quaint, but accessible, bookstore that is often frequented by Franklin's famous residents), and Bink's Outfitters (a huge store that carries brands such as The North Face, Patagonia, Prana, etc). There are also several places to satisfy your sweet tooth downtown. The fudge and caramel apples at Kilwins are amazing, but if you're in the mood for some frozen yogurt on a hot day, check out Sweet Cece's.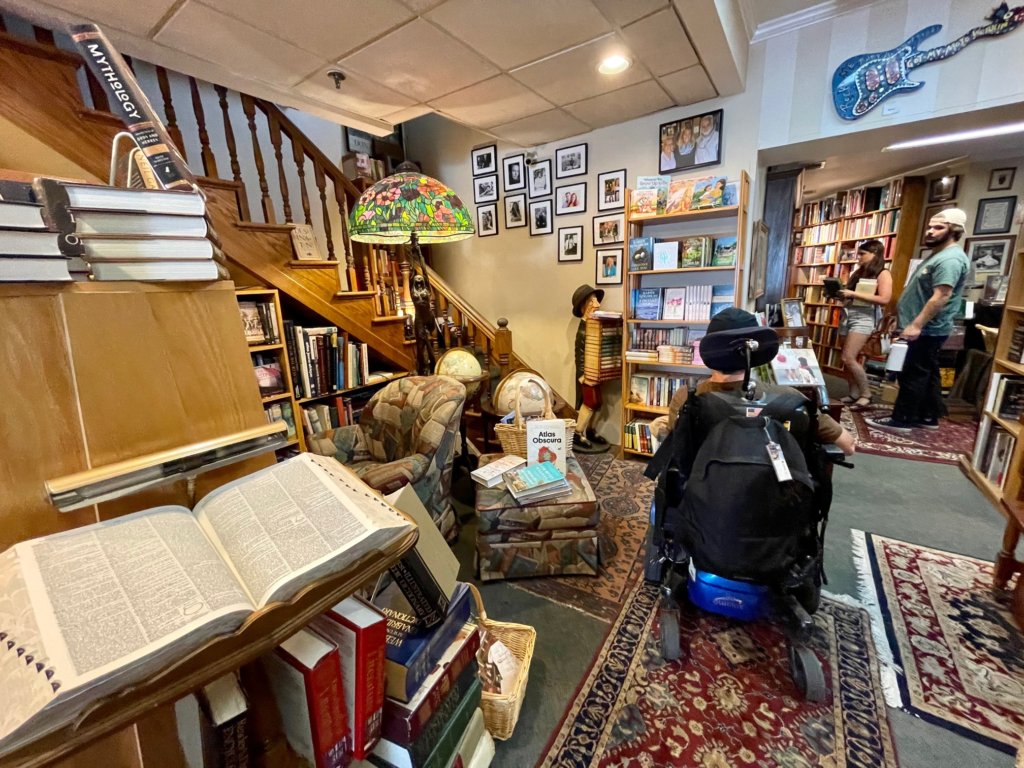 To make your time exploring downtown even better, consider downloading one of Franklin's Digital Passports. The digital passports enable visitors to do self-guided tours, see some of Franklin's best spots, and even get rewarded after "checking in" to multiple places. There are a variety of options for self-guided tour themes, including the Craft Coffee Trail, Historic Homes of Hincheyville, Great American Main Street, and my favorite, the Sweet Treats Trail. Check out all of the Digital Passports and self-guided tours on Visit Franklin's website by clicking here.
Just a short drive away from downtown is another must-visit on any Franklin trip, The Factory at Franklin. It used to be a stove factory that began in 1929, but The Factory at Franklin is now so much more. It is currently the home to dozens of shops, eateries, businesses, and even performance venues.
I explored The Factory at Franklin for a couple hours, but you could easily spend half of a day here. If you're a shopaholic, plan for at least a few hours because there are some seriously unique shops here. I loved shopping around, but since I'm a bit of a foodie, Five Daughters Bakery was my favorite place. They are famous for their 100-layer donuts, which I had to try. It was as delicious as it sounds, so be sure to get one of your own while at The Factory at Franklin.
Visit breweries & get your drink on
After exploring downtown Franklin's iconic Main Street and The Factory at Franklin, you'll probably be ready to chill out for a while. What better way to do that than with a beer or four?! Franklin's beer scene has grown a lot in recent years, so you can definitely find some great beer. I was able to visit a couple breweries during my time in Franklin and they were both nice places to hang out after long days of sightseeing.
The first brewery that I visited was Curio Brewing Company. Just a short drive from downtown Franklin, this place not only brews beer, but coffee as well. It is a coffee and beer taproom, so whether you need a pick-me-up in the morning or a cold beer at night (or in the morning, I'm not judging!), Curio Brewing Company has you covered.
One of my favorite things about Curio was the names of their beers. Some of the more interesting beer names were Woke AF, Kilt the Cat, and Sergio's Ole Evil Ass Devil Bullshit Ale (I kid you not… that was the beer's name! Hahaa!). I opted to try the Orange U Curious beer, which was an Orange Hazy IPA. To be honest, I'm usually not a huge beer fan, but it was quite good. I went into a back room, which had a huge projector showing hockey games, and enjoyed drinking it.
I also had the chance to visit another brewery in nearby Nolensville, Tennessee. It was Mill Creek Brewing Company and on the night that I visited, it was pretty busy and had a fun environment. If you check the calendar on their website, you'll see that they frequently have trivia nights, live performers, and more. Mill Creek is family-friendly as well and I saw several children during my time there.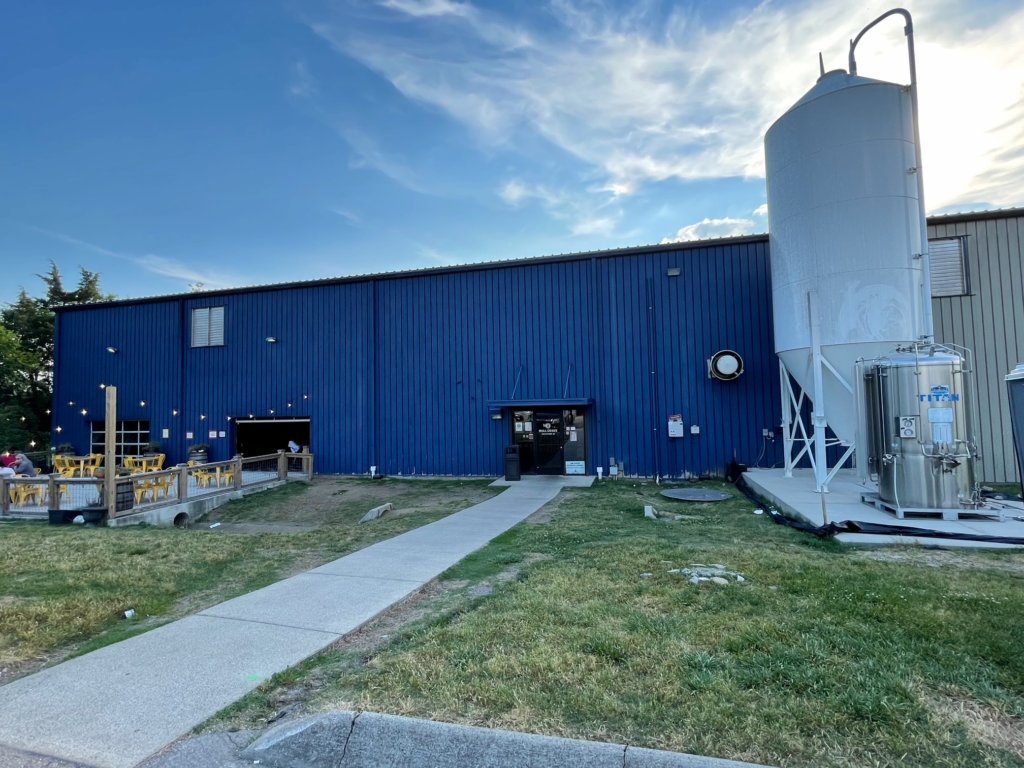 A full food menu is available at Mill Creek Brewing Company, but the star of the show is the beer, of course. I asked one of the staff members what their most popular beer is and she told me about the Lil Darlin. I tried it and was pleasantly surprised. The Lil Darlin is a citrus infused wheat beer and I would highly recommend getting it.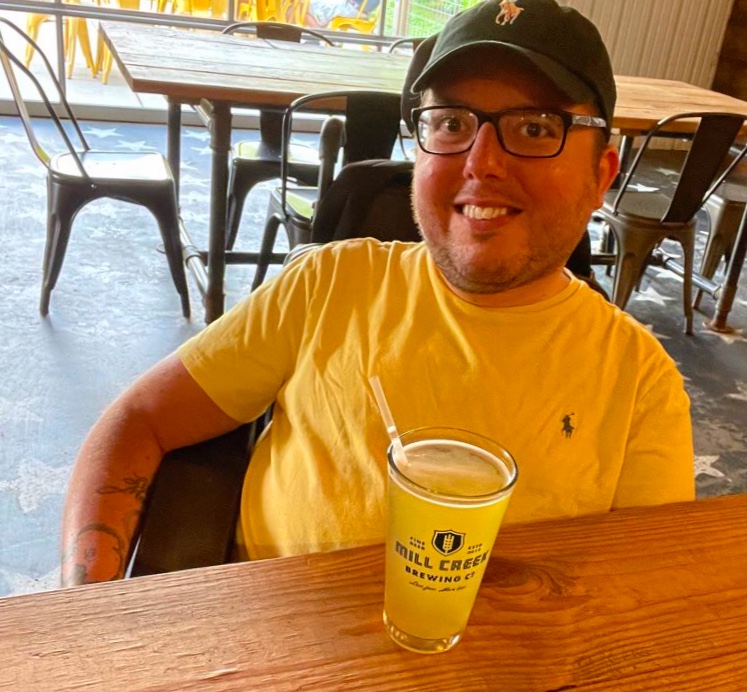 Accessibility at both Curio Brewing Company and Mill Creek Brewing Company was good overall, but if you only have time to visit one, I'd go with Mill Creek. It was much more spacious and had an easily accessible entrance. At Curio, I didn't see a smooth ramp from the parking lot onto the sidewalk, so I had to jump a 1-2 inch step to get on the sidewalk. It took a few tries, but my motorized wheelchair finally conquered it. It was definitely doable, but could be improved. Everything else at Curio though was fantastic!
Get your drink on some more at the area's best distilleries
If you're looking for something a bit stronger than beer, there are a couple great distilleries near Franklin serving some of the best whiskey in the state. There are 25 distilleries on the Tennessee Whiskey Trail, ranging from well-known distillers like Jack Daniel to lesser-known micro-distilleries. While in Williamson County (the county that Franklin calls home), I had the chance to visit two local distilleries that are featured on the Tennessee Whiskey Trail: H Clark Distillery and Leiper's Fork Distillery.
H Clark Distillery is in Thompson's Station, which is just a short drive from Franklin. What makes this distillery so special is the fact that they have a huge focus on quality over quantity. They aren't trying to churn out hundreds of thousands of bottles every week, but instead, they want to take their time creating really great products.
The main entrance of H Clark Distillery has steps, but as soon as I arrived for a tour and tasting, the staff came outside and led me to a ramp that is in the back of the building. Within seconds, I was inside and ready to taste some of their bourbon, gin, and Black & Tan whiskey. They did a fantastic job of explaining each step of the process of how it's made and teaching me the difference between types of whiskeys. It was a lot of fun to learn about the origins of H Clark Distillery as well. In 2014, this distillery became the first legal distillery in Williamson County in over 100 years. They have certainly came a long way since then!
Learning about the history and operations of H Clark Distillery was great, but the best part was tasting the different whiskeys. I had five small samples/shots of the various products that the distillery makes, and the Tennessee Black & Tan ended up being my favorite. If you'd like to do a tour of H Clark Distillery, they are offered seven days per week and it's completely free, but if you want to do a tasting, which I'd highly recommend, the tasting is $15. You can reserve a tour here.
The next distillery that I visited was Leiper's Fork Distillery. While larger than H Clark Distillery, they were both similar in the fact that they focus on quality over quantity. On the Leiper's Fork Distillery website, they say that they pour their "heart and soul into every drop of whiskey we make from grain to glass" and I certainly noticed that during my tour.
Leiper's Fork Distillery is wheelchair accessible and I had no problems getting around. Accessible parking spaces are available at the main entrance, where a ramp leads to the door.
The tour at Leiper's Fork Distillery lasted for about 45 minutes and it was really cool! This distillery opened in 2016 and I loved hearing about what all they've done since then. After the tour, we were able to do a tasting, where we tried three different whiskeys: Tennessee Whiskey (my favorite), Bourbon Whiskey, and Tennessee White Whiskey. Learn more about Leiper's Fork Distillery and book your own tour here.
Learn about the history of Franklin
There is a ton of history in Franklin, Tennessee and much of it involves the Civil War. One of the most popular sights to learn about the war is Carnton, and I was able to check it out while in Franklin.
Carnton was built, in large part by enslaved people, in 1826. Randal McGavock and his family lived at the estate (he eventually died in 1843), but in 1864 this place was witness to one of the bloodiest battles of the Civil War. The Battle of Franklin lasted only about 5 hours, but within that short timeframe, Carnton quickly became a hospital for hundreds of wounded and dying soldiers.
It was fascinating to hear our tour guide talk about the history of Carnton and she also told us about the enslaved people that were forced to work and live here. Slavery is often skipped over at Civil War sights, in my little experience anyway, but Carnton addressed the troubled history and even had a sign out front that reminded visitors to pause and reflect because people were enslaved here. It's a sad history to reflect on, but important to remember all of the people that built this country with their blood, sweat, tears, and lives.
As far as accessibility goes, I was able to enter the lower level of the Carnton house thanks to a portable ramp that was provided. I could not go upstairs, but photos of the rooms upstairs were shown to me by our guide.
The garden outside of the house was smooth and accessible as well. There were gravel pathways throughout the garden, but it wasn't bumpy at all, surprisingly. The garden was beautiful with flowers, topiary displays, and I saw plenty of birds and butterflies flying around the garden.
Roll in the outdoors on the Natchez Trace Parkway
The Natchez Trace Parkway stretches over 440 miles from Nashville, Tennessee to Natchez, Mississippi. The scenic drive goes through three states and follows the "Old Natchez Trace", a historic travel route that was used by American Indians, European settlers, soldiers, and more. You can drive through 10,000 years of history on the entire Natchez Trace Parkway, but if you don't have the time to do the complete 444-miles, you should still take time to see some of its highlights while in Franklin.
Part of the Natchez Trace Parkway goes through Williamson County and I was able to check it out for a couple hours. Just a short drive from downtown Franklin, my first stop on the Natchez Trace Parkway was the Double Arch Bridge. This bridge rises 155 feet above the valley, is over 1,600 feet long, and after being completed in 1994, it was given the Presidential Award for Design Excellence. It is a unique bridge and worth seeing or driving across.
One of the best places to view the Double Arch Bridge is Birdsong Hollow. Birdsong Hollow is an overlook area and it has accessible parking spaces, a paved path to the overlook, and gorgeous views. I immensely enjoyed taking in the views for a few minutes from this spot.
Less than a mile from the Double Arch Bridge is the entrance to Timberland Park. This park has a 2,000-square-feet interpretive center and multiple trails for hikers to explore. For wheelchair users, there is an ADA trail (also known as the Judith Grigsby-Hayes Trail) that starts near the interpretive center.
The ADA trail is smooth to roll on, but is relatively short… I'd guess that it's about a quarter-of-a-mile long. At the end of the ADA trail, there is an overlook. It's the perfect place to relax and enjoy the outdoors for a while. Accessible picnic tables are at the beginning of the ADA trail as well.
I tried to do another non-accessible trail at Timberland Park as well, but the large roots and rocks in the ground proved to be too much for my wheelchair to handle. However, I was very thankful for the ADA trail and had a fun time outdoors at this gem on the Natchez Trace Parkway.
Have some fun photo-ops in front of Franklin's murals
Whenever I visit a new city, I love checking out murals. Not only do murals add pops of color to a city, but they also make for some fun photo-ops! And in this era where "likes" and influence matter to many people (me included, I'll admit!), you can get some cool new shots for your Instagram. Franklin and Williamson County have some awesome murals that are worth seeing and I had a chance to check out four of them during my visit. Here they are:
To view the full list, including the locations, of all of Williamson County's murals, click here.
Do a wine tasting at Arrington Vineyards
As you can probably see by now, Franklin produces every type of alcohol imaginable (Woohoo!!!). We've covered breweries and distilleries already, but now it's time for my drink of choice – wine! I love visiting wineries and have been to quite a few around the world, but Arrington Vineyards might honestly be the best one that I've ever visited.
Arrington Vineyards has 16 acres of vineyards, multiple tasting rooms, picnic areas, and the most beautiful views. Here's a fun fact: it's also co-owned by Kix Brooks of the country music band Brooks & Dunn.
Accessibility at Arrington Vineyards is mostly good. There are accessible parking spaces, ramps into all buildings, and some areas have picnic tables that you could use. The only drawback to the accessibility is that it is quite hilly and steep. To get from the accessible parking spaces to the tasting rooms and the shop, you have to go down a steep hill. My motorized wheelchair handled it well, but definitely take your time and be careful. If you use a manual wheelchair, you may need a companion to help out, especially on the way back up.
Wine tasting flights are available at Arrington Vineyards and there are four different flight options to choose from: a red wine flight, a white wine flight, a sweet wine flight, or a mixed wine flight. For just $14, you will get four different wines for your self-guided wine flight at your table. I chose to do the sweet wine flight and it was so good! It came with honeysuckle wine, raspberry wine, blackberry wine, and scarlet wine. I liked all of them, but the honeysuckle wine absolutely blew me away. I couldn't leave without purchasing a bottle of it.
Since I planned to be at Arrington Vineyards in the evening, we pre-scheduled a gourmet picnic for dinner. Simply Living Life creates gourmet picnic baskets for guests to enjoy at the vineyard, but they do need to be ordered in advance of your visit. Various picnic options are available, but we chose the Tuscan Picnic, which came with bread grilled with olive oil, Buffalo mozzarella layered with tomatoes, penne pasta with sun dried tomatoes and fresh mozzarella, and grilled chicken topped with bruschetta. It was superb and definitely beat my usual picnic choice of peanut butter and jelly. This was a unique dining experience that couldn't have been any better. Good food, great wine, and stellar views make me happy!
Enjoy Franklin's nightlife and live music scene
On any night of the week, you will find multiple options for live music in Franklin. It is a city for singers and songwriters to get their start or even established singers to test out new songs before recording them. If you want to hear some good music and enjoy the nightlife in Franklin, there are plenty of options to consider.
Puckett's in downtown Franklin has live music most nights and is a Williamson County icon. You could also check out the schedule of the landmark Franklin Theatre or Gray's on Main. There are so many possibilities for live music that it's difficult to choose which place to visit on any given night.
One place that I really loved was Kimbro's Pickin' Parlor. It is located in downtown Franklin and is frequently referred to as the "best house party imaginable." Kimbro's is in a historic house that is now an eclectic music venue and restaurant. The house party vibe makes this such a fun place to hang out for a few hours, while having some drinks and listening to music.
The main entrance to Kimbro's Pickin' Parlor has steps, but the back entrance is easily wheelchair accessible. It has a smooth entry and the interior of Kimbro's is accessible as well. I was able to roll from room-to-room without any issues. I loved Kimbro's and can't wait to return one day soon!
Where to Stay in Franklin Tennessee: The Harpeth Hotel
While in Franklin, I stayed at The Harpeth Hotel and it was hands-down one of the greatest hotels I've ever stayed in. It opened in October 2019 as the first downtown hotel in decades. Its location is one of its best assets, as The Harpeth Hotel is right in the heart of downtown and only a five minute walk/roll from downtown's most notable sights.
I stayed in a wheelchair accessible junior suite, which had a king sized bed and a sofa bed. The bedroom was incredibly spacious. It literally had the most space that I've ever had in a hotel. The bed wasn't too high, so it could work for self-transferring into bed, but a hoyer lift could not roll under the king sized bed.
The balcony was accessible and had great views of the hotel's courtyard. Other features that I really loved in the room were the giant walk-in closet, the desk and 55-inch TV in the living area, and there was a full-length mirror, which is surprisingly a rarity in accessible hotel rooms.
The bathroom had a roll-in shower, a pull-under sink, and there were grab bars by the toilet and in the shower. A separate tub was also in the bathroom.
The Harpeth Hotel is also home to some great restaurants. 1799 Kitchen & Cocktails is one of Franklin's best restaurants and you may spot a celebrity dining here if you're lucky. I had dinner at 1799 on my first night in Franklin and it blew me away. The Cornish hen was delicious and I'd highly recommend it, but steak, seafood, and vegetarian options were on the menu as well.
McGavock's Coffee and Provisions is also inside The Harpeth Hotel. Whether you're wanting coffee or a full breakfast, this is a wonderful place to start your day. I had a chai latte and biscuits & gravy, both of which were perfection.
After staying at The Harpeth Hotel, I really can't imagine staying anywhere else in Franklin. Nowhere else could possibly top this exquisite hotel.
As you can see, Franklin is a special city that quickly surpassed all of my expectations. With a variety of wheelchair accessible Franklin Tennessee attractions and terrific accommodations, there's truly something for everyone in this city. If you are a wheelchair user, you can be confident that Franklin will be an accessible destination that you'll want to keep coming back to.
.
*Thank you to Visit Franklin for showing me the best things to do and working with me for this trip. While my experiences were complimentary, all opinions are authentic and my own.
.
.