I have visited the "happiest place on Earth" more times than I can remember, yet it never gets old. I still get just as excited when I enter Magic Kingdom now as when I was four years old, visiting for the first time. There are countless rides and shows, and Disney goes out of their way to ensure that guests with disabilities have a terrific time, even if many of the attractions are not fully accessible. Magic Kingdom opened in 1971, making it the oldest of the four parks at Disney World, but continues to grow bigger and better every year.
Attractions
Since Magic Kingdom is an older park, there are only a handful of rides and attractions that are fully wheelchair accessible. If you're brave and really wanting to ride Space Mountain though, Disney cast members will assist you and let you take as long as you need to get situated. The hospitality at Disney really is unparalleled.
Some rides will allow the wheelchair to ride on them however, making it much easier for everyone involved. My favorite fully accessible ride is the Jungle Cruise. You can roll onto the boat and take part in a hilarious cruise through the jungle, seeing dangerous animals up close along the way (they may or may not be real...). Other rides that let the wheelchair on them are It's a Small World (if you ride this BEWARE - the song will be stuck in your head for days, weeks or even months!!), the train, and the Liberty Square Riverboat.
Notable other accessible attractions include the Carousel of Progress and one of my favorites, the Hall of Presidents. Here, you can see all the past Presidents and even the current President in robotic form. This attraction serves as a great history lesson and happens to be entertaining as well.
Dining
Magic Kingdom offers a plethora of dining options. All foods are grossly overpriced though, so be prepared to spend big. If you are wanting a formal experience with character interactions, then Cinderella's Royal Table is the place to go. You can dine inside the castle and meet several Disney Princesses as you eat. This dinner is quite expensive and sells out extremely quickly so make reservations as far in advance as you can.
I dined in Cinderella's Castle when I was younger, but the only foods I care about at Magic Kingdom now are the delicious candies and other foods that are terrible for your health. My one must-have item is a Mickey Premium Ice Cream Bar. It's basically vanilla ice cream covered in milk chocolate and formed into the shape of a Mickey head. It's kind of like a Brown Cow (hopefully you know what that is...?), but soooo much better. The chocolate that surrounds the ice cream is super thick. I could literally eat these nonstop until the park shut down. Other yummy treats are the Dole Whip, which can be found at Aloha Isle, and funnel cakes. Okay, we've got to stop talking about food now. I'm salivating all over the keyboard.
Shows
Magic Kingdom has some AWESOME shows! During the day you can watch Dream Along With Mickey, which takes place right in front of the castle. All of the major Disney characters are in this show and the evil Maleficent even makes a special appearance. This show plays several times each day.
The real supercalifragilisticexpialidociousness takes place at night however. Tinkerbell leads the way in the Main Street Electrical Parade. Over half a million lights are in this parade and many characters as well. Snow White and the Seven Dwarfs, Alice in Wonderland, Pinocchio, Cinderella, and Pete's Dragon Elliott all have floats in the parade, plus Mickey and Minnie of course.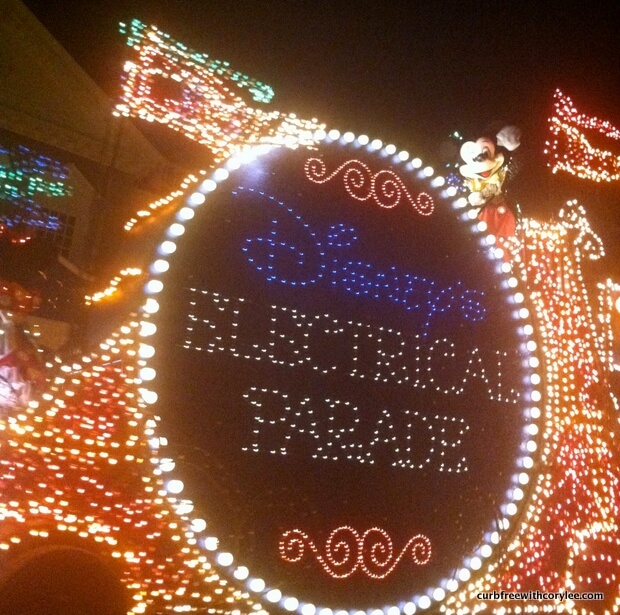 My absolute favorite show at Disney is the Wishes Nighttime Spectacular. This takes place every night after the Electrical Parade and is truly a breathtaking experience. Fireworks soar into the sky while colors and pictures wash over the castle. Music is played in the background and many popular Disney characters even give voiceovers throughout. This really is the best fireworks show that I have ever seen. I cannot even begin to imagine how much money Disney spends on these fireworks. One of my favorite moments of the show however is when we hear Walt Disney himself say "Any wish is possible. All it takes is a little courage to set it free".