Wheelchair Accessible Disney World Transportation
Going on a vacation to Walt Disney World is a dream shared by such a diversity of people. Nearly everyone wants to make it to this sun-drenched wonderland at least once in their lifetime! Therefore, it's not surprising that this fun paradise for kids and adults alike is so wheelchair friendly.
There are many unique ways to get from park to park and hotel to hotel in the sprawling and magical realm of Disney – from cars and buses to monorails and ferries. Of course, where you're staying does come into play, but the biggest question for wheelchair users is always about accessibility. In this article, I'll break down each mode of wheelchair accessible Disney World transportation so that you know what will work for you on your Walt Disney World vacation!
Car
If you're staying off-site, then you'll either need to get to Disney World by car or taxi. As long as you have a valid disability parking permit, there are tons of accessible parking spaces reserved throughout Disney's parking lots. In fact, Disney even has special Disability Parking Lots for each of its four major theme parks (the four parks are Magic Kingdom, Epcot, Hollywood Studios, and Animal Kingdom). These are reserved just for people traveling with their own wheelchairs, scooters, or other mobility devices!
The perks of these special parking lots? They're really close to the entrances of each theme park — so close, in fact, that courtesy trams don't stop there. If you're wondering how to get to one of these lots, just inquire at the Auto Plaza — there's one located at the entrance to the parking lot area of each of the four theme parks.
.
Monorails
The monorail system is a convenient way to hop from park to park, or to get to some of Walt Disney World's most popular resorts. I think it's a pretty sweet ride in itself and quite fun, and it's wheelchair accessible via ramps or elevators from the following locations:
• the Transportation and Ticket Center
• Magic Kingdom
• Epcot
• the Grand Floridian Resort & Spa
• the Polynesian Village Resort
• Disney's Contemporary Resort 
 .
To board the actual train, just make sure to find a Disney Cast Member at the platform. He or she will lay down a ramp for you as you board at a designated, wheelchair-specific entrance, and then you're on your way! Once on the train, be sure to lock your brakes to keep from rolling around inside the car, and it's a good idea to hold on to one of the vertical silver poles to stabilize yourself if you use a lightweight chair.
Of note, some manual wheelchair users I've met have noted that some of the ramps to get into the monorail stations are a bit on the steep side, especially at Magic Kingdom. It's also important to make sure that you tell the Disney Cast Member who helps you board the monorail where you plan on getting off, so that they can contact a Cast Member there to help you disembark!
Buses
On all routes throughout Walt Disney World, you can find buses equipped to handle your wheelchair. Most buses can fit two mobility devices, though your chair or scooter does have to fit onto the bus lift (it's a standard size: 32" by 48") without being forced, and it'll need to fasten with the on-board restraints once you're on the bus.
Disney does suggest that you follow some "best practices" rules if you board the bus with your wheelchair:
 • Wheelchair users should share their request to board via ramp with the bus driver.
• If you're using an ECV (Electric Conveyance Vehicle, which are available for rent at Disney, but more on that later) and are able to transfer to a bus seat, Disney suggests that you do so.
• If you're staying at a Walt Disney Resort and using the complimentary bus system, it's preferable if you let them know when you make your reservation that you'll be traveling with a wheelchair.
 .
Water Transport
Disney's vast network of lakes and waterways is one of the most stunning parts about the place, so many visitors would like to take a boat ride while there. There are a lot of different water transport options at Disney, and they have varying levels of comfort and accessibility! For example, the Magic Kingdom Ferryboats have ramps to board and disembark, and I've found them very convenient.
The Friendship Boats, which run between Epcot, some of the countries in Epcot's World Showcase, and Disney's Hollywood Studios with several other stops in between, are also pretty accessible. If you're in a wheelchair, you'll board at the back of the boat, and a Disney Cast Member will help you by placing a ramp down. Once you've boarded, you're welcome to stay in your chair or transfer onto a bench in a designated area for wheelchairs.
If you take the Disney Springs Ferryboats, they have a boarding setup similar to the Friendship Boats, where you'll board via a ramp laid out for you by a Cast Member. On these boats, there are designated wheelchair areas where you're able to lift up a bench and park your chair in newly freed-up space.
Taking other boats, however, can be more complicated. The Wilderness Lodge Water Taxis don't have ramps to board. While that's usually because the boat entrance is at the same level of the dock (and in this case, most wheelchair users would have no trouble boarding), that is subject to change with the water level — so it's a little bit less reliable. There are also no designated wheelchair seating areas on these boats, so that's something to consider as well.
.
Disney's Magical Express
If you're staying at a Disney Resort, this is an easy and accessible option for transportation to and from the Orlando International Airport. The best part in my opinion is that it includes complimentary luggage delivery! This transportation is accessible, and all you have to worry about is making sure to let them know that you'll be traveling with a wheelchair when you book it.
.
Getting Around Inside: Disney World Scooter Rental and Disney World Wheelchair Rentals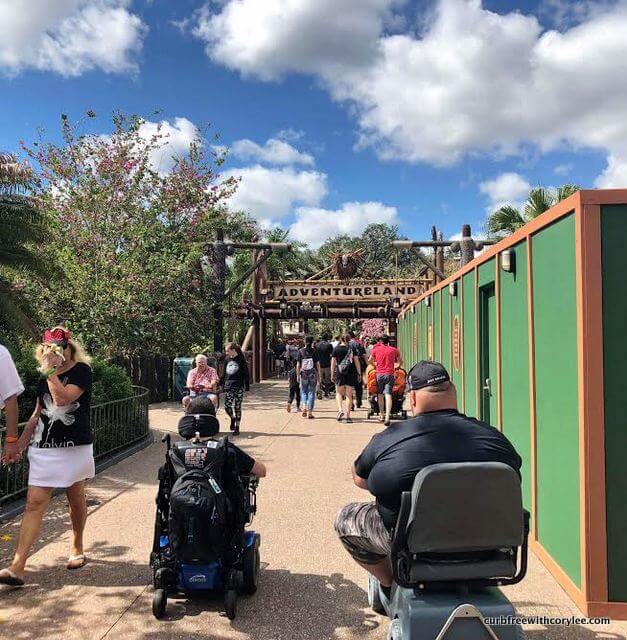 At this point, congratulations — you're in! You've found your way into one of Disney's magical theme parks, and now you want to get around inside. The good news? Wheelchairs and electric scooters are available for rent on a first-come, first-serve basis, though it's probably a lot easier just to bring your own. If you need one, however, there is a $12 daily fee to rent a wheelchair, and though you can't bring the rented chair from park to park, the fee itself is transferable.
What might be more useful is renting an ECV, especially if you're not used to long, tiring days with your manual wheelchair. Disney World scooter rentals are available at all Disney parks as well as Disney Springs for a daily rate of $50, which is again transferable. While you can rent a manual wheelchair for the entire duration of your stay, this option unfortunately isn't available for electric vehicles — though the park can hold them for you if you want to head out for a bit and come back later.
The kicker for Disney World wheelchair rentals and Disney World scooter rentals? They're on a first-come, first-serve basis, and you can't reserve them in advance. So if your heart is set on one, it's best to arrive early. 
.
With its top-notch guest services and consistent aim to please, it's unsurprising that Disney has exemplary accessibility services enjoyed by thousands of its guests each year. Whether you stay on-site or off, there are a wide variety of wheelchair accessible transportation options to find your way into the magical parks of Walt Disney World. And there are always happy Disney Cast Members on hand to help you! 
.
*Thank you to the Walt Disney World Resort for working with me on my most recent trip to Disney World. While some experiences were complimentary, all opinions are authentic and my own.