At the beginning of my recent cruise around South America and Antarctica, one of the first ports of call was a place I had never even considered visiting – Montevideo, Uruguay. Sure, I had heard of Uruguay, but I don't recall ever thinking about it as a potential travel destination. In South America, accessibility can be hit-or-miss (with a fair amount of misses usually), so I just kind of assumed that it wouldn't be possible to experience Uruguay as a wheelchair user. 
In the months leading up to my cruise, I started researching accessible tours and shore excursions within the various ports of call. When I searched "wheelchair tours in Montevideo Uruguay", it turned out that my previous assumptions about accessibility in Uruguay were correct. I searched for hours, but couldn't find wheelchair accessible transportation or tours anywhere. Instead of deciding to stay on the cruise ship and missing out on Montevideo completely though, I decided to get creative and figure out a solution. 
I looked up "walking tours in Montevideo" and quickly stumbled upon Tours By Locals. Tours By Locals offers private tours in 166 countries and while there weren't any specifically accessible tours listed for Montevideo, I reached out to Gonzalo, a local tour guide in Montevideo, via the Tours By Locals website and asked him if he could make his walking tour wheelchair accessible. Gonzalo didn't hesitate and agreed to lead my mom, my friend Kayla, and I on a walking/rolling tour from the cruise port to downtown Montevideo. I wasn't exactly sure how accessible the tour would be, but decided to give it a try since we didn't really have another choice for a tour. 
After several weeks of anxiously waiting to see what the capital of Uruguay had in store for us, the day arrived and our cruise ship docked in Montevideo. My mom, Kayla, and I exited the ship and quickly found Gonzalo, our tour guide. He greeted us with a friendly smile and soon, we were off to explore the city by foot (and wheels in my case!). 
As soon as we started our tour, we began to see incredible sights. We passed by the beautiful San Francisco Church, which was built in the 1800s, and the Bank of the Republic of Uruguay. The bank isn't your ordinary Wells Fargo. It was a huge building with statues out front and Gonzalo did a great job of explaining the importance and meaning of everything. He was knowledgeable and I definitely learned a lot on the tour with him, but he also kept it fun and interesting. 
As I rolled to our next sight, I noticed that Montevideo had many murals and some graffiti on various buildings and walls within the city. They were really nice to see, but what I noticed even more than all of the graffiti was how wheelchair friendly the sidewalks were. There were curb cuts and most of them were in good condition, so it was fairly easy for me to roll around in my power wheelchair. There were some steep streets and hills though, so if you use a manual chair, you'll need some strong arms in certain areas.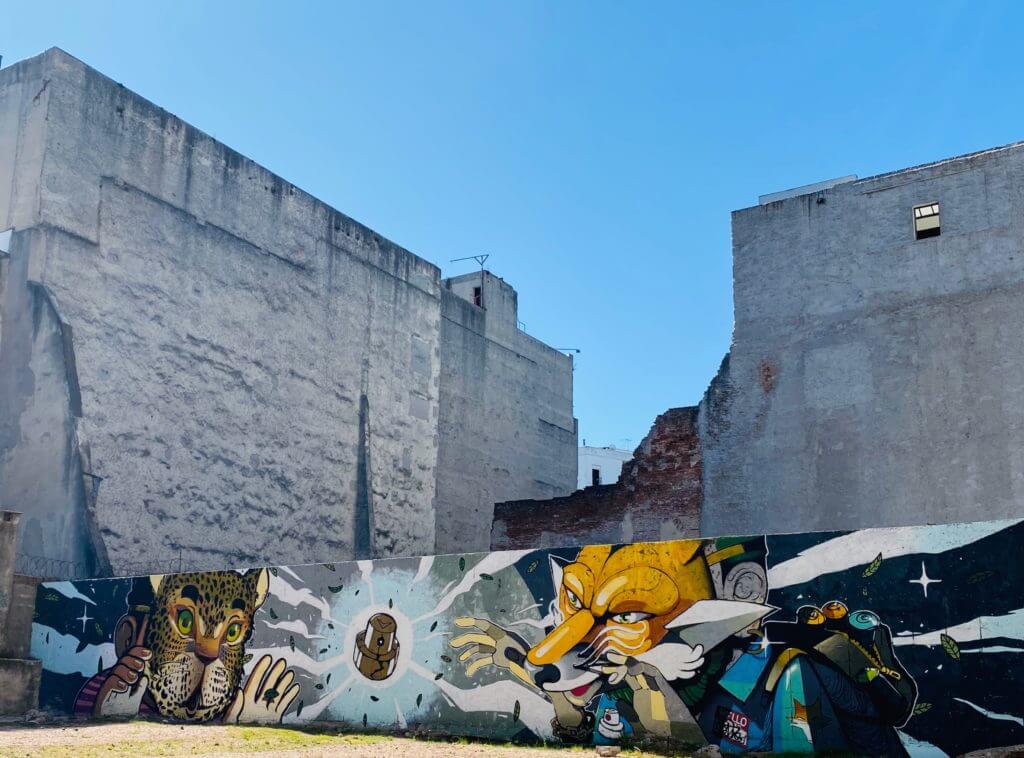 One of the next places that we visited was Plaza Zabala. Formerly the site of a fort, which was demolished in the late 1800s, Plaza Zabala is now a public square. It has a statue of Bruno Mauricio de Zabala, founder of Montevideo, riding a horse in the middle of it and that is surrounded by trees, making it a wonderful outdoor escape in the middle of the city. Since it was very hot and sunny when I visited in early February, I was thankful for the shade from the many trees. 
After rolling around Plaza Zabala for a while, we started the short walk/roll to our next stop – Montevideo Metropolitan Cathedral. Unlike the San Francisco Church that we saw earlier, we were able to venture inside this one. 
The Montevideo Metropolitan Cathedral is the main Roman Catholic church in Montevideo. It had a long ramp to get inside and once I was inside, I rolled around admiring the church's beauty for about 15 minutes. From the altar to the stained glass windows, it was impeccably designed and I would say it's a must-visit for anyone. 
Just in front of the Montevideo Metropolitan Cathedral is Constitution Square, which we visited next. Constitution Square is the oldest plaza in the capital city of Uruguay and it dates back to the early 1800s. There were some tables set up in the square with people selling all sorts of items. I bought an amethyst rock (Uruguay is famous for its amethyst gemstones) and some souvenir magnets, and enjoyed looking at all of the options from the various sellers. 
Now that we had seen some of Montevideo's older places of interest, Gonzalo took us to a newer area known as the Plaza of Sexual Diversity. I was pleasantly surprised to learn that Uruguay is one of the most LGBTQ+ friendly countries in the world. In 2013, same sex marriage became legal in Uruguay, but the nation has embraced diversity long before 2013. 
A monument with the phrase "Honoring diversity is honoring life: Montevideo for the respect of every gender, identity, and sexual orientation" transcribed on it is in the Plaza of Sexual Diversity. I was happy to see that Uruguay truly accepts everyone. 
We had seen a few of Montevideo's plazas already by this point and each one was absolutely worth visiting, but it was now time to visit the city's most important plaza. Plaza Independencia is home to some of Montevideo's most popular landmarks, including the Salvo Palace (this is on pretty much every postcard of Montevideo) and the Teatro Solís. 
In the center of Plaza Independencia is a mausoleum, which houses the remains of José Artigas. In the early 19th century, he declared Uruguay's independence from Spain, so you can see that this plaza is an extremely important spot in Montevideo.
We enjoyed just wandering around Plaza Independencia for a while and taking photos. People-watching is one of my favorite activities when I'm traveling as well and this was the perfect place to do it.
Plaza Independencia was the last stop on our three hour walking/rolling tour with Gonzalo of Tours By Locals, but he was kind enough to lead us back to the cruise port area. It took about 20-30 minutes to get back to the port. Once there, we said our goodbyes to Gonzalo and headed to the Mercado del Puerto for some lunch before getting back on the ship. 
Mercado del Puerto means "Port Market", so that tells you exactly what it is – a market at the port. However, unlike many markets that sell souvenirs, Mercado del Puerto is strictly a food market. It has a number of restaurants and we were able to enjoy some delicious Uruguayan food for lunch. After indulging in a great meal, we got back on the ship and had some final views of Montevideo from the top deck before leaving port. 
While we only had one day in the city, I felt that we were able to see quite a bit on our wheelchair accessible Montevideo tour and I absolutely loved it. From rolling around various plazas to learning about Uruguay's history and more, I am immensely glad that I was able to explore the capital city of Montevideo as a wheelchair user thanks to some creativity.
.
.