Before visiting Newport, Rhode Island for the first time, I didn't know much about Rhode Island and it was never a state that I really wanted to visit. I thought, probably because it's the smallest state in the U.S., that it wouldn't have much to offer, especially in terms of accessibility. However, as soon as I saw photos of Newport online, I was immediately intrigued. As I researched further, I realized that Newport was a beautiful New England city and I desperately wanted to experience it for myself.
I planned my trip and I was so excited to check out some of the wheelchair accessible Newport Rhode Island attractions and things to do. And with only a couple days in Newport, I certainly made the best of my short time there. From touring iconic mansions to dining at delicious restaurants, and staying at one of my favorite hotels ever, Newport quickly wowed me and became one of my favorite destinations in New England.
If you are thinking about visiting Newport, Rhode Island as a wheelchair user, hopefully this travel guide can help you plan your trip. I'll start by talking about wheelchair accessible Newport Rhode Island attractions, and then I'll dive into where you can stay while in Newport. By the time you finish reading this guide, I'm sure you'll be itching to start planning your own vacation to Newport!
Wheelchair Accessible Newport Rhode Island Attractions & Things to Do
Go on an accessible trolley tour of Newport
One of the best ways to get an overview of Newport, Rhode Island is with a trolley tour from Viking Tours of Newport. This is a great way to start your trip because it will provide you with an overview of the city and you'll get familiar with the layout of Newport… if you have any sense of direction, unlike me, that is.
I did a 90-minute scenic trolley tour and we were able to see many notable places in Newport during that time, including some of Newport's mansions, the ocean, a fort, and several historic places downtown. The trolley driver also provided commentary throughout the entire ride and it was nice to learn more about the area.
The trolley had a wheelchair lift and tie-down straps to secure my wheelchair, so it was accessible. If you need the wheelchair accessible trolley, just let the company know ahead of time, as not all of their trolleys have a lift. I booked my tour the day before and let them know I'd need the lift. It was a simple process and I had a wonderful experience. The lift does have a weight limit of 600 lbs though, so keep that in mind if you use a powered wheelchair. My wheelchair is about 400 lbs, so approximately 550 lbs with me in it, and the lift worked perfectly.
The "Scenic Overview Tour" from Viking Tours of Newport is the one that I did and as of 2023, it costs $25 per adult and $15 per child. They do offer other tours that allow guests to tour some of Newport's mansions (The Breakers and Marble House, which I'll talk about soon), so that could be an option as well. Just call Viking Tours at 401-847-6921 to discuss your options and book an accessible trolley.
Roll on the Cliff Walk
I always love getting outside and enjoying the great outdoors, and even more so when views of the ocean are involved. That's why I was so excited to learn that the Cliff Walk in Newport is partly wheelchair accessible.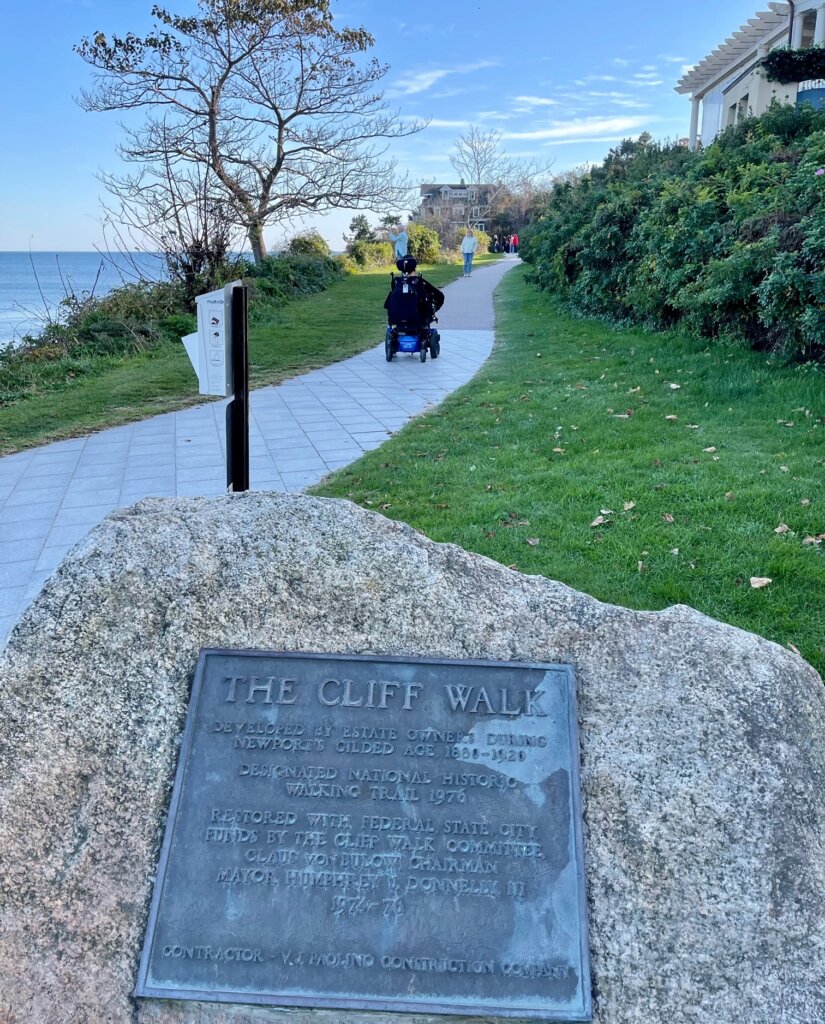 The Cliff Walk is a 3.5 mile trail by the cliffs with phenomenal views of the ocean and other Newport sights, including the mansions. Unfortunately, the entire route isn't accessible, but a section of it is wheelchair-friendly.
The accessible section of the Cliff Walk is about half a mile long and it is fully paved. It stretches from the northernmost entrance at Memorial Boulevard to the Narragansett Avenue entrance at 40 Steps. If you'd like to learn more about the entrances to the Cliff Walk, just click here.
I loved rolling on the accessible section of the Cliff Walk and taking in the beauty. Newport is a spectacular city and this area gave me an even greater appreciation for it. If you will be in Newport, rolling on the Cliff Walk should be a must-do activity!
Tour some of Newport's mansions
Between the 1850s to the early 1900s, a number of mansions were built in Newport, Rhode Island. During the Gilded Age, the mansions served as a symbol of social and financial wealth, but today, you can tour the marvelous mansions and dream about what it would've been like to actually live in these remarkable places.
There are many mansions in Newport, but only a couple of them are accessible for wheelchair users to tour. Luckily, the wheelchair accessible mansions are by far the most popular and well-known mansions, so I was able to tour both The Breakers and Marble House while in Newport.
I started at The Breakers, which is undoubtedly the grandest mansion in Newport. It was built in 1895 for Mr. and Mrs. Cornelius Vanderbilt II, one of the wealthiest families in America at the time. To give you an idea of how huge The Breakers mansion is, it has a total of 70 rooms and 27 fireplaces. As I rolled through the mansion, I was basically drooling over how gorgeous it was.
My visit at The Breakers lasted nearly two hours and was self-guided. You can do an audio tour with your phone if you want to as well. I was able to explore the first and second floor of The Breakers, as ramps and an elevator were available.
After touring The Breakers, we headed down the street to Marble House. This mansion was built in 1892 by William Vanderbilt, and it was considered a 39th birthday present for his wife, Alva Vanderbilt (what a gift!!). However, the mansion wasn't enough apparently, as they divorced only three years later.
While Marble House wasn't as big as The Breakers, it was still very impressive and worth checking out. An elevator was available in Marble House, so I was able to explore both the first and second floors on a self-guided tour. The elevator does have to be operated by a staff member, but it was no issue finding someone to operate it.
The Breakers and Marble House were the two Newport mansions that I visited, but I have heard that the Rosecliff mansion is also wheelchair accessible. These mansions play such an important role in the history of Newport, so I'd highly recommend touring them. Tickets can be purchased in advance of your visit online.
Dine at incredible restaurants in Newport
There are so many amazing restaurants in Newport that I couldn't possibly visit them all, but I did check out quite a few while I was there. Three places in particular stood out to me and I'd recommend that you visit them while in Newport. Here are my favorite three restaurants in Newport:
The Corner Cafe
If you're looking for a great place for breakfast or lunch without breaking the bank, look no further than The Corner Cafe in Newport. This cafe is open every day of the week for breakfast and lunch, and it's open for dinner Thursday-Saturday. I visited for lunch and was overwhelmed with the amount of options on the menu. From burgers to sandwiches to salads to burritos and more, they have it all. Ultimately, I chose the tuna quesadilla for lunch and it was delicious! I've never eaten tuna in a quesadilla before, but it was fantastic and if I lived in Newport, I'd be getting it at least once a week. The Corner Cafe doesn't take reservations for breakfast or lunch, but you can view the full menus here.
The Mooring Seafood Kitchen & Bar
Located on the waterfront, The Mooring Seafood Kitchen & Bar is consistently voted as one of the top restaurants in the city. After dining here, I could easily see why. It's open every day of the week for lunch and dinner, and has indoor and outdoor seating (both options are wheelchair accessible). We chose to sit outside and overlook Newport Harbor while eating. The Mooring is known for its seafood, so we started with the lobster-shrimp fritters and then for my entree, I had the lobster roll. The lobster roll was served on a toasted brioche roll with lemon-chive aioli, and it was probably the tastiest lobster roll I've ever eaten. If you'll be in Newport, put The Mooring at the top of your list of places to eat. You can make reservations online.
Cara
With all of the mansions in Newport, you may be wanting to splurge on an upscale dining experience. If so, you should definitely check out Cara. Cara is located inside The Chanler at Cliff Walk, where I stayed while in Newport, but it is certainly not your standard hotel restaurant. At this AAA Five Diamond restaurant, you will enjoy a multi-course blind tasting menu that showcases sustainable New England ingredients. The seven dishes that I had included oysters, wagyu ribeye, pasta, and more. I loved most of the dishes and was incredibly impressed by the presentation. I also really liked that the kitchen team thoroughly explained each dish. Cara is open for dinner Wednesday-Sunday and starts from $155 per person. If you want a memorable meal while in Newport, I think it's certainly worth it. You can make a reservation online.
Where to Stay in Newport: The Chanler at Cliff Walk
While in Newport, I stayed at The Chanler at Cliff Walk. It is a luxury boutique hotel right by the ocean and without a doubt, it is one of the nicest places I've ever stayed. If you are looking to have a luxurious trip in Newport (you do deserve it, after all!), The Chanler is the spot for you!
The Chanler was built in 1873 as the summer residence of New York Congressman John Winthrop Chanler. Today, it has about twenty rooms and some on-site restaurants, including Cara that I mentioned earlier. Of the twenty rooms, only one of them (known as the "Colonial" room) is wheelchair accessible, but if it's available for when you need it, it is truly an amazing room.
The wheelchair accessible room at The Chanler had one queen sized bed, a TV, a sitting area, and even a fireplace with hand-painted tiles from the 18th century. There was plenty of clearance underneath the bed for a hoyer lift and the bed was also a good height for self-transferring. I loved how large and spacious the room was, and I highly enjoyed relaxing in the room with the fireplace on.
In the bathroom, there was a pull-under sink, a full-length mirror, grab bars by the toilet, and a roll-in shower. The roll-in shower had smooth entry, a handheld shower wand, and the hotel provided a seat in the shower as well. The bathroom could not have been any better for my accessibility needs.
Another one of my favorite things about staying at The Chanler was the fact that we had a semi-private deck overlooking the ocean and the hotel's gardens. It was a perfect place to take in the views while enjoying room service breakfast each morning. Oh, and be sure to get the lobster benedict for breakfast. Your taste buds will thank you!
I have stayed in some special places during my travels, but The Chanler very well may top the cake. I had a phenomenal stay and was so impressed with the accessibility, despite it being built 150 years ago. Learn more about The Chanler at Cliff Walk and book a stay of your own here.
New England has many destinations that are worth visiting, but Newport is easily one of my favorites. With so many wheelchair accessible Newport Rhode Island attractions, great accommodations, and delicious food, the city offers something for everyone. Now that you know what all you can do in Newport, the only thing left to do is start planning your own vacation!
.
.