To be honest, visiting national parks has never been a huge goal of mine. I'm usually focused more on international trips than ones here in the U.S., so I had only visited a couple national parks prior to this year; Great Smoky Mountains National Park and the Grand Canyon. Like many travelers though, I've been trying to visit more national parks since this pandemic began. When visited correctly, they can be some of the safest places to travel to, I believe. Thanks to being in the outdoors and on spacious trails instead of indoors in closed-up rooms, I've discovered a new love for national parks this year. 
A few months ago, I hopped on Google and searched for "national parks on the East coast", as I was desperate to go somewhere for a long weekend in July. I quickly stumbled upon Shenandoah National Park in Virginia and it looked beautiful online, so I started doing more research. From what I could find, Shenandoah had a couple wheelchair accessible trails and phenomenal views, so I was ready to check it all out in-person. 
Just a few weeks later, I was Shenandoah bound! It was a rather long road trip of about eight hours, but once I got there, it was completely worth it. From enjoying the great outdoors on wheelchair friendly trails to staying in a beautiful and accessible cabin, exploring Shenandoah National Park showed me just how incredible the national parks truly can be. 
If you are planning to visit Shenandoah as a wheelchair user, below are some sights that you should definitely check out. It isn't everything that the park offers by any means, but these are a great start to Shenandoah and I'm sure that you'll enjoy them all.
Wheelchair Accessible Shenandoah National Park Sights
Skyline Drive
The spectacular views of Shenandoah Valley are a highlight of any visit to Shenandoah National Park. The best place to take in the view is at one of the overlooks on Skyline Drive. 
You can enter the national park at one of four entrances on Skyline Drive; Front Royal Entrance Station (near Rt. 66 and 340), Thornton Gap (at Rt. 211), Swift Run Gap (at Rt. 33), and Rockfish Gap (at Rt. 64. and Rt. 250). There is a fee to enter Shenandoah National Park, but if you have a national parks access pass, you can enter for free.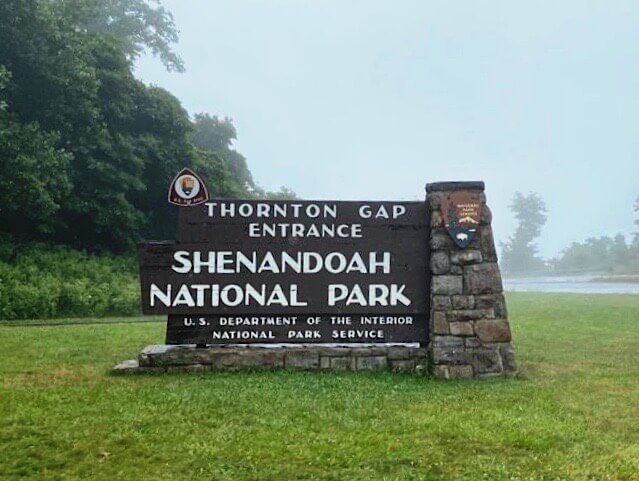 Skyline Drive is 105 miles long, running north and south, and it goes all the way through the national park. In fact, it's the only public road in Shenandoah National Park. It's fully paved and you can drive the entirety of Skyline Drive in about three hours, as the speed limit is 35 miles per hour. During the drive, you may see wildlife such as deer or bears, so drive carefully and be on the lookout. I did see deer during my drive, but no bears, unfortunately.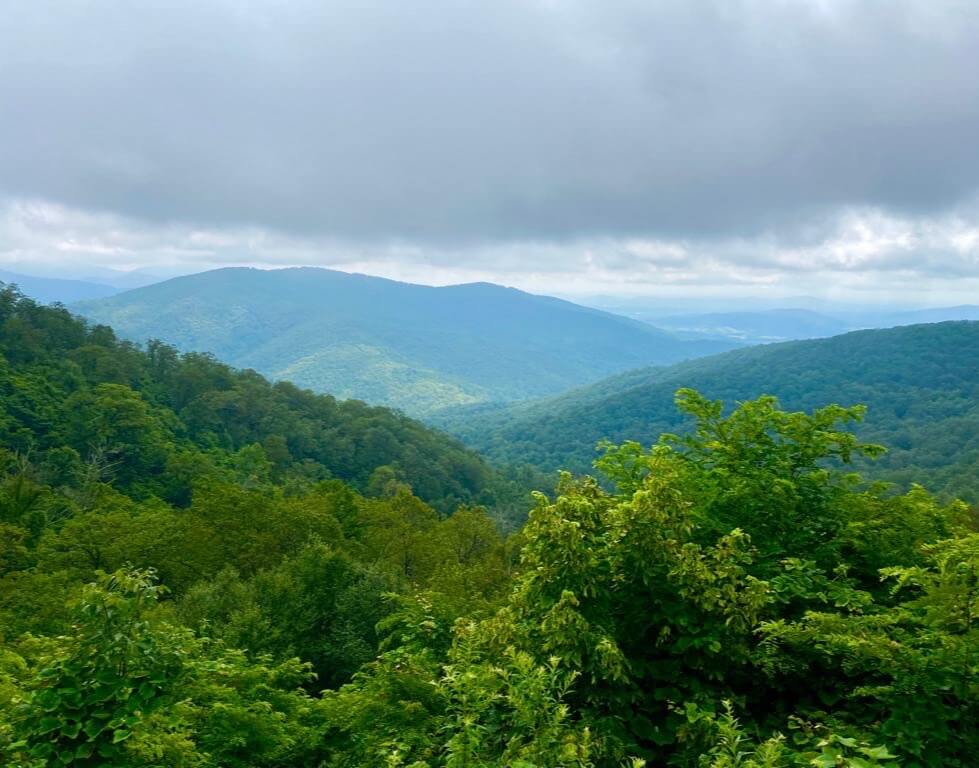 Skyline Drive has 69 scenic overlooks, where you can pull your vehicle off and take in the view of Shenandoah Valley. Some of the overlooks (about 25%) have wheelchair accessible parking spots so that you can easily get out of the vehicle, but not all do. These overlooks are considered wheelchair friendly by Shenandoah National Park:
Gooney Manor (milepost 7.3 W), Little Hogback (milepost 19.7 W), Jeremy's Run (milepost 26.3 W), Beahms Gap (milepost 28.4 W), Pass Mountain (milepost 30 W), Pinnacles (milepost 35 W), Jewell Hollow (milepost 36.4 W), Stony Man (milepost 38.5 W), Thorofare Mountain (milepost 40.4 E), Timber Hollow (milepost 43.2 W), Crescent Rock (milepost 44.4 W), Franklin Cliffs (milepost 48.9 W), Hazeltop Ridge (milepost 54 W), Swift Run (milepost 66.8 W), Sandy Bottom (milepost 67.5 W), Eaton Hallow (milepost 70.3 W), Rocky Mount (milepost 70.8 W), Loft Mountain (milepost 74 E), Brown Mountain (milepost 76.6 W), Ivy Creek (milepost 77.2 E), Rip Rap (milepost 91.4 W), Moormans River (milepost 92 E), Turk Mountain (milepost 93.7 W), Sawmill Run (milepost 95.3 W), and Sawmill Ridge (milepost 96 W).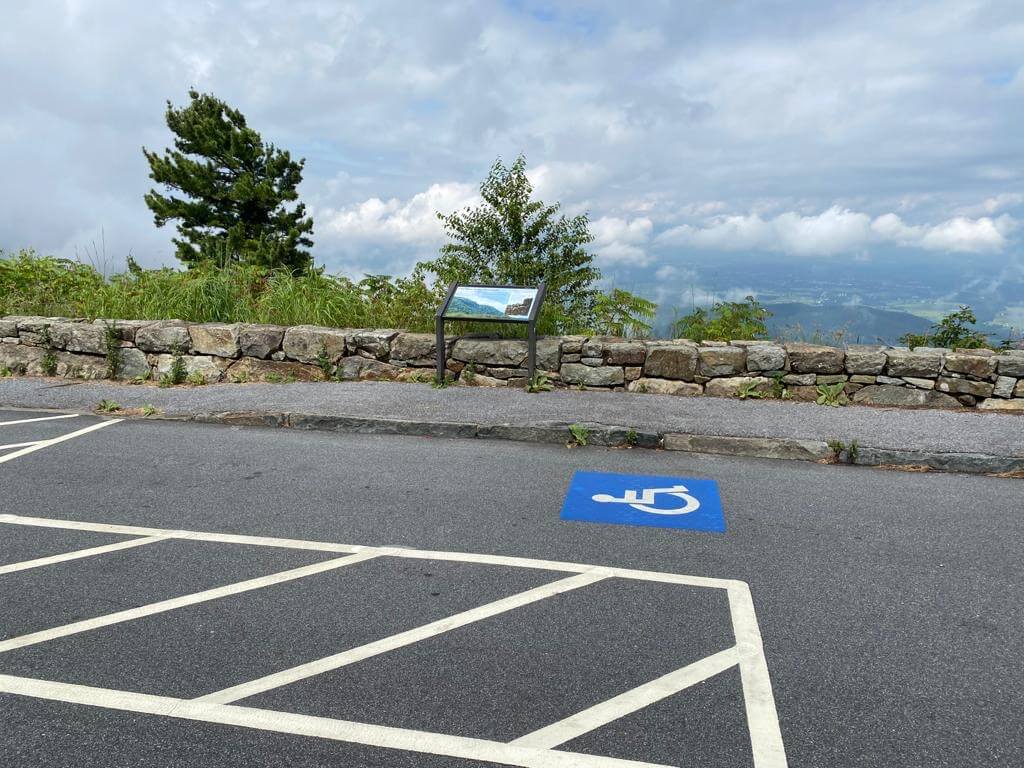 I got out of my vehicle and took in the views of Shenandoah Valley at several overlooks. Each overlook offers something a bit different, as far as the views go, so try to stop at at least 4-5 overlooks during your drive… or if you have a lot of time, stop at all of them! Seeing Shenandoah from such great viewing spots really gave me a greater appreciation for the natural beauty of the park. 
Limberlost Trail
There is nothing better than being outdoors on an accessible hiking trail, but it can often be challenging to find a trail that is fully accessible. In Shenandoah National Park, there are a couple trails that are semi-accessible, but if you want the complete wheelchair accessible experience, look no further than Limberlost Trail. 
Located at mile 43, just south of Skyland Resort, is the park's only fully accessible trail, known as Limberlost Trail. Limberlost Trail is a 1.3 mile loop through the forest. The trail is primarily made of crushed greenstone, but there is a bridge and a boardwalk section in one part of the loop. The entire trail was tremendously easy to roll on and whether you use a powered wheelchair, a manual chair, or a scooter, you shouldn't have any problems traversing the trail. 
About 20 benches and wheelchair pull-off spots are located along Limberlost Trail. Therefore, if you need a spot to rest or you just want to chill out and listen to the sounds of the forest, there are plenty of opportunities. I always enjoy sitting and closing my eyes for a bit on any trail. I try to identify all of the noises that I hear and it makes me feel more connected to nature. 
Most of Limberlost Trail is approximately five feet wide, so it's relatively easy to distance yourself from other hikers on the trail. I felt safe while on the trail and it was one of the longer and more accessible trails that I've been on. This is absolutely a must-do for any wheelchair user that visits Shenandoah National Park. 
Rose River Trail
Not quite as wheelchair accessible as Limberlost Trail, but still worth visiting is Rose River Trail. This trail is located near the Byrd Visitor Center and it's a one-way service/fire trail. From the beginning of the trail to Dark Hollow Falls, an impressive waterfall at the end of the accessible portion of the trail, it's nearly a mile, so Rose River Trail is almost two miles round-trip. 
Rose River Trail started out very bumpy due to some larger rocks that I had to roll over, but it did get smoother after just a couple hundred feet. The trail is a dirt road with gravel, so it isn't the smoothest trail in the world, but it's totally possible if you use a powered wheelchair. In a manual wheelchair or scooter, it would be extremely difficult, but if you use a heavy-duty powered wheelchair, I'd highly recommend trying to do Rose River Trail.
Once I got past the bumpiest section at the beginning, I really loved the rest of the trail. It was gorgeous and the trail is very wide, since it's large enough for service trucks. I never got near other people while on Rose River Trail, so it was perfect during this time of social distancing. 
After nearly a mile of rolling on Rose River Trail, I reached Dark Hollow Falls. It's a beautiful waterfall and made for a great spot for some nice Instagram shots. I had a perfect view of Dark Hollow Falls and stayed there for a while admiring the falls. 
Now that I had seen the highlight of Rose River Trail, I turned around and made the mile-long roll back to the entrance. As I previously said, this trail isn't quite as accessible as Limberlost Trail, but I might have even liked it more. I loved seeing the waterfall and I'm always up for a challenge (no matter how bumpy it is!), so Rose River Trail impressed me and I'd highly recommend giving it a try while in Shenandoah National Park. 
Story of the Forest Trail
Before visiting Shenandoah National Park, I read online that Story of the Forest Trail might be accessible, so I wanted to try it out for myself. The trail is located by the Byrd Visitor Center, so it was easy to find a nearby parking spot. 
In total, Story of the Forest Trail is 1.8 miles long. It's a dirt trail, but started out relatively smooth and flat. For about a quarter of a mile, I was able to roll through the forest easily. However, the rolling quickly came to a halt. 
When the nearby creeks rise, the trail washes out, so in some spots there are logs, which are used to dam the flooding. I was able to maneuver my wheelchair around the first couple logs, but then it became impossible, as the logs were way too big for me to roll over. If you use a manual chair, you might could have your companions help lift you over the logs, but it wasn't possible in a powered wheelchair. 
I turned around and exited the Story of the Woods Trail with some disappointment, but I'm glad that I at least tried it. I wouldn't recommend it necessarily, as there are plenty of other more accessible sights in the national park, but if you never go, you'll never know, so it's up to you whether you want to attempt it or not. 
Where to Stay: Turtle Rock Cabin
There are a few places that you could stay inside Shenandoah National Park (learn more about lodging within the park here), but I really wanted a full cabin to stay in during my trip, so I opted to stay outside the park. After some Googling, I found Turtle Rock Cabin. Luckily, it was available for the dates of my planned visit, so I was excited to stay at this wheelchair accessible cabin for three nights. 
Turtle Rock Cabin is located in Rileyville, Virginia, just a short drive to the popular Luray Caverns and only about 30 minutes away from Shenandoah National Park. I thought it was in a perfect location and near everything I wanted to visit during my time in the area. 
Turtle Rock Cabin was about half a mile down a graveled road. The road wasn't steep at all, but there were some rather large speed bumps to go over. However, after getting over the speed bumps, I arrived to the cabin and it was everything that I expected and more.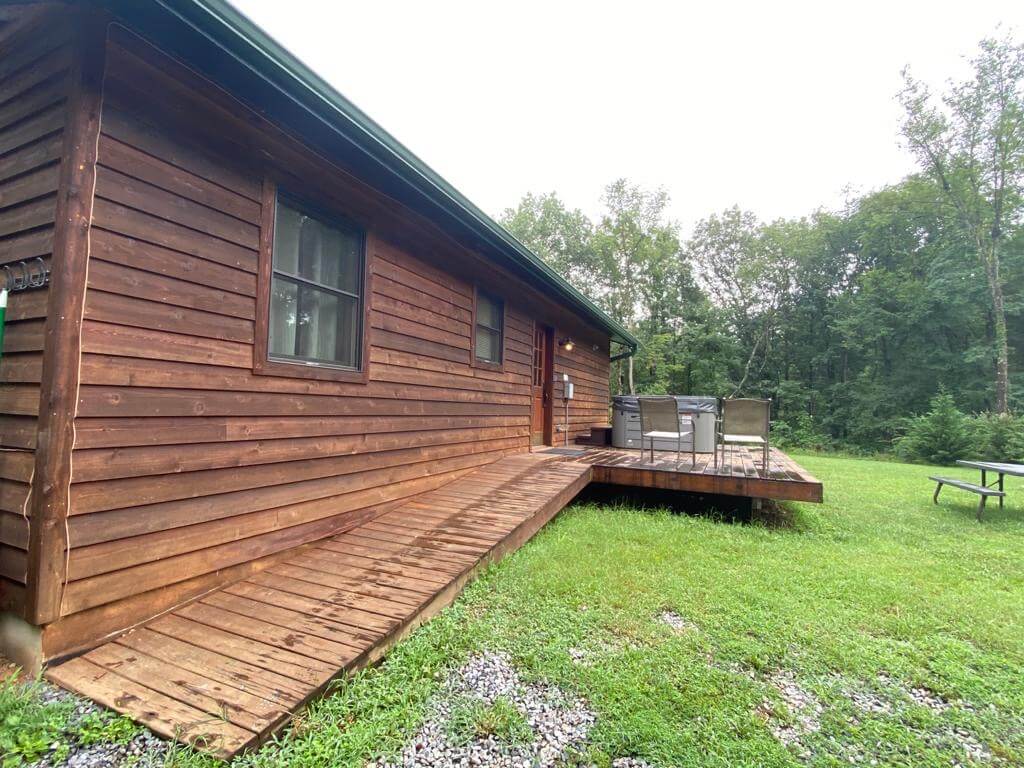 The cabin had a ramp at the back entrance, so it was easy to get in and out of the cabin. In the back yard, there was a fire pit and a grill. I also saw quite a few deer in the yard during my stay.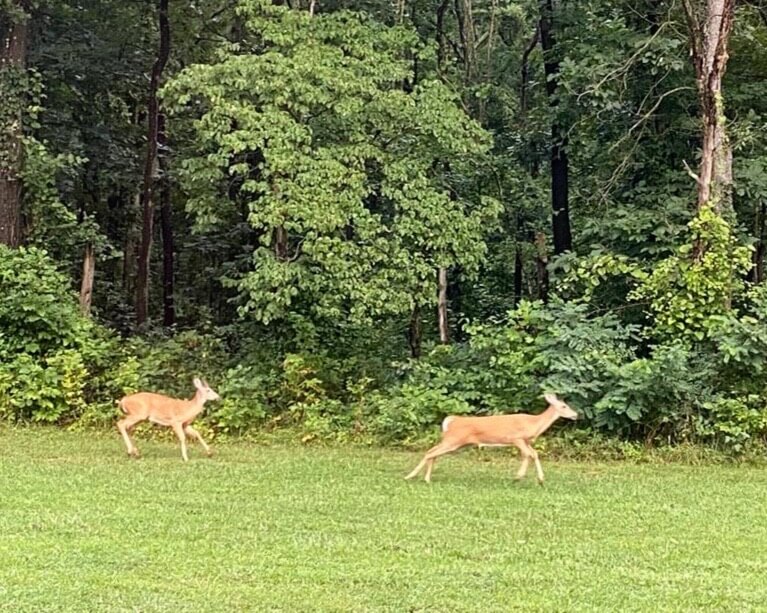 Turtle Rock Cabin's entire bottom level was wheelchair accessible. It had a large living area with huge glass windows, which I absolutely loved, and a full kitchen. The living area and kitchen were spacious enough for me to easily maneuver around.
On the lower level, there were two bedrooms and one bathroom as well. Linens are not provided, so I did bring my own sheets for the bed. And the bathroom had a great roll-in shower with flat-entry. 
There was an additional bed upstairs, but the upper level was not wheelchair accessible. If you have a larger family though, this could be perfect for you. 
Turtle Rock Cabin made for such a nice getaway. It was cozy, very clean, and I loved having an entire cabin to relax in. I would definitely stay at this cabin again if I return to the Shenandoah area in the future. 
Check out Turtle Rock Cabin here.
My weekend getaway to Shenandoah National Park was a lot of fun and there were plenty of accessible things to do to keep me busy for the whole weekend. Whether I was off-roading on trails or just taking in the stunning views of Shenandoah Valley, I had exceptional experiences throughout the weekend and can't wait to return. Shenandoah National Park is truly an outdoor-loving wheelchair users playground!
.
.