As a wheelchair user, it can be very useful to use disabled travel agents when planning a trip. Working with disability travel agents will provide you with a trip full of all the activities, sights, and locations you'd like to see with the guarantee that each stop will be wheelchair accessible. 
Planning a trip on your own will come with an abundance of questions regarding accessibility and working with disabled travel agents will save you time and effort, giving you more opportunity to look forward to and enjoy your trip.
These 8 disability travel agents, which are listed alphabetically, are some of the best travel agents for disabled travel, as all have experience planning trips and can help with hotels, resorts, transportation, destinations, and activities, all chosen because of their accessibility.
.
8 of the Best Disability Travel Agents
.
1: Curb Free Travel 

The first accessible travel agency on this list is my personal company, Curb Free Travel. I have been documenting my travels here on my travel blog and have recently become a travel agent. I've been to 33 countries and 6 continents as a wheelchair user, which has given me a knowledge base about what it takes to plan an accessible trip and become a travel agent. I use my experience traveling to help others in planning their dream trip.
I specialize in Disney trips, both Disney World and Disneyland, as this is an amazing destination for accessibility. These types of trips offer plenty of space to personalize your experience, as there are many parks at each location, as well as rides that are accessible. In my experience, it takes a lot of research to put a Disney trip together. I have the expertise to assist with the planning process to help make any trip enjoyable and accommodating.
My other specialty is cruises, including Disney and many other cruise lines and destinations. I've cruised in the Caribbean, Europe, and Alaska myself and find cruising the most accessible way to travel. Booking a cruise for accessibility can be difficult depending on the cruise line and destination. By using my experience as a guide, I work with each client to deliver the cruise vacation they're looking for so they can enjoy the trip stress-free.
Another specialty of Curb Free Travel is all-inclusive resorts in the Caribbean. My mom, Sandy, also works for Curb Free Travel, and handles these types of trips.
If you are interested in using our services, please contact me, Cory, at cory.curbfreetrav[email protected] or my mom, Sandy, at [email protected]
.
2: Disabled Accessible Travel

Disabled Accessible Travel started as an accessible travel agency with the aim of providing barrier-free tours of Barcelona. They wanted to be able to assist slow-walkers and wheelchair users, along with their friends, families, and travel companions. Quickly, the company grew in both size and distribution to their status as Europe's leading accessibility travel agency. They offer a wide range of services to any traveler who may need assistance.
Some of the most note-worthy services this agency provides include transfers or adapted transportation. Transfers include from the airport to the cruise port and medical transfers. This agency can also provide accessibility equipment rentals, which can be delivered to a cruise ship or hotel if needed. In addition to leisure travel, this agency can also assist with business travel in the same areas: transfer, accommodations, and rentals.
The best way to use their services is to book through their website, as there is space for accessible accommodations, which are hotels and resorts, accessible tours, and accessible transfers, as well as other services like rentals, business travel, and tourist support.
Lastly, they offer an app called "accessaloo" which allows users to update a map with local accessible toilets. This makes it that much easier to travel and explore without the worry of finding a bathroom when you need one.
Disabled Accessible Travel caters to each customer's individual needs, offering one-on-one accommodations on an individual basis. Working with this company ensures a 100% accessible holiday, travel, or vacation so you can enjoy your stay knowing everything is covered. 
.
3: Easy Access Travel

Debra Kerber is the owner of Easy Access Travel and using this agency could be a great opportunity to work with disabled travel agents, getting information from firsthand experience. Debra is a bilateral amputee and has been leading trips for years by "Just Doing It Differently". With her company, Easy Access Travel, she strives to meet the special needs of disabled travelers, both those new to travel and those with experience.
The specialty of Easy Access Travel is providing a trip that is structured to "minimize the frustration and maximize the enjoyment." Knowing that each traveler is an individual, the goal of working with each client is to provide information about the client's destination. By using a company to do the research, they will reduce the surprises that can occur during a trip, giving you the best information for your destination and a useful resource to plan your trip.
Easy Access Travel focuses on cruise trips and land tours at popular ports of call. Debra has been on over 90 cruises, making her an expert on these trips, from booking tickets to accessibility on the ship and activities at each stop.
The best way to contact Easy Access Travel is through their website, which offers a Contact Us form, as well as a Newsletter subscription, blog, and 1-800 phone number.
.
4: Sage Traveling

Sage Traveling is a great option for those with mobility limitations looking to plan a trip to Europe. This handicap travel agency works to create custom holidays for clients with a range of mobility issues, from using a cane, walker, or scooter to wheelchair users and senior travelers. Europe offers many obstacles in planning a completely accessible trip and Sage Traveling has the necessary information to help you plan accordingly.
The disabled travel agents at Sage Traveling offer accessible hotels, transportation both within the cities and between cities, tourist attraction accessibility, and can craft a custom itinerary if you'd like to have your trip completely planned before you leave. At Sage Traveling, they know it takes hours to choose tourist attractions based on accessibility.
When you work with them, they provide detailed accessibility information about each attraction you'd like to visit, including the accessible entrances, the accessibility of the attractions, and where the accessible bathrooms are located. They also take this same approach when booking an accessible hotel room, so you have exactly what you need throughout your trip.
Sage Traveling specializes in taking each individuals limitations into consideration and creating a custom itinerary to explore each client's dream destination. All disability travel agents at Sage work to make sure you can visit everything you'd like with your mobility in mind.
.
5: Spin the Globe Travel
Spin the Globe Travel is another accessible travel agency run by a full-time wheelchair user. Sylvia Longmire has traveled to 54 countries, often on her own, and her experiences led to her to wanting to share her knowledge with others to help them plan trips of their own. Spin the Globe uses first-hand knowledge and experience to help plan any trip for wheelchair users, from those looking to travel for the first time to those experienced travelers who would like some help exploring a new place.
This travel agency is a smaller, boutique style agency that provides custom and personal trips, not cookie-cutter pre-planned trips like other larger companies may provide. Sylvia works with each client to provide a trip that is full of accommodations and experiences that suit what you're looking for and is accessible for wheelchair users. Each trip uses hours of research, personal experience, and consultations to ensure tours, hotels, day trips, and activities are wheelchair accessible.
Spin the Globe provides a complete trip, including hotels, tours, cruises, transfers, and guides. Trips are 100% customizable and use personal experience along with local experts and professional partners to deliver your ideal trip. To work with Spin the Globe visit their introduction page to get started.
.
6: Travel-for-All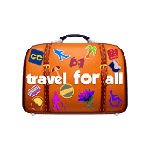 Travel-for-All believes that mobility limitations should not stop anyone from traveling. The team at Travel-for-All is comprised of disabled travel agents, that is people who have first-hand experience traveling with mobility limitations including using a wheelchair. They understand the amount of time, research, and organization that goes into planning a trip for someone with a disability and want to use their experience to help you plan your next trip.
The specialty at Travel-for-All is making the world accessible for all. They achieve this by working with a team of accessibility specialists to guide you through each step in the planning process. There are a variety of trips they can help you plan, from traditional vacations or holidays to child-friendly or dog-friendly trips, or even fully independent travel. Destinations cover the globe and offer both traditional and unique experiences. The sky's the limit when working with Travel-for-All, with no dream too big or too complicated to plan.
Travel-for-All also focuses specifically on wheelchair accessible travel. While they do offer a range of vacations depending on your needs, they see that wheelchair accessible travel is becoming more and more necessary. No matter your mobility or necessity, this is a great company to work with to create an individual vacation. 
.
7: Wheelchair Escapes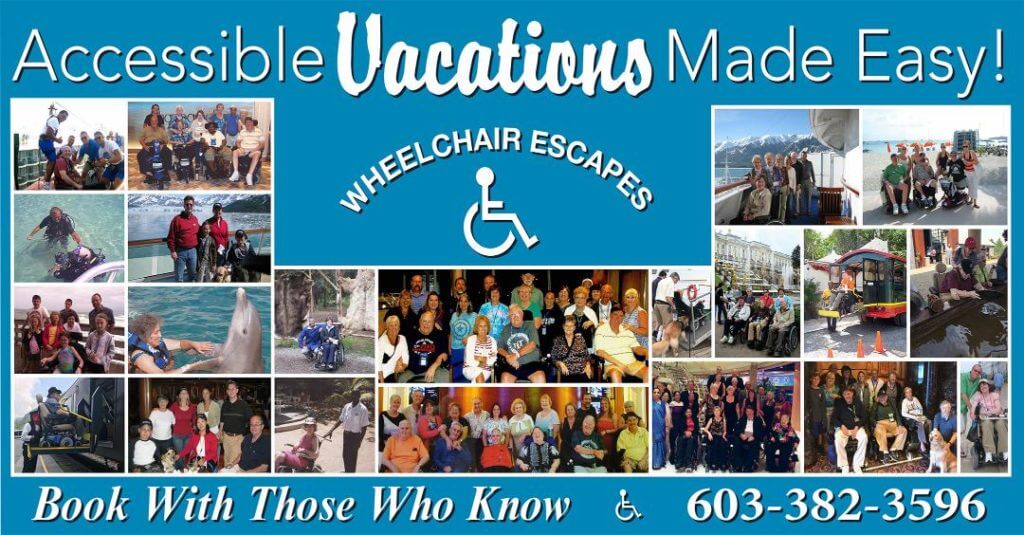 Kristy Lacroix has over 20 years of experience traveling while in a wheelchair and has taken over 65 cruises. Traveling at this volume comes with hours of research and each trip taught her more about what it takes to put together a great trip for a wheelchair user. Now Kristy shares her experience with others as a travel agent through her company Wheelchair Escapes, taking on clients to create their ideal vacations and trips using her comprehensive knowledge base.
Her approach and specialty takes the idea of working with a travel agent and suggests that if you're going to use a travel agent, why not use one experienced in the types of travel you're looking to take? Working with her as a knowledgeable, certified accessible travel specialist will give you the experience you're looking for.
You should choose to work with Kristy and Wheelchair Escapes if you're looking for not only accessible wheelchair trips, but also insights into what it's like to travel as a wheelchair user. This is great for those that are new to traveling as a wheelchair user and have questions about the process. The services offered through Wheelchair Escapes cover the necessities in any trip, from transportation to and from the airport in a wheelchair accessible vehicle to renting accessibility equipment and anything you may need on your trip. 
.
8: Wheel the World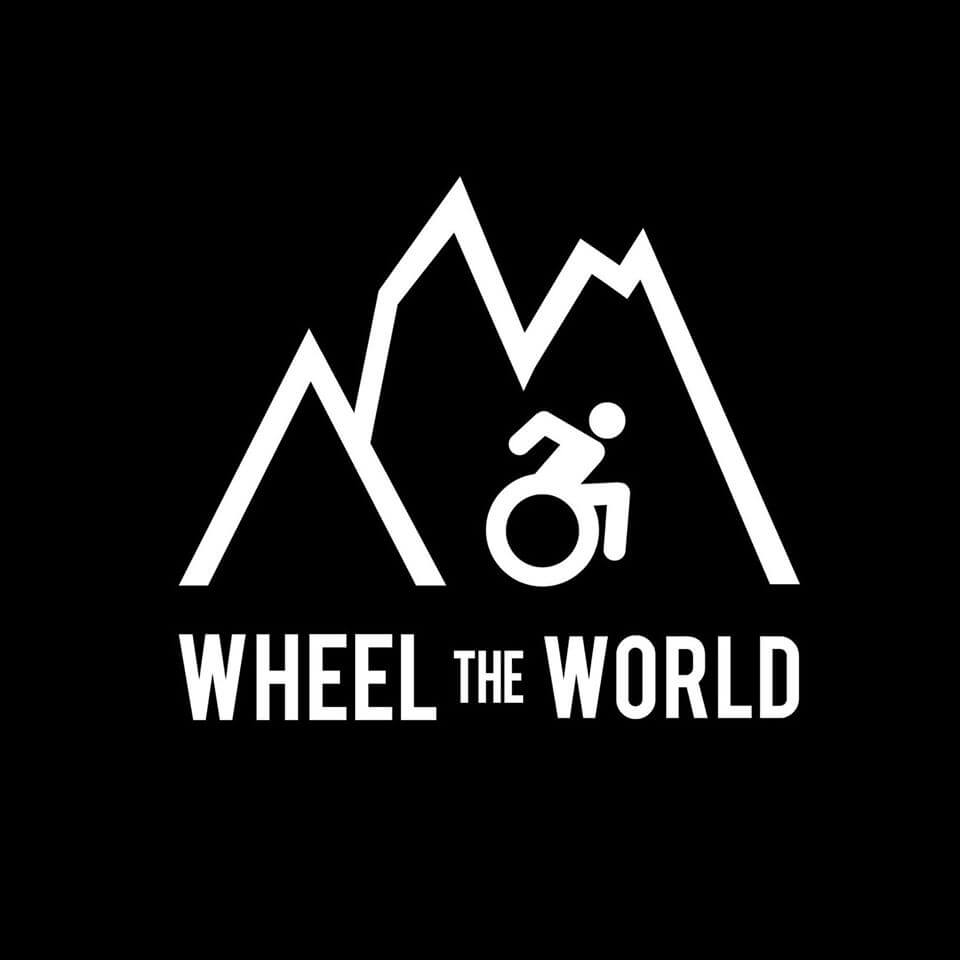 Wheel the World is a company that strives to encourage people with disabilities to travel and tour the world, as well as to raise awareness that people with disabilities can be active and live their lives fully. This approach allows Wheel the World to share stories of their clients, which in turn inspires others to get out and try traveling as well.
This company uses a modern approach to travel, offering a comprehensive website to highlight their clients' experiences as well as what they offer in terms of travel packages and travel assistance. They offer a range of accessible tours, experiences, and accommodations to create a unique and unforgettable travel experience.
Popular destinations include Chile, Costa Rica, Peru, and the United States, which can be booked as destinations or activities, or as a full tour package. Other options include accessible hotels and a range of tour guides. This setup allows Wheel the World to provide an individual and personal travel experience based on your wants, needs, and disability.
Working with disabled travel agents like Wheel the World allows you to feel in control of your vacation or trip. Their website has plenty of research opportunities to dive into the destinations and what they offer if you'd like to take a hands on approach to planning your own trip. Alternatively, they offer tour packages and take the guesswork out of planning the trip, so you can customize your trip from the planning stage all the way through your trip. 
.
Choosing to work with disability travel agents to plan your next trip is a solid opportunity to get the most out of your vacation or holiday while enjoying yourself. Using the resources and experience of a seasoned traveler, who also works as a disability travel agent, will give you the chance to ask questions about their experience along with plan your ideal vacation, all with accessibility in mind. These 8 disability travel agencies have first-hand knowledge into the travel experience and are great options for helping you book your next trip.
.
.
.